Picking up dog wastes is undeniably a messy job. And for someone like me who is easily grossed out from picking up with plastic, pooper scoopers are indeed a gift. Unfortunately, even if I happen to clean up my dog's waste easily, the next problem I face is cleaning up the pooper scooper itself. Without having a non-stick material and a simple design, dog poop sticks to the surface like gum and even sticks up to the crevices. Thankfully, I found Nature's Miracle Non-Stick Advanced Jaw Scoop.
Things to consider before buying a Pooper Scooper
Dog waste is considered pollution to the environment. Especially that it's one way to spread contagious diseases to other dogs quickly. This is why dog owners are held responsible for cleaning up after their dog defecates. And if you don't. Well, you might end up in prison or fine for breaking the law. You don't want that, right?
I know it's a messy job to deal with, but it comes with the package when you bought a dog. However, things don't have to be too bad if you have a pooper scooper as it makes cleaning up easier for dog owners.
If you choose the right pooper scooper, you would consider cleaning the dog's mess a breeze. So, here are a few factors that you need to keep in mind to achieve that:
Pooper-Scooper Type
There are two types of pooper scoopers that you can choose from: the claw-type and the bin-and-rake type.
Both are great and serve one purpose, which is to clean up dog waste. However, if you're looking into more convenience in use, then the claw-type is the better option. This is because this type only needs one hand to pick up dog waste.
However, if you're looking into picking up multiple and large wastes, then opt for the bin-and rake type of pooper scooper. These types tend to have larger bins or scoop than the claw-type ones which are ideal for those who have larger dogs.
Weight and Handle Length
As pooper scoopers are something you would be carrying from one place to another, try to keep in mind the weight. The lighter, the better as it will not strain your arm.
Another way to prevent strain on your part is to find a pooper scooper that fits your height well. If you're tall, get a pooper scooper with a more extended reach so you would no longer need to bend over and strain your back.
If you don't want to worry a lot about the handle length, find a pooper scooper with adjustable handles. Just take note that this feature is most common with the bin-and-rake type of pooper scooper than the claw-types.
Quality
For the quality, take into consideration the durability of the product and ease of cleaning. Generally, you would want a pooper scooper that is durable and lightweight. You would also want to find one that is made of non-stick material so you can clean it easily every after use. These types are the ones that would bring the best value for your money too.
Nature's Miracle Non-Stick Advanced Jaw Scoop Review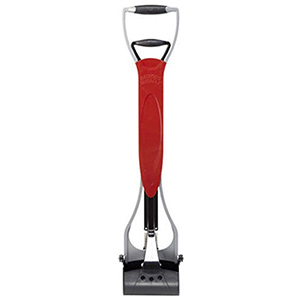 Nature's Miracle brand has continued to create tools that will make pet parenting easier. And that includes providing you one of the best pooper scoopers for an excellent waste cleanup experience.
Nature's Miracle Non-Stick Advanced Jaw Scoop is one of the most well-constructed pooper scoopers in the market today. It is lightweight, durable, and made with non-stick material. It is also pretty convenient as you can pick-up dog waste in a single motion. It's everything you're looking for a pooper scooper.
Below are some features and benefits you can get from this product. You should take note of these to aid your buying decision.
Quick Glance
What's Good
Non-stick surface
Features an antimicrobial product protection
Lightweight
Perfect scoop for big dog waste
What's Bad
Handles are not adjustable
The construction is not as strong as we would like to see.
Design
When it comes to design, Nature's Miracle Non-Stick Advanced Jaw Scoop is notable with its red color.
Nature's Miracle manufacturers designed this pooper scooper with the thought of you using it for different types of surfaces. That's why this is so versatile and won't give you any problems picking up dog waste from grass or pavements.
The scoop part is also big enough to allow you to pick up multiple wastes without having to visit the trash bin regularly. It is ideal if you have large pets too.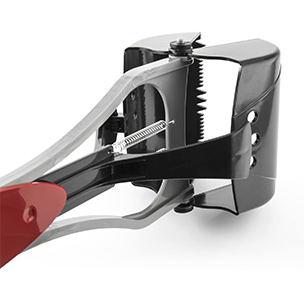 The most significant advantage of this product is its antimicrobial product protection. We all know how gross dog poops are, and it's undeniable how much bacteria and microorganisms it contains. Good thing this pooper scooper kills any microbes that come in contact with it, which makes it safe for your use.
Nature's Miracle made this product with durable materials that will last you for years. However, there are reports that the springs break after several uses. If this happens, quickly contact the manufacturers so they can change it (they usually respond fast).
Convenience
Despite being durable, Nature's Miracle Non-Stick Advanced Jaw Scoop is exceptionally lightweight. Which means you can easily carry it anywhere with you without having to strain your arm.
It is a claw-type pooper scooper that allows you to pick up waste even with one hand. It features a spring-function that powers the opening and closing of the jaw area; simply pull the grip, and the scoop will open. The best part is, the grip is ergonomic, so if you have a weak hold due to health conditions, you won't have a hard time using it.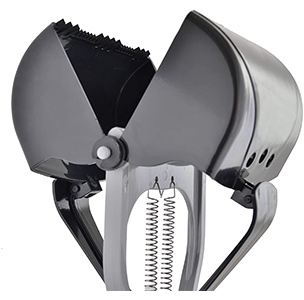 With a measurement of 30 inches, the handle is long enough to give you that extended reach without the need to bend over. However, make sure it fits your height. The handle is not adjustable, and though this may not be a big deal, it can positively affect how comfortable it is for your use.
Cleanliness
The non-stick material makes this product very easy to clean. Even if it may turn up messy after use, you can easily hose it down with water. The antimicrobial protection adds to the points. With it, you can ensure that no microbes remain on the surface of the product after you've used it.
Key Features:
Comes with an Antimicrobial Product Protection
Great for traveling because of its portability
Ergonomic grip and lightweight design
Affordable
What Do Others Think About This Pooper-Scooper?
With its non-stick material, Nature's Miracle Non-Stick Advanced Jaw Scoop is one of the easiest to clean pooper scooper in the market. No wonder it's one of the users' favorites. Here are some of the things users say about the product:
Cassandra is impressed with the construction and how it handles her large Chocolate Labrador Retriever's dog waste.

Dave also has a large dog however he is not as impressed with this pooper-scooper's ability to handle the volume.

And, Theresa loves this pooper scooper. She especially likes the fact that she can scoop her dog's poop without ever having to touch anything dirty!

What if this is not what I'm looking for?
Now, if you are looking to solve a different problem and you think Nature's Miracle Non-Stick Advanced Jaw Scoop is not really for you, here are some alternatives that you can check:
Bodhi Dog Complete Poo Pack
The Bodhi Dog Complete Poo Pack is perfect for those who are looking for the complete dog waste removal package. It is complete with the pooper scooper (you can select a color of your choice), a dog waste bag holder, and rolls of waste bags.
It is also at the affordable range, even if it comes with all these essentials. You don't also have to worry about the pooper scooper's durability as it is made with premium quality materials that will last long. The handle features an ergonomic design for ease of use, especially for seniors who have problems with grip.
If you'd like to know more about the Bodhi Dog Complete Poo Pack, you can find it here.
PetMate Swivel Bin and Rake Pooper Scooper
The PetMate Swivel Bin and Rake Pooper Scooper is an excellent option if you're looking for a bin and rake type of pooper scooper.
It features a durable and rotating bin that allows you to pick up waste from different types of surfaces quickly. The container is also large enough so you can clean up various and even large fecal matter. This is ideal for those with large dogs.
The pooper scooper comes with odor control bags that promises an odorless cleanup. The handle is also adjustable so that no matter who will use it, there will be no problems in terms of ease of use.
You can check out the PetMate Swivel Bin and Rake Pooper Scooper here
Dogit Jawz Dog Pooper Scooper
Another claw-type pooper scooper alternative is the Dogit Jawz Dog Pooper Scooper. The most notable feature of this product is the jaw that is designed to pick up dog waste easily from grass or gravel. This is ideal for those who have their yard that they need cleaning daily.
The jaw part is large enough to pick up multiple large fecal matters, which means fewer visits to the trash bin. It is also lightweight and comes with an ergonomic grip to give you that easy usability even with one hand operation.
It's a very straightforward item, and you can find out more about the Dogit Jawz Dog Pooper Scooper here.
Our Wrap Up Of The Nature's Miracle Pooper-Scooper
Nature's Miracle has never failed to offer us the best product in the market, and their Non-Stick Advanced Jaw Scoop is an example of that.
It is durable, lightweight, easy to use, and easy to clean. What more could you ask? It comes at an affordable price and will last you for years. One user even said it lasted her for six years, and that's a lot of money saved, compared to buying a new one after a few months because it broke.
So, if you think Nature's Miracle Non-Stick Advanced Jaw Scoop can solve your problem too, check it out on Amazon now. However, if you want to explore other pooper-scoopers, check out our article on the Best Dog Pooper Scoopers.
Check out current pricing and availability on Amazon here >>