This article is being written on March 19, 2020, but due to the rapidly changing circumstances of COVID-19, some details may change quicker than we can keep the article updated. The world has changed as we know it with many people confined to their homes in implementing social distancing practices. Pet owners are concerned with whether or not their dog or cat can carry COVID-19. As of today, the CDC does not have any evidence showing that your dog or cat can spread coronavirus.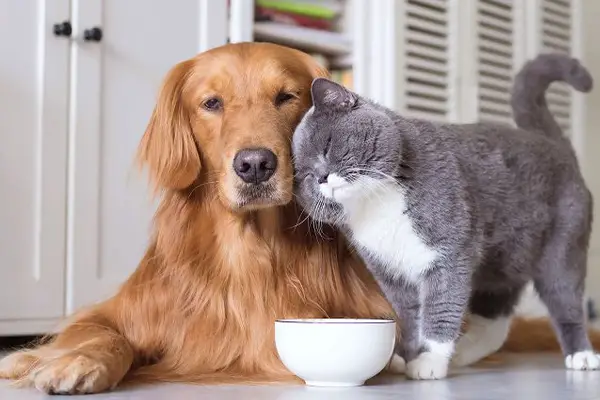 There are some viruses that can infect your dog or cat and can then be transmitted to infect you. For example, MERS (Middle East respiratory syndrome) is a form of coronavirus that originated in animals and later spread to humans. The data that has been collected to date has not shown transmission between pets and humans for COVID-19.
However, it is still advisable to be careful at this point time. There is no need to worry about petting your own dog or cat. But, if you take your dog to a dog park for exercise and fresh air, social distancing should be practiced. While the CDC is indicating that there is no human-to-dog transmission of the virus in the United States, you should be concerned about human to human transmission of the virus while at a dog park. Therefore, keep your distance and minimize interactions with other humans while giving your dog outdoor playtime.
According to the World Health Organization (WHO), they have documented a single instance of the dog contracting COVID-19 in Hong Kong. According to them, there has been no instance that a pet can transmit the virus. From research being performed, it appears as though this virus is particularly well-suited to transmit between people and unlikely to jump to dogs or cats.
Can Your Pet's Fur Be Contaminated With Coronavirus?
In a recent article published by the Washington Post, they indicate that the virus can last for as long as three days on hard surfaces such as plastic and steel. It can also last up to one day on cardboard. We have not found any research or facts to support that the virus can last for extended times on pet's fur. However, to play it safe, maintain social distancing with your pets. For example, if you take your pet for a walk, make sure they maintain a minimum of 6-foot distance from other people. This will help minimize the chances of another person sneezing or coughing on your pet.
While it is extremely hard to resist petting another dog while spending time at the dog park, during this coronavirus outbreak it is advisable that you resist the urge to pet them. Or, after petting another dog, be sure to wash your hands thoroughly and avoid touching your face.
Protecting Your Pet If You Contract COVID-19
The CDC is recommending that if you are sick with coronavirus that you should still take the same precautions with your pets as you would with humans. This means limiting contact with your dog or cat to ensure that your pet stays healthy. If possible, have another family member take care of your pet while you focus on getting better. If that is not an option, be sure to follow proper hygiene, limit your pet's exposure to you, and wash your hands frequently before and after you interact with your pet.
What is Canine Coronavirus Disease (CCoV)?
Dogs do contract a form of coronavirus, however, it is not COVID-19. The form of virus that they can contract is known as CCoV, canine coronavirus disease. This form of coronavirus is typically contracted by oral contact with infected fecal matter. It is highly infectious for dogs, especially puppies. If your dog has contracted canine coronavirus, it is usually but can create uncomfortable abdominal pain for your pet.
What Is Your Pet's Risk Of Contracting Coronavirus COVID-19?
It appears as though you run a very little risk of your pet contracting coronavirus. This is especially true if you are healthy, practicing social distancing techniques in your own home, and keeping your pet away from others as well. However, it should be noted that news, research, and conditions are changing on a daily basis. Therefore remain vigilant and well-informed with regards to COVID-19 and your pet. Be sure to keep your pet up-to-date with current vaccinations and all medicines.
One point to note is that coronavirus is impacting the supply of medicines worldwide. This is evident in an article published by the American Veterinary Medical Association as indicated below:
The AVMA is collecting information about potential veterinary supply chain issues related to the outbreak of COVID-19. This effort supports the U.S. Food and Drug Administration's (FDA) work to identify and mitigate potential supply shortages.
The COVID-19 outbreak has raised concern about potential medical supply issues, including both pharmaceuticals and medical products such as personal protective equipment. As of Friday, February 28, no shortages were reported by any animal drug companies that make finished drugs or source active pharmaceutical ingredients in China for the U.S. market. However, six of the 32 firms told the FDA they were seeing supply chain disruptions that soon could lead to shortages.
Best Practices For Your Pets During Coronavirus Outbreak
As previously stated in this article, the best thing to do with your dog or cat during this coronavirus outbreak is the following:
Limit exposure to other people by practicing social distancing.
If you must go to the

dog

park, distance your

pet

from others.
Keep your

pet

up-to-date with all vaccines and medicines.
If you or any family member has contracted coronavirus, isolate yourself from your

pet

and have someone else car for them.