I'm pretty sure you can relate if I say that cleaning up a dog's poop is not a fun job. It can get pretty messy, especially if you don't use proper equipment. This is why pooper scooper really comes in handy.
However, I'm not content with the current one I'm using, as it's not great for picking up poop on different surfaces. It also doesn't fit my height and causes my back to strain. When I searched for alternatives, I found one that might be the answer to these problems, and that is PetMate Swivel Bin and Rake Pooper Scooper.
Things To Consider Before Buying A Dog Pooper Scooper
As dog owners, it is crucial to walk your dog every morning for their exercise. However, walking the dog also means toilet time for them. Dog poop adds pollution to the environment, and it is the owner's responsibility to clean it up.
We all know how messy this duty is. If you're like me who doesn't want to pick up dog poop using their bare hands covered in plastic (because that's still gross, right?), consider getting yourself a pooper scooper.
Having one will save you all the hassle, that is if you choose the best fit for your needs. Here are several things you have to consider.
Weight – The ideal pooper scooper will be a lightweight one. This is because you would need to carry it with you if you're going for long walks. If you buy a heavy one, it would be difficult for you to move it with one hand, and it would strain your arms too. So, try to consider the weight of the product before you click that "buy now" button.
Durability –

If you want to save money for the long-term, then it's only right to invest in heavy-duty pooper scooper. You can consider pooper scoopers made of stainless steel as they are more durable and long-lasting, especially in terms of rust. Pooper scoopers made of high-grade plastic are excellent too, not to mention they weigh less. 

Length – This mainly refers to the handle. If you want the dog pooper scooper to give you the convenience as it should serve, then make sure that it is that the handle length perfectly fits your height.
Scoop Size – The right pooper scooper size will depend on the size of your dog. Naturally, if you have a larger dog, then a wider pooper scooper would be your best choice. The bigger the bucket or your bin means bigger and enough room inside to hold dog waste without you needing to change the plastic frequently.
Type Of Terrain Where You Use The Pooper Scooper – Lastly, think about where you'll need the pooper scooper. Will you use it on plain pavements or grass? If you can find a pooper scooper that will work well on any surfaces, then you're certainly in luck.
PetMate Swivel Bin and Rake Dog Pooper Scooper Review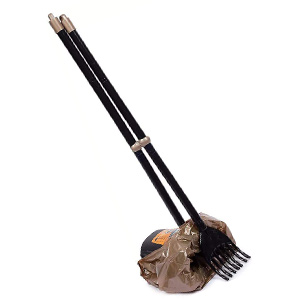 The PetMate Swivel Bin and Rake Pooper Scooper, or also known as Arm and Hammer Swivel Bin and Rake Pooper Scooper, is one of the ideal choices in the market right now. This is most especially if you're looking for a scooping solution that gives you convenience in cleaning your dog's waste.
Quick Glance
What's Good
Adjustable Handle
Handle and Bin snaps together for easy mobility
Bin swivels for easier clean-up
Bin has hooks on the sides so poop bag doesn't slip
Versatile Rake
What's Bad
The poop bag slips easily
The rake is a little flimsy
Features & Benefits Of The PetMate Swivel Bin and Rake Dog Poop Scoop
Now, let's try to see if the PetMate Swivel Bin and Rake Pooper Scooper is the solution to your problem, too, by looking at its features and benefits.
Design
The PetMate Swivel Bin & Rake Pooper Scooper is designed with the dog owner's convenience in mind. With a weight of 1.5 pounds, carrying it along with your walks would not be a problem.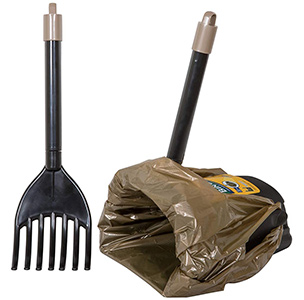 The size of the bin is big enough bin, which is perfect if you have a large dog. This way, you wouldn't have to change the plastic frequently when you're going out for long walks. It's also great if you're concerned with the environment and the impact of frequent changing of plastics.
The swiveling feature of the bin allows for easy pick up of dog poop. This is because you can easily change the side of the bin faces that is convenient for you. It also features hooks on both sides of the bin to secure the bags for an easy and mess-free pick-up.
The PetMate manufacturers also provide two soda-activated waste bag upon your purchase of this pooper scooper. These bags are perfect if you'd like to have odorless pick-ups. You can purchase additional bags if you'd like, but if the smell doesn't concern you that much, then using ordinary plastic will do as well. You just have to make sure that it fits well inside the bin.
Another great benefit of the design is the versatile rake which can be used on multiple surfaces. Whether you're dog pooped in a flat pavement, grass, or at the park, you would not have any problems in terms of cleaning.
There are some users who are complaining about the produce being thin. However, even if it is, the plastic is pretty sturdy and it's not flimsy at all. Considering the price, it offers great value as it can surely last for a long time.
Convenience
The PetMate Swivel Bin and Rake Pooper Scooper also offers excellent convenience. This dog pooper scooper features an adjustable handle that can extend to up to 32 inches. Even if you're so tall or short, you will get to enjoy the comfort and convenience. This is perfect for those who have many family members who are walking the dog.
If not in use, the rake and bin handle snaps together, which also accommodates easy storage. Also, you can rest easy that this pair won't lose each other.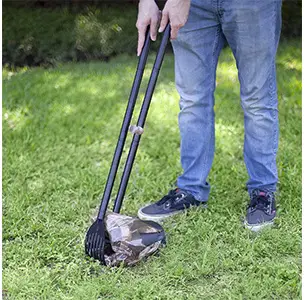 Cleaning would also be the least of your problems too. The PetMate Swivel Bin & Rake Pooper Scooper is made from smooth & durable plastic that is resistant to mess for effortless cleaning.
Additional Key Features 
Hooks on both sides of the bin to hold the plastic bags
Lightweight
Comes with an adjustable handle
Rake and bin connects for secure storage
What Others Say About The PetMate Swivel Pooper Scooper
Considering the great benefits, the PetMate Swivel Bin and Rake Pooper Scooper is indeed an ideal option if you want that convenience in your next cleaning pick-ups. However, let's also take a look at what other users say about the product:
JJ Shopper likes the fact that he doesn't have to bend over anymore to pick up his dog's poop.

Kinghessier found the same thing that we did, the rake is flimsy. This is a problem if you have large dogs!
Christopher likes the ability to pick up after his stinky dog without feeling like he has to vomit! We feel your pain, Christopher 🙂
Alternatives To The PetMate
Each of us has our preferences. So If you think that the PetMate Swivel Bin and Rake Pooper Scooper is not what you're looking for, here are some great alternatives that you can check out:
Dogit Jawz Dog Pooper Scooper
A great alternative that you can try is the DOGIT Jawz Dog Pooper Scooper. It features a sharp jagged teeth bin (hence the name), which will allow you to pick up waste in any type of surfaces such as grass and gravel. It looks bulky, but it is lightweight and ergonomically designed. It is perfect to use for cleaning up your backyard, or even if you go out for long walks in the morning.
It also offers great convenience as it comes with a spring that enables a fast and easy waste pick-up. It also has a long reach, which adds comfort if you're a tall person. Click here to see more about this pooper scooper here.
PPOGOO Non-Breakable Pet Pooper Scooper
The PPOGOO Non-Breakable Pet Pooper Scooper is perfect for those looking for a long-lasting pooper scooper. It features high-technology and environmentally friendly materials that offer you excellent quality. It is lightweight for you to carry it on long walks easily. It also features a foldable design for secure storage and transport.
You can use this pooper scooper on different types of pavement, which is excellent in terms of convenience. It's also perfect if you have large dogs because of the wide bin. The long reach is another superb feature if you're tall and don't want to keep on bending over to pick up dog poop.
Check out more details about this dog waste scooper here.
Nature's Miracle Non-Stick Advanced Jaw Scoop
Another great alternative that you can look at is the Nature's Miracle Non-Stick Advanced Jaw Scoop.
Again, it is one of those pooper scoopers that promise fast and easy waste clean up. It has a spring-action rubber grip handle that helps you pick up dog messes easily with just one motion. And as the name implies, this dog pooper scooper is made with non-stick materials for easy cleaning as well. It provides excellent convenience too for picking up dog wastes on multiple surfaces.
You can find out more details about the Advanced Jaw Scoop here.
Our Wrap Up
The PetMate Swivel Bin and Rake Pooper Scooper is an excellent solution if you're looking for convenience. The adjustable handle feature gives this product an edge, especially if there are multiple persons inside the house walking the dog.
It is also impressive that even though it is light and thin, it is not flimsy at all. It appears sturdy, and the plastic material doesn't look cheap. The idea of the odorless plastic bag is also great, especially if you're sensitive to dog smell.
I also love the fact that the bin and rake snap together. It adds to the convenience of being able to carry the product with one hand. Plus, storage is also easier.
Click here to view more pooper-scooper options.
Check out current pricing and availability on Amazon here >>