Are you looking for something to enhance your backyard or your front porch while giving your outdoor cat some space to lounge around and have his own space there? What you may need is the Petsfit outdoor cat house. It is a cat house that is aesthetically pleasing and serves its purpose. Below is our comprehensive Petsfit outdoor cat house review.
What To Consider When Buying An Outdoor Cat House
One of the things that you should consider before getting yourself and your kitty a cat house is the design of the cat house. How does it look? Will it compliment the house? The backyard? If you are someone who cares about those things like we do, then you have multiple options to choose from in the world of cat houses.
Another consideration that you might want to think about is the materials used for the cat houses. It may look nice but will it last you for years, or will you have to spend for another cat house in a couple of months? Consider what kind of materials they use to construct it and make sure that these are materials that will give you longevity and durability.
Petsfit Outdoor Cat House Review
The Petsfit Outdoor Cat House is a design to behold. It includes a top porch were your cat can hang out on a nice sunny day. Your cat can also enjoy the quiet inside of the cat house with multiple entrances and exits. It comes equipped with a ladder that allows them to reach the top and relax on the top porch.
Their cat house is made of cedarwood panels that are 12mm thick. Using this kind of wood can avoid rotting of the wood. However, this will not guarantee that the wood will not split with improper handling and transportation. They say that this wood will last you 3 years and this has been tried and tested by the manufacturers.
Quick Glance
What's Good
Great design
Big enough for 3 cats
Two-door entrance and exit
Easy assembly with pre-drilled holes
What's Bad
Gaps within the panels allow water to seep through when raining
It is not the best quality of wood. Reports of rotted wood after some time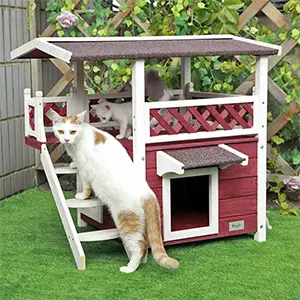 Multiple Exits
This cat house provides your cats with choices on how to get in and out of it. With two doors on this house, you have no problem with your cat's anxiety. They can enter or exit through the front window or the side window.
The side window is also there to provide an easy exit when a predator or such tries to attack your kitty.
Large and Sturdy
The construction of this cat house is fairly easy. They have designated pre-drilled holes for your convenience. Once you get this all assembled and set-up, this will be one sturdy cat house for your cats to play around in, on, and around.
It is also big enough to allow multiple cats to play and relax on it. They say that 3 cats and a kitten are able to be on this cat house at the same time. That is one sturdy piece of wood.
Weatherproof for Outdoor
Petsfit advertises this cat house as weatherproof for the outdoors. The wood made to construct this house is made from cedar. This kind of wood is anti-rot but will split when mishandled.
Unfortunately, there have been some users who have mentioned their frustrations about the wood rotting on them after some time. Even if the manufacturer says that it is not going to rot, and it has been proven and tested that the wood can and will last for three years, we have no proof of what the conditions are where they tested it.
There were also reports that when they assembled the cat house, there were some slots that would allow water to seep into the house itself.
In any case, make sure to take care of all the things that you purchase and try as much as possible not to let them get in a state where they will rot in just a few months.
Cat Condo Design
Perhaps, one of the best things about this cat house is the design. It has a cat condo design where there is a fenced lounging deck on top of the main house with a ladder to reach the top. The paint and the overall design of the cat house get two thumbs up.
The paint that they use is water-based and will not be harmful to your cats. It is will also not peel and will not need anything to keep it safe from water.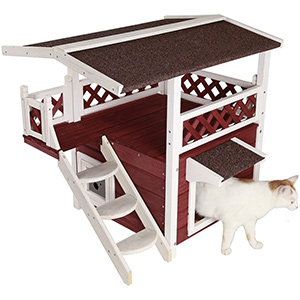 What Others Say About The Petsfit Outdoor Cat House
We have scoured through the internet and found some user reviews on the Petsfit Outdoor Cat House and here are some of what we found.
Lynn received a slightly different house from what was pictured. Hers came without the back exit. However, her cats still love it and especially love the top deck. It's their catnap area.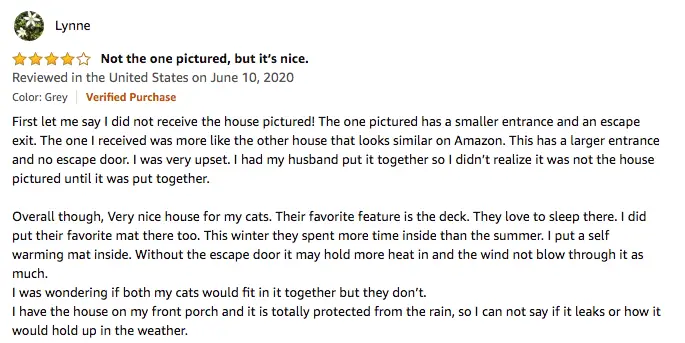 Dawn's cat house caved in after only two years. She found that the bottom part of her cat house had rotted and finally gave in even if there was a test that proved it to last for three years.

On the other hand, Lisa Butler thoroughly enjoyed her cat house. Her two big male cats fight over who gets the top bunk. It is still too hot to stay inside the cat house but most likely it will get filled in winter.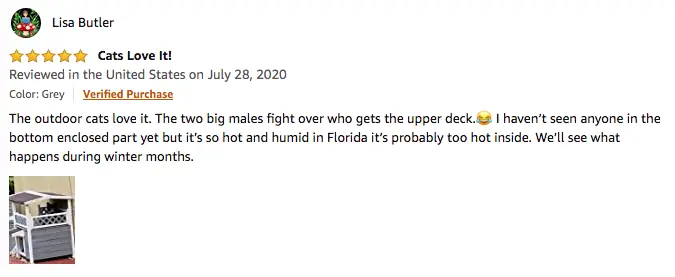 Alternate Cat Houses For The Outdoors
PawHut Wooden Large Deluxe Cat House Overview
The PawHut Wooden Large Deluxe Cat House is a place where your outdoor cat can relax and have a safe environment to be in while in your own front or back yard. It is made with durable and stable material to allow your cat to go in and out of the cat house safely. It is decked out with a front porch that gives them the option to sunbathe or to stay away from the sun.
It is an elevated cat house that keeps the house away from any moisture or insects that may harm your feline friend. It also has an all-weather construction so you need not worry about the rain destroying the cat house your cat is enjoying.
Outdoor Multi-Kitty A-Frame Cat House
This multi-kitty outdoor house is designed to look like a tent for your outdoor kitty. It is equipped with a heated bed perfect for those cats who enjoy being in the outdoors but live in colder weather conditions. Aside from the heated version of this house, this cat house also comes in a non-heated version for those who like the design but would be too hot for a heated house.
There are two exits that include clear flaps to protect your feline friend from the harsh conditions of winter. The waterproof fabric used on this cat house protects your cat from getting wet during the rainy and winter season and keeps them warm and cozy. It easy to assemble and can house multiple cats at the same time.
However, this house is not raised and can cause damage to the bottom of the house if not taken care of properly.
New Age Pet Albany Feral Cat Shelter
Another raised cat shelter that your cats will enjoy staying in. The New Age Pet Albany Feral Cat Shelter is made with EcoFlex material that is a plastic-wood polymer composite that will not warp, crack or rot.
It is also equipped with two exits that your cat can jump in and out of and will ease their anxiety. It is also an easy assembly cat shelter with no tools that are required to build. Because of the material that is used on this cat house, there is no need to deep clean every time. You simply need to rinse with a hose or wipe clean the dirt on the house.
However, this house is not as big as PawHut's cat house but your cat will definitely still enjoy this little shelter.
Our Final Thoughts
The Petsfit Outdoor Cat House is one of the best-designed houses on our list of best cat houses. However, the quality of the wood used for this house is a bit questionable. Two years is not as bad as some other cheaper versions.
The top deck with the ladder is the best part of this cat house. Cats enjoy taking their naps in that area. The way that it looks is just adorable. It will surely bring some life into your back yard or your front porch.
Click here to get current pricing on Amazon for the Petsfit Outdoor Cat House >>