There are 2 types of cats. Those who enjoy staying inside the house and there are those who love staying outside. For any type of cats that we have, we must get the best toys, accessories, and furniture to fit their needs. Just like how indoor cats need cat furniture, outdoor cats have furniture of their own. The best outdoor cat house provides them with space of their own to hang out, take cat naps, and just relax.
In this article, we gather and review the best outdoor cat houses for your cat that could be a part of your home. We will discuss their features, specifications and some advantages and disadvantages of each cat house to help you better decide which one would best provide your cat's needs.
Best Outdoor Cat Houses
PawHut Wooden Large Deluxe Cat House

K&H Outdoor Heated Kitty House

New Age Pet ECOFLEX Cat House

Best Overall: PawHut Wooden Large Deluxe Cat House
The PawHut Wooden Large Deluxe Cat House is a place where your outdoor cat can relax and have a safe environment to be in while in your own front or back yard. It is made with durable and stable material to allow your cat to go in and out of the cat house safely. It is decked out with a front porch that gives them the option to sunbathe or to stay away from the sun.
It is an elevated cat house that keeps the house away from any moisture or insects that may harm your feline friend. It also has an all-weather construction so you need not worry about the rain destroying the cat house your cat is enjoying.
It also has many other features that your cat will enjoy that we will talk about next. First, here are the pros and cons that you might want to take into consideration when looking at PawHut's Cat House.
Read our detailed PawHut Outdoor Cat House Review here >>
Product Specifications:
Color: Dark Grey/White
Material: Fir Wood
Net Weight: 30.5 lbs.
Main House Dimensions: 32.75″ L x 26.25″ W x 29.5″ H
Front Door Size: 7.75″ L x 10″ H
Back Door Size: 7.75″ W x 8.75″ H
Porch Dimensions: 18.25″ L x 14.5″ W x 7.25″ H
Waterproof: yes
Raised: Yes
Quick Glance
What's Good
Weatherproof
Great for larger sized cats
Durable and Sturdy
Cute Design
What's Bad
Paint needs refreshing every now and then
Some parts broke off when delivered
Runner-Up: K&H Outdoor Kitty House Heated A-Frame Cat House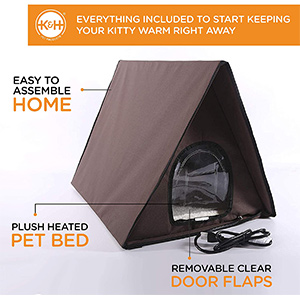 This multi-kitty outdoor house is designed to look like a tent for your outdoor kitty. It is equipped with a heated bed perfect for those cats who enjoy being in the outdoors but live in colder weather conditions. Aside from the heated version of this house, this cat house also comes in a non-heated version for those who like the design but would be too hot for a heated house.
There are two exits that include clear flaps to protect your feline friend from the harsh conditions of winter. The waterproof fabric used on this cat house protects your cat from getting wet during the rainy and winter season and keeps them warm and cozy. It easy to assemble and can house multiple cats at the same time.
However, this house is not raised and can cause damage to the bottom of the house if not taken care of properly.
Read our detailed K&H Outdoor Kitty House Heated Review here >>
Product Specifications:
Heated: Yes
Wattage: 40 watts
Heated Pad Measurement: 19 x 24 in.
Inner Dimensions: 19″ W x 14″ D x 18″ H
Outer Dimensions: 20″ W x 35″ D x 20″ H
Cat Capacity: 1-4 cats
Exit Doors: 2 doors
Cord Features: 5.5 ft.
Waterproof: Yes
Raised: No
Quick Glance
What's Good
Heated pads for colder weather
A-framed shape to keep cats cozy
Choice of heated and non-heated cat houses
Waterproof that is perfect for snow and rain
What's Bad
Cannot withstand harsh weather conditions and must be placed in protected areas
Lightweight and flimsy for some users
Best Value: New Age Pet ECOFLEX Cat House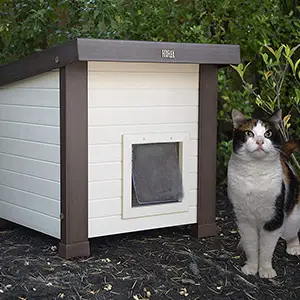 Another raised cat shelter that your cats will enjoy staying in. The New Age Pet Albany Feral Cat Shelter is made with EcoFlex material that is a plastic-wood polymer composite that will not warp, crack or rot.
It is also equipped with two exits that your cat can jump in and out of and will ease their anxiety. It is also an easy assembly cat shelter with no tools that are required to build. Because of the material that is used on this cat house, there is no need to deep clean every time. You simply need to rinse with a hose or wipe clean the dirt on the house.
Most people who use the New Age Cat Shelter use it to provide homes for those stray cats in their community. They usually place the shelter in a place where those stray often hangs out to protect them from harsh weather conditions. It gives them a comfortable place to rest and sleep before they head out into the city again.
Read our detailed New Age Pet ECOFLEX Cat House Review here >>
Product Specifications:
Dimensions: 21.8 x 19.1 x 20.2 in.
Shipping Weight: 22 lbs.
Material Used: ecoFLEX
Cat Capacity: 1-4 cats
Exit Doors: 2 doors
Raised: Yes
Waterproof: Yes
Quick Glance
What's Good
Easy to Assemble
Protects cats from wind, snow, and rain
Raised house so it will not get wet
Not too expensive for the quality of the house
What's Bad
Entrance Flaps are flimsy and seem like an afterthought
Smaller size inside as it seems, may customers are disappointed
Most Durable: Cozy Cat Furniture Outdoor Cat House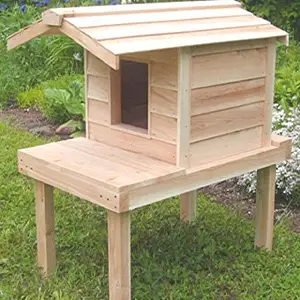 This cat house from CozyCatFurniture is a tall one. It is raised above the ground to protect your cat from the moisture on the ground and the insects and pests that come with it. It is made with natural cedarwood to last longer for outdoor use.
It also has half an inch thick thermal-ply insulation placed inside the walls and under the roof to make this house waterproof to avoid getting your cat wet during the rainy days. It is also easily assembled with a power screwdriver.
It is good for summer and winter. It keeps them warm in the cool weather and cools them down in the warmer seasons.
Read our detailed Cozy Cat Furniture Outdoor Cat House Review here >>
Product Specifications:
House Exterior: 18"D x 17"W x 18"H
Door Opening: 6"W x 8"H
House Floor Interior: 14"L x 13"D
Deck Platform: 29″D x 17″W x 16"H
Deck Area: 9"D x 17"W (D x W)
Material Used: Cedar Wood
Cat Capacity: 1-2 cats
Exit Doors: 1 door
Raised: Yes
Waterproof: Yes
Quick Glance
What's Good
Thermal-ply insulation
Waterproof construction
Raised for protection from moisture
Extended roof and lounging deck
What's Bad
Smaller than expected
Single exit and entrance
Not as easy to assemble as advertised
Best Design: Petsfit Outdoor Cat House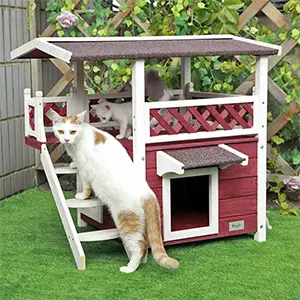 The Petsfit Outdoor Cat House is a design to behold. It includes a top porch were your cat can hang out on a nice sunny day. Your cat can also enjoy the quiet inside of the cat house with multiple entrances and exits. It comes equipped with a ladder that allows them to reach the top and relax on the top porch.
Their cat house is made of cedarwood panels that are 12mm thick. Using this kind of wood can avoid rotting of the wood. However, this will not guarantee that the wood will not split with improper handling and transportation. They say that this wood will last you 3 years and this has been tried and tested by the manufacturers.
Read our detailed Petsfit Outdoor Cat House Review here >>
Product Specifications:
Dimensions: 30 x 22 x 29 in.
Shipping Weight: 32.1 lbs.
Material Used: Cedar Wood
Cat Capacity: 1-4 cats
Exit Doors: 2 doors
Raised: Yes
Waterproof: Yes
Quick Glance
What's Good
Great design
Big enough for 3 cats
Two-door entrance and exit
Easy assembly with pre-drilled holes
What's Bad
Gaps within the panels allow water to seep through when raining
It is not the best quality of wood. Reports of rotted wood after some time
Buying Advice
What is an Outdoor Cat House?
An outdoor cat house is a house that is made specifically for those cats who enjoy the outdoors. There are many different types of cat houses. You have those that have lounging decks, heated beds, insulated ones, and even those for feral cats.
These houses keep these cats warm in the winter and cool in the summers. It also gives them their own private hideaway to sleep and rest. As most of the cat houses or shelters today are weatherproof, they can also keep your cat dry when the rain pours.
What are Feral Cats and how do they differ from stray cats?
Feral cats are strays that are not used to any human contact. They have been on the streets with no one taking care of them. These cats are usually fearful or feared because most of the time they have unstable behavior issues.
Normal stray cats are those who have gone astray from their home and could not return. They are domesticated and are used to human contact.
In our list above, there are cat houses or shelters for those feral cats who need places to rest and take a breather. These are usually bought by those who notice cats in the neighborhood and want to help them but could not adopt them. These shelters can keep them safe and dry in the roughest of weather.
Features To Consider When Buying An Outdoor Cat House
All our cats have different needs. Luckily, there are different features to fit all those needs. We have compiled a list of some of the features you might want to think about before buying a cat house or shelter.
Size
You have to make sure that your cat house fits all your cats. If you have a multi-cat home, you might want to consider the bigger ones to allow them to use it all at the same time. If you get a small one for all your cats, you might end up stopping fights often.
Material
You should also consider what material is used. If it something that you are going to use for a long time, then you must get the most durable one out there. There are cat houses that are made out of fabric, cedarwood, and other polymers. Pick and choose the best one that you like and of course, it must work for your situation.
Raised Cat Houses
Having the cat house raised can have a lot of benefits in the long run. When your cat is raised, you avoid getting the bottom part wet and not allowing it to rot over time. It also protects your cats from other insects and pests that may try to enter their outdoor cat house.
Multiple Doors
Multiple door cat houses benefit the cat so much. If a predator ever tries to catch your cat, it gives them an escape route when they enter the cat house. It reduces their anxiety if they have more than one door in their cat house. There are also some with only one door that is designed to keep the predators out.
Weatherproofing
Probably one of the most important features is how well does the house keep water out? The amount of weatherproofing on the house depends on where you plan to place the cat house.