Not all cats enjoy being indoors. To fulfill their natural instincts to be one with nature, we can give them a safe place for them to hang around in the safety of our own backyard. This way, they will not be cooped up inside the house every day. The best outdoor cat houses like the one in our PawHut outdoor cat house review will give them their connection to nature, at least the backyard.
Things To Consider Before Buying An Outdoor Cat House
Before getting your feline friend a cat house of his own, let us give you some of the things that you might want to consider before getting yourself a cat house.
Area
Consider the area where you are placing the cat house. Make sure that you have enough room not only to place it but for your cat to freely roam in and around it. Keeping it in a space where they have no room, will only frustrate you and your cat. You would want to think of it as another part of your house but just for your feline friend.
Weather Conditions
You should also be considering the weather in your area. Some cat houses are heated that would provide warmth for cats in areas with colder weather and that will not be good for those who live in areas where summers get really hot. There are many different types of cat houses and you need to do your research on what is the perfect one for you and your kitty.
PawHut Outdoor Cat House Overview
The PawHut's deluxe wooden cat house is a place where your outdoor cat can relax and have a safe environment to be in while in your own front or back yard. It is made with durable and stable material to allow your cat to go in and out of the cat house safely. It is decked out with a front porch that gives them the option to sunbathe or to stay away from the sun.
It is an elevated cat house that keeps the house away from any moisture or insects that may harm your feline friend. It also has an all-weather construction so you need not worry about the rain destroying the cat house your cat is enjoying.
It also has many other features that your cat will enjoy that we will talk about next in our PawHut outdoor cat house review article. First, here are the pros and cons that you might want to take into consideration when looking at PawHut's Cat House.
Quick Glance
What's Good
Weatherproof
Great for larger sized cats
Durable and Sturdy
Cute Design
What's Bad
Paint needs refreshing every now and then
Some parts broke off when delivered
Lots of Space
PawHuts's Cat House is a deluxe, large cat house that provides your cat with plenty of space to roam around in. They even have the choice of staying under the sun and get a little sunshine vitamin for themselves.
The main living area for this cat house is spacious enough for your cat to move around. Don't worry about larger cats because they will have enough space to freely lie down and roam around inside the main living area.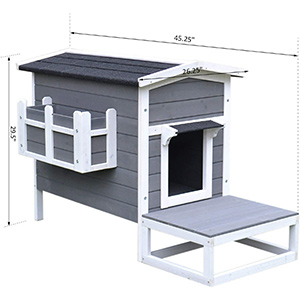 Asphalt Roof
The roof on this deluxe cat house is an A-framed, all-weather asphalt roof that is great for any weather condition. May it be protecting your cat from the sun, rain, or snow, you can always trust that your cat will be safely protected under the roof of this house.
Raised Floor
One of the main reasons why this house is raised is to protect your cat from the insects and pests that may be around your back yard. It also keeps them safe from getting wet whenever it is raining and snowing.
Being raised can also protect the house itself from any damage it may incur when it is on wet ground. By raining the floor of this house, you can keep this house for a longer time and your cat can enjoy his house through the rest of his years.
Easy Entrance and Exit
The entrance and exit on PawHut's cat house are very easy to use. You have a front entrance where your cat can go in and out easily. You also have a back entrance that you can choose to keep closed or open to provide them more access to the house.
Side Balcony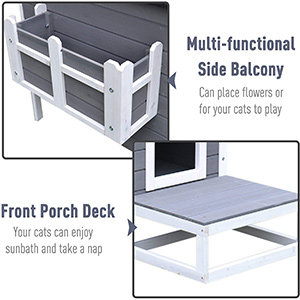 A side balcony is equipped on the side of the house for you to put any plants or decorations to spruce things up for your cat and your back yard.
Easy Assembly
This cat house is very easy to assemble. The package comes with directions that you can easily follow. PawHut says that one person can build this by themselves but there have been some reviews that say you might need two. Better make sure that you acquire a helping hand the day you are to build this cat house.
What Others Say About PawHut Deluxe House
We have scoured the internet for review on the PawHut Wooden Large Deluxe Cat House and here is what we found.

Joanna absolutely loves this cat house. She says that this looks super cute in their yard and that it is a good size. It is big enough for their cats at home and wishes to see the uses of this cat house more in the coming days.

Donna believes that this is a super functional cathouse for her outdoor cat. The only thing she wanted was a covering for the door that didn't require you to open and close that covering.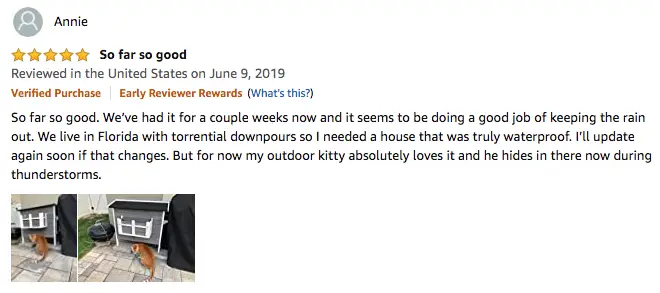 Annie's outdoor cat, on the other hand, loves the cathouse she has because of how its waterproof and keeps the rain off her cat. She had said that she will update if there are any changes but as of now, there aren't any changes in how she feels.
Alternatives To The PawHut Wooden Large Cat House
In our quest to write our PawHut outdoor cat house review, we also evaluated other cat houses. Below are 3 alternative options to the PawHut cat house.
Outdoor Multi-Kitty A-Frame Cat House
This multi-kitty outdoor house is designed to look like a tent for your outdoor kitty. It is equipped with a heated bed perfect for those cats who enjoy being in the outdoors but live in colder weather conditions. Aside from the heated version of this house, this cat house also comes in a non-heated version for those who like the design but would be too hot for a heated house.
There are two exits that include clear flaps to protect your feline friend from the harsh conditions of winter. The waterproof fabric used on this cat house protects your cat from getting wet during the rainy and winter season and keeps them warm and cozy. It easy to assemble and can house multiple cats at the same time.
However, this house is not raised and can cause damage to the bottom of the house if not taken care of properly.
New Age Pet Albany Feral Cat Shelter
Another raised cat shelter that your cats will enjoy staying in. The New Age Pet Albany Feral Cat Shelter is made with EcoFlex material that is a plastic-wood polymer composite that will not warp, crack or rot.
It is also equipped with two exits that your cat can jump in and out of and will ease their anxiety. It is also an easy assembly cat shelter with no tools that are required to build. Because of the material that is used on this cat house, there is no need to deep clean every time. You simply need to rinse with a hose or wipe clean the dirt on the house.
However, this house is not as big as PawHut's cat house but your cat will definitely still enjoy this little shelter.
Outdoor Cat House with Lounging Deck and Extended Roof
This cat house from Cozy Cat Furniture is a tall one. It is raised above the ground to protect your cat from the moisture on the ground and the insects and pests that come with it. It is made with natural cedarwood to last longer for outdoor use.
It also has half an inch thick thermal-ply insulation placed inside the walls and under the roof to make this house waterproof to avoid getting your cat wet during the rainy days. It is also easily assembled with a power screwdriver.
It is good for summer and winter. It keeps them warm in the cool weather and cools them down in the warmer seasons.
Our Final Thoughts
As our PawHut outdoor cat house review revealed, this kitty house is one of the best on our list of cat houses. There are many points about this cat house that make it a must-have for those with outdoor cats.
It is raised above the ground to protect them from pests and insects on the ground that you might not expect. It also protects the house itself from deteriorating quicker than having it on the ground and accumulates moisture through time. Multiple exits also relieve the anxiety for some cats. The weatherproofing on the asphalt roof is also good to take note of when choosing the right one for you and your cat.
Click here to get current pricing on Amazon for The PawHut Wooden Large Cat House >>