If you have a cat that just loves staying outdoors but you live in a city where the temperatures can reach freezing? Well, we just might have the perfect outdoor cat house for you. Our K&H Outdoor Kitty House Heated Review features this tent-like cat house that includes features to keep your cat or cats warm in the wintertime.
What To Consider Before Buying A Kitty House
Of course, as you purchase, you really want to be sure that what you get is the perfect one for you and your cat. We have gathered some information and compiled a very short list of what you may want to consider when getting yourself a cat house for your cats.
Multi-Cat House
If you live in a house with multiple cats, finding the right cat house for you and your feline friends is important. You would want to find a cat house that can fit most, if not all of them. There are numerous designs, shapes, and sizes for the cat houses and you should get the most appropriate size for your home
Weather Conditions
You also might want to consider the weather conditions in the city that you are living in. If you live in a city that has colder weather most of the time, you might want to get a cat house the is enclosed rather than a cat house that has outside features that allow your cat to lay outside.
By thinking of this, you can save your cat from anxiety and uncomfortableness. You always want them to be happy and safe wherever they are staying.
Added Features
Like what I mentioned above, there are many different sizes and shapes for cat houses. They also have different functions depending on how you want to use them. Some would have extended roofs for protection and some may have insulations built-in.
Whatever use you may have for cat houses, you will find the right one for you if you look in the right places. We're glad you are here.
K&H Outdoor Kitty House Heated Review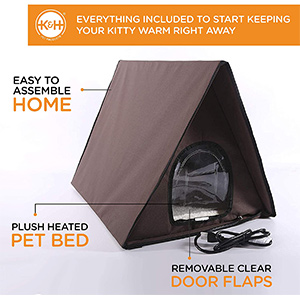 This multi-kitty outdoor house is designed to look like a tent for your outdoor kitty. It is equipped with a heated bed perfect for those cats who enjoy being in the outdoors but live in colder weather conditions. Aside from the heated version of this house, this cat house also comes in a non-heated version for those who like the design but would be too hot for a heated house.
There are two exits that include clear flaps to protect your feline friend from the harsh conditions of winter. The waterproof fabric used on this cat house protects your cat from getting wet during the rainy and winter season and keeps them warm and cozy. It easy to assemble and can house multiple cats at the same time.
However, this house is not raised and can cause damage to the bottom of the house if not taken care of properly.
Quick Glance
What's Good
Heated pads for colder weather
A-framed shape to keep cats cozy
Choice of heated and non-heated cat houses
Waterproof that is perfect for snow and rain
What's Bad
Cannot withstand harsher weather conditions and must be placed in protected areas
Lightweight and flimsy for some users
Core Features Of This A-Frame Cat House:
Multi-Cat
This cat shelter is very spacious and can house up to four cats. It gives them enough room stay inside and be comfortable and keep themselves warm. It is very difficult to find cat houses that fit that many cats, but here we are.
If you do not have more than one cat, this will be the perfect house for your solo cat. It will give him al the freedom that he needs to roam inside the cat house.
Heated Beds
The Outdoor A-Frame Cat House comes with a heated bed that can be used to keep your outdoor cats warm in the harshness of winter. This will also keep a number of cats comfortable while inside the tent. This is the only cat shelter available that can house four cats while keeping them warm in the cold weather.
Heated or Non-heated
For those that do not live in cold weather or you just want to keep your cats sheltered in sunny temperatures, a version of this cat shelter is available as a non-heated cat shelter. This will still be perfect use to keep your number of cats safe from the sun and the weather changes in your area.
Waterproof Fabric
Unlike most cat houses on our list, this cat shelter is made of a waterproof fabric that can stand snow and rain. This cat house is not as heavy as the other cat houses and you can easily move it around just in case you need to.
Combined with the heated beds, the waterproof fabric can truly keep your felines safe and warm in these conditions.
Easy To Assemble
Oddly enough, it looks like a tent that you normally would put up at a campsite. The only difference is, you will not be having a hard time assembling this cat house. This cat shelter makes use of hook and loop fasteners to keep it up. This means that you will not even need tools to be able to assemble the tent in your backyard or front porch.
What Others Say About The K&H Outdoor Heated Kitty House
While I was on the lookout for my own multi-kitty cat house, I have seen some reviews on the product, and here are some of them.
This Opinionated Horsewoman sure has a lot to say about this cat shelter. She finds it very easy to assemble and disassemble for cleaning. She needed another A-frame cat house because she just acquired a new cat and needs more space to hang out. She also loves the heating pad that it comes with.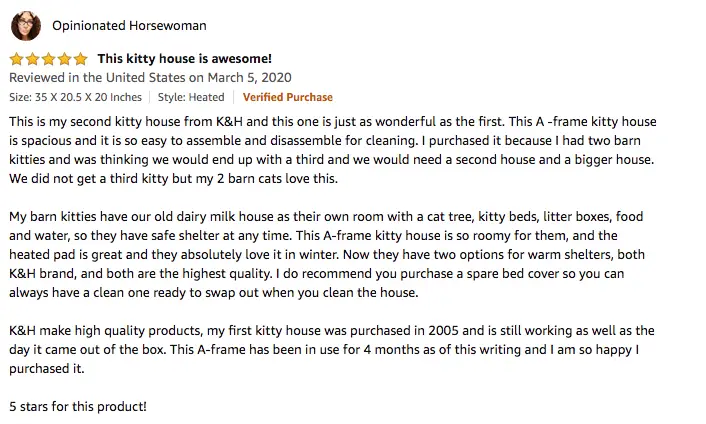 Jessica Haney has had her Cat House for six years already. She and her kitties love it so much that the heated pad cover has needed replacing. Being in the garage for that long, you would really need to replace that. I don't think they will be changing cat houses soon.
Similar Cat Houses To The K&H Outdoor Kitty House Heated
New Age Pet Albany Feral Cat Shelter
Another raised cat shelter that your cats will enjoy staying in. The New Age Pet Albany Outdoor Cat House is made with EcoFlex material that is a plastic-wood polymer composite that will not warp, crack or rot.
It is also equipped with two exits that your cat can jump in and out of and will ease their anxiety. It is also an easy assembly cat shelter with no tools that are required to build. Because of the material that is used on this cat house, there is no need to deep clean every time. You simply need to rinse with a hose or wipe clean the dirt on the house.
Outdoor Cat House with Lounging Deck and Extended Roof
This cat house from Cozy Cat Furniture's outdoor cat house is a tall one. It is raised above the ground to protect your cat from the moisture on the ground and the insects and pests that come with it. It is made with natural cedarwood to last longer for outdoor use.
It also has half an inch thick thermal-ply insulation placed inside the walls and under the roof to make this house waterproof to avoid getting your cat wet during the rainy days. It is also easily assembled with a power screwdriver.
It is good for summer and winter. It keeps them warm in the cool weather and cools them down in the warmer seasons.
Petsfit Outdoor Cat House
The Petsfit outdoor cat shelter is a design to behold. It includes a top porch were your cat can hang out on a nice sunny day. Your cat can also enjoy the quiet inside of the cat house with multiple entrances and exits. It comes equipped with a ladder that allows them to reach the top and relax on the top porch.
Their cat house is made of cedarwood panels that are 12mm thick. Using this kind of wood can avoid rotting of the wood. However, this will not guarantee that the wood will not split with improper handling and transportation. They say that this wood will last you 3 years and this has been tried and tested by the manufacturers.
If you want a long-lasting cat house, this just might be it.
Our Final Thoughts
I hope you enjoyed our K&H Outdoor Kitty House Heated review. This heated kitty house is a lightweight house that becomes a safe haven for cats that are looking for warmth in the harshness of winter. It is constructed with waterproof fabric that keeps your cat dry inside the cat shelter.
It comes with an equipped heated bed that allows them to keep warm and snuggle up with each other and avoid being cold altogether. However, if you like the design for yourself and not want a heated shelter, then you can opt to buy the non-heated version of this A-Frame Cat House.
Click here to get current pricing on Amazon for The Outdoor Multi-Kitty A-Frame Cat House >>