Having an outdoor cat can be a bit difficult to handle. Luckily, you can find outdoor cat houses for your outdoor cats. Just like the one featured in this article, the New Age Pet ECOFLEX Albany Feral Cat Shelter is a shelter that you can have outside your home or in your backyard. It can allow your cat to play, rest and chill in the great outdoors. Keep reading for our complete New Age Pet ECOFLEX cat house review.
Things To Consider Before Buying An Outdoor Cat House
Getting a cat house isn't that easy. You would need to consider something before you go out and purchase one for your home. Knowing the right size for your own home can be advantageous in the long run.
Take into consideration how big you want the cat house and if it is the right one for the size of your own home and the number of cats you have. You may get a bigger one even if you only have one cat at home so he can enjoy all the benefits of the cat house.
However, if you live in a multi-cat home, you might want to consider getting the biggest one so all your cats can enjoy the features and benefits of the cat house or cat shelter. In some cases, you may need to get multiple cat houses if they enjoy it too much and all of them just hang around it all the time.
Get the perfect size for what you need and what you can accommodate in your own home.
New Age Pet ECOFLEX Cat House Review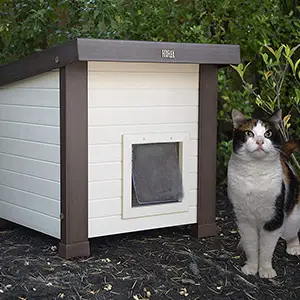 Another raised cat shelter that your cats will enjoy staying in. The New Age Pet Albany Feral Cat Shelter is made with EcoFlex material that is a plastic-wood polymer composite that will not warp, crack or rot.
It is also equipped with two exits that your cat can jump in and out of and will ease their anxiety. It is also an easy assembly cat shelter with no tools that are required to build. Because of the material that is used on this cat house, there is no need to deep clean every time. You simply need to rinse with a hose or wipe clean the dirt on the house.
Most people who use the New Age Cat Shelter use it to provide homes for those stray cats in their community. They usually place the shelter in a place where those stray often hangs out to protect them from harsh weather conditions. It gives them a comfortable place to rest and sleep before they head out into the city again.
Quick Glance
What's Good
Easy to Assemble
Protects cats from wind, snow, and rain
Raised house so it will not get wet
Not too expensive for the quality of the house
What's Bad
Entrance Flaps are flimsy and seem like an afterthought
Smaller size inside as it seems, may customers are disappointed
Multiple Cat House Exits
As we mostly know, the reason that most cat houses have multiple exits is for easing the anxiety of the cats to make it seem that they are not stuck inside the cat shelter or cat house. The New Age Pet Cat House has multiple exits just for that exact reason.
I mentioned above that this product is used by some to take care of the strays around the community. This can certainly ease their anxiety and nervousness.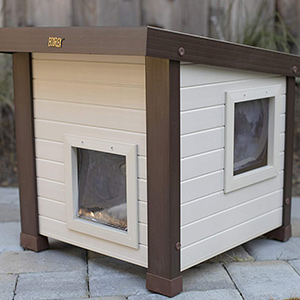 Made with EcoFLEX
When researching this product for our new age pet EcoFLEX cat house review, we loved this feature! This cat shelter is made from EcoFLEX which is a polymer-wood combo that can withstand the rain, snow, and the wind. It is a recycled material that will not warp, break, crack, or split.
EcoFLEX is one of the leading brands for pet houses, shelters, and other items that use recycled materials and keep the world green. Some of the benefits of EcoFLEX are:
All proof: they are moisture and humidity resistant, they are rot proof, and they are insect-proof.
Longer life cycle: Ecoflex materials will outlast traditional wooden structures even in harsher climates.
Stable: Ecoflex will not warp, twist, or crack from the changes in humidity and weather. They will also not splinter making it safe for your pets and finally, they will not expand and contract like traditional wood which will make it last longer than traditional wood.
Easy To Clean
Because of the material used, it is very easy to clean up. You need not do any deep cleaning except for maybe every quarter. But on a day to day basis, you only need to either hose it down or wipe the dirt away with a cloth.
Cleaning this house has never been easier. Since the house is raised and does not touch the ground, you can hose it down to give it a good clean and not worry about getting the bottom of the house and cause damage to the house.
Easy Assembly
This may be one of the easiest cat houses that we've ever built. Every New Age Cat Shelter comes unassembled, but you don't have to worry because it is as easy as the ABC's. The house/shelter needs four short and four long plastic thumbscrews to lock it down in place. The kit may come with 5 of each type just for safety.
The plastic flaps for the door just glue on above the opening. However, you might encounter problems with this in the long run and might we suggest bringing in some power tools to secure it to the door.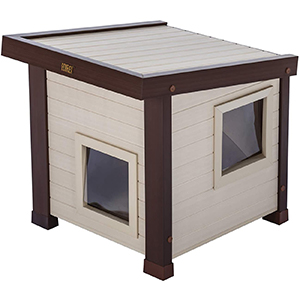 What Other Users Say About The New Age Pet EcoFLEX Cat House
After reviewing this for ourselves, we got curious and searched for other reviews on this cat shelter. Here are some of them:
Christi Mullen is extremely happy with her purchase. He read other reviews just like us and expected what arrived in her home. She loves how this is the easiest one to assemble. And she is glad that they have put a customer service card in the package so you can contact the manufacturer for any help you may need.

Henny Penny bought this cat shelter for an adopted stray named Nala. Nala is still wary of using the cat shelter but Henny says that she is getting comfortable day by day. Overall, she says that this a wonderful home for Nala.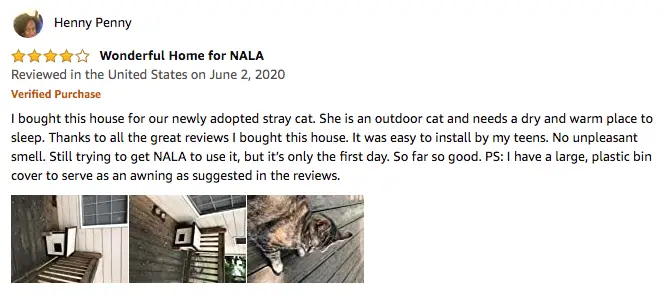 Meredith got scared because when she got this shelter, her cat was ignoring it completely. But after a while, the cat gave in and started going in. She has finally added blankets and such inside the house to make her cat more comfortable and now her outsider feral cat likes it.

Alternatives To The New Age Pet EcoFLEX Cat House
Outdoor Cat House with Lounging Deck and Extended Roof
This cat house from CozyCatFurniture is a tall one. It is raised above the ground to protect your cat from the moisture on the ground and the insects and pests that come with it. It is made with natural cedarwood to last longer for outdoor use.
It also has half an inch thick thermal-ply insulation placed inside the walls and under the roof to make this house waterproof to avoid getting your cat wet during the rainy days. It is also easily assembled with a power screwdriver.
It is good for summer and winter. It keeps them warm in the cool weather and cools them down in the warmer seasons.
Petsfit Outdoor Cat House
The Petsfit Outdoor Cat House is a design to behold. It includes a top porch were your cat can hang out on a nice sunny day. Your cat can also enjoy the quiet inside of the cat house with multiple entrances and exits. It comes equipped with a ladder that allows them to reach the top and relax on the top porch.
Their cat house is made of cedarwood panels that are 12mm thick. Using this kind of wood can avoid rotting of the wood. However, this will not guarantee that the wood will not split with improper handling and transportation. They say that this wood will last you 3 years and this has been tried and tested by the manufacturers.
If you want a long-lasting cat house, this just might be it.
PawHut Wooden Large Deluxe Cat House Overview
The PawHut Wooden Large Deluxe Cat House is a place where your outdoor cat can relax and have a safe environment to be in while in your front or back yard. It is made with durable and stable material to allow your cat to go in and out of the cat house safely. It is decked out with a front porch that gives them the option to sunbathe or to stay away from the sun.
It is an elevated cat house that keeps the house away from any moisture or insects that may harm your feline friend. It also has an all-weather construction so you need not worry about the rain destroying the cat house your cat is enjoying.
It also has many other features that your cat will enjoy that we will talk about next. First, here are the pros and cons that you might want to take into consideration when looking at PawHut's Cat House.
Our Final Thoughts
I had a great time writing my New Age Pet ECOFLEX cat house review. Overall, The New Age Pet Albany Feral Cat Shelter is an amazing product. It may be a little small for some but if you have one cat, this would be perfect. One of our favorite things about this house is that it is made of recycled materials. Although some report that there is a weird smell, there are some that don't even smell anything.
It is very easy to assemble as it arrives and no power tools needed unless you want to reinforce some things like the clean panel for the door. This has one of the best designs if you ask us. You will not regret getting this product for yourself.
Click here to get current pricing on Amazon for The New Age Pet Albany cat house >>