Some cats love staying outdoors. One problem with that is that you get a wet cat. One solution that most people do is that they get a warm and safe outdoor cat house so their feline friends can stay outside and still be comfortable. One of these cat houses is Cozy Cat Furniture's outdoor cat house with a lounging deck and extended roof. Keep reading for our complete Cozy Cat Furniture outdoor cat house review.
Things To Think About Before Buying An Outdoor Cat House
Getting a cat house for your cat can be a hit or a miss. Most of the time it is a hit, but there are those times that it takes a while for them to get used to the item that you bought them. Some cat owners try to lure their cats inside the cat house with some catnip or some toys. Sometimes it works, sometimes it doesn't. You really have to find a balance to what your cat wants and is interested in.
One of the things you might want to consider is the design of the cat house. Part of the design is what functions and benefits it gives your cats.  You have to consider what you need for your outdoor cat.
If you live in a cold city, you may need something that can warm them up in the colder temperatures and if you live where the summers get really hot, you need a cat house to keep them cool when it's burning outside.
Also, you might need to think about the size of the cat house you are getting. Multi-cat homes may need bigger or larger cat houses and you better check before ordering because you may get disappointed when you finally get to assemble your cat house.
Cozy Cat Furniture Outdoor Cat House Review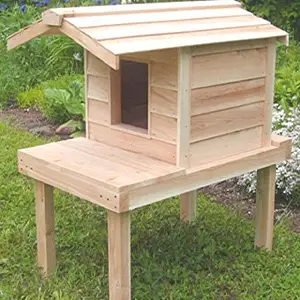 This cat house from CozyCatFurniture is a tall one. It is raised above the ground to protect your cat from the moisture on the ground and the insects and pests that come with it. It is made with natural cedarwood to last longer for outdoor use.
It also has half an inch thick thermal-ply insulation placed inside the walls and under the roof to make this house waterproof to avoid getting your cat wet during the rainy days. It is also easily assembled with a power screwdriver.
It is good for summer and winter. It keeps them warm in the cool weather and cools them down in the warmer seasons.
Quick Glance
What's Good
Thermal-ply insulation
Waterproof construction
Raised for protection from moisture
Extended roof and lounging deck
What's Bad
Smaller than expected
Single exit and entrance
Not as easy to assemble as advertised
Thermal Ply Insulation 4/5
This cat house is insulated with Thermal-Ply Insulation that keeps your cat warm in the winter weather and also gives them a cool place to hang out in the heat of summer. These insulations are placed inside the walls, roof, and under the floor of this cat house. The insulations are half-an-inch thick to keep the inside of the house cool or warm depending on the weather.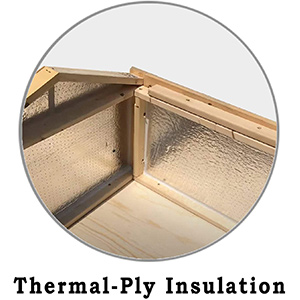 Waterproof 3/5
The roof of the cat house is plywood covered in waterproof felt paper and then western cedar siding over the felt paper to ensure that your cat stays dry inside the cat house and the lounging deck.
For the entrance/exit of the cat house, you have an option to add vinyl flaps to the exits to keep the splash of the rain or snow to get inside the house.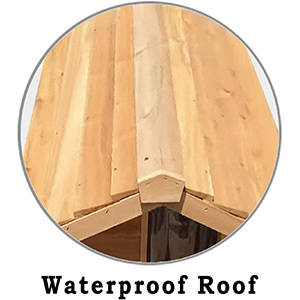 Assemble with Ease 3/5
The CozyCat Furniture Cat House is easy to assemble when you follow the directions correctly. This cat house is shipped unassembled so you need to assemble the whole thing in your home when it arrives.
Power Tools may be needed when you assemble this but a normal screwdriver can work also. I suggest that because of the weight and size of this cat house. You may want to assemble it in the area that you are going to be placing it unless you want to have a hard time carrying it around.
Raised Platform and Extended Roof 4/5
One of the best parts of this house for us is the raised platform and the extended roof. Being raised, it keeps it from getting wet underneath where if it doesn't get dry, may rot in time. It also keeps your cats away from any insects or pets on the ground that may disturb or distract them from resting inside the home.
The extended roof allows for your cat to stay in the lounging area and be protected from the sun and some of the rain. Of course, we cannot control the winds when they blow the rain towards the house and onto your cat. But some light rain will not bother your cat that much and they will be protected from above with the extended roof.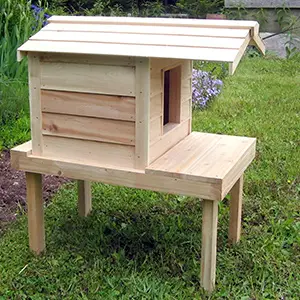 What Others Say About Cozy Cat Furniture's Outdoor Cat House
As we were looking for the best cat houses for the list, we stumbled upon some customer reviews on this Cat House with The Lounging Deck and Extended Roof. Here are some of them:
Peggy is very happy with her purchase and so is her cat. She finds that the Outdoor Cathouse is worth it because it keeps her outdoor cat safe and dry. She mentioned assembling it at its final destination as it is quite heavy to carry.
K. Blasingame thinks that this cat house is an investment. His cat loves it and crawled inside as soon as it was assembled. He finds it sturdy and won't be blown over by strong winds.

Alternatives To This Outdoor Cat House
Petsfit Outdoor Cat House
The Petsfit Outdoor Cat House is a design to behold. It includes a top porch were your cat can hang out on a nice sunny day. Your cat can also enjoy the quiet inside of the cat house with multiple entrances and exits. It comes equipped with a ladder that allows them to reach the top and relax on the top porch.
Their cat house is made of cedarwood panels that are 12mm thick. Using this kind of wood can avoid rotting of the wood. However, this will not guarantee that the wood will not split with improper handling and transportation. They say that this wood will last you 3 years and this has been tried and tested by the manufacturers.
If you want a long-lasting cat house, this just might be it.
PawHut Wooden Large Deluxe Cat House Overview
The PawHut Wooden Large Deluxe Cat House is a place where your outdoor cat can relax and have a safe environment to be in while in your front or back yard. It is made with durable and stable material to allow your cat to go in and out of the cat house safely. It is decked out with a front porch that gives them the option to sunbathe or to stay away from the sun.
It is an elevated cat house that keeps the house away from any moisture or insects that may harm your feline friend. It also has an all-weather construction so you need not worry about the rain destroying the cat house your cat is enjoying.
Outdoor Multi-Kitty A-Frame Cat House
This multi-kitty outdoor house is designed to look like a tent for your outdoor kitty. It is equipped with a heated bed perfect for those cats who enjoy being in the outdoors but live in colder weather conditions. Aside from the heated version of this house, this cat house also comes in a non-heated version for those who like the design but would be too hot for a heated house.
There are two exits that include clear flaps to protect your feline friend from the harsh conditions of winter. The waterproof fabric used on this cat house protects your cat from getting wet during the rainy and winter season and keeps them warm and cozy. It easy to assemble and can house multiple cats at the same time.
However, this house is not raised and can cause damage to the bottom of the house if not taken care of properly.
Our Final Thoughts
In researching this house for our Cozy Cat Furniture outdoor cat house review, we found that it is good for durability. However, the Outdoor Cat House With Lounging Deck and Extended Roof is not the best-looking cat house for us.
The extended roof and the fact that it is raised is the best part for us. The lounging area is also a good idea for cats who like to stay perched on top of furniture and just keep watching. The one entrance and exit worries us a little for all the anxious cats but it could not be a problem for some.
If you like a cat house for a single furry friend to keep them dry and warm depending on the weather, this may be the one you would want to get.
Click here check out Cozy Cat Furniture's Outdoor Cat House on Amazon >>