Cleaning up dog poop can be messy, and I don't like the idea of picking up dog waste with a plastic bag covering my hand. Although pooper scoopers are beautiful, I find the one I'm currently using does not work well on pavement. Plus, it breaks easily, so I needed to buy a different one after a few months. It's a total waste of money. Good thing when I searched the internet, I found one that screams durable from the name itself – PPOGOO Non-Breakable Pet Pooper Scooper.
Things to consider before buying a Pooper Scooper
Unlike cats, dogs don't use a litter box, which means they only poop once you let them outside. That is if they are housebroken. So, since they'll defecate once they're out of the house, it's your responsibility to clean up after your dog. It's part of the package deal that came along when you decided to bring home your little puppy.
Usually, dog owners use a plastic bag to pick up dog waste, and it's undeniably a messy and gross job. If you don't feel grossed out about this, then you might relate when I say that bending over to clean up after your dog can hurt your back.
If you're having these problems, then you might want to consider buying yourself a pooper scooper. A pooper scooper is an item that you can use to quickly to pick up dog waste without needing to bend over or come in close contact with the fecal matter. You will need to choose one that is the best fit for you. In order to do that, here are some essential factors that you might want to keep in mind.
Scooper Size
For the size, take into consideration the size of your dog. If you have a large dog, then you would need a pooper scooper with a large scoop. This is so you'd be able to pick up large and multiple wastes when required.
Weight and Length
The weight and length are very important. Naturally, if you want that convenience, then you would want a lightweight pooper scooper. This is because you wouldn't want to strain your arms carrying it around while you're walking your dog.
Also, make sure that the length of the handle fits your height well. It should be neither too short nor too long, so you won't encounter any difficulties or straining while you take care of your job. You can also consider buying a pooper scooper that has an adjustable handle.
Durability
Find a pooper scooper that will last long. Although most pooper scoopers are affordable, ranging from $10 – $20 each, it's not wise to keep on buying a new one after several months just because it broke. That's a waste of money.
Consider the pooper scooper material. Also, remember, heavy doesn't necessarily mean it's durable. Don't sacrifice your convenience for a heavier product. You can find several pooper scoopers made of lightweight, heavy-duty plastic on the market.
PPOGOO Non-Breakable Pet Pooper Scooper Review
The PPOGOO Non-Breakable Pet Pooper Scooper is one of the most durable pooper scoopers on the market today. Manufacturers proudly made it of environmentally friendly premium materials that are lightweight but not easy to break.
The materials are non-stick, which aids in easier cleaning. It's one of those items on the market that can offer the best value for your money.
To understand more about the product and how it can benefit the user, let's take a look at the benefits the PPOGOO Non-Breakable Pet Pooper Scooper can give.
Quick Glance
What's Good
Features an easy-pull handle
Can be used with one hand
Scoop can be used for multi-surfaces
Foldable Design
What's Bad
Handle not adjustable and may not be suitable for some
It's short, requiring to be slightly hunched over while using it.
Quality and Design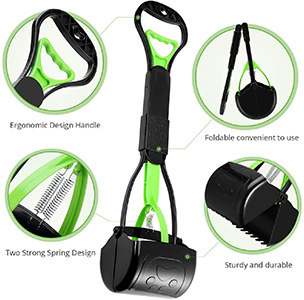 The PPOGOO Non-Breakable Pet Pooper Scooper is an example of a claw-type pooper scooper designed for one-hand use. It's ideal if you want to get the best convenience possible. It also features an easy-pull handle with a spring-function for effortless scooping.
The most notable feature of this product is its durability. As the name implies, it's one of the most sturdy pooper scoopers in the market and will certainly last with you for years.
The size of the scooper is large enough for any dog size. This means that you'll be able to pick up various waste, even in large quantities. It also means that you wouldn't have to visit a trash bin to dispose of it repeatedly.
The scooper is also perfect for multi-surfaces. You can use it to pick up waste from grass, concrete, gravel, or dirt. This will make it easy for you to walk your dog on any type of surface, and you won't have to worry where he poops.
Generally, this pooper scooper is designed to give the user the best comfort and convenience. The handles are also long, which offers extended reach without having to squat or bend. However, do note that the handle is not adjustable, so it's best if you make sure that it fits your heights without having to strain your arm or back.
Convenience
As mentioned above, the PPOGOO Non-Breakable Pet provides you comfort and satisfaction, starting from the fact that it's a claw-type pooper scooper. However, the handle is short. This means that you might find yourself hunched over while using it!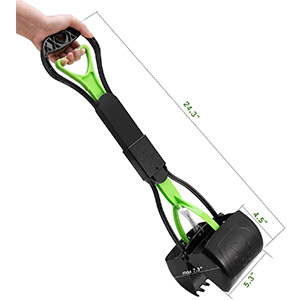 However, what's lovable with this pooper scooper is the fact that it's super lightweight while being durable at the same time. Carrying it wherever you go would certainly not be a problem at all.
It is also one of a few pooper scoopers that shows a foldable nature, which is convenient for easy transport and storage.
Cleanliness
Of course, the PPOGOO Non-Breakable Pet Pooper Scooper is not only excellent in durability, but it also offers dog owners ease when it comes to cleaning.
It is made of non-stick materials which will not allow waste to stick on the surface of the scooper. This means less hassle in needing to clean the scooper after use.
You can easily hose it down with water, and then you're done. After that, you can easily store it for next day use.
Key Features:
Foldable Portable Design
Made of ecologically friendly materials
Durable but lightweight
What do other people say about the PPOGOO?
When it comes to durability, the PPOGOO Non-Breakable Pet Pooper Scooper doesn't come last. However, let's also try to look at what the other users say about it:
This Grandfather was searching for a solution to make it easier for his grandkids to pick up dog poop in the yard. He is extremely happy with the ease of use of this pooper-scooper.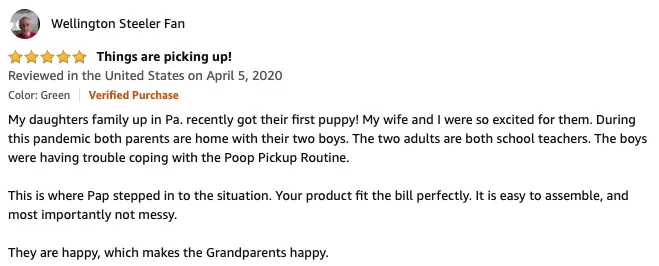 Norris Party of 7 found that the handle length is just not what is advertised, which is exactly what we found as well!

Katie found that this dog waste clean up tool was the perfect way to teach her son the lessons and responsibilities of pet ownership 🙂

Alternatives to the PPOGOO Pet Pooper Scooper
We all have our preferences, and that's normal. If you think the PPOGOO Non-Breakable Pet Pooper Scooper doesn't offer you the solution you're looking for, below are some great alternatives you can consider.
Nature's Miracle Non-Stick Advanced Jaw Scoop
Nature's Miracle Non-Stick Advanced Jaw Scoop is a jaw clamp-type pooper scooper made with the user's convenience in mind. It is made of durable but lightweight material, which allows even seniors to carry it around from one place to another easily.
The most notable feature of the product is its non-stick material that aids in easy cleaning. We all know how messy dog poop cleaning can be, and it's frustrating when those wastes stick to the scooper. With this product, cleaning will be as simple as hosing it down after every use.
Check out more about Nature's Miracle Jaw Scoop here.
Bodhi Dog Complete Poo Pack
It's hard to find a pooper scooper that comes with the right waste bag and bag holder. Plus, buying each one separately means additional fees.
Save some money by purchasing the Bodhi Dog Complete Poo Pack. It's a complete package that gives you everything you need for your waste cleaning. The kit includes a pooper scooper, dog waste bag holder, and rolls of waste bags. Which means no need to worry anymore where you can find those.
The pooper scooper that comes along with this pack is made of lightweight material so you can easily carry it wherever. Plus, picking up waste is so easy with one hand.
If you'd love to know more about the Bodhi Dog Poo Pack, check it out here.
PetMate Swivel Bin and Rake Pooper Scooper
The PetMate Swivel Bin and Rake Pooper Scooper is a bin and rake type of pooper scooper. Unlike the other two mentioned pooper scoopers, this would require two hands for picking up waste. It functions as a broom.
The rake offers the most significant advantage as it can scoop out dog poop on different types of surfaces. The bin is also big enough so you can pick up even the large fecal matter. It comes with two waste bags upon purchase, and the best part about those bags is they are carbon filtered, which promises odorless cleanup.
To find out more, check out the PetMate Swivel Bin and Rake Pooper Scooper here.
Our Final Thoughts
As you can see, the PPOGOO Non-Breakable Pet Pooper scooper is one of the most durable in the market. Plus, if you're looking for one that is environmentally friendly, this will be the best option in the market.
With its claw-type design, you will undoubtedly experience comfort from using it. Not to mention that it is lightweight too, despite being durable. The non-stick material used is also something to love, especially if you want to experience a non-stressful cleaning after you use it.
However, if you are taller, this Pooper-scooper may not be the best option for you! Check out our complete list of Pooper-scoopers for a full list of alternatives.
So, if you're looking for a pooper scooper that will last for a long time, the PPOGOO Non-Breakable Pet Pooper Scooper might be for you.
Check out current pricing and availability on Amazon here >>