Have you had enough of your cats ruining the tassels on your curtains? Why do cats have to scratch on the furniture? All that will be discussed as we review one of the products that can help with controlling that. The VESPER Cat Tree Scratching Post With Condo.
Why do cats scratch?
It is only natural that cats scratch on your furniture. They have instinctual needs to scratch on different things in the house because that's who they are. They need to relieve stress, get their close in proper shape and it's also a good exercise for them. For kittens, it's a great way to get pent up high energy. These scratching trees will not stop them from ruining your furniture, but it may lessen it. You have to lure them into using the tree instead of your chair. You can use catnip, any treats they might like. As with any purchase, there are some things that we might need to consider before buying one. If you do end up deciding to buy one, then you have to consider what type of scratching tree you need. Here are some things you might want to ponder on:
Design – What design would my cat want or need?
Size and Shape – What shape would best fit my cat's needs? How tall of a tree is best?
Material – What material would like my cat like the most?
Added Features – What else comes with this scratching tree?
We'll be taking a look at how these factors might affect your cat. We will also find out if our featured product ticks all the boxes on your list.
VESPER Furniture's Tall Tree With Scratching Post Review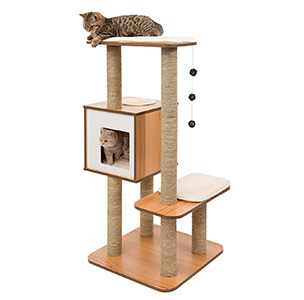 The VESPER Cat Tree Scratching Post with Condo is a tall scratching post that acts as an observation deck and a resting place. It encourages scratching with its tall and slim poles. It is also equipped with a "condo" or a cube that is great for taking naps in. This surely is an eye-catcher due to its height. A taller or larger cat would love to play on one of these.
Quick Glance
What's Good
Sleek Design that looks good in any part of the house
Effortless set-up
Great hangout place for cats
It has memory foam cushions
Poles are covered in scratch-friendly material
What's Bad
Not as affordable as other trees
Reports of durability issues
Sometimes unstable
Key Features Of VESPER's Tall Cat Tree
As with all scratching trees, it has different features that make up the VESPER Cat Tree Scratching Post with Condo. Let's take a look at what these are and see if this what you need for your home to prevent your cat from ruining more of your precious furniture.
Design
Like normal trees, these cat scratching trees come in a variety of designs. Our featured product comes with a wide base that will support your cat's weight. It has sleek posts covered with cat-friendly material that will help your cat sharpen its claws. It is also equipped with a ball toy that your cat could spend hours amusing himself. It comes in 2 great colors: Black and Walnut. A cat tree that can surely blend in with the rest of your furniture
Size and Shape
This cat tree will surely grab your cat's attention for its height. Standing at 47.9 inches, this cat tree is a great scratching post for taller cats who want to be at a higher vantage point and observe. With sleek, long poles, this makes for a sturdy well-balanced, cat tree. It comes with a condo or a cube with a round hole that your cat can go inside and hang out or take a nap. Your cat can lose time playing on this very tall cat tree.
Material
Selecting material is very important because each material that cats like. VESPER's cat tree comes with seagrass material that cats love. Harvested raw material grows along the coast of China, this woven grass can benefit your cat's claws. It's a tough material that can help sharpen your cat's claws and give him a good day of exercise.
Added Features
With a price like this one has, we'd like to know if we are getting our money's worth. What other features does this cat tree have? This tree comes with memory foam cushions that cats absolutely love. I mean, who wouldn't love a memory foam cushion? A lot of reports that they really do love these and some just use it as a sleeping spot rather than a scratching post. Another factor is that it is a clean, and sleek design that doesn't stick out like a sore thumb as opposed to other cat scratching trees.
If you have a larger kitty, I suggest you get this tall and sturdy cat tree. They would love to be perched high above this tree and just observe to their heart's content.
Customer Feedback
If you are doubting getting this product, let's take a look at what other users have said about this product.

User Lollypop loves the sleek wooden design, and her cats love sitting at the top perch, feeling superior to their humans.

Maeve's 15-pound kitty loves staying high up on the tree, scratching and lounging as the day goes by.
She says is a great cat tree. Her 17-pound cat absolutely loves playing on the tree. She also loves that the carpet can be washed.
How Does The VESPER Cat Tree Compare To Other Cat Trees?
You might feel that our featured product may not be for you. But before you finally make a choice, let's see how this item compares with the rest of the cat trees in its category.
FEANDREA 67 inches Multi-Level Cat Tree
Judging by the name, you can probably tell this is a large cat tree. It hosts 2 condos for your cat to nap in. It has multiple perches on different levels that can be an observatory deck for your feline friend. Reinforced posts are wrapped in sisal rope for scratching and exercising. This would be the perfect place for your cat to jump around. Although with this bad boy, you'd need a pretty big space to park in.
Furhaven Pet Cat Tree
The Furhaven Pet Cat Tree is a tower-style condo playground for your kitties. It is equipped with different stimulators to keep your cat active. Plush faux fur covers this cat tree to provide maximum comfort while your cat plays around. The scratching posts are also covered in sisal rope to help with your cat's instinctive need to scratch. This cat tree stands tall at 69.3 inches and comes in 2 available colors: Cream and Silver Gray.
AmazonBasics Extra Large Cat Tree
This cat tree is shorter than its competitors but still a pretty tall one. It stands at a height of 49.6 inches. Its scratching posts are wrapped with jute fibers to satisfy your cat's need for scratching. This cat tree designed with multiple tiered platforms where your cat can enjoy the feeling of being high up a tree and watching over everything that happens. They say that this product will help satisfy your cat's needs to climb and scratch.
Final Thoughts
If you have a larger kitty with you at home. Taller and bigger cat trees would be very advisable. Cat trees can prevent your cats from destroying any more of your furniture. If introduced earlier on, you may avoid buying yourself a new wooden chair. This product is best for cats who like to climb high and scratch to satisfy their natural instincts. If you are still in the market for other cat trees, click here to see out list of the best tall cat tree for large cats.
Check out current pricing and availability on Amazon here >>