I used to leave my pooch to my trusty neighbor every time I spent a weekend at my grandma's house. I travel alone in my car for the most part, which is why I thought it was way too inconvenient to bring my dog. After maybe three trips down south, I felt guilty about leaving my buddy for roughly two days. Every time I got home, the dog was all over me, as if saying I should have never left him in the first place. After checking out some of the best dog travel crate reviews, I decided to write the Aspen Pet Porter Pet Carrier Review.
You see, I ultimately decided to bring him to my next road trip and decided to buy an Aspen Pet Porter Pet Carrier. I never thought he would be comfortable and calm. At that point, I never grew tired of telling my friends all about the convenience of having a dog travel crate.
If you're like millions of other dog owners out there, the concept of bringing a dog when you travel by car may be too inconvenient, but I insist that you try investing in a dog travel crate. Trust me; I'll change your life.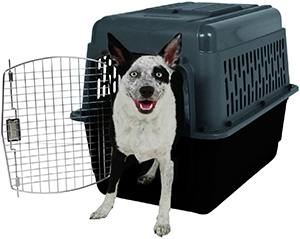 Things To Consider Before You Buy A Dog Travel Crate
Buying a dog crate is a no-brainer when you have a dog, and you plan to take it with you during trips. The crate isn't exclusively for training and restraint. There's a handful of makes and models that are specially designed to address travel inconvenience, whether it is by car or plane.
Since dog crates come in all sorts of forms and types, you need to acquaint yourself of the differences in every product. The last thing you want is to waste your money on something that doesn't fit and fails to address your dog travel requirements.
Material: Dog travel crates come in hard and soft material constructions. You must figure out which one best fits the type of dog you have because the two varieties are quite different. Crates made from hard material like metal and plastic are your best bet if you have a large dog. The same thing applies if your pooch gets uneasy when put inside a box or congested place. Dogs that don't like being put in any type of box or cage are likely to bite off or scratch the material. A dog crate made from hard plastic or metal won't give in to that tendency. On the other hand, you may want to consider a travel crate made from soft materials if you have a small dog like a Chihuahua, Jack Russell, or a Pomeranians. Soft-sided crates are best for short journeys and for pets that remain calm while inside it.
Brand: The brand of dog travel crate is just as critical as the type, and the reason being the fact that lots of products out there are cheaply made. Do some research to figure out which brands are the most reputable when it comes to dog travel crates. Weigh on criteria like durability, material construction, customer support, and price.
Dog Size: The priciest and most sophisticated dog travel crate is useless when you buy the wrong size. So, before you start shopping for prospects, be sure to measure your dog from the tip of its nose to the tail. Measure the height as well, starting from the base of the feet to the head. Look for a crate that has enough room for your dog to move around a bit.
Aspen Pet Porter Pet Carrier Review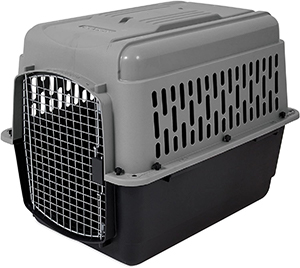 Petmate is no stranger to pet care products, and this Aspen dog crate deserves credit just because it comes from a reputable brand. Pet Porter offers comfort, style, and safety in one package. There's a latch with an easy-open mechanism and side vents for improved airflow. By initially skimming through some genuine user reviews, I found these pros and cons:
Quick Glance
What's Good
Durable material construction
Available in multiple sizes
Easy assembly
Available in multiple sizes
What's Bad
Lacks rear ventilation needed for air travel
Thin plastic materials may give in to chewing
Not as premium as the flagship Petmate line
Aspen Pet Porter Pet Carrier Features and Highlights
Built for Traveling
The problem with many dog crates and carriers I've seen over the years is that they aren't designed for extended road trips. While all crates offer some sort of restraint and protection to the dog, the real question is comfort. You want your dog to feel as little inconvenience as possible while inside the crate, which is why this product comes with enough features that offset the durability and rigidity of the plastic material. Even if you're traveling for hundreds of miles with your dog, you are confident that he is safe and at ease.
Designed for Endurance
The ideal pet carrier or travel crate must have a balance of comfort and durability. This product best exemplifies the term "stand the test of time," as it is made to be fully compliant with both air and highway travel requirements. The dog crate is made from durable plastic kennels that can withstand constant use and abuse.
Address a Dog's Natural Denning Instincts
Dogs are like humans in a way that they want their space to provide not just comfort, but also safety and security. This hard-plastic dog travel crate comes with a design that naturally satisfies the animal's instinctive desires to be comfortable when lying down or resting.
Maximum Comfort
Even though the Aspen Pet Porter is a heavy-duty and hard plastic crate, it doesn't necessarily compromise comfort. Proof of that is a design that steers away from sharp edges and components that could cause injury to the dog. While the exterior looks and feels sturdy, the interior is inviting and pleasant for any dog who needs something to be comfortable with during extended trips.
Ample Ventilation
This Aspen pet travel crate guarantees proper airflow and visibility, thanks to the inclusion of side vents. Ventilation is always an issue for dogs, especially those that quickly get stressed out in confined spaces. The vents located in the sides allow your dog to have a clear view of what's going on outside. More importantly, seeing you beside him will give some level of reassurance and calmness.
Easy Assembly
My initial impression when I first saw this product was that it was too bulky to carry around and store. I realized soon after that it comes with removable metal bolts and nuts that allows a quick and hassle-free assembly. You get to store it in tight spaces, too.
Easy Open Mechanism
Unlike many dog travel crates with flimsy doors and tight openings, this one is equipped with an easy-open yet durable latch. You can open it with one hand but gets an assurance that it won't give in to your dog's habit of trying to rip it open or push it.
What Others Say About The Aspen Pet Porter Dog Kennel
It's always a good thing to practice due diligence before buying any product online. So, before you give the Aspen Pet Porter dog crate a go, you should read some of the feedback from actual users:
For Pcan, who would have thought he'd find something cheaper yet much better in quality for his Corgi.

ErinMarie likes the fact that the dog travel crate is as good as advertised.
Melissa has no qualms about the quality of the dog travel crate. However, it's weird that her second purchase of the same product didn't match the dimensions of the first one.

Alternatives To The Aspen Dog Travel Crate
The Aspen Dog Travel Crate checks almost all the right boxes. But just to make sure you're getting the best product to address your needs; I've come up with some alternatives for the sake of comparison shopping.
2PET Foldable Dog Crate
This pet carrier comes with features that are opposed to the Aspen dog crate. For one, it is made from soft fabric material. It is not as bulky, thanks to the foldable design. Like the Aspen Pet Porter, this one can be used for car travel but isn't airline approved. Get to know more about the 2PET Foldable dog crate by visiting this article.
Petmate Sky Kennel
The Petmate Sky Kennel is a stablemate of the Aspen dog crate in a way that they come from the same company. This one is also made from durable plastic shell and reinforced by a steel wire. The advantage of this premium product is that it has 365-degree ventilation, making it an airline-approved crate. If you're interested to learn more about this crate, go to this link.
EliteField 3-Door Folding Soft Dog Crate
This dog travel crate is made from a robust and industry-leading 600D fabric material that doesn't easily give in. It is light and comes with maximum breathability and ventilation. Like the Aspen dog travel carrier, it comes in different sizes to accommodate different breeds. See the EliteField soft-sided dog crate here.
Our Final Thoughts
Take your dog wherever you go; don't let your doubts and feeling of inconvenience prevent you from doing what's right. Your canine buddy deserves to travel, and with a reliable dog travel crate in hand, everything is possible. I made that decision by choosing the Aspen Pet Porter Heavy-Duty dog crate, and it's been fun so far. That is why I enjoyed writing this Aspen Pet Porter Pet Carrier Review.
Click here to check current pricing on Amazon for the Aspen Pet Carrier >>