You might be shopping one day, looking for new upholstery for your house, when you spot a gorgeous sofa. However, you pause and remember you have a cat in your home, and it might not stay pretty for long under your cat's paws. But don't fret! There are cat toys for indoor kitties,  like the one in this Bergan Turboscratcher review, that are designed to entertain your cat. They will also help with reducing any possible damages your furniture might get from your cat's scratching.
Things To Consider Before Buying A Cat Toy
Many people think that cats are lazy. They believe that cats spend their days merely lounging around the house and only get up to eat. But cats are actually active pets that only need a little challenge to get going. After all, exercise is important for your pets too! When they don't get any exercise, then your cat might end up putting on weight. An overweight cat has an increased risk of illnesses, such as osteoarthritis and diabetes mellitus. No cat parent wants that for their beloved pets.
This is where cat toys play an essential role. Cat toys are a great way to keep your feline pet entertained for hours on end. They also serve as a helpful tool to ensure that your cat gets the exercise they need. Different toys also have various features that address other issues your cat might have. For instance, the Bergan Turboscratcher helps when you have a destructive scratcher on your hand.
Scratching is a normal cat behavior. However, your cat's idea of remodeling your living room is most likely unagreeable. Therefore, you should get your cat to scratch acceptable things around your house, like the Bergan Turboscratcher. It'll help you curb this behavior so that you can leave your cat wandering around your home without worry.
Bergan Turboscratcher Cat Toy Overview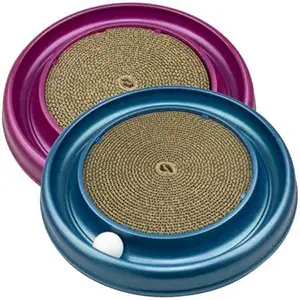 This product is a combination of a cardboard scratcher and a ball-rolling track. It was designed to be an entertainment piece that your furry cat can enjoy. It has a scratchpad that keeps your cat from tearing or chewing your furniture. This is because they have the appropriate place to scratch when the urge to do so.
Whereas, the ball track comes with a ball that your kitty can nudge and paw around. This provides them with hours of entertainment that even you will enjoy watching them play. This feature will also ensure that your cat gets exercise as well as the mental stimulation needed.
Quick Glance
What's Good
Made of recycled materials
Comes in either mulberry or aqua colors
Replaceable scratchpad
Package includes ball and catnip
Has an anti-skid rubber base
What's Bad
The ball is easily removed from the track which some users say that it either gets lost or ricochets around their house and damages the floor
There is a strong plastic smell upon first opening the package
Some users report that the old version was better
Features Of The Bergan Turboscratcher Toy
The Bergan Turboscratcher comes hand-in-hand with various benefits such as:
Two-In-One
This product has a scratchpad mounted in a circular track and comes with catnip and a ball. The ball on the track can be nudged by their nose or swatted by their paws. Its two-in-one feature targets both your cat's entertainment and exercise needs as well as their scratching instincts.
Recycled Materials
The toy is made of lightweight, recycled plastic. It is also durable that it can withstand the weight of most cats. The non-skid bottom on the toy helps keep it in place whenever your cat plays with it.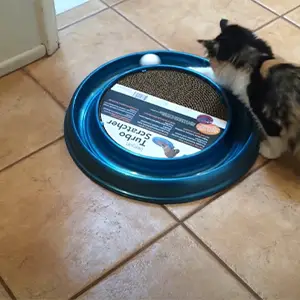 Textured Scratcher Pad
The cardboard scratcher pad in the middle helps curb the urge to scratch. If you see your cat scratching on your furniture, you can pick him up and gently place them on the Turboscratcher. This way, your feline friend knows that this is where your cat is free to scratch to their hearts' content. If the scratchpad ever wears out, the company sells a pack of replacement pads for under six dollars.
Toy Accessories
This toy works with all other Turbo cat toy accessories from Bergan. This means that if you want to buy the twinkle ball from the latest version of this toy, you can do so. The twinkle ball lights up and can be interchanged with the solid ball that comes with the original Turbo scratcher.
What Others Say About This Bergan Cat Toy

This user thinks that they couldn't have bought a better toy than the Bergan Turboscratcher

This cat parent had so much fun watching their cat play with this toy!
Alternatives To The Bergan Turboscratcher
If you want to know how the Bergan Turboscratcher compares to other toys, then look no further. We have listed some alternative cat toys below:
Petstages Cat Tracks
Like the Turboscratcher, the Petstages Cat Tracks has tracks where the ball can roll in. The difference is that there is no scratchpad but that it has a three-tier track. Each track has its own brightly colored ball that your cat can play with. It also has a non-slip base to hold it in place and is made of durable plastic. It is designed to provide hours of entertainment for your cat. However, if you have a destructive scratcher at home, you will need to buy another toy to curb this issue. Check this toy out if you want to know more about it.
PetFusion Ambush Electronic Cat Toy
The PetFusion Ambush Electronic Cat Toy was designed to satisfy your cat's hunting instincts. It imitates prey popping in and out of the six holes around the toy. The feather pops out in a fast and random manner that will keep your cat mentally and physically stimulated. Unlike the Turboscratcher, this one needs four AA batteries to operate. It is also quite noisy when it is turned on. To know more about this product, check them out here.
Friends Forever Interactive Laser Cat Toy
The Friends Forever Interactive Laser Cat Toy is an automatic laser pointer that appeals to your cat's hunting instincts. It has three-speed settings that will keep your cat moving, stimulating their physical and mental well-being. The laser has a 360-degree rotation, providing a large play area for your feline pet. However, this toy requires three AA batteries to work. And although it can keep your cat on the go, it cannot help with any scratching problems you might have with your feline pet like the Turboscratcher. Find out more about the product to see if this is the toy you are looking for.
Our Final Thoughts
Cats only need a little push to get them running and jumping. A good cat toy can be of great help to keep your furry friend physically and mentally fit. As our Bergan Turboscratcher review portrayed, this cat toy is designed to be that and more. The scratchpad in the middle can also help you solve the scratching problems you have with your cat. This way, you can leave your cat to roam free in the house without worrying about finding any claw marks on your furniture or woodwork.
Click here to get current pricing on Amazon for The Bergan Turboscratcher >>