It doesn't matter whether you have an outdoor or indoor cat. We all know that all cats love playing. Interactive cat toys are a fun way that you and your cat can bond and play together. They are also a great way for your cat to receive the mental and physical challenges they need. This way, they put their innate hunting instincts to use. The best cat toys for cats who stay indoors, like the one in our Petstages Cat Tracks review, helps keep them entertained for hours.
Things To Consider Before Buying A Cat Toy
Cats, like dogs, have a natural urge to play. They are naturally curious, hyper, and agile creatures. Therefore, you'd want to keep at least a few toys on hand to keep your feline friend active, entertained, and mentally stimulated. Toys will help fulfill these needs in a meaningful way. Not only that, but it is a great bonding tool for you and your pet.
We've come a long way from letting our cats play with just a ball of string. This means there are many cat toys out there, and it can be tricky to find which one will click well with your cat. For instance, if you have a cat that needs to learn how to eat at a healthier pace, then a feeder toy can help you. You might also have a destructive scratcher. In which case, you will need a toy that has a scratcher pad or post attached.
However, if you have a mission-driven cat, then cat track toys might be just what you are looking for. This is because cats that are mission-driven usually portray behavior such as jumping, pouncing, and running. They respond best to chasers and balls like the Petstages Tower of Tracks. This can help fulfill your pet's natural instinct to be active through play.
Petstages Cat Tracks Overview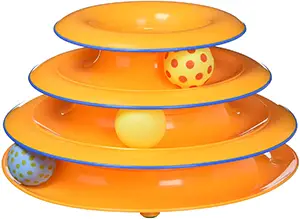 Check Amazon's Price
This interactive cat toy weighs approximately 0.60 pounds and measures at 9.75"L x 9.75"W x 6″H. It has three levels of track, each of which has a brightly colored spinning ball that your cat can move around with their paws or nose. The tracks are made of durable plastic, so one or more cats can play with it at the same time over and over again.
Each stack has a different size, with the smallest stack at the top. The design makes it so that the ball glides smoothly on each track, without your cat's paws getting stuck in them. Unlike its earlier version, this cat track has a safety bar on top to prevent your cat, especially kittens, from climbing inside the hole in the middle and possibly getting stuck.
Quick Glance
What's Good
Three-tiered entertainment
The bright-colored balls are held captive and won't fall out from the tracks
Safety bar across the top
Allows for solo or multi-cat play
Has a non-slip base
What's Bad
Can be very noisy
Might not suitable for small cats or kittens
Petstages Cat Tracks Cat Toy Features
Multiple Ball And Levels
This product is composed of three levels, each of which has its own ball. This is a great feature, especially if you have two or more cats at home as they can both play with it at the same time. The size also means that it is small enough that it does not take up much room but large enough that two cats can play with it without any problems.
Fully-enclosed Tracks
These tracks protect your cat's paws from getting caught in the tracks. This feature makes it a safer option compared to traditional track toys. The captive tracks also keep the ball contained within the toy. This way, the balls aren't so easily lost, and you won't find yourself tripping on them around your house. Although if your cat tries hard enough, the ball can still get dislodged. However, you can easily pop them back in.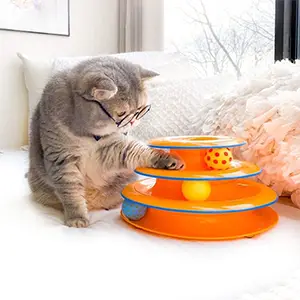 Vibrant Colors
The Petstages Cat Tracks has a bright orange color with a blue lining. This vibrant color is intended to catch your cat's attention. Not only that, but each ball in all three tiers also has a unique design. This means that every level offers something a little different to your feline pet.
Circular Design
The three levels of circular tracks also let your cat sit on any side, and they'd get to play with it. This not only gives your cat more range for playtime. This also means that it can provide hours of entertainment to multiple cats.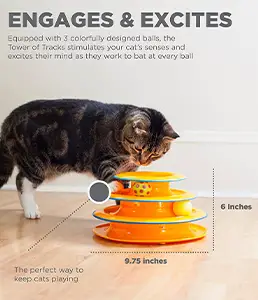 What Others Say About Petstages Cat Toy
If you are still on the fence with this interactive cat toy, take a peek at what other cat parents are saying.


The Fussy New Yorker says that their one-eyed cat loves playing with it at any time of the day.

This user loves it so much that they bought more to give as gifts!
Alternatives To The Petstages Toy
It is only natural that you want to know more about other cat toys to see how they fare with regards to the Petstages Tower of Tracks. So, we have listed a few below to help you:
PetFusion Ambush Electronic Cat Toy
The PetFusion Ambush Electronic Cat Toy has a rotating feather that simulates prey popping out through the six holes around it at random time intervals. It is designed to simulate a hunting experience for your cat. It has anti-skid feet so that it doesn't move while your cat plays with it. However, it needs batteries to operate, unlike the Tower of Tracks. It also comes in a dull white color, although the feathers are colorful. It also does not encourage any bonding time between you and your pet, unlike the Petstages cat track wherein you can spin the ball to get your cat going. If you think this is something you are looking for, then check out the product here.
Friends Forever Interactive Laser Cat Toy
The Friends Forever Interactive Laser Cat Toy is another battery-operated interactive cat toy that has an auto-rotating laser pointer. It has a quiet operation wherein the laser beam moves randomly across the floor. The toy has three speed settings – slow, fast, and random. Unlike some toys where the play area is limited, this spinning tower head lets your cat have a 360-degree play area. However, you need batteries for this toy to work. It also poses a problem when the laser light burns out as you might need an expert to replace it. This is unlike the Tower of Tracks wherein you can just pop the ball back in when it dislodges from the track. Check this product out if you think this is a toy your cat might be into.
Running Pet Cat Toy
The Running Pet Cat Toy is a hide-and-seek toy that has an electronic mouse zipping through a circular path. Your cat's hunting instincts are stimulated as the mouse zooms forward, in reverse, twitches back and forth, and even hides under obstacles. It has four-speed settings, namely, low, medium, high, and variable. Unlike the other two electronic cat toys on this list, this toy does not automatically shut off. Although it might be fun to watch your cat catch the mouse, it also does not let you play with your cat like the Tower of Tracks does. Check this product out for more details on how it works.
Our Final Thoughts
Cat toys are a great way to keep your feline friends physically and mentally stimulated. Otherwise, your cat might end up lazy and overweight. As our Petstages Cat Tracks review revealed, I found that this toy really stimulated my cat and that it encouraged her to be more active. The three entertainment levels it has is enough to make my cat come back to play with it again and again. However, you should find out for yourself how much of a wonderful addition it is to any home with a cat who loves to play.
Click here to get current pricing on Amazon for The Petstages Cat Tracks >>