In this article, we will be talking about the best toys for our furry friends that keep to themselves indoors or the ones that we keep indoors for safety reasons. From this list, you can choose the best cat toys for indoor cats that will best suit your cat's personality and interests.
It is a struggle to find toys that will keep your feline friends entertained for more than a couple of hours as you do work around the house or while you are away for work. Hopefully, this list will give you at least a sense of what toys to purchase for your cat at home.
Catit Senses 2.0 Food Tree

Friends Forever Interactive Laser Cat Toy

7 Best Cat Toys For Indoor Cats
We're assessed many cat toy products designed for indoor cats and below is our list of the 7 best cat toys for indoor cats. Keeping your cat's activity level and stimulation level engaged throughout the day is important and these cat toys do the trick!
Best Overall Cat Toy Feeder: Catit Senses 2.0 Food Tree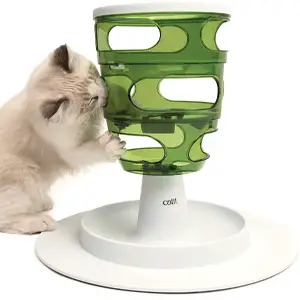 Catit Senses 2.0 Food Tree has improved designs that promote slow feeding. A huge improvement from the first version, this 2.0 version has a narrower opening at the top so that your cat cannot directly access the kibble from above.
It has various side openings that encourage your feline friends to paw out food in small portions. This way, they work to get their food and eat at a slower pace.
This cat food tree is equipped with three difficulty settings. All you need to do is rotate the middle disc and adjust the sizes of the opening.
A stimulus can also be added by changing how much kibble you put inside or by placing the feeder toy in different locations throughout your house. The Catit Senses will stimulate your cat mentally and physically so that they can live a long and healthy life.
Read our detailed Catit Senses 2.0 Food Tree Review here >>
Product Specifications:
This food tree weighs 2.6 pounds and measures 12 x 13.8 x 10.6 inches.
This is best for indoor use only.
This is also made from BPA-free materials and they are easy to clean.
Quick Glance
What's Good
Easy to assemble and clean
Increased stability
Made of BPA-free materials
Has a collector tray to prevent spills
The base has non-slip grips
What's Bad
Large size makes placing the feeder tricky especially if you have a small living area
The drop holes are too big that the kibble shoots down the bottom without much difficulty
Materials aren't as durable as there were complaints of the tower breaking off the connection to the base
Best Interactive Cat Toy: Petstages Cat Tracks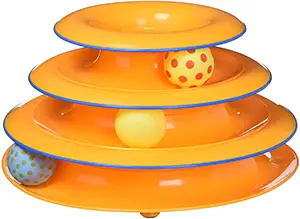 This interactive cat toy has three levels of track, each of which has a brightly colored spinning ball that your cat can move around with their paws or nose. The tracks are made of durable plastic, so one or more cats can play with it at the same time over and over again.
Each stack has a different size, with the smallest stack at the top. The design makes it so that the ball glides smoothly on each track, without your cat's paws getting stuck in them.
Unlike its earlier version, this cat track has a safety bar on top to prevent your cat, especially kittens, from climbing inside the hole in the middle and possibly getting stuck.
Read our detailed Petstages Cat Tracks Review here >>
Product Specifications: These cat tracks weigh approximately 0.60 pounds and measures at 9.75 inches in length, 9.75 inches in width, and 6 inches in height. The package also includes balls that your cat will have a ton of fun with on the tracks.
Quick Glance
What's Good
Three-tiered entertainment
The bright-colored balls are held captive and won't fall out from the tracks
Safety bar across the top
Allows for solo or multi-cat play
Has a non-slip base
What's Bad
Can be very noisy
Might not suitable for small cats or kittens
Best Electronic Cat Toy: Friends Forever Interactive Laser Cat Toy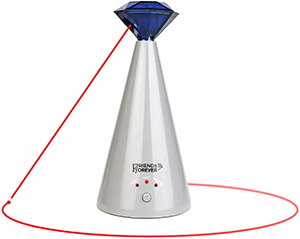 The Friends Forever Interactive Laser Cat Toy is the newest and most popular cat toy in the market today. The laser cat toy is constructed like a cone with a diamond top where the laser is housed. It has a big sturdy base that will not topple over easily.
It is perfect for self-play of cats and they are entertained for hours. It is randomizing its pattern so your cat's natural instinct will be tested and improved. It is powered via AA batteries (not included) so you can take it anywhere you want even when traveling with your furry friend. The way this toy is shaped, it gives your cat a larger playing area than other toys out there.
Read our detailed Friends Forever Interactive Laser Cat Toy Review here >>
Product Specifications:
The very interactive toy comes to you at 9.9 ounces and measures 8.5 x 4 x 4 inches.
As this is a toy that needs power, you would need some batteries to operate this toy.
Batteries are not included when you purchase this laser cat toy.
Quick Glance
What's Good
Big sturdy base
Lightweight and portable
3 modes of randomized play
It is heaps of fun
What's Bad
Not the cheapest toy you can find
Some people find that it is not random enough for the cat
Narrow play area
Best Value Electronic Interactive Cat Toy: Running Pet Cat Toy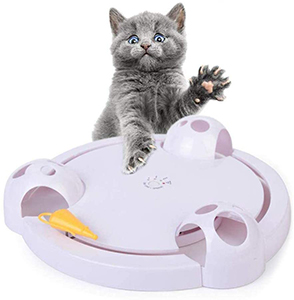 This interactive cat toy enriches your cat's mind and body. A moving electronic mouse goes around in four varying speeds: low, medium, high, and variable speeds. A toy that can keep your cat interested for hours on end.
Not only can this Running Pet Cat Toy keep your cat's mind going but also can get them physically active and get some exercise in. This toy also reacts to your cat's touch. It is a must-have in every cat home.
Read our detailed Running Pet Cat Toy Review here >>
Product Specifications:
The running Pet toy weighs 1.3 pounds and measures 13 x 2.8 inches.
These are perfect for kittens and small cats as well to give them a chance to chase the running mouse on the toy.
Batteries are also not included in this cat toy. Better stock up on batteries because your cat is going to be playing with this toy for hours.
Quick Glance
What's Good
Promotes health and exercise for your cat
Hours of entertainment for your cat
Varying speeds to play with
What's Bad
Price is too high for what it is
Not for all cats
Best Of The Runner Up Cat Toys
The following cat toys did not make the top 3 in our evaluations. However, they are certainly worthy to look at which is why we kept them in this list and classified them as runner-ups!
Runner-Up Cat Toy Feeder: Catit Hagen Treat Ball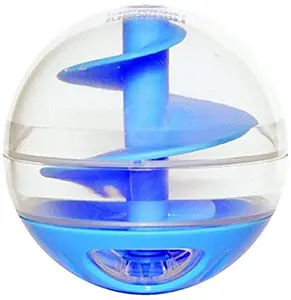 The Catit Treat Ball is a palm-sized toy and treats dispenser in one. It is equipped with two openings for differnet purposes. The large one is where you can put the treats in, and the small one is where your cat can get the treats. All you need to do is twist the top to switch which one is open between the two, meaning that only one hole is open at a time. You can also opt to twist both openings close and turn it into a regular ball.
This product has a screw mechanism inside so that the treats tumble down when the small home is face down. Your cat would need to nudge and paw at the ball repeatedly so that the kibble slides down and out the hole. This encourages physical activity while also stimulating the mind of your cat.
Read our detailed Catit Treat Ball Review here >>
Product Specifications: This treat ball only weighs 2.6 ounces and measures 2.8 x 2.8 x 4.3 inches. It comes in two available colors: Blue and Pink.
Quick Glance
What's Good
Made of sturdy plastic material
Helps your feline pets pace their eating habits at a healthier level
The product is large enough that it is easily seen and won't get stuck somewhere
Can be used as a regular toy
The treat maze provides a challenge for your kitty's physical and mental well-being
What's Bad
Not easy to clean
The ball might be too heavy and large to be used by a small kitten
The kibble size you can put is limited as it can get stuck if it is too big
Runner-Up Interactive Cat Toy: Bergan Turboscratcher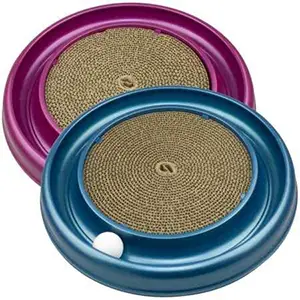 The Bergan Turboscratcher is a combination of a cardboard scratcher and a ball-rolling track. It was designed to be an entertainment piece that your furry cat can enjoy. It has a scratchpad that keeps your cat from tearing or chewing your furniture. This is because they have the appropriate place to scratch when the urge to do so.
The ball track comes with a ball that your kitty can nudge and paw around. This provides them with hours of entertainment that even you will enjoy watching them play. This feature will also ensure that your cat gets exercise as well as the mental stimulation needed.
Read our detailed Bergan Turboscratcher Review here >>
Product Specifications:
The Turboscratcher comes to you at 1.2 pounds and measures 16.5 x 1.88 inches in diameter. The scratcher is also replaceable and is available for purchase separately although a scratcher is already included.
Quick Glance
What's Good
Made of recycled materials
Comes in either mulberry or aqua colors
Replaceable scratchpad
Package includes ball and catnip
Has an anti-skid rubber base
What's Bad
The ball is easily removed from the track which some users say that it either gets lost or ricochets around their house and damages the floor
There is a strong plastic smell upon first opening the package
Some users report that the old version was better
Runner-Up Electronic Interactive Cat Toy: PetFusion Ambush Electronic Cat Toy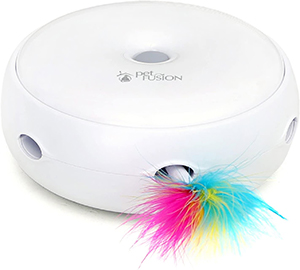 The PetFusion Ambush Electronic Cat Toy is designed to satisfy your cat's hunting instincts. It is a battery-operated device that has six openings on the side. A feather pops out of these six holes in randomized and fast-paced settings. This moving feather mimics a prey that your cat will catch. It also comes equipped with color LED lighting to help draw your cat in further. This also makes the toy a great toy for daytime or nighttime use.
It has two modes that can be activated with a long press of the button. There's blue for activation and purple for feather change mode. The package includes four AA batteries. It also has a battery plate screw so that it is secured and won't be easily removed, especially if you have young kids at home.
Read our detailed PetFusion Ambush Electronic Cat Toy Review here >>
Product Specifications: This electronic Cat toy is shipped at a weight of 3.52 ounces and measures 6.8 x 6.8 x 6.8 inches. The batteries for this device are unfortunately not included so you may need to get some batteries down at the local store.
Quick Glance
What's Good
Anti-skid feet to keep it in place on smooth surfaces
12-month warranty for any manufacturer defects
Feather is easy to replace; three-pack replacement can be bought
Long-battery life with the eight-minute auto-shutoff feature
LED lighting
What's Bad
The motor is very loud that it might scare some cats
Feather is flimsy
Some users wish that it has a slow and fast setting
How To Chose The Best Cat Toys
After seeing the list of the best cat toys for indoor cats below, you may be wondering what type of cat toy is best for your furry friend. The good thing about the question is that there is no right or wrong answer, just what works. In any case, it is up for your cat to decide what she likes and dislikes. You may buy a toy for them and it turns out they do not like it.
The best way to know what your feline friend is into is to try things out. Some of them may be hunters, scratchers, and sometimes a combination of both. Lucky for you if you have a cat that is very active and likes to play. If you still have a kitten, this is the perfect time to be testing toys out and finding out what they like so in the future you know what type of toy to purchase for them.
Trial and error is the best way to do it unless you know your cat inside and out and know exactly what they want already. If that is the case, the best toy would be the ones that stimulate not only their mind but also their body with some toys that promote exercise and good health.
Advantages Of Cat Toys For Indoor Cats
As you may know by now, there are many types of cat toys, there are scratching toys, fishing rod toys, electronic, and mentally stimulating ones. In general, there are a couple of advantages allowing your cat to play with toys indoors.
Promotes Exercise And Good Health
We all know how cats are. Sometimes they are the most active of pets. There are also some times that they are the laziest. In any case, toys such as fishing rod toys, interactive, and scratchers can provide your cat with the energy outlet that they may need. This can also help your feline friend to move his behind and get a little exercise while playing.
Relieves Stress And Anxiety
If you think that humans are the only ones that experience stress and anxiety, then you've got it all wrong. Cats can also experience these feelings. They usually feel anxious or stressed due to a new environment, or when introducing a new member to the family much like another cat or another pet. Playing with them using toys can relieve the stress and anxiety that they feel and make them feel more comfortable in these situations. This is why it is vital to find the best cat toys for indoor cats as a means to achieve a high level of mental health.
Increase Confidence
Cat toys can help calm the nerves of a new kitten or a new cat when being introduced into a home. They usually can be timid if they feel uncomfortable. Playing with the best cat toys for indoor cats brings out the confidence that they have inside of them and possibly increase that confidence over time.
Value For Money
In these times, we want to be spending our money wisely. All the purchases that we make usually are for an intended purpose. Cat toys although sound, like they may be an unnecessary thing to buy, are still something that I needed in a home with a furry friend. Most cat toys are not expensive at all. However, there are cat toys that cost more than what we expected.
When choosing a toy for your furry friend, always make sure that what you are getting is something that will be used by your cat inside the house. Otherwise, it will just be another part of your decor at home or a part of a collection of toys that were never used. Choose a toy that your cat will love and enjoy. Of course, it is not only our furry friends that should enjoy but us who want to see them happy and entertained.
If you are in a bind and wat to save up on cat toys, here is a video that we found that can help you make some cat toys yourself.