I always thought that cats are pets that just like to laze around the house all afternoon. I grew up reading comics like Garfield that only backed up this view. But when I got a feline pet of my own, I realized that cats actually like to play around. Owners of indoor cats especially need to take extra care to determine what gets their cat up and moving. Most cats aren't lazy. In fact, they'll get on their feet for hours of playtime and exercise when given the right kind of stimulation. This gives them proper mental stimulation and physical activity. For example, the best indoor cat toys, found in this Catit Hagen Treat Ball review, can do wonders for your feline companion.
Things To Consider Before Buying A Cat Toy
There is a notion that cats, unlike dogs, tend to be more laid back and sleep most of the day. However, cats enjoy more excitement than you might think. Your feline pets also like to be stimulated with challenges that they, unfortunately, do not receive in their everyday lives. Without the needed exercise, your cat can end up overweight. Therefore, it is a good idea to find an excellent motivator to keep your cat mentally and physically challenged to prevent this from happening.
If you have a pet that is highly motivated by food, then the Catit Hagen Treat Ball might be what you are looking for. This is because it dispenses treats as your cat plays with it. It is helpful if you have an overweight cat that needs to exercise and is on a diet. It not only keeps your cat going as it also complements the diet program your cat is on. The kibble is dispensed in snack-sized portions, so your cat eats at a healthy pace as well.
Every cat has different needs and temperaments. Like any other treat toy dispenser, it is hard to predict whether your cat will love it or hate it. However, the Catit Hagen Treat Ball is one of the most effective treat toy dispensers out there. It provides positive reinforcement with hours of entertainment and activity that your cat can enjoy.
Catit Treat Ball Overview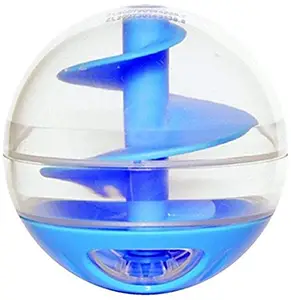 The Catit Treat Ball is a palm-sized toy and treat dispenser in one. This product comes in the colors blue and pink and has two openings. The large one is where you can put the treats in, and the small one is where your cat can get the treats. All you need to do is twist the top to switch which one is open between the two, meaning that only one hole is open at a time. You can also opt to twist both openings close and turn it into a regular ball.
This product has a screw mechanism inside so that the treats tumble down when the small home is face down. Your cat would need to nudge and paw at the ball repeatedly so that the kibble slides down and out the hole. This encourages physical activity while also stimulating the mind of your cat.
Here are some of the pros and cons that this product has:
Quick Glance
What's Good
Made of sturdy plastic material
Helps your feline pets pace their eating habits at a healthier level
The product is large enough that it is easily seen and won't get stuck somewhere
Can be used as a regular toy
The treat maze provides a challenge for your kitty's physical and mental well-being
What's Bad
Not easy to clean
The ball might be too heavy and large to be used by a small kitten
The kibble size you can put is limited as it can get stuck if it is too big
Features Of The Catit Treat Ball
The Catit Hagen Treat Ball comes with various features that will benefit your feline pet. A few of these are as follows:
All In One  
The Catit treat ball dispenses treats as your kitty plays with it. Chasing, swatting, and nudging the ball with its paws and nose will release treats. This will provide a yummy surprise with your kitty while also entertaining them for hours. You can even fully close the lid if you just want your feline friend to play with a regular ball.
Treat Maze
The inside of the ball has a two-tier tower that will help make that cat work hard to get the kibbles or treats. This also helps slow down your cat's eating pace. As a result, bad eating habits are re-educated. Eating fast and overeating are prevented this way. It is also a useful tool for cats on a diet as it helps them take longer to finish small meals.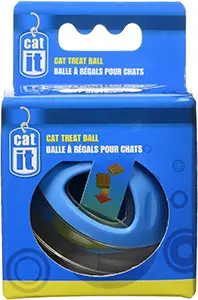 Size & Sturdy Materials
This product is made of durable plastic that can withstand the weight of most cats. At the same time, it is lightweight and easy to play with and jostle around. Its product dimensions are 2.8 x 2.8 x 4.3 inches. This way, it won't get stuck somewhere and give you and your cat a hard time.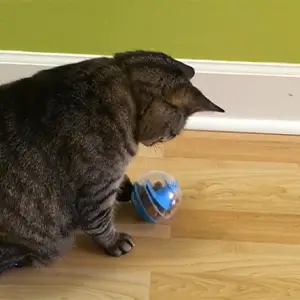 What Others Say About The Catit Hagen Treat Ball
If you are still on the fence whether or not to buy this product, we have compiled a few user reviews to help you:

This user likes this product because their cat likes it!

Whereas, this cat parent had as much fun watching their cat play as their cat playing with the treat ball!
Alternatives To The Catit Hagen Treat Ball
If you are still thinking about whether this is the right toy for your cat, then we have listed three alternative cat toys to help you:
Bergan Turboscratcher
The Bergan Turboscratcher is a toy and scratcher pad in one. It also comes with catnip and ball. The scratchpad is also replaceable. However, unlike the Catit treat ball, it addresses a different issue your cat might have. It does not dispense treats and instead helps reduce any damages that your furniture might incur from your cat's nails. However, they are the same when it comes to providing mental and physical stimulation for your cats.
Petstages Cat Tracks
The Petstages Cat Tracks is a three-tier interactive toy designed to provide hours of entertainment for your cat. Each tier has colorful moving balls that will attract your cat's attention. It was made to stimulate your feline pet's hunting instincts as they paw at the ball to get it moving. It is an indoor interactive toy that will give your cat the exercise and excitement they need. Unfortunately, it does not have a treat dispenser like the Catit Treat Ball and is a bit more expensive as well.
PetFusion Ambush Electronic Cat Toy
Unlike the Catit treat ball, the PetFusion Ambush Electronic Cat Toy needs batteries to function. It has a feather that imitates a prey popping in and out of the six holes around it. As a result, your cat's hunting instincts are stimulated. It also has LED lights that make the toy easy to spot whether it is night or day. However, some users complain that the toy is really noisy and can cause quite a ruckus when their cats play with it during nighttime.
Our Final Thoughts
As our Catit Hagen Treat Ball review revealed, the Catit Hagen Treat Ball is an excellent toy to keep your feline friend active. It is equipped with treat-dispensing features that will help get your cat motivated to play with it.
This product also helps with your cat's eating issues, such as overeating. If you are looking for a toy and cat dispenser in one, give the Catit Treat Ball a chance as it just might be what you and your cat are looking for.
Click here to get current pricing on Amazon for The Catit Hagen Treat Ball >>