Cats have been a human companion for thousands of years. Some studies suggest that this domestication of wild felines resulted in the watering down of their hunting abilities and natural curiosity. This is why cats are often seen as lazy and fat, with a tendency to just mope around the house. It is, therefore, important that you don't skip on their exercise. Instead, find the best cat toys for cats who live indoors, like the one found in this Catit Senses 2.0 Food Tree review.
Things To Consider Before Buying A Food Tree
Every cat has different eating habits. For instance, you might have a fast eater or an overeater. They gobble up any food they can get their little paws in. This can often result in the cat gagging and then throwing up as soon as they are done eating. This can be a scary experience for both you and your pet.
You could also have a feline that does not know how to pace their eating throughout the day. This can lead to your cat having issues such as gaining too much weight. You might not realize it, but you might also be giving your cat extra kibble or treats throughout the day. Your cat might then end up overeating and be lazy.
If your cat is any of the above, then a food tree can help you. It is a smart toy that will help your feline friend eat slowly. Not only that, but it also makes them work for their food. This is because they need to playfully paw at it through the many side openings to get their food. This also makes food trees a great feeder toy to have for any playful cats that love a challenge as it will stimulate them.
Catit Senses 2.0 Food Tree Overview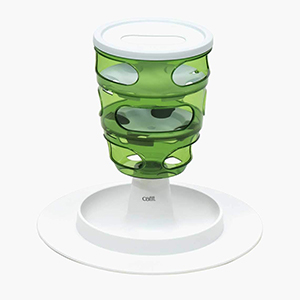 Check Amazon's Price
Catit Senses 2.0 Food Tree boasts of an improved design that promotes slow feeding. Unlike the first version, the Senses 2.0 has a narrower opening at the top so that your cat cannot directly access the kibble from above. It has various side openings that encourage your feline friends to paw out food in small portions. This way, they work to get their food and eat at a slower pace.
This cat food tree is equipped with three difficulty settings. All you need to do is rotate the middle disc and adjust the sizes of the opening. Stimulus can also be added by changing how much kibble you put inside or by placing the feeder toy in different locations throughout your house. The Catit Senses will stimulate your cat mentally and physically so that they can live a long and healthy life.
Some of the advantages and disadvantages that this product has include:
Quick Glance
What's Good
Easy to assemble and clean
Increased stability
Made of BPA-free materials
Has a collector tray to prevent spills
The base has non-slip grips
What's Bad
Large size makes placing the feeder tricky especially if you have a small living area
The drop holes are too big that the kibble shoots down the bottom without much difficulty
Materials aren't as durable as there were complaints of the tower breaking off the connection to the base
Features & Benefits Of The Catit Food Tree
This product has various features and benefits that we are sure you and your cat will love. A few of these are as follows:
Improved Design
One of the new features of this improved version is that it has a narrow top opening. This will prevent your cat from taking the kibble from above the smart feeder. Your cat can't cheat with this feature in place.
Three Levels of Difficulty
The Catit Senses is a treat maze that has multiple stage dividers. This allows it to have three difficulty settings that you can adjust easily. Just rotate the middle disc and adjust the opening sizes. You can also make it more challenging for your pet by changing the amount and sizes of kibble you put in the feeder.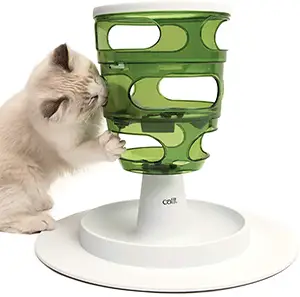 Base Durability
Its base is designed to catch the kibble or treats that fall from the tower, although some users state that the treats can ricochet at times. It has a non-slip rubber grip at the bottom to prevent the feeder from moving while your cat plays with it. It has also been made wider so that you can attach toys to make it more interesting for your feline pet.
Easy Maintenance
Catit Food Tree is easy to clean. All you need to do is disassemble it and use natural soap to clean it under running water. Rinse the soap off, and you're done. The feeder has a transparent green color that makes it easy for you to spot any dirt or any other debris, so you know when it needs to be cleaned.
Quality Materials
This smart toy for your furry friend is made of BPA-free material. This means that it is generally safe to drink or eat out off. Not only that, but the Catit Senses is specially designed so that you can mix and match it with other Catit products. This allows you to create a new set of toys. Frequently changing your cat's play environment means that they get new challenges and remain interested.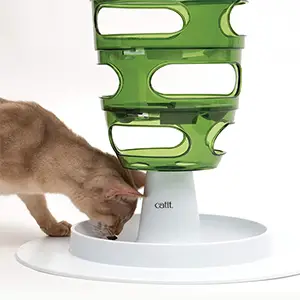 What Others Say About The Catit Senses Food Tree
If you're still undecided, here are some user reviews that can help you decide if the Catit Senses 2.0 is the right feeder toy for your feline friend.

This user bought the Catit Senses Food Tree to help her cat slim down and to stop binge eating and throwing up. She goes as far as thanking Catit for this product!

This user has fun watching her cat figure it out. She praised Catit for the durable and easy-to-clean design.
Other Options To The Catit Senses 2.0 Food Tree
If you are looking to compare how this toy feeder fares against others of its kind, we have listed three alternatives below to help you:
Catit Hagen Treat Ball
The Catit Hagen Treat Ball is a palm-sized toy and treat dispenser in one. Unlike the Senses 2.0, it does not stand in place as it can be swatted and chased around by your cat. It can become a regular ball by merely turning the lid close. The dispensing hole is also adjustable depending on the size of the treats. However, this can make filling and dispensing a hassle as you need to find the right hole size. Whereas, the Senses 2.0 has a narrow top lid hole that can accommodate any kibble size without hassle. The treat ball comes in blue and pink and cannot be disassembled, which can be an issue if debris gets stuck inside. It is cheaper than the Senses 2.0 as well.
Bergan Turboscratcher
The Bergan Turboscratcher is a toy and scratcher pad in one. It has a spinning ball that your cat can nudge and shove for hours of fun and exercise. It also has a replaceable scratcher pad that is a great outlet when your pet needs to scratch. This way, there are fewer chances for the woodwork and upholstery in your house to be damaged with scratch marks. Although this toy helps your cat get the exercise needed, it doesn't help with any feeding issues your cat might have like the Senses 2.0 does.
Petstages Cat Tracks
Petstages Cat Tracks features a variety of interactive toys, such as the Tower of Tracks, Cheese Chase, Ring Track, and Catnip Chase. All of them include brightly colored spinning balls placed on one or three tracks for your kitty's enjoyment. This interactive toy series is a great way to keep your cat active as they satisfy your feline friend's hunting instincts. Unfortunately, they do not have any treat dispensers. This means that this cannot help your cat's feeding problems like the Senses 2.0 can.
Final Thoughts
If you have a lazy cat that is starting to gain more and more weight, then do yourself and your cat a favor. Get an interactive food toy like the Catit Senses 2.0 to reawaken the hunter instincts in your cat. As our Catit Senses 2.0 Food Tree review revealed, it provides the physical and mental stimulation that will curb the overeating and purging habits your cat might have. This way, your feline friend can live a long and healthy life.
Click here to get current pricing on Amazon for The Catit Senses 2.0 Food Tree >>