Does your cat just forever go around in circles trying to catch something inside your house? Whether it be an insect or a rodent. That means that your furry friend is just following their instincts. The best indoor cat toys, like the one in our Running Pet Cat Toy review, can be your furry friend's new playmate and enhance their natural instincts.
Things To Consider Before Buying An Interactive Cat Toy
There are a lot of things that you must consider before you get your furry friend a new toy. What your cat is interested in is one of the most important things. Cats have natural instincts for hunting. However, the degrees of how much they want to hunt varies from cat to cat. There are cats that are real hunters and will chase after their prey, whatever it may be and there are some that just don't care about chasing these prey.
Another thing to consider for yourself is that value for money of the toy that you are about to purchase. You do not want to be spending a certain amount of money just to let it sit in your living room like a piece of furniture that nobody wants. We know how cats are with their things. If they are not interested, they will not touch it. They can be interested in a few hours or days, but you will see their disinterest soon enough.
Whatever cat toy that you want to purchase for your furry friend, think of the things that matter to you and your cat most. Also, check if what you are buying is with the money that you are spending.
Running Pet Cat Toy Overview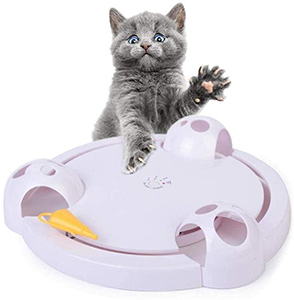 This interactive cat toy enriches your cat's mind and body. A moving electronic mouse goes around in four varying speeds: low, medium, high, and variable speeds. A toy that can keep your cat interested for hours on end. Not only can this Running Pet Cat Toy keep your cat's mind going but also can get them physically active and get some exercise in. This toy also reacts to your cat's touch. It is a must-have in every cat home.
Quick Glance
What's Good
Promotes health and exercise for your cat
Hours of entertainment for your cat
Varying speeds to play with
What's Bad
Price is too high for what it is
Not for all cats
Running Mouse
The Running Pet Cat toy features a running mouse on this round toy that goes around to activate your furry friend's natural instinct to hunt prey. It enhances these instincts to keep them agile and promote exercise to keep a fit cat around the house. This running mouse can surely get any cat off their cute furry behinds.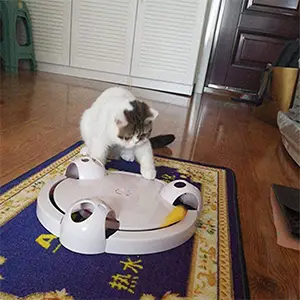 Versatile
The running mouse can operate in four variations. It can go at low, mid, high speeds. Depending on how your cat likes to hunt, you can set the speed that your cat would be interested in. If you would like to spice things up, there is a setting where the speed would be unpredictable for your cat and keep him on his toes.
Battery Operated
One thing to take note of this toy is that this is battery operated. You would need a couple of batteries to be able to play with this cat toy. Once you have the batteries in, it is hours of endless fun for you and your furry friend.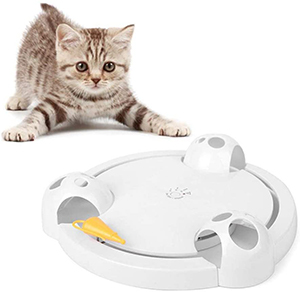 What Others Say About Running Pet Cat Toy
Here are some of the comments that we found online about the Running Pet Cat Toy and what real users have to say about it.

Suzanne says that her cat is crazy in love with this Cat Toy. To the point that her cat can turn it on by herself. She considers it a great deal considering her cat sleeps holding the toy.
Jen Marie's furry hunter friends are obsessed with this toy. She was skeptical at first but eventually, her hunters tire themselves out every night before dinner and it keeps the meowing at bay.
And lastly, Gail has bought this toy over and over again through time even if it keeps breaking on her. She buys it repeatedly because it is a fun toy for her furry friends.
Alternatives To The Running Pet Cat Toy
In our quest to write our Running Pet Cat Toy review, we also evaluated other cat toys. Below are 3 alternative options to the Running Pet Cat Toy.
Catit Senses 2.0 Food Tree
The Catit Senses 2.0 Food Tree prides itself with an improved design that promotes slow feeding with cats. The Senses 2.0 now has a narrower opening at the top to prohibit your furry friend from pawing the food at the opening. It has many sides to where your cat can try to paw out their food, thus feeding them slowly while engaging his mind at the same time. You can adjust the difficulty by rotating the middle disc to adjust the size of the opening. You can stimulate your furry friend's mind in many different ways. Feeding them this way allows them to get a reward of some sort for solving a riddle.
Catit Hagen Treat Ball
The Catit Hagen Treat Ball combines a toy ball and a treat dispenser. You can fill the ball with treats in a bigger opening and they can come out in another opening which is smaller. This toy works like a screw to where your furry friend can paw and roll the ball around to try to get the treat to fall out from the toy ball. You can only open one hole at a time. You can also twist it to turn it into a regular ball for your cat to p[lay with. This is a puzzle ball that your cat can engage in and stimulate his mind. The treat ball comes in two colors: Blue and Pink.
Bergan Turboscratcher
The Bergan Turboscratcher is a combination of a cardboard scratcher and a ball-rolling track. It was designed to be an entertainment piece that your furry cat can enjoy. It has a scratchpad that keeps your cat from tearing or chewing your furniture. This is because they have the appropriate place to scratch when the urge to do so.
Whereas, the ball track comes with a ball that your kitty can nudge and paw around. This provides them with hours of entertainment that even you will enjoy watching them play. This feature will also ensure that your cat gets exercise as well as the mental stimulation needed.
Our Final Thoughts
Overall, the Running Pet Cat Toy is a fun and entertaining toy to keep your cats entertained for a long time. They may not look sturdy but they are enough to indulge your cat's natural instincts. It also promotes good exercise and health for your cats if your cats do not like going on walks and wandering around.
Click here to get current pricing on Amazon for The Running Pet Cat Toy >>