As a cat parent, I love doing everything I can to keep my beloved pet entertained through play. Not only that, but playtime encourages your cat to use their natural instincts. Many animal behavior studies suggest that this is important to the mental and physical well-being of your pet. The best cat toys for cats who live indoors,  like the one in our PetFusion Ambush Electronic Cat Toy review, to encourage your cat to hunt and pounce. Therefore, they are entertained and, at the same time, your cat's mind and body are stimulated.
Things To Consider Before Buying An Electronic Cat Toy
Before deciding to buy any product, it is always good to research it to know if it might be what you and your cat are looking for. Check if it passes all the safety, durability, and stimulation requirements you are looking for. Like any other purchases you make, you want to get your money's worth with the toy you buy for your cat. It has to be something durable that can withstand everyday use. It should also be safe enough for solo playtime. The toy shouldn't have any loose parts your cat might swallow or sharp pieces.
The toy should also challenge your cat's hunting instinct. A cat toy is a good tool to have to keep your cat active both physically and mentally. Having an active lifestyle means that your cat has fewer chances of suffering from health issues such as diabetes mellitus and obesity. Therefore, your cat has a healthier lifestyle and can stay with you longer.
In this article, we will dive deeper into the everything PetFusion Ambush Electronic Cat Toy has to offer so you can see for yourself if it is the toy for your cat.
Ambush Interactive Cat Toy Overview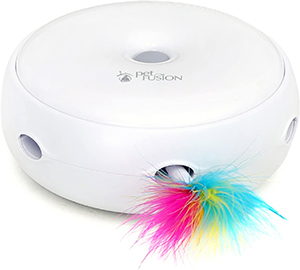 The Ambush Interactive toy is designed to satisfy your cat's hunting instincts. It is a battery-operated device that has six openings on the side. A feather pops out of these six holes in randomized and fast-paced settings. This moving feather mimics a prey that your cat will catch. It also comes equipped with color LED lighting to help draw your cat in further. This also makes the toy a great toy for daytime or nighttime use.
It has two modes that can be activated with a long press of the button. There's blue for activation and purple for feather change mode. The package includes four AA batteries. It also has a battery plate screw so that it is secured and won't be easily removed, especially if you have young kids at home.
Quick Glance
What's Good
Anti-skid feet to keep it in place on smooth surfaces
12-month warranty for any manufacturer defects
Feather is easy to replace; three-pack replacement can be bought
Long-battery life with the eight-minute auto-shutoff feature
LED lighting
What's Bad
The motor is very loud that it might scare some cats
Feather is flimsy
Some users wish that it has a slow and fast setting
Features Of The Ambush Cat Toy
The following are some of the key features this cat toy has that you and your cat might enjoy:
8-Minute Auto-Shutoff
This product automatically shuts off after eight minutes. This feature promotes extended battery life so that you don't have to keep replacing the battery. The package includes four AA batteries as well.
Automated Interactive Play
It is made to stimulate your cat's instincts of chasing and capturing prey. It provides a moving prey to your cat as a colorful feather pops in and out at interval times on the six holes around it. You can switch it on and leave your cat to have fun with the toy or watch them satisfy their ancient desire to hunt. However, it can be very loud.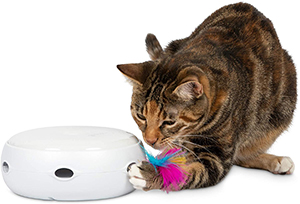 LED Lights & Replaceable Feather
This toy has LED color lighting that helps attract your cat to it. It also helps make it visible during low light situations. The toy comes with one feather replacement should your cat successfully finish off the prey for good.
Sleek Look & Anti-Skid Feet
The device has a white, sleek design that will go with any interior design your house has. The material it is made of is also fairly durable. It is also equipped with rubber soles so that it stays put even on smooth surfaces, such as tile and hardwood floors.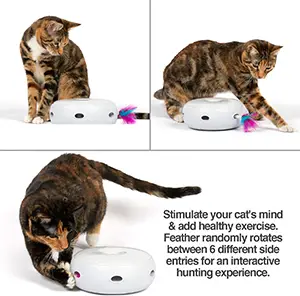 What Others Say About Ambush Electronic Cat Toy
Here are some cat parents' reviews to help you know how this interactive toy fares with other felines:

This user says that all five of his cats love the PetFusion Ambush Cat Toy!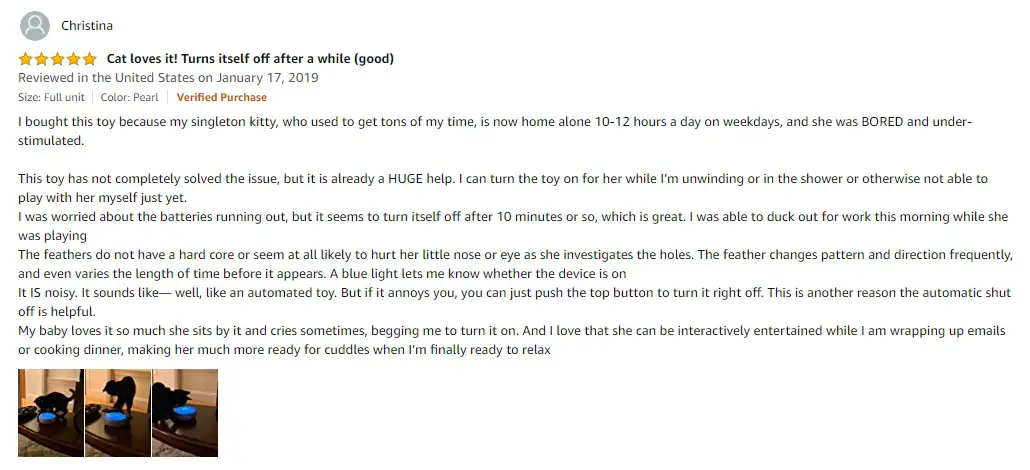 This cat parent says that this toy helps keep their cat entertained while they work!
Alternatives To The PetFusion Electronic Cat Toy
If you are still on the fence regarding this cat toy, then here are a few other alternatives in the market. This way, you can compare how they fare from other toys.
Friends Forever Interactive Laser Cat Toy
The Friends Forever Interactive Laser Cat Toy is equipped with a rotating laser that is concealed in a diamond-shaped topper.
Like the PetFusion, it needs batteries to work. It also taps on your cat's natural hunting instinct as they try to catch the red dot.
The laser beam projects at a randomized 360-degree pattern, so your cat has a big play area. It also has a 15-minute automatic shut off feature with three-speed settings. However, it might be hard to get a replacement should the laser burn out. This is unlike the easily replaceable feathers of the Ambush Interactive.
Running Pet Cat Toy
The Running Pet Cat Toy looks similar to the PetFusion. But instead of a feather popping out of holes, this toy has a moving electronic mouse that runs around a circular track.
It has four-speed settings, with the mouse going in both directions. It uses three AA batteries only, but it is not included in the package, unlike the PetFusion.
It also does not have an auto shut feature, which may affect the battery life. Check the product out and see if this might be the toy for your cat.
Catit Senses 2.0 Food Tree
The Catit Senses 2.0 Food Tree is a food tree and toy in one. It makes your cat work for their food as they have to paw at the openings to get the kibble.
It has three difficulty levels to challenge your cat's natural instincts. This cat feeder is made of BPA-materials.
Unlike the PetFusion and the other toys in this list, this one does not need batteries to operate. This toy also helps your cat eat at a healthier pace. If you have a fast eater or an overeater cat in your hands, this toy is worth checking out.
Our Final Thoughts
A cat toy is a good way to keep your cat busy in a fun way. It helps in preventing boredom while also encouraging exercise. As our PetFusion Ambush Electronic Cat Toy Review revealed, many cats enjoy PetFusion Ambush Electronic Cat toy! Why? A feather arm continuously pops in and out of a hole randomly so your cat never knows what's coming.
It is a great stimulus for their hunting instincts while also helping to keep them mentally and physically fit.
Click here to get current pricing on Amazon for The PetFusion Ambush Electronic Cat Toy >>