We all remember our parents telling us how important it is to brush our teeth twice a day when we were kids. It's become normalized to keep good oral habits nowadays. Yet, not many people realize that dogs, too, need to keep up with oral hygiene. Check out the following product reviews where we identify the best dog teeth cleaning toys for your pooch!
Our Top Picks For The Best Dog Teeth Cleaning Toys:
Arm & Hammer Super Treadz Gorilla
Hartz Bacon Flavored Dog Chew Toy

Idepet Dog Tooth Cleaning Ball

Click here to read all of the individual dog teeth cleaning toy reviews.
Things to Consider When Choosing The Best Dog Teeth Cleaning Toys
Do You Need to Brush Fido's Teeth?
The Veterinary Oral Health Council (VOHC) recommends brushing your dog's teeth daily. The reason being, plaque and tartar can develop quickly in a dog's mouth, and this can lead to painful infections and periodontal disease. Also, brushing your dog's teeth can help tackle gross dog breath. We all know how terrible that can be. So if you're worried about inviting guests over because of your dog's breath, consider getting into the habit of keeping up with their oral hygiene.
Before you decide to pull out a toothbrush, let me state easier ways you can clean your pet's teeth. Brushing their teeth with a toothbrush can be a hassle. Not only will your dog most likely not let you put a toothbrush in its mouth, keeping their mouth open long enough to do anything will be even harder.
Instead of tackling your dog trying to clean their teeth with a brush, try using teeth cleaning toys. These toys are much easier for both you and your dog, and you can sit back and relax knowing that your dog is cleaning their teeth themselves!
What to Look For in Cleaning Toys
Some of the best dog teeth cleaning chew toys are the ones that have nubs and ridges that are designed to clean along the gumline of your dog's teeth. This will ensure that any plaque or tartar is brushed away. You also want to look for kinds of toys that are made with durable material, like all-natural rubber. This way, even the toughest of chewers will have a hard time getting through the tough rubber.
And to add to that, natural rubber is 100% non-toxic! Lastly, choosing the right toy means looking for toys that will ensure your dog will have beautiful pearly whites. This means getting a toy that is covered in the most bristles and grooves possible, and that it has a sturdy base. Having a sturdy base gives your dog something to hold onto while they chow down on the toy.
Try to avoid getting chewy treats like hard bones and pigs' ears to try to clean your dog's teeth. Although these do clean your dog's teeth to an extent and are a known dog favorite, a dog with gum disease and brittle teeth can easily break a tooth on these kinds of chews. These chews are also subject to breaking into sharp pieces, which could hurt your pet when swallowed. If your dog craves these, limit the time they chew to only a few hours so as to not risk their health.
Vet Approved
Another thing to look out for in dog chew toys is if they have the VOHC seal of approval. This would mean that the chew toy is certified and safe for your dog. These chew toys are available in most pet stores, but some of them are available only through a veterinarian office, which could affect the price. But better safe than sorry, right?
Our Recommended Dog Teeth Cleaning Toys
Below, find the toys we think are the best for your dog! Our recommended products ensure your dog will have a fun and enjoyable way to clean their teeth, and give you peace of mind that your dog is practicing good oral hygiene!
Arm & Hammer Super Treadz Gorilla
Check Amazon's Price
The Arm & Hammer Super Treadz Gorilla is a small but durable toy. It is made with natural rubber and comes with small ridges to massage your dog's gums and teeth. This toy is infused with baking soda, so it doesn't give off any odors and fights bad breath in your pet. As an added bonus the toy is hand washable and dishwasher safe, allowing you to easily clean between chewing times.
One problem with this product is that the small hole at the bottom where treats can be inserted may be too small. The problem is that once the treats go in, there is almost no way of getting them out unless you flush them out. Another problem that can be found with this toy is that the ridges aren't as prominent as in other toys, so it may not do as well of a job at cleaning your dog's teeth.
Quick Glance
What's Good
Very Durable
Dishwasher Safe
Infused with Baking Soda
What's Bad
Hole at Bottom is Too Small
Ridges Not Very Pronounced
Hard to Get Treats Out
Hartz Bacon Flavored Dog Chew Toy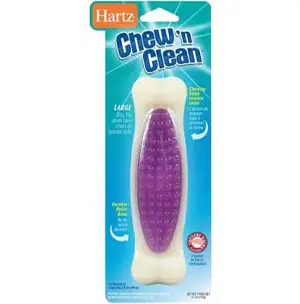 Check Amazon's Price
This teeth-cleaning toy fulfills your dog's desire to chew while cleaning their teeth. This toy helps keep tartar and plaque out of your pup's mouth, promoting chewing and healthier teeth! It is available for small dogs and a larger version for dogs that are over 50 pounds. It is made from durable nylon and polyurethane, making it durable for the toughest of chewers. Furthermore, it has a multi-textured surface, adding to its appeal for your pup. Along with this, it has a tempting bacon scent that no dog can resist!
Quick Glance
What's Good
Durable For Small Dogs
Multi-Textured Surface
Bacon Smell
What's Bad
Smell May Be Too Strong For Some Dogs
Large Dogs May Damage Toy Easily
Idepet Dog Tooth Cleaning Ball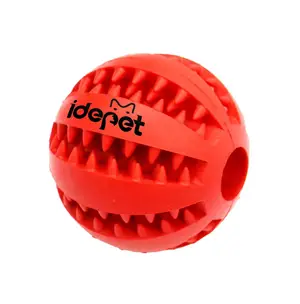 Check Amazon's Price
Idepet Dog Tooth Cleaning Ball is similar to that of the first product mentioned, in that its strong base and shape are convenient for your dog to hold with its paws. Its design enables your pooch to clean their teeth and gums while fulfilling their chewing needs. This cleaning toy has ridges and bristles that scrub plaque off of your pooch's teeth, giving them a bright smile.
This toy also acts as a treat-dispensing toy, where you can place treats in the grooves of the toy. This feature gives your pup added appeal. It enables them to clean their teeth while trying to figure out how to get the treat out of the toy. However, it is important to note that some aggressive chewers were able to damage the toy quickly. Therefore, this option may be best for small to medium-sized dogs. Many dog owners enjoyed that the Idepet Dog Tooth Cleaning Ball kept their dogs busy and out of trouble for hours.
Quick Glance
What's Good
Made From Extra Tough Rubber
Nontoxic
Improves Intelligence
Cleans Teeth While Keeping Gums Healthy
What's Bad
Excessive Chewers May Damage Toy Easily
Smell May Be Too Strong For Some Dogs
Wisedom Dog Toothbrush Stick
Check Amazon's Price
This teeth cleaning chew toy is made from all-natural rubber, making it safe for your dog, and is manufactured to have many bristles to clean your dog's teeth. There is also a hole at the top that allows for some doggie toothpaste to be inserted, giving this toy even more cleaning power.
This toothbrush stick has a 360º bristle design, allowing your dog to clean their teeth from every angle. Additionally, the chew toy has a wide base that allows your pooch to hold onto it with their paws while cleaning. It's easy to clean, too! The toy can be hand-washed, cleaned with the included brushing stick, or even thrown in the washing machine!
We have found that prolific chewers managed to tear through this product. Not to worry, however, as limiting your dog's chewing time can prevent this from happening. Also, in some cases it was hard to clean out some dried up toothpaste from the inside of the toy. To minimize these issues, be sure to clean the product thoroughly between uses.
Quick Glance
What's Good
Strong base
All Natural Rubber
360º Bristle Design
What's Bad
May have trouble cleaning dried toothpaste
May not be suitable for the heaviest of chewers
Fine-Pets Dog Chew Toothbrush
Check Amazon's Price
The Fine-Pets Toothbrush, too, is a convenient shape that allows for your dog to hold onto its base while chewing. The chew toothbrush is made from natural and eco-friendly rubber, and it is thick and flexible. There are granules and bristles all around the toy, allowing your dog to clean away plaque and tartar no matter what part they decide to chew.
Like the other toys listed, this toy can be used with toothpaste or treats like peanut butter to entice your dog to chew, with the added benefit of reinforcing cleaning power if toothpaste is added. There is also a small brushing stick included with the toy allowing you to clean between uses.
We noticed that some dogs start chewing on the base end rather than the end with ridges and bristles. Although they were at least interested in the toy, chewing on the base end does not help clean your dog's teeth. Similar to the other toys, we also noticed that dogs would rather lick the toothpaste or peanut butter off of the toothbrush, and never engaged in chewing.
Quick Glance
What's Good
Natural and Nontoxic Rubber
Granules and Bristles
Brushing Stick Included
What's Bad
Dogs May Chew Base End
Toothpaste Reservoir May Be Too Wide
Too Easy For Dogs To Lick Toothpaste Instead Of Chewing
And The Best Dog Teeth Cleaning Toy Is…
The Arm & Hammer Super Treadz Gorilla is our choice for the best dog teeth cleaning toy. While all of the toys in our review have pros and cons, this toy ranks the best!

Check Amazon's Price
One tip we found to help overcome the strong scent of this toy is to soak it overnight in dish soap to lessen the smell a little bit. This toy will last a long time but not forever, especially if your dog is a heavy chewer. Our labrador retriever had fun with this one and it has definitely lasted longer than most other toys in this category!