When we travel by air or by car, we want the best possible comfort during our journey. The worse the comfort of what we're traveling in, the worse the experience. So why not provide our dogs with the same comfort with best dog travel crates possible? Dog crates can make travel much more enjoyable for your pet. In this article, we present to you five of the best dog travel crates available on the market today.
EliteField Soft
Dog Crate

Noz2Noz Soft-Krater
Dog Crate

5 Best Dog Travel Crates Reviewed
Without further ado, here we present to you five of the best dog travel crates available today!
Petmate Sky Kennel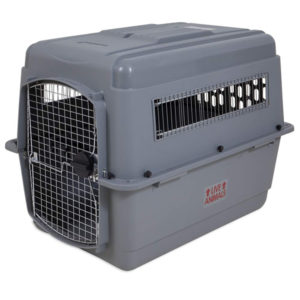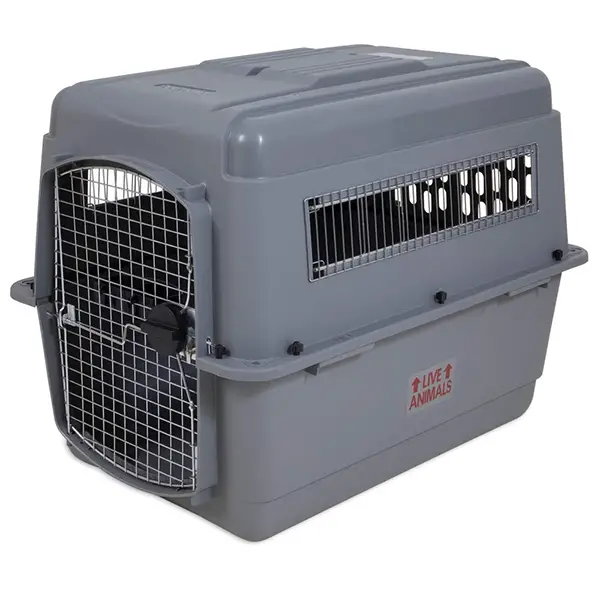 The Petmate Sky Kennel comes in three different sizes, this product takes your pet into consideration first and foremost. Safety and security are the primary features of this product as it comes with a 4-way vault door and reinforced wire vents. Your dog will be secure while still having viewing and breathing access to the outside.
Petmate has over 50 years of experience in the dog travel ware industry, providing eco-friendly products that both pets and owners will love. This product is perfect for dogs that weigh up to 70 pounds and provides comfort for all pets that hope to accompany their owners on vacation.
Quick Glance
What's Good
Sturdy wire caging
Flight kit included
Protective exterior featuring "live animal" stickers
What's Bad
Listed dimensions make it seem larger than it is
Doesn't meet international flight requirements
This pet crate is sturdy and is a great choice for making sure your dog is secure when traveling. The strength of the wire caging keeps them safe from the outside and keeps them secured inside the crate during your travels. This kennel also comes with a flight kit that will keep your dog happy and comfortable during air travel. Live animal stickers are also provided to make sure no one abuses your crate during travel.
It is important to know the dimensions of the crate, as they may seem larger than expected. Double-check the dimensions before purchasing this crate to make sure it meets your needs. This crate comes in sizes from 21″ for smaller pets to 48″ for large dogs. One point to note is that this crate may not meet international flight guidelines for pet travel.
EliteField 3-Door Folding Soft Dog Crate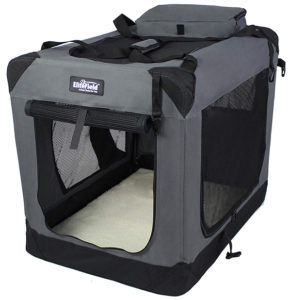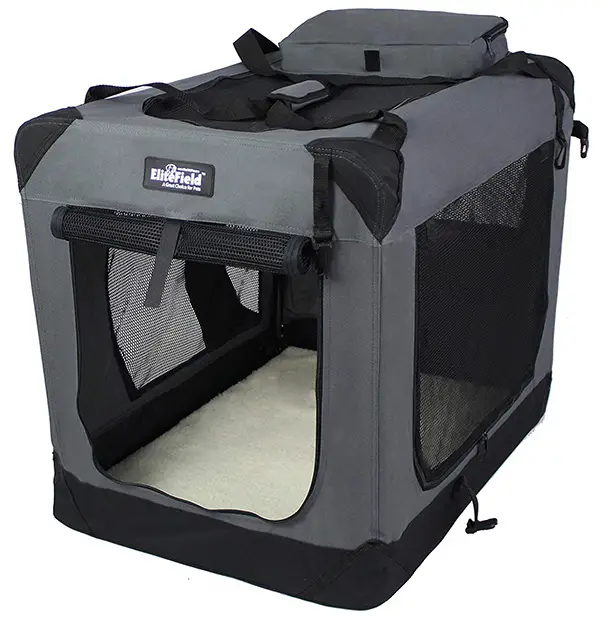 This product is designed specifically for the comfort of your pet while traveling. Keep in mind, this device is better suited for personal travel done by car or RV. The comfort aspect seems to have taken priority of the device as its structure seems to be less sturdy than others in this category of dog carrier.
EliteField offers a library of color options so that your pet can travel in style as well as comfort! Anything from basic gray to Columbia blue for your pet to come hiking and camping with the rest of the family.
Quick Glance
What's Good
Comfortable fabric
Breathable materials
Great for light-duty travel
What's Bad
Not great for flying
Compromised zipper
The fabric material of the product will keep your dog comfortable as you travel. The material is breathable and soft so that your dog won't feel necessarily confined as they would in other devices. This crate is awesome for easy storage as well as the ease and comfort it provides for your dog. The light-duty features of the product makes it perfect for travel for smaller dogs.
However, this crate is not superb for intense or heavy traveling, especially flying. While the crate does have a strong metal wiring that keeps the fabric in place, it is advised to invest in a metal or plastic crate if air travel is to be common for your dog. One drawback we have found is that the zipper is easily compromised and when this happens the door cannot remain secured and latched. Click here to read our complete review of the EliteField Dog Carrier.
Noz2Noz Soft-Krater Indoor and Outdoor Crate for Pets
Mesh and breathable windows are everywhere on this device. If you're looking to provide your dog the air and outdoors they desire while traveling, this crate is perfect for you! This crate is another one with comfort as the focus of the product as the fabric utilized is soft and dependable.
The heavy-duty, tight-weave material used in the fabric will keep your dog secure while also providing comfort for the duration of your travels. This crate comes in any size from 21-inches to 42-inches for any dog you have. It can support up to 70 pounds of pup.
Quick Glance
What's Good
Plenty of window space
Mesh window material
Comfort for your

dog
What's Bad
Compromised zipper
Tears in the mesh windows
>> Read our full review of the Noz2Noz Soft-Krater Dog Carrier 
Large and dependable mesh windows offer your dog a sense of comfort and accessibility not seen with most other types of dog crates. The windows are the focus of this device and allow your pet to enjoy the journey rather than being cooped up in a dark cage. This travel crate is perfect for families looking to take their dog on a hike or a camping vacation as it helps incorporate the comfort and experience of outdoor travel for your pet.
This is another device that is not recommended for flight or storage travel. The fabric material of the crate won't hold up as well in the belly of a plane as a plastic or metal crate would. Zippers can also be easily compromised by travel for this product. This is commonly seen with fabric dog crates as the strength of the zipper is unable to last. Another issue we found is that the mesh windows are not as sturdy as advertised online.
Aspen Pet Porter Heavy-Duty Pet Carrier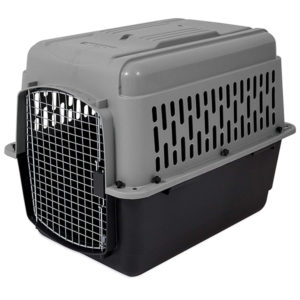 The Aspen Pet Porter is one of the best heavy-duty dog crates available online – it can support anything up to 125 pounds depending on the size you purchase. Strength and security were the main focus of this crate as we see dependable wiring on the doors and windows.
This travel crate has air-travel accessibility as it allows your dog to remain secure even with the worst baggage care. The sturdy shell of the device will keep your dog safe throughout the duration of the flight.
Quick Glance
What's Good
Strong and sturdy case
Holds up to 125 pounds
Heavy-duty travel
What's Bad
Uncomfortable for the dogs
Design was focused on strength
The strength of this device is by far one of its greatest features. As the title implies by the company, this crate is designed for heavy-duty and will keep your pet secure up to 125 pounds. Most dog crates tend to max out around 70 pounds, but this crate can support even the largest breeds.
The comfort of this crate is a concern and should be considered in your purchasing decision. This manufacturer obviously sacrificed comfort in lieu of sturdiness. One way we overcame this issue is to make sure we included a dog bed when traveling with this crate.
2PET Foldable Dog Crate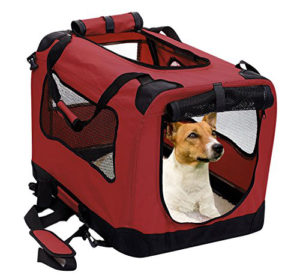 The 2Pet Foldable Dog Carrier is one of the smaller devices on this list and is designed more for lightweight travel often seen on day trips in the car. It is a foldable travel crate so the strength and protection aspect of it tends to be called into question. The fabric and mesh materials of the device are perfect for light travel.
The comfort of the design will provide a pleasant traveling experience for both you and your dog. With multiple mesh doors and windows, your dog will feel free to enjoy the ride rather than worry about being stuck in a cage.
Quick Glance
What's Good
Appealing design
Breathable material
Indoor/outdoor access
What's Bad
Compromised zipper
Focused on light-duty travel
This crate's design provides freedom and comfort for your dogs. The breathable material implemented in this design will give your dog constant access to their surroundings, even the product is completely zipped up. The small size and design make it perfect for backseat traveling. It's also great for easy storage when not in use.
As with other fabric travel crates, the strength of the mesh is an issue as it can rip rather easily. This is something we see often with mesh dog crates, it's difficult to make a comfortable and sturdy mesh window for your travels. Owners with puppies should be wary about using this crate as the mesh can be torn easily by a rambunctious pup.
Best Dog Travel Crates: What to Consider Before Purchasing
Before you purchase a travel crate for your dog, there are a few things you should consider. Firstly, identify the type of traveling you will be doing and the type of crate you need. For example, do you need a hard plastic, durable crate or is a foldable, collapsible crate adequate?
What Are the Benefits of a Dog Travel Crate?
Whenever I travel to a family member or on vacation, I hate leaving my dog behind. If I had the opportunity to bring him with me every time I traveled, I would. With a proper dog travel crate, this is made possible! If you don't have a good travel crate for your dog you're more or less restricted to the house with your pet. Travel crates make transportation easier – going to the vet, moving to a new home, vacation with the family, etc.
Having the best dog travel crates for your dog also provides a layer of security for your pet. The anxiety that a pet owner feels when their pet is traveling with them can often be overwhelming – I get stressed out when they fly with me. With a sturdy and strong dog crate, you're not only providing the security they need to safely travel with you, but also the peace of mind knowing they are safe. Nothing should be more important to a dog owner than knowing their pup is alright.
Security and the ability to travel for your pets are two of the most important benefits provided by a travel crate. There also exists a level of comfort that must be considered for your pet. As I discussed briefly in the introduction, we wouldn't want to travel by uncomfortable means so why would our dogs? Many dog travel crate manufacturers have begun to consider the comfort level of the dog in their design. Our dogs are already stressed from the change, so offering comfort in travel is necessary.
Choosing the Best Travel Crate for You
Each dog is different – different sizes, different personalities, different energy levels! The crate you choose should reflect that difference. My dog is a smaller breed and often becomes overwhelmed when objects are much larger than him. Buying the right size crate and one that his bed could fit in was pivotal. So, when I was searching for a travel crate, I needed to consider the size. With a smaller dog, you won't want to buy a large dog crate. The closer it is to their size, the more secure they'll feel.
Some dogs are much more rambunctious than others are – a Chihuahua might have some anger issues when it comes to traveling that a golden retriever might not. On the flip side, the golden retriever might want to run around and feel trapped in a small crate. Your travel crate should reflect the personality of your dog. Placing a rambunctious puppy in a confined and closed crate could cause unwanted panic or alarm. Find the crate that lets your dog continue to be themselves.
Age is another factor that must be considered when searching for the perfect crate. My small dog is on the younger side in dog years, and thus still has a high amount of energy. While a smaller crate will be good to keep him from getting anxious, I don't want to get a crate that restricts his ability to play around. If your dog is older and sleeping has become their main hobby, perhaps a crate that keeps the dog from moving too much isn't necessarily something to avoid!
Dealing With the Negatives
No dog crate is perfect and that's the unfortunate truth of the matter. Every product will have examples of malfunctions that might cause harm to your dog or compromise their safety. This is where the matter falls into your hands – preparing your crate for compromise is important. Think of it like when you're packing for a flight, the more valuable items should be wrapped up in soft clothes in case the luggage is mistreated by employees. The same should be done with your dogs!
Some things to look at when considering crate options are:
The latch – Make sure it is sturdy.
The floor – Is it comfortable? Is it big enough to accommodate a bed?
Wheels – Does the crate have wheels to make transporting Fido easier?
Handle – Does the crate have handles for easy carrying?
Windows – Are there windows to give your

dog

a view?
Construction – Is the crate rigid in construction, or can you fold/collapse the crate for easy storage?
Drum Roll…  The Best Dog Crate Is…
Finding the right dog crate for you can be difficult and should be accompanied by plenty of research into the topic before committing to a dog travel crate. The decision really comes down to safety vs comfort and the type of travel you encounter. The best dog travel crate for all-around travel and safety is the Petmate Sky Kennel.
The Petmate Sky Kennel provides a secure kennel and can be supplemented with a dog bed to provide the level of comfort that you want to see for your dog. This crate offers you peace of mind knowing that your pup is secure and safe in all types of travel, from cars to trains to airplanes.