Our furry friend's oral health is just as important as ours. And, in this article, we explore the best way to clean dogs teeth. They need their teeth to eat their meals and to be healthy.
Just like our own teeth, it can accumulate plaque and tartar over the year and can cause serious health issues if left uncleaned or untreated. In the worst cases, they would need surgery under anesthesia.
We all know that dogs are not accustomed to brushing their teeth even by their owners. However, there are specific toothbrushes and kinds of toothpaste that are made especially made for dogs that could make brushing their teeth bearable if not enjoyable.
In this article we will be going through why we need to brush our furry friend's teeth, How often do we need to brush them and what can you do to keep their teeth clean. At the end of this article, we will be recommending products that can help you maintain their oral health.
Why Brush A Dog's Teeth?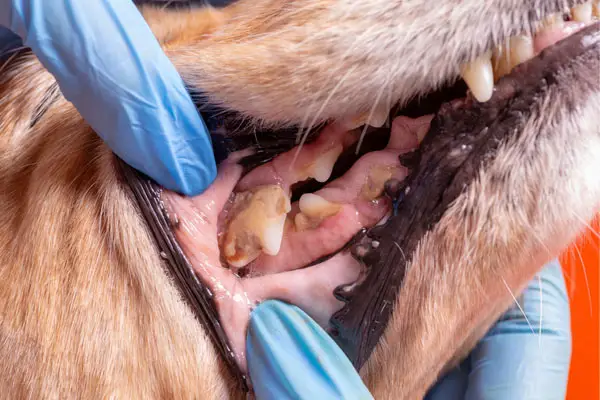 Much like we need to brush our teeth, our dogs need that too. Their teeth and our teeth are similar to each other, hence, susceptible to the same diseases. The only difference is the shape. They too have baby teeth that fall out after their 6th month and are replaced by their permanent teeth. Once they fall out, there really is no going back.
We need to brush their teeth or give them dental bones to clean it to avoid them getting the diseases that would normally occur when oral hygiene is forgotten. They also may get infections and inflammations that give bacteria access to the bloodstream and lead to infecting distant organs like the liver and the kidney.
If you think that it isn't necessary, then you may be mistaken. Although records have shown that only 1% of dog owners brush their dog's teeth, keeping their teeth healthy in any way possible is an important part of taking care of their health. And this can help to keep their breath from smelling too bad.
How Do I Brush My Dog's Teeth?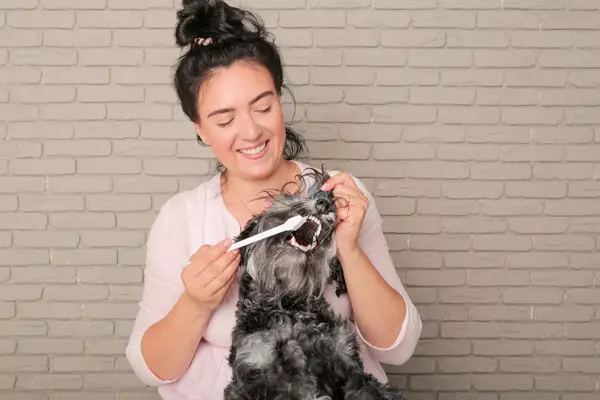 As said, not all dogs are accustomed to having someone brush their teeth for them or at all. So how do you exactly brush it? Here are some steps that you need to take to be able to brush your furry friend's teeth safely and properly.
Use a Toothpaste and Toothbrushes that are specifically designed for dogs.
Have your dog taste the toothpaste first before starting to apply it to his teeth completely.
Lift their lips to expose the teeth
Brush your dog's cheek-facing teeth and gums with gentle motions.
You can try to brush the inside as well, but most dogs will not allow it.
Do not forget to brush the upper back molars and canines as they are the teeth that tend to build up more plaque and tartar.
Reward your dog with a treat that he loves or a toy he loves after brushing for some positive reinforcement.
Best Way To Clean Dogs Teeth With These 7 Tools Of The Trade
Of course, a toothbrush and toothpaste will not always be the obvious choice for dog owners. Sometimes, dogs will not even allow you to get near their teeth and they might even show signs of aggression for even trying to brush their teeth.
If your dog is not the toothbrush and toothpaste type, here are some other ways that you can keep your dog's teeth as healthy as possible:
1) Dental Sprays
Dental sprays are great to use to help reduce plaque and tartar build-up. This can also control the bacteria that causes bad breath. As long as you can keep long enough to spray some of this on their teeth, then your dog will have healthy teeth and gums with minty fresh breath.
2) Dental Chew Toys
There are many options for toys that help with controlling and cleaning plaque and tartar. These toys will encourage your dogs to chew on the toys and clean them at the same time. Always make sure that they are supervised as some of these toys may have large pieces that could be swallowed by your furry friend.
Check out our related article: Best Dog Teeth Cleaning Toys
3) Raw Bones
Giving your dog raw bones can easily help with your dog's oral hygiene. They are a great way to encourage chewing while cleaning their teeth. However, the bones that you give must match your dog's size. Don't let your Malamute choke on a chicken wing. And never give them cooked bones as they may splinter and injure your dog.
4) Tooth Wipes
Tooth wipes are the most ideal option for those dogs that run at the sight of a toothbrush. If your dog will allow you to let your finger run through their teeth, they are great substitutes for brushing your dog's teeth.
5) Bully Sticks
Bully sticks are an alternative to dental sticks that aren't too messy. These are tough chews that will keep your furry friend occupied while the bully sticks work their magic by cleaning your dog's teeth. They can remove plaque, tartar, and bacteria from your dog's teeth by scraping them off by chewing.
6) Water Additives
These are the simplest alternatives that can keep your dog's teeth healthy with a small drop in their drinking water. However, some dogs do not like the smell or taste of these water additives so you might want to try it out first.
7) Food Additives
Food additives are also a great way to clean and supplement your brushing. These additives are made with special ingredients that help with softening the plaque and tartar off your dog's teeth.
Best Way To Clean Dogs Teeth With These 5 Tooth-Cleaning Products
Below, we share some products that you might find useful.
Best Dog Toothbrush For Hard To Reach Areas
Virbac CET Pet Toothbrush
Virbac's Toothbrush is made with extra soft bristles that will not startle or hurt your dog as you brush their teeth and remove the plaque and tartar build-up.
Because of the Virbac Toothbrush's shape, you can now also clean the hard-to-reach places especially the upper molars and canines. This is best paired with Virbac's CET Enzymatic Toothpaste.
Click Here for Latest Price
Best Dog Tooth Paste That Is Safe to Swallow
Virbac CET Enzymatic Toothpaste
Virbac's Enzymatic Toothpaste contains enzymes that help reduce tartar and plaque build-up and controls the growth of bacteria that causes bad breath. It comes in 3 different flavors: Beef, Poultry, and Vanilla Mint. Any of which, your dog will surely love.
There are no foaming agents so this toothpaste is safe to swallow. It is also safe for daily use to reduce and clean up your dog's teeth.
Click Here for Latest Price
Best Finger Brush For Dog Teeth Cleaning
Nylabone Advanced Oral Care Finger Brush
If your dog is the type to afraid of things like a toothbrush, then the Nylabone Advanced Oral Care Finger Brush would better suit your dog's oral hygiene routine.
It is designed with soft bristles to allow you to brush your dog's teeth with your finger. This scares them a lot less than regular toothbrushes. It is also designed to reach the hard-to-reach places at the back of your dog's mouth. It comes in pairs so you always have an extra toothbrush handy.
Click Here for Latest Price
Best Wipes For Cleaning Dog Teeth
Petkin 40-Count Plaque Toothwipes
Petkin's tooth wipes can freshen your dog's breath with a natural baking soda formula. You can use it daily to wipe your dog's teeth after meals. With this formula, you can easily wipe away residue from your dog's teeth and gums.
Click Here for Latest Price
Best Additive For Removing Plaque On Dog's Teeth
ProDen PlaqueOff Dental Care
PlaqueOff is a food additive or food supplement made with powdered seaweed that apparently can soften the tar and plaque from your furry friend's teeth. This can help remove plaque and tartar after taking the supplement.
You can give them a bone, a chew toy, or wipe their teeth to remove dirt from the teeth. It is 100% natural and safe for your dog to ingest. Users generally see results after using this powder for 2 to 8 weeks.
Click Here for Latest Price
Amazon Best Rated Products - Last Updated on 2023-12-10. DISCLAIMER: Some or all of the product links on this page are affiliate links. The operator of this website received a small commission if you purchase products through these links, HOWEVER, there is no added cost to you. These commissions help to fund the operation of this FurryFriendsGear.com