I've always had problems with my cat whenever I take her outdoors. She tends to stray away far from the house, chase after what little things she sees, and she sometimes becomes a target of dogs passing by. I can't take my eyes off her for just a second in fear that something might happen. To look for a solution, I decided to do some research and found that I would need an outdoor cat enclosure. However, one that is the most recommended is the EliteField 2-Door Soft Pet Playpen.
Things to Consider Before Buying an Outdoor Cat Enclosure
Cats are curious animals, so it's really dangerous to allow them to just roam around your backyard. A lot of things might happen to them, and it's really scary. However, we can't also just let them stay in our homes and think that it's the best as this can cause boredom.
These fur buddies would also love freedom, but how can you give that without endangering them? Well, that's where outdoor cat enclosures come in.
Below, we're sharing a few things you'd have to consider before buying an outdoor cat enclosure:
Budget
How much are you willing to spend on an outdoor cat enclosure? The better you can estimate how much budget you have, the easier you can narrow down your choices.
You see, outdoor cat enclosures come in different designs, sizes, and materials, so prices vary. You can expect wooden cat enclosures with lots of details to be more expensive than the foldable ones made of fabric.
If you need a bigger outdoor enclosure that would hold several cats at the same time, you can expect that they're pricier compared to the smaller ones.
So, try to set your budget first to narrow down our choices, then try searching for the cat enclosure within that and have the features you want.
Your Space
As I said, outdoor cat enclosures come in different sizes. So, before deciding to get a bigger enclosure, try to see first if it will fit your home. If not, you might need to go for a more space-saving option, probably a foldable one, so you can easily stow it away if not in use.
Portability
Whether you're often traveling with your cat or not is also something you need to consider. If you love going out on adventures with your feline friend, then you might prefer something foldable, light, and has a carrying case, so it's easier for you to carry.
The Design
The next thing you would need to consider is the design. As we've mentioned earlier, outdoor cat enclosures come in different designs, too. You can choose based on aesthetics, your cat's preference, or what seems to be suitable for your home.
If you're a traveler, then foldable playpens or tents might be the best choice. If you want something more elegant or stylish, you can opt for cat cages made of metal. There are also those that are permanent already when you don't need to move around.
Materials
I always believe that manufacturers that use high-quality materials have better overall products. You need to find an outdoor cat enclosure. That is not only strong and durable but should also be long-lasting.
If you want an outdoor cat enclosure that is permanent in your backyard, you would also want weather-proof materials. If you're going for cat cages made of metal, you would like them to be rustproof.
Set-Up Process
You should also think about the ease of installation. Can you dedicate lots of time to building it? If not, then go for something that has a pop-up or pull-string system. These wouldn't need tools for assembly. On the other hand, if you have more time, you can go for those that would require assembly but tend to be larger.
The Number of Cats You Have
Try to consider the number of cats you have. Naturally, the more cats you have, the bigger the space they need, so you need to buy a larger outdoor cat enclosure too. If you're going for playpens, make sure to choose the right size that would give enough room for all your cats. Plus, there should also be an extra space for your cat's toys.
EliteField 2-Door Soft Pet Playpen
The EliteField 2-Door Soft Pet Playpen is one of the best-selling playpens on the market. It's octagon-shaped, comes in 8 sizes, has two doors, extra pockets, and removable floor mat and top cover.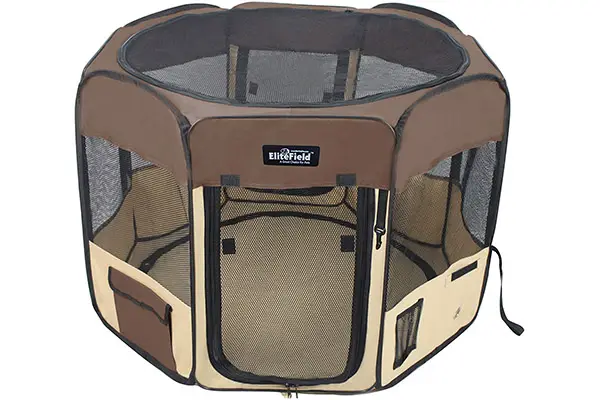 Check Amazon's Price
This is a foldable type of playpen that requires no tools for assembly. It's also easily washable as there are removable parts. But I guess what is lovable about this product is the 100% money-back guarantee, which speaks a lot about how the manufacturers trust the quality they made.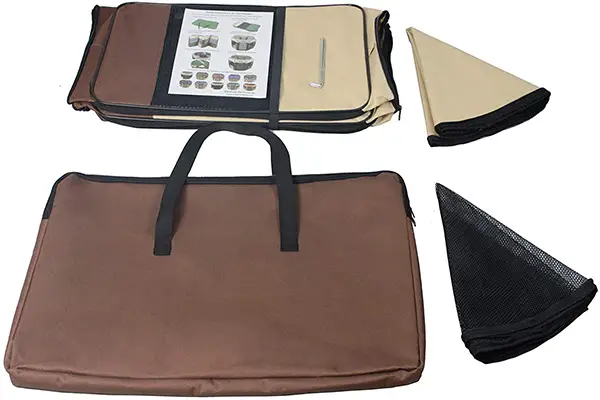 Check Amazon's Price
Quick Glance
What's Good
It comes with multiple mesh windows for better air circulation.
It comes in many different sizes.
Ease of assembly.
It comes with a carrying case and ground stakes for effective outdoor use.
What's Bad
Few cat owners complained about the low quality of the zippers.
Features and Benefits
Design and Materials
The EliteField 2-Door Soft Pet Playpen comes in an octagon-shaped. It's almost the same as regular playpens but comes with two doors with locking zippers. I also love the accessory pockets and water bottle pocket and holder that come as accessories.
The whole playpen is made of high-quality fabrics. The all-around windows and doors are made with mesh for better air circulation so as not to suffocate your cats inside.
I also love the removable floor mat and top cover, which makes this product easier to wash. Also, access to your cats is easier as you can just pick them up from the top. At the same time, if you have cat climbers, you can prevent them from escaping by closing the top cover.
The product also comes in eight different color combinations. It's great as it allows you to choose something that would match your backyard or a color that suits your taste.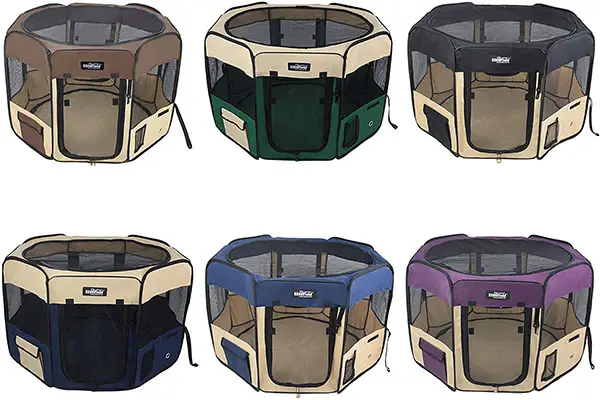 Check Amazon's Price
Activity Space
What customers love best about the EliteField 2-Door Soft Pet Playpen is that it comes in eight sizes. That's a lot compared to other brands that give you about three size options only.
The smallest has a dimension of 30 x 30x 20 inches, while the largest has a dimension of 62 x 62 x 30 inches. This is great as you can choose the most appropriate size suitable for your house space or the space that can accommodate all your cats and their toys.
If you have one cat now, then the smallest would do. But, it's also wise to consider if you're planning to get more in the future and make sure to make room for those coming cats, too.
Ease of Assembly
If you don't like needing to assemble your cat enclosure, the EliteField Cat Playpen will give you exactly that. It already comes completely assembled; the only thing you need to do now is unfold it then attach the floor mat. It's that easy and won't even require about 5 minutes to do.
Portability
Since we're talking about outdoor cat enclosures, you would be happy to know that the EliteField 2-Door Soft Pet Playpen is designed for indoor and outdoor cat play. This means that you can transfer it from one place to another without any problems. And if you love outdoor adventures, it can certainly go with you.
This playpen weighs only about 4.0 pounds, which makes it very lightweight. It also comes with a hand-carry bag, so it's travel-ready. And in case it's windy, it comes with four ground stakes, so it doesn't topple over.
Other EliteField 2-Door Soft Pet Playpen Reviews
I already find the EliteField 2-Door Soft Pet Playpen as a great product, but I know you can't just take my words for it. So, let's also take a look at what other customers say:
This user bought the 52 x 52 x 32 size to make a home for his rescued kittens. He was able to fit a cat litter, a cat tree, a scratching post, and three food bowls inside, which says a lot about the space this playpen provides.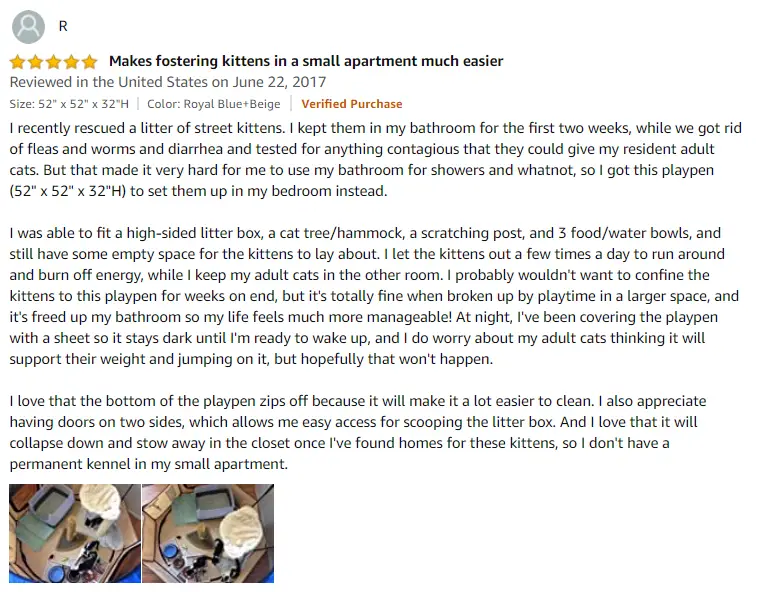 Another cat rescuer expresses that this playpen stands above the rest. Because of the wide space provided, cats don't feel being stuck or confined inside.

This customer bought the playpen for his dog. She likes the product because of the stability but only has problems when it comes to the zipper.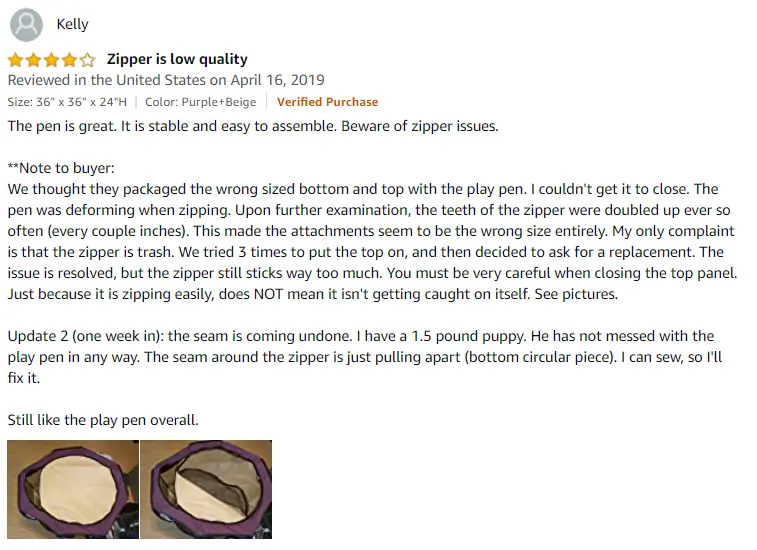 Alternatives to EliteField 2-Door Soft Pet Playpen
I'm fully aware that there's no one size fits all solution for every cat. So, if you think this is not the outdoor cat enclosure for your pet, you can check out these other alternatives.
Outback Jack Outdoor Cat Enclosure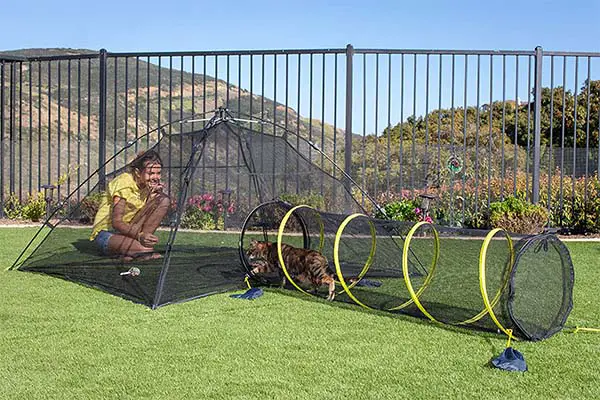 The first on my list is the Outback Jack Outdoor Cat Enclosure. This product comes in two parts – the cat tent and cat tunnel – both of which you can use together or separately. The whole tent and tunnel are made of mesh, so you can expect excellent air circulation and 360-degree access to the sun and view around your cat.
You'll also be impressed with the 30 square feet of activity space provided, which is enough for probably a cat or two. The product comes with a portable and easy to set-up design. And if you're going to use it outdoors, there are ground pegs to hold the cat tent against strong winds.
Hi Suyi Cat Tent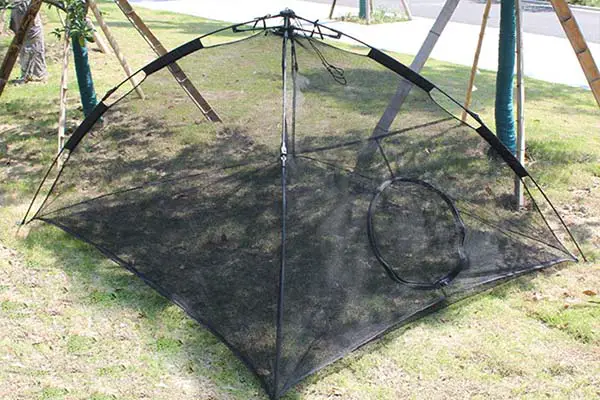 Next on our list is the Hi Suyi Cat Tent. This one has over 32 square feet of activity space inside, providing your cat or cats enough room to roam around. It also comes with mesh material for excellent air circulation and 360-degree access to the sun and view.
I love that it comes with a pull-string pop-up system for easy set-up and taking down. It also comes with a carrying case for easy portability and four ground stakes to make it suitable for outdoor use.
Zampa Pet Playpen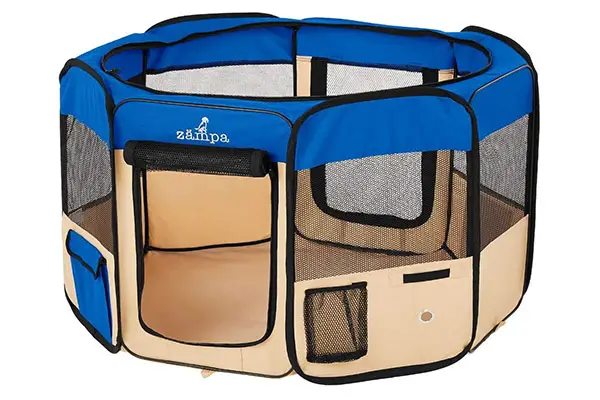 If you don't like tents, you can have this playpen from Zampa as an alternative. It also comes in an octagon-shape and comes in four sizes so that you can choose the best size appropriate for your cat or cats.
Unlike the EliteField playpen, this product only has one door and a removable top cover. The floormat is already attached, but customers are still happy as nothing gets stuck in the zipper in case you put food inside the playpen. It also comes with a carrying case and four metal spikes for outdoor use.
EliteField 2-Door Soft Pet Playpen Review Conclusion
Overall, the EliteField 2-Door Soft Pet Playpen is an excellent product for your cats. It's made of the best materials to ensure high-quality. The design is well thought out and aims to provide your cat with enough room to play. You can take it indoors or outdoors easily without any problem. You can check out the product here and let us know what you think.
Click here to get current pricing on Amazon for the EliteField 2-Door Soft Pet Playpen>>