I live in an area where temperatures get extremely cold for myself and my dog. So, although I have this daily routine of walking my Jack Russell Terrier, I used to stop during winter.
But, I found this great dog vest…
and now, I can walk my pup all year long!
Medium, small and toy-sized dogs like Chihuahuas and Jack Russell's need some sort of protection when going out in cold temperatures.
In this article, I will share:
In-depth review of the Gooby dog vest
Features that make this vest a standout
Advice on how to buy a small dog sweater
Alternative options to the Gooby fleece dog vest
Let's jump right into it…
A Review Of The Gooby Dog Fleece Vest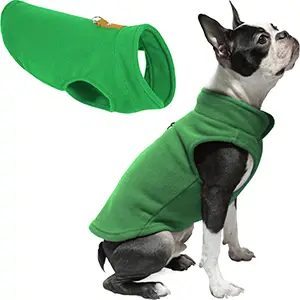 After spending a week or so researching about the Gooby Dog Fleece, I didn't come across any complaints about it not being comfortable enough. That's a positive indication of what you'd expect from this product. The vest is designed to fit your dog comfortably, while also leaving ample room at the rear for potty purposes. However, be reminded that this product is meant for small and medium-sized dogs.
What's Good
Available in multiple colors and sizes
Manufactured by a renowned brand
Provides a little room in the neck area
What's Bad
Size may differ from the advertised measurements
A bit tight in the chest area
Thin material
Gooby Dog Fleece Vest Features
Made From Polyester
Although this dog vest isn't made from wool, it still provides an effective solution for keeping moisture out. In doing so, the sweater manages to keep warm air and heat in, ensuring that your dog is warm in areas where it matters the most. The polyester material may be thin, but it is proven to last, even with frequent washing.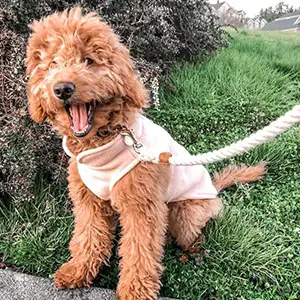 Easy To Wear
The last thing you want from a sweater for your dog is something that's a pain to wear. What if it's snowing outside and your dog must go right away? You could end up facing a huge mess. The ideal small dog sweater/vest won't let you spend several minutes just to put it on your pet. Fortunately, the Gooby Fleece Vest comes with a convenient slip on and off mechanism that doesn't require zippers or Velcro. It is highlighted by the pullover method that makes wearing it possible in seconds.
Functionality And Style
The Gooby Fleece Vest is not your ordinary sweater for dogs. The functionality is without question, but what stands out is the styling. You can choose from a line of multiple color options to fit you and your dog's style preference. The design is highlighted by the large armholes meant to help your pup walk with maximum comfort. There's also an O-ring found on the back that's custom-made for short walks in the winter.
Convenient Washing And Maintenance
Washing dog clothes may appear to be a straightforward affair, but you'll face the harsh reality when you realize that it's full of dirt and sorts of nasty stuff. Fortunately, the Gooby dog sweater is machine-washable, which means you don't have to endure that filthy hand-washing chore to keep the sweater clean.
Accurate Sizing
One thing that makes the Gooby stand out from the others is that you're sure to get the right fit for your dog. Nonetheless, you still must measure your dog's chest and length to be specific. This product has a significant allowance in the neck area to improve the fit.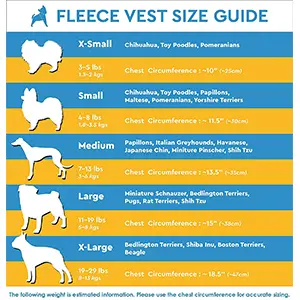 What Others Think About The Gooby Dog Fleece Vest
After reading a ton of reviews online, it shouldn't be a stretch for me to recommend this dog sweater. Below are the reviews that stood out for me:
Emma recommends that you use a size chart first before purchasing. She chose a medium for her dog, but the photo shows that it isn't a snug fit.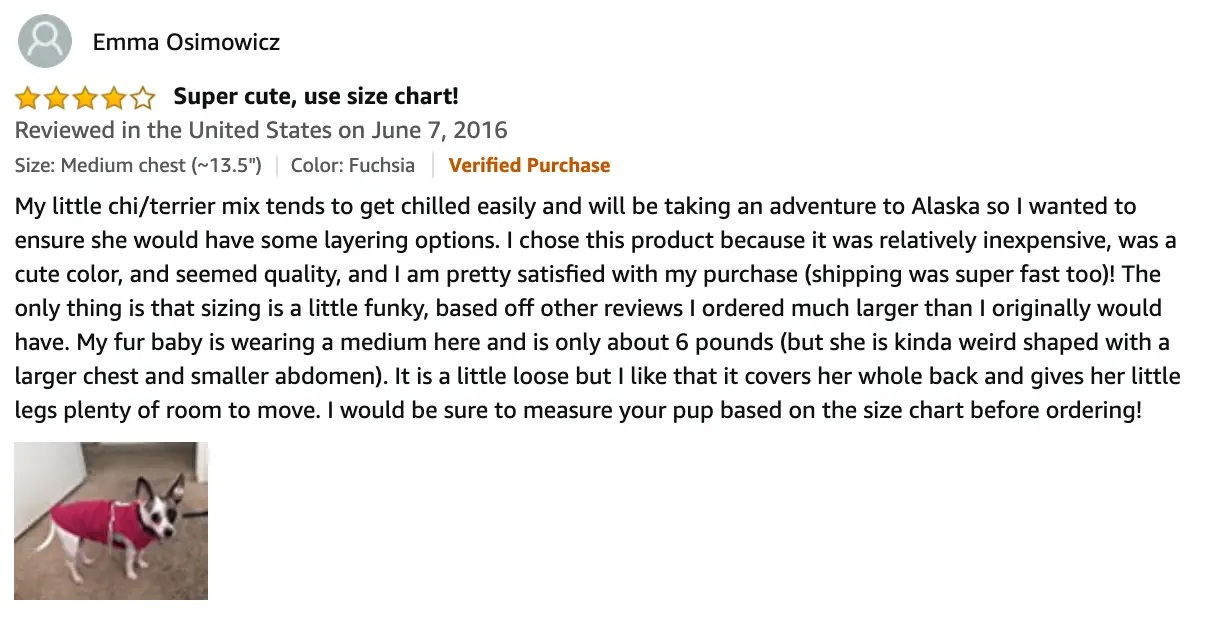 Katie bought two colors of the same product – showing that she and her dog loves it.
There's no denying that Phillip and his dogs prefer Gooby sweaters!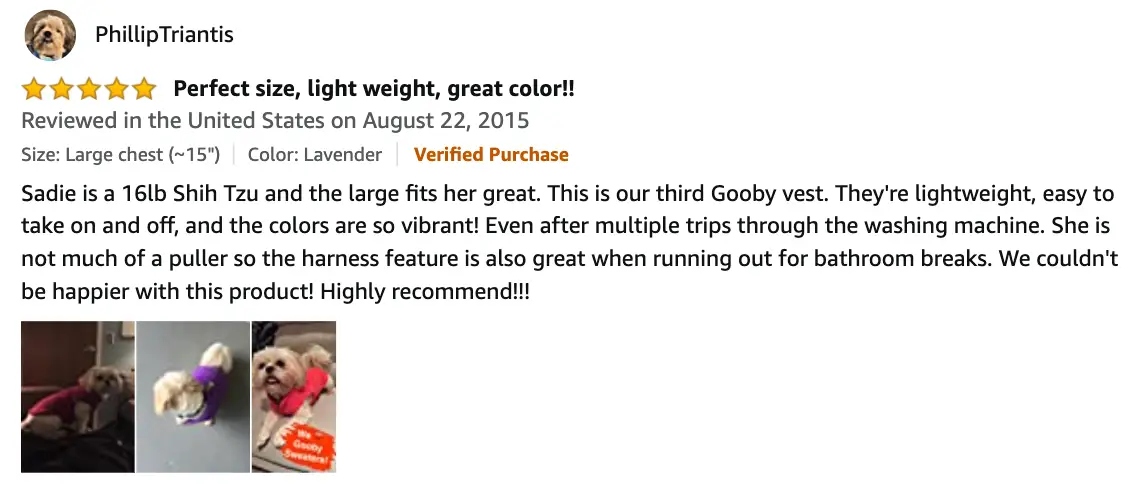 How to Buy a Small Dog Sweater Like The Gooby Dog Fleece Vest
Dog sweaters are more than just for accessorizing. Unlike other clothes meant for your pup, a sweater serves a practical purpose, which in this case is to protect the animal from the harsh conditions of winter. A dog sweater comes in different designs, sizes, and most importantly – material. You've got tons of options available online and in local pet stores, but not all are effective in shielding Fido from the frigid temperature.
Sizing For The Best Fit
I no longer have a problem figuring out the ideal size for my dog because I bought a handful of sweaters before. But if it's your first time, then see to it that you measure your dog correctly. If you're clueless on how to do this, you can go ahead and check for measurement charts that are readily available online. In most instances, a small sweater fits a dog who has about 12 inches of torso length, a neck circumference of 12 inches, and chest circumference of 16 inches.
Style & Materials
Don't be blinded by the design or style of the sweater. Keep in mind that its purpose is to keep your dog comfortable and warm when it's outside during the winter. Focus more on the practical aspects of the design. For example, see to it that the sweater is made of wool, cotton, or a combination of the two. Both materials are proven to trap and retain body heat.
Design & Functionality
Another thing to factor in is the design and shape of the sweater. Go for a sweater that won't get in the way when the pup goes to the potty. There must be an option to attach a leash, maybe to the collar or harness.
Find a small dog sweater that's convenient and quick to put on. I've heard countless stories of dog owners who ditched clothes for their pups because they were a pain to put on and off the canine.
Finally, when your dog is uncomfortable wearing it, then it probably doesn't like the sweater or its fit.
Alternatives To The Gooby Dog Fleece Vest
Any type of buying experience wouldn't be complete without comparison shopping. So, it's your job to find out if the Gooby Fleece Vest can go toe-to-toe with the competition.
Kuoser Cozy Waterproof Windproof Dog Sweater
With a product from the same manufacturer, it's no surprise that this waterproof and windproof sweater is also made from polyester fiber. The design has some similarities, but the glaring difference between this one and the Gooby Fleece Vest is the presence of a hook and loop type of closure. You'll learn more about the Kuoser Cozy dog sweater here.
Mihachi Classic Cable Dog Sweater
Although this dog sweater stands out with its cable knitwear design, it doesn't veer away from the practical function of keeping a small dog warm and comfortable in the winter. Unlike the Gooby vest, this one is made from high-quality terylene material, exemplifying comfort, softness, and warmth. The collar is elastic, too. Get some more information about the Mihachi dog sweater by clicking this link.
BINGPET Turtleneck Dog Sweater
BINGPET's version of a dog sweater comes in the form of a soft acrylic yarn material with a reindeer design. There's a smart leash hole situated at the back portion for the collar or harness attachment. Like all other sweaters in this list, this turtleneck dog sweater is machine washable. Click here to know the other features of the BINGPET Turtleneck dog sweater.
Our Wrap On The Gooby Dog Fleece Vest…
Whatever your choice – the fact remains that your small dog needs help when braving out the cold. A sweater gets the job done, provided you choose a high-quality product. The Gooby Fleece may be the right option for you and your dog with its collection of practical features. Click here to check it out.