Dogs love the outdoors… they're built that way. But,
What about when the outside temps go unbearably low & dangerous?
What if your pup has a thinner layer of fur?
Is your pup small and particularly affected by cold temperatures?
If your dog needs added warmth, in style, then the Mihachi classic cable dog sweater might just be the best option for you!
See why this Mihachi dog sweater earned our "Most Stylish" award and we'll also cover:
Features of the Mihachi classic cable dog sweater including…

Design
Styling
Stitching
Material

Tips on how to select the best dog sweater for your pup
Alternatives to the Mihachi dog sweater
and lots more…
Let's get right to our insights…
A Review Of The Classic Mihachi Cable Dog Sweater
Although the manufacturer refers to it as a fashion coat, there's no denying the practical application and purpose of the Mihachi dog sweater. It's made from a premium-quality terylene fabric material that's soft and durable at the same time.
What's Good
Premium and durable stitching
Exemplary styling
Turtleneck design traps body heat
What's Bad
Pricier than other dog sweaters
Size inaccuracies
Not meant for large-sized dogs
Features Of The Mihachi Cable Dog Sweater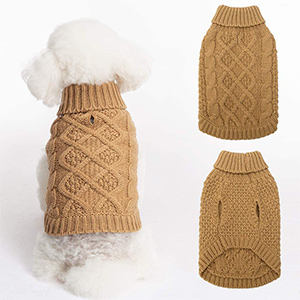 Stylish Clothing
Mihachi's take on a dog sweater turns heads because of its classic cable knitwear design. So, aside from the fact that it protects the dog from the cold season, it also improves the animal's appearance. Nothing is cuter than a pet wearing something that's carefully stitched to look pleasing to the eyes.
Added Protection
Although one might easily get impressed by this product's design, don't forget that its primary purpose is to keep your dog warm and comfortable when it goes outside. The lack of clothing exposes your dog to frigid temperatures and their corresponding health risks, especially for smaller dogs or pups that have thin fur. But if you let it wear this cable knit sweater, then Fido is perfectly safe outside, even when it's snowing.
Premium Material Construction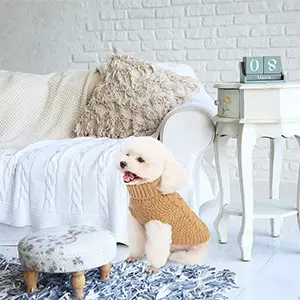 The small dog sweater isn't made from the traditional wool or polyester fabric material. Instead, the manufacturer chose to use high-quality terylene that retains warmth like wool but offers extra soft texture and a comfortable feeling when worn. This may be the best option for a dog that doesn't feel comfortable with polyester or is prone to itching with wool.

Elastic High Collar
One of the advantages of the Mihachi dog sweater is the inclusion of a flexible high collar that makes it doubly convenient to put on and take off. Furthermore, there's a hole down the neck, which allows you to instantly connect a leash whenever it's time for the routine dog walk.
Turtleneck Design
Meanwhile, the turtleneck design effectively traps body heat and prevents the outside's coldness from penetrating the sweater. Of course, the added layer of fabric in the neck area means that your dog won't feel cold in that part of the body.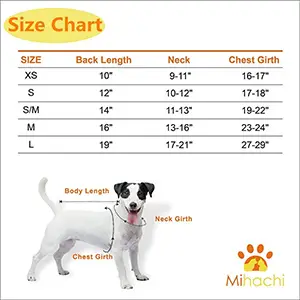 Premium Stitching
Another notable feature of the Mihachi classic cable dog sweater is the premium stitching that won't give in to pressure and extreme cold. The stitching is solid enough to reduce the likelihood of your tearing it apart.
What Others Think About Mihachi Cable Dog Sweater for Dogs
After reading many reviews about the Mihachi dog sweater, I realized that it's the most reasonable choice for my dog and me. Here are some highlights:
Abbey is happy she got the right size for her dog, and the photo is proof of that. She's impressed with the back design that provides extended protection against the cold while also keeping an open area for urinating.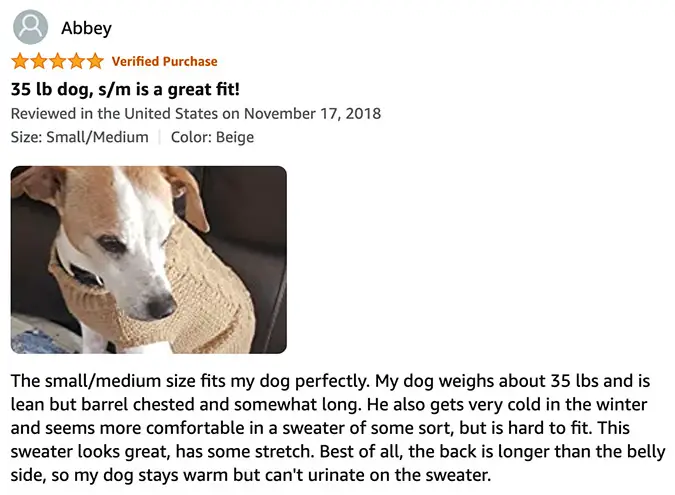 Like most other dog owners who chose this sweater, Faith commends the stretchable fabric.

This photo is proof that the Mihachi dog sweater is best for small and medium-sized dogs. This mixed Labrador pup will most likely get cold outside wearing it.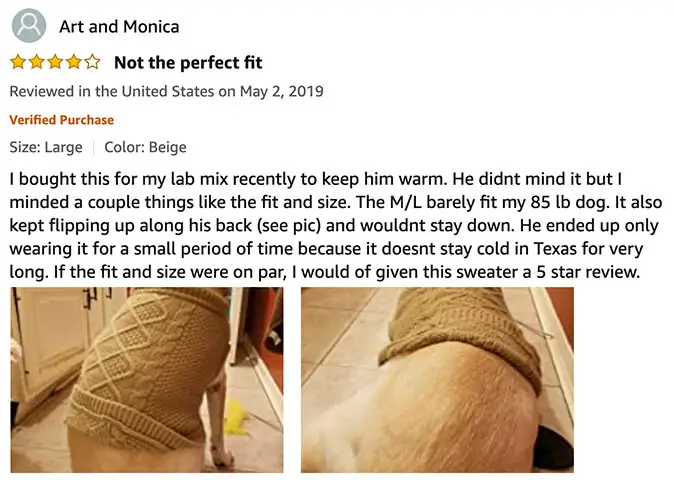 Buyer's Guide For Finding The Best Dog Sweater
Dog sweaters appear to be nothing but an accessory. After all, why put some clothing on an animal when they're not meant to wear anything? The truth is that coats, jackets, and sweaters help certain breeds survive the winter cold. Some breeds can withstand the freezing temperature because of their naturally thick coat, but other dogs, especially small ones, aren't as lucky.
The good thing about shopping for the best sweater for your small dog is that you've got hundreds of choices. If you're shopping online, you'll come across a handful of retail stores and e-commerce sites offering different brands, sizes, colors, and designs. But how do you figure out which sweater is best for your canine buddy?
All About the Fit
A dog sweater serves its purpose of protecting your pup from the weather when it's ideally fitted. A snug fit is the best option – not too loose and not too tight. So, before you get overly excited about a specific design or color, see to it that you measure your dog. It doesn't have to be that difficult because there's a bevy of measurement charts online for reference.
If you have a small dog, i.e., Chihuahua, Border Terrier, Beagle, then the sweater should have a length of about 12 inches. Chest circumference is around 16 inches, while neck circumference is at 12 inches. Expect minor fluctuations from one brand to another, but you get the point.
Practical Use
You buy a sweater for your small dog because it needs an extra layer of protection when it must go outside for a walk or go potty. But some sweaters you can buy online come with impractical and inconvenient styling, causing discomfort to your dog. Don't buy a sweater that completely covers the pet's genital area. You don't want the clothing to get in the way when it's time to pee or poop.
Moreover, find a sweater for small dog breeds that provides access to a collar or harness. There must be a sufficient opening where you can insert a leash to the collar. Finally, be sure to get a sweater that's easy to put and remove. The reason for this is that you expect to frequently put it and remove it again when your dog is indoors. The last thing you want is to spend several minutes figuring out how to put it off your dog.
Alternatives To The Mihachi Cable Dog Sweater For Cold Sweater
For some dog owners, the Mihachi's version of a dog sweater is more than enough to address their needs. Nevertheless, it won't hurt if you carry out a "comparison shopping" first before deciding. That's why I'm giving you the three closest competitors for this product:
Fashion Focus On's Knitwear Dog Sweater
Unlike the Mihachi dog sweater, this one is made from woolen material, improving warmth and insulation. This sweater's most crucial question is about maintenance since wool is notoriously burdensome to wash and dry. Should you be interested in what the Fashion Focus On sweater offers, then click here.
Gooby – Fleece Vest
Gooby's sweater for small dogs shares a similar feature with Mihachi since it's designed to be conveniently put on and off. It uses a pullover mechanism and doesn't rely on zippers or Velcro. It also scores plus points for styling, with over 15 different colors to choose from. Click here to learn more about the Gooby Fleece Vest.
Zack & Zoey Basic Hoodie for Dogs
This dog hoodie is made from a combination of polyester and cotton, which means the focal point is comfort. It's unique from all the other sweaters on this list because of its kangaroo pocket design. Learn more about this hoodie for dogs by visiting this link.
Mihachi Cable Dog Sweater Final Thoughts…
I never intended to take my Boston Terrier outside during winter for extended walks or hikes…
…but that changed when I got the Mihachi Classic Cable Dog Sweater.
It changed our routine for the better and I think it'll change yours as well.