This is the Ultimate Furry Friends Gear Review of the Zack & Zoey Dog Hoodie…
In this comprehensive review, we'll cover:
Features of this dog hoodie including

Sweater care
Colors
Sizing

Buying tips to finding a great dog sweater
Alternatives to this dog hoodie
Lots more…
Lets cut to the chase, we've assessed over 15 dog sweaters and the Zack & Zoey dog hoodie is a great option for your small pup!
Why?
In this review, we're going to cover everything that makes this dog sweater worth the investment, earning our "Best Value" award. (Click here to see our >> best dog sweaters for small dogs complete list of winners!) So if you want a dog hoodie that offers great value for your money, you'll love this!
Let's get started…
A Review Of Zack & Zoey's Basic Hoodie for Dogs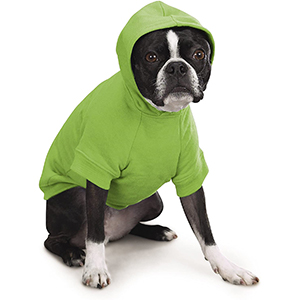 Zack & Zoey's version of a dog sweater affords a unique yet stylish look. Made from a combination of polyester and cotton, giving your pup a high level of comfort. Is it a good buy for you and your dog? Before you put it in your shopping cart, it's best to weigh on the pros and cons first.
What's Good
The fit guide is one of the best
Durable polyester/cotton combo
Soft to the touch
Reasonable price
What's Bad
Small dogs may struggle with the added weight at first
Sizing is not as accurate as some customers expect
Style is a hit or miss
Features Of This Dog Hoodie By Zack & Zoey
Classic Styling
This basic hoodie for dogs emulates the classic style featured in hoodies meant for humans. The most noticeable feature is the kangaroo pocket, although it's hard to fathom how your dog will make use of it. Nonetheless, this sweater serves its purpose of adding a layer of protection against the frigid temperature.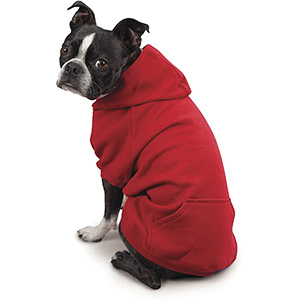 Polyester and Cotton Combo
Wool may be the best material for warmth, but it doesn't provide your dog with maximum comfort. That's why Zack & Zoey's version of a sweater for dogs is made from 65% polyester and 35% cotton for light yet comfortable wear. Cotton makes the sweater soft, while polyester is the epitome of durability and protection.
Machine Washable
This dog sweater veers away from the stereotype that clothing meant for pets are a burden to wash. This product is conveniently machine washable, which means you no longer overwhelm yourself with hand washing. Be sure to use cold water and put the washing machine on a gentle cycle.
Multiple Colors and Designs
The Zack & Zoey hoodie is available in different colors and designs, so you don't worry about letting your pup wear something that is identical to a neighbor's dog. The colors are in primary and bold bright colors, suitable for male and female dogs.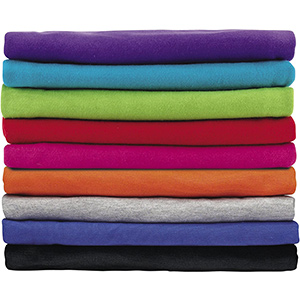 Different Sizes
This dog sweater comes in a wide array of sizes. See to it that you measure your pup right before you order one online. There's a complete guide on the sizing online, and all you must do is grab a measuring tape and measure your dog's length, neck circumference, chest, and others. The sweater size starts from X-Small to XX-Large.
Cozy Fit
One thing that stands out for this dog hoodie is its comfortable and cozy fit. I've read a handful of feedback from customers who said that the product is by far the ideal fit they've purchased for their dog. Inaccurate sizing is a common issue when shopping for dog clothing online, but this one begs to differ.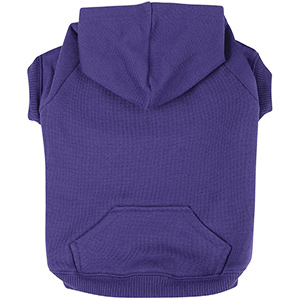 What Others Think About The Zack & Zoey Dog Hoodie
Sam likens this hoodie to one that's made for humans, which I think is a fair assessment. The dog in the photo looks comfortable in it.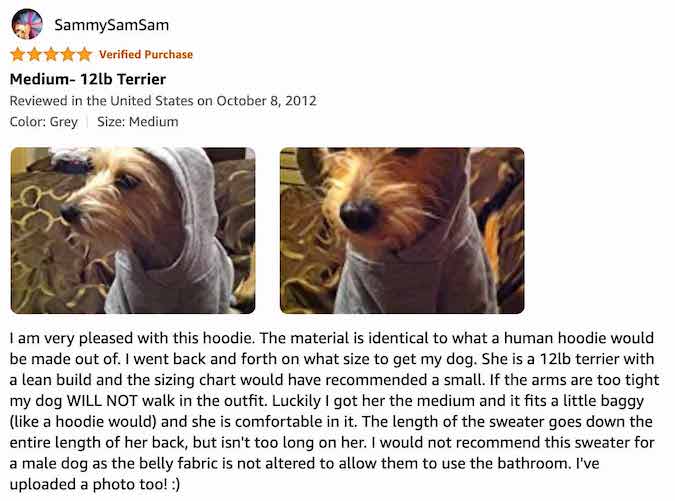 Sheena is another customer who's impressed with the sweater's premium material.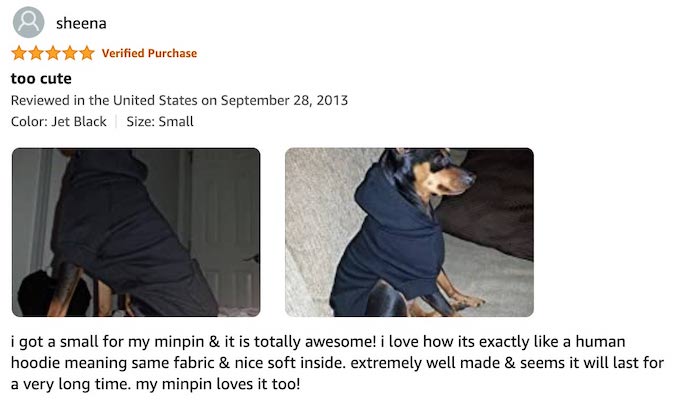 Like a handful of customers, this dog owner didn't quite hit it with the sizing. His dog deserves a much bigger size.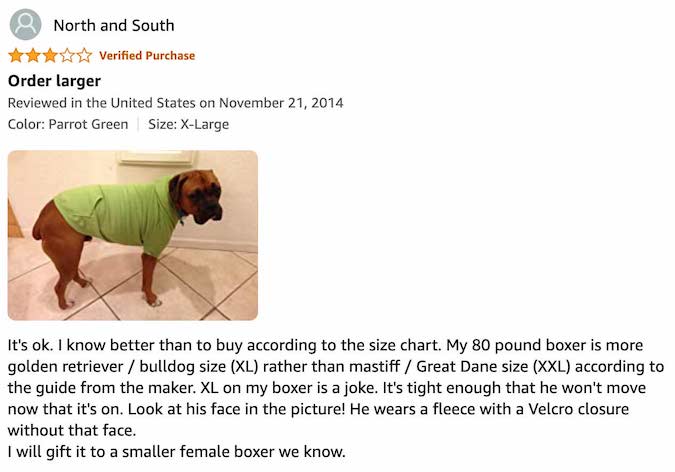 Buyer's Guide For Finding The Best Dog Sweater
Sweaters for pets are undeniably a chic accessory…
but they serve a practical purpose, too.
The main reason why you buy one for your pup is to protect it from the harsh winter cold. This is especially true if your dog has a thin coat or is small in size, making it harder to combat cold winter temps.
A dog sweater traps body heat and prevents moisture from creeping in. It also maintains warmth inside and keeps your dog safe from the harmful effects of extreme cold, i.e., frostbite, hypothermia.
But remember that dog sweaters are only useful when they're snug fit. So, if it's too loose or too tight, then it wouldn't serve its purpose. The key to finding the ideally fitting sweater for Fido is by measuring him first. Tip: Use this dog measuring guide for sweaters for assistance.
Also, online measurement charts might be helpful as well. Keep in mind, there's a slight fluctuation between brands, but at least you have an idea about the right size for the breed you have at home.
For the most part, a small sweater is for dogs with a torso length of no more than 12 inches, while the neck circumference is about 12 inches. Meanwhile, the chest circumference is typically at 16 inches.
Don't forget about the practical use of your dog sweater…
Keep in mind that the focal point of your search is to find something that will protect the dog from the cold while also making sure that it is convenient to wear.
Therefore, find one that won't get in your dog's way when he needs to go potty. The sweater should have an opening for easy access to pee and poop.
Moreover, the right dog sweater offers access to the collar or harness, or at least there's an opening from which you can attach the leash to the collar.
Alternatives To The Zack & Zoey Basic Hoodie for Dogs
With lots of other options out there, you have the luxury of comparing the Zack & Zoey dog hoodie to similar products to figure out if it's the best one for your pup.
Kuoser Cozy Waterproof Windproof Dog Sweater
Kuoser's take on a dog sweater bears a similarity to that of Zack & Zoey since it is made from a combination of polyester and cotton. Its main sales pitch is its water-resistant outer layer combined with a warm inner layer. This dog sweater easily stands out because of its exquisite stitching. Get to know more about the Kuoser Cozy dog sweater here.
Gooby Fleece Vest
The Gooby dog sweater is one of the thickest coats you'll find in this price range. Unlike Kuoser and Zack & Zoey, this one doesn't have cotton in it. The coat is made entirely from polyester and features an easy on and off mechanism. Learn about this dog jacket by clicking the link.
BINGPET Turtleneck Dog Sweater
This dog sweater from BINGPET begs to differ from the others because it's made from high-quality acrylic yarn, offering warmth and comfort due to its soft texture. Visually, this dog sweater is in a league of its own because of the distinctive reindeer design. See this product by clicking here.
Zack & Zoey Dog Hoodie Final Thoughts…
The title of the "best dog sweater" for small dogs is as subjective as it can get, but you do have enough information from this article to decide which one offers you the best bang for the buck. Zack & Zoey's take on a sweater with a hoodie design may be the one you're looking for.