There's more to dog clothing than most people realize. Some dogs don't need sweaters, but others are desperate for it, especially small dogs or dogs with thin fur coats. BINGPET Turtleneck Dog Sweater won our Most Stylish award…
Check out why it won this award along with
Let's jump right into the heart of this review…
A Review Of The BINGPET Turtleneck Dog Sweater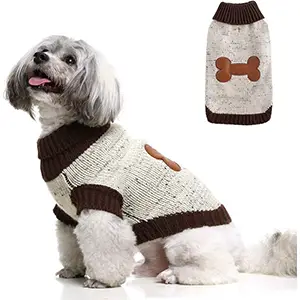 BINGPET's version of a dog sweater appears to have all the bells and whistles. It offers a soft and comfortable feel but doesn't compromise on heat retention. Figuring out if it's the right sweater for your small dog takes more than just learning the features. You must put in the effort to dig deep on what it has to offer.
What's Good
Premium quality construction
Reasonably priced
Soft and stretchy fabric
What's Bad
Neck area stretches out with wear and tear
Size inaccuracies even when using the measurement chart
Design is a hit or miss
Features Of BINGPET's Dog Sweater
Premium Quality Material
This dog sweater isn't your average cheap product. It's made from high-quality acrylic yarn that offers both comfort and protection. Acrylic yarn is different from cotton and polyester because it is proven to last long even with constant use and washing. Therefore, you're sure not to buy another dog sweater for a considerable time.
Smart Design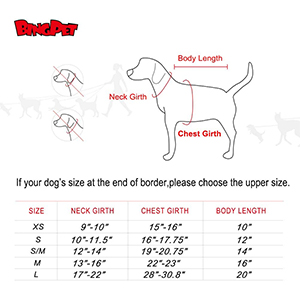 The BINGPET turtleneck dog sweater comes with a smart leash hole situated at the back so that you'll have a convenient time putting a harness or collar. It's a nifty feature, especially when you're taking your dog for a walk even during the winter. Another remarkable thing about this sweater is that it is elastic, which means it's comfortable to wear and put off.

Washable Material
Another convenient feature of the BINGPET sweater for dogs is that it is machine washable. In other words, you don't have to face the tedious job of handwashing it. Be sure to wash it along with similarly colored clothing and use cold water on a gentle cycle setting.
Turtleneck Style
The turtleneck design, coupled with the bone pattern, will tell you right away that it's meant for your dog. It doesn't only protect your pup from the frigid temperature; it also will make it look doubly attractive in time for the holiday season.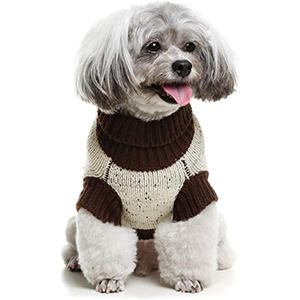 What Others Think About The BINGPET Stylish Dog Sweater
Now let's read some of the actual customer reviews I gathered online:
Pupmom would have wanted more color options, but she's not whining about it. Her Beagle looks good in it.

The BINGPET sweater can fit a slightly larger dog, and this photo of V.Lee's Westie is proof of that.
Charles talks about the inaccuracy of the measurement chart, but that's not to say that he's complaining about it. He found a way to make it fit his Yorkie.
Buyer's Guide For Finding The Best Small Dog Sweaters
Buying a sweater for your dog keeps the animal warm and comfortable once it needs to go outside. Fido needs an extra layer of protection once the temperature plummets during the winter. However, not all sweaters out there are good enough to guarantee protection. So, your job is to find one that fits and is made from high-quality material to trap heat and prevent the cold from penetrating the dog's skin.
Chihuahuas and small terriers are the perfect examples of small dogs with naturally fine or short hair. Taking them for a walk during winter puts them at risk of hypothermia and frostbite. You still can let them play outside if you let them wear sweaters. But for a sweater to do its job, it must be a snug fit. Something too loose or fit won't address the need for protection.
Measure Your Dog Before Buying
Before you begin looking for stylish and trendy coats and sweaters, see to it that you take your pup's measurements to get the right fit. The best fit is snug against the skin, and your measurement starts with the dog's neck, around the largest part of the chest, as well as the distance from the waist to the neck. The ideal length is from the neck to the waist, the purpose of which is for the hind legs to be free from obstructions.
Material
Although wool comes with the best insulating property (which is why coats are made from it), it doesn't necessarily mean it's the best option for small dog sweaters. The reason is that the texture of wool can irritate dogs, which in turn causes itching. Therefore, you're better off buying a sweater that's made from a combination of washable wool and cotton. Other viable options are synthetic acrylic and polyester. Your choice depends on which one is comfortable for your dog, so it's essentially trial and error.
Alternatives To The BINGPET Turtleneck Dog Sweater
The BINGPET sweater for dogs isn't the only option out there. If this turtleneck dog sweater doesn't meet your needs, I invite you to consider some of these alternatives:
Fashion Focus On Knitwear Dog Sweater
Unlike BINGPET's sweater for dogs, this one is made from woolen material. But what makes it remarkable is that it's easy to wash, even though there's a stigma on clothing made from wool when it comes to the difficulty in washing and drying. This sweater is exclusively made for small dog breeds. See more of what it offers by clicking this link>> Fashion On Focus Dog Sweater.
Mihachi Classic Cable Dog Sweater
Like the BINGPET dog sweater, this one stands out because of its unique design. This time, the cable knitwear and terylene fabric give it the edge over the competition. It also comes with a high elastic collar for a convenient and quick collar or harness attachment. Get some more information about the Mihachi dog sweater here.
Zack & Zoey Basic Hoodie for Dogs
This sweater chooses to be unique from the others in this list because it comes with a hoodie design. It's made of a combination of polyester and cotton and offered in a wide array of color options. By the way, there's a kangaroo pocket, too. See the Zack & Zoey dog hoodie here.
BINGPET Turtleneck Dog Sweater Final Thoughts
Figuring out the best dog sweater is a subjective matter, but this BINGPET product certainly gets my nod for being the most fashionable. Don't get me wrong – it still does the job of keeping my dog warm, but I can't ignore its distinctive styling.