While some people value aesthetics and vanity when choosing a dog sweater, I always believe that comfort should be prioritized. So, I always tried to look for a way to find the perfect fit for my dog. I tried and tested different sweater sizes every year to find the best way to ensure proper fitting. Read more to learn how should a dog sweater fit.
Here's what I found:
The length of your dog's coat should be able to cover the base of your dog's collar to the base of his tail.
To ensure proper fitting, the sweater should not restrict your dog from breathing or moving.
Checking the neck and chest area is essential. When measuring, put an inch allowance so it doesn't feel tight and would not bring any difficulty to your pet.
To test it out, let your dog walk, and if he freezes, that's already a sign that he's not comfortable.
By remembering these four points, you'll be able to ensure proper fitting. In this article, I'll share more about:
How you can measure your dog
Other factors to consider when purchasing a dog sweater
Safety Reminders
How to know if your dog needs a dog sweater
Now, let's dive into the topics to learn more about how should a dog sweater fit: 
Measuring Your Dog: Step-by-Step Guide
1) Gather Your Materials: First and foremost, gather your materials. Don't worry, you can buy everything you need in a nearby supply store, or you even already have them at home. You would only need three things, essentially:
But if you have a dog that likes moving around and you find it hard to take his measurements, having plenty of treats available would help. You can use these treats as a reward or a way to keep your dog still.
2) Measure Your Dog's Girth: Start by measuring your dog's girth. Do this by locating the widest part of your dog's chest, just behind your dog's front legs and behind your dog's elbow points.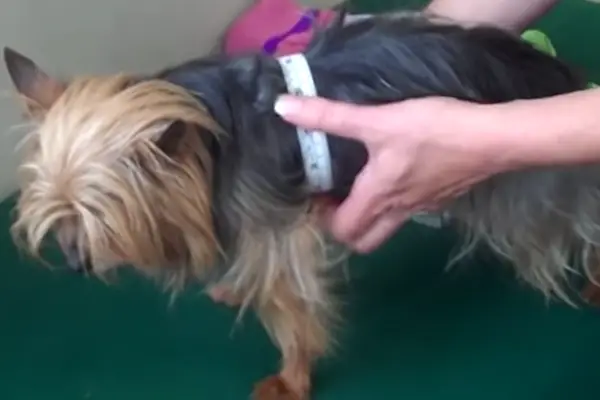 You should get your dog standing still so you can get the proper measurements. The treats would help a lot here. Have someone hold a treat above your dog's nose so he can stand tall.
Once your dog stands tall and straight, time to measure the area by wrapping the measuring tape around your dog's rib cage; make sure to have that snug fit, but don't make it too tight.
3) Measure Your Dog's Length: Using the same technique, get your dog to stand upright to measure your dog's length.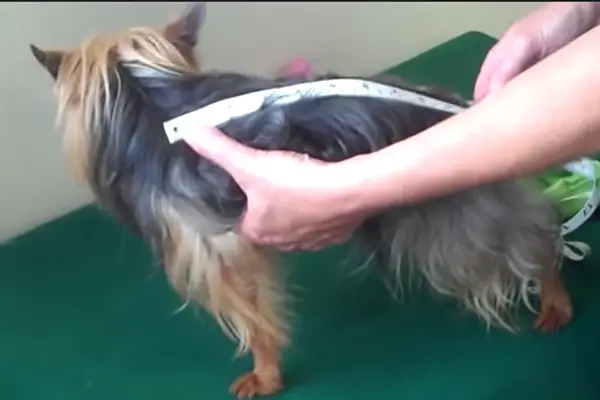 When measuring, place the tip of the measuring tape at the base of your dog's neck and extend it down his spin until the base of your dog's tail. It would also help visualize where your dog's coat will be placed on your dog's body.
4) Measure Your Dog's Neck: Lastly, measure your dog's neck. It's important to get this measurement because, as mentioned above, if the neck sweater's dog area is too tight, it might restrict your dog's breathing. So, grab a measuring tape to measure the area around the neck, particularly where you place your dog collar.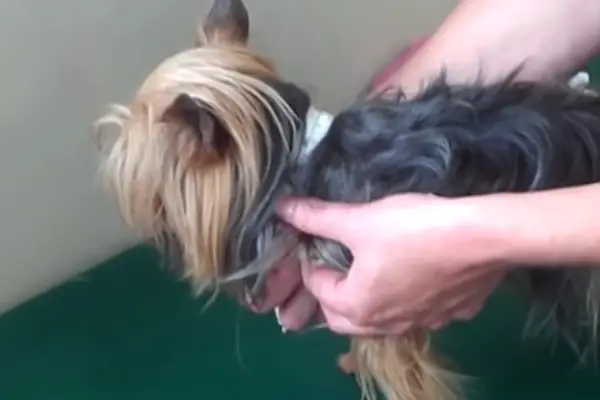 Remember to list down all the measurements on paper and compare them with your chosen dog sweater's sizing chart. If it so happens that your dog's measurement is between two sizes, selecting the larger size would be best to ensure a snug fit.
You can watch a video here for an actual demo on how to get your dog's measurements:
Purchasing a Dog Sweater: Other Things To Look At
Now, let's say you've already gathered your dog's measurements, and you're now ready to buy. You pick out a sweater with a very interesting design you love and has your dog's right measurements. You order it, have your dog wear it, and suddenly, your dog still doesn't want it.
Why is this?
Well, that's because correct dog size, though important, is not the only factor to consider when purchasing a dog sweater. To ensure excellent comfort, you should also consider functionality, materials, and style.
Functionality
Aside from just keeping your dog warm during the cold season, you must still ensure that the dog sweater can support your dog's basic needs. There are three things to keep in mind:
First of all, the dog sweater should in no way prevent your dog from going potty. In other words, the genital area should be open, so in case your dog feels the need to pee or poo, he'll be able to do so.
Secondly, you can consider checking for an opening or access to your dog's collar or harness. This way, you'll be able to still attach a leash to your dog (in case you need to) while also keeping him warm.
Lastly, consider the put on and take off process. Your dog won't appreciate it if you're taking too long to put on or take off the sweater, especially if you have an overly excited dog. Velcro straps are probably more ideal in making the process faster, instead of going for buttons. A zipper-type closure is great, too, but maybe for thin-coated dogs only.
Materials
Next, you must make sure to pick out the appropriate materials for your dog's sweater. You must choose one that does not only provide comfort but is also practical.
For example:
Wool is perfect when it comes to providing your dog warmth; however, it can be itchy. So, if your dog is sensitive to this, he may not use it. On top of that, it needs to be hand-washed and may cause inconvenience on your end.
If you want that material that provides your dog great warmth while still being soft, you can go for a wool and acrylic blend type of fabric. The advantage of this is it's machine-washable.
Fleece lining is also an excellent choice when it comes to warmth. It's also best paired with a waterproof material, perfectly suited for those living in areas with lots of rainfall every year. So, the inner fleece layer helps keep your dog warm despite being poured on by rain.
Style
Lastly, we have style and design. This is not as important as the first two since comfort is always more important than the look. But then, it's not a bad thing if you want your dog to look great.
Dog sweaters also come in various styles. There are dog sweaters with necks, and there are those with don't. We also have sleeved sweaters, and some don't come with sleeves. Regardless of what you pick, always think about where your dog would be most comfortable.
After you've considered comfortability, that's when you decide about patterns and colors. Something that suits you and your dog, as well.
Safety Precautions
Let's say you've already picked out the best dog sweater for your dog. However, things don't end there because you must also ensure that nothing terrible will happen to your dog while wearing the sweater.
Dog sweaters can be hazardous, so you should make sure that there are no features that he might swallow or chew on. If there are, then it's best to always keep your dog attended at all times to prevent accidents.
It's also recommended to remove any piece of clothing when you're not attending him. This could be at night when he's in bed or when you're at work, or you're cooking something up in the kitchen. It would also be great to only let him wear a sweater when going outside your house.
How To Know Your Dog Needs A Sweater
Since a dog sweater can be hazardous, does it mean you should not let your dog wear it? Well, no. As long as you follow some safety precautions and not let your dog wear the sweater all the time (especially when you're not there), he'll be fine.
There are signs you can look at if your dog already needs a sweater. You might also observe that he's:
Whining
Shivering
Cold ear and feet
Urinating frequently
Anxious
Stopping or slowing down
Hair standing on ends
It's not advisable to wait for these signs to show up before putting that sweater on your dog. Generally, if you feel cold, they feel cold, too. Well, that is unless your dog is built to handle winter conditions.
If you have a Husky, Alaskan Malamute, and other northern breeds, they can handle cold weather and may not need a sweater. But for short-haired, small breeds, light-bodied, and senior dogs, the cold season is surely something they can't handle and would require that protection.
Conclusion
Dog sweaters are essential, especially when you're living in a colder region. However, as much as people love to get this chance to choose something fashionable, it's always best to prioritize your dog's comfort. And you can do that by making sure that the dog sweater is the right fit, provides functionality, and is made with appropriate materials.
Related articles: