Many cats actually enjoy spending time outside, just like humans and dogs do. They like to frolic around the neighborhood and play around. Taking your cat for a walk can also help strengthen the bond between you and your feline pet, as it is something you experience together. Of course, you wouldn't want your cat to dart away and get lost suddenly. You would need a leash attached to something like the Kitty Holster Cat Harness to help you when you take your cat out for a walk.
I decided to check out one of the most popular cat harnesses on the market today. I have seen other feline walkers with this harness in my neighborhood. So, I decided to try it out. This is why I wrote the Kitty Holster Cat Harness Review.
Things To Consider Before Buying A Cat Harness
Before you buy a cat harness, know that not all cats will want to be walked on a leash. But that doesn't mean you shouldn't present an opportunity for your cat to do so. After all, cats love to go out to see and smell things, roll around in the grass or dirt, and scratch real trees.
Comfort: You want to make sure that the harness you buy will keep your pet comfortable and safe while walking. This is important as a collar is unsafe for a cat as they have softer throats compared to dogs. Using a collar can lead to choking, and nobody wants that. You might want to look at a standard lead or walking vests to help you.
Dealing With Pulling: The latter, also called walking holsters or jackets, is a type of harness that is a good fit for cats who like to pull during walks. This is because a holster provides more coverage and distributes pressure better than a cat lead. It is also more secure when you have flexible cats that can escape out of cat leads.
Safety: The Kitty Holster Cat Harness is a product to consider if you want your kitty to be comfortable and fashionable. If you have a strong cat, then this might be what you are looking for. It won't pinch on your cat's throat when they pull as a strappy harness would. This type is usually the most comfortable for cats, but it is always good to test which one your cat will prefer.
Kitty Holster Cat Harness Review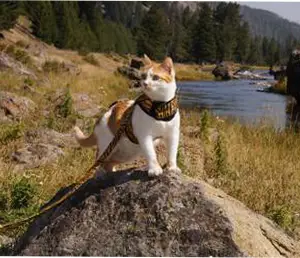 Check Amazon's Price
The Kitty Holster Cat Harness is a lightweight harness that is equipped with easy-to-secure Velcro. This makes wearing it to your cat simple and easy. The lining is made of cotton, making it gentle on pets that have delicate hair and skin. There are no straps, nylon, or plastic clips that might cause skin abrasions or pressure points on your feline pet.
It also comes in four different sizes, so that you can match the correct one that'll keep your cat comfortable. This vest-style harness has a metal ring at the back where you can attach the leash so that the pressure is spread evenly on your cat's chest whenever they pull.
Quick Glance
What's Good
Comes in various sizes: XS, S/M, M/L, and XL
Has different colors and design like black, denim and tiger print
Velcro closures so that it is easy to fasten
Made of ultra-lightweight material with undyed cotton lining
Machine washable
Made in the USA
What's Bad
Some users report that the collar is too wide
Might not be suitable for long-haired cats as the hair might get tangled in the Velcro
The sound Velcro makes might spook some cats
Kitty Holster Cat Harness Features And Highlights
Listed below are some of the features that the Kitty Holster Cat Harness has:
Premium Materials
This product is designed to be comfy as it is made of lightweight and breathable cotton. It is also durable enough that it can withstand scratches from your cat, and it can be machine washed. It also has an undyed lining, making it a suitable harness for all cat skin and fur types. It can also be used under any climates. The metal D-ring at the back is where you can secure the leash for even weight distribution.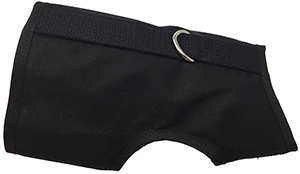 Style & Design
The vest-style is a suitable design for securing long-haired and small cats. However, there are some cases that your cat's long hair might get caught in the Velcro closure this harness has. The Kitty Holster Harness's design also removes chokepoints on your cat's throat so you can use it for long walks or short trips to the vet. This is because the pressure is distributed across your pet's chest whenever they pull instead.
Sizing And Color
It comes in four sizes so that you can find the ideal fit for your feline. Make sure you take your cat's girth measurement correctly so that the vest will have a snug and comfortable fit. There are also various colors available like red bandana, green, and black. These features give your cat fashion and comfort in one.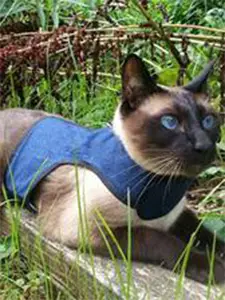 What do Other Users Think of the Kitty Holster Cat Harness?
If you are still undecided, here are a few reviews from cat parents and how the product fared when they put it into use:
The product is so snug and secure on this user's cat that they are sure even Houdini can't escape!

This cat parent is at ease that their kitty is safe and comfortable during walks.

Alternatives to the Kitty Holster Harness For Cats
If you are curious as to how this product fares from other harnesses, then look no further. We have listed three alternatives so you can see for yourself how they compare.
Petsafe Come With Me Kitty Harness
The Petsafe Come With Me Kitty Harness is suitable for all of your cat's life stages. The harness is made of nylon so that it is lightweight, breathable, and adjustable. Like the Kitty Holster Harness, its design removes pressure from your cat's delicate throat area. It also comes in multiple colors but only three size options. It is also easy to wear and uses plastic snaps instead of Velcro. The package also comes with a bungee leash. If you are looking for something that doesn't wear like a jacket, check this cat harness out.
Rabbitgoo Cat Harness
The Rabbitgoo Cat Harness is made of soft mesh material, making it lightweight and breathable. It is equipped with reflective straps for better visibility at night. The cat harness has four adjustable buckles and two chest straps that allow for customized for. Although it is available in many colors, this harness only comes in extra-small and small sizes. This is unlike the Kitty Holster that is available in four sizes. If you want to know more about this product, check it out here.
PUPTECK Adjustable Cat Harness
The PUPTECK Adjustable Cat Harness made of thick nylon for durability and resistance to wear and tear. It is an H-style cat harness with adjustable straps for a snug fit on both kitties and adult cats. The material and design are unlike the Kitty Holster, which was made soft and gentle to all cat skin types. Furthermore, although the PUPTECK is available in various colors, it only comes in one size that will fit small cats under 12 pounds. Check this product out if you think this might be for you.
Wrap Up
I enjoyed writing this Kitty Holster Cat Harness review and I hope you got value from it. Cats need exercise too. Walking can give them the physical and mental challenges they need to live a healthier lifestyle. A cat harness can help walk your cat without you fearing they might suddenly run off and never be found again. There are several kinds of harnesses, but one of the vest-style harnesses we love is the Kitty Holster Cat Harness. It makes us feel at ease that our cat is secured and comfy whenever we go on walks. It is also so easy to wear and remove. If you think this is the harness for your feline friend, check it out by clicking here.
Click here to get current pricing on Amazon for The Kitty Holster Cat Harness >>