Gone are the days that cats are seen as lazy pets that lounge around the house all day. Cat leash walking is now becoming a trend to help your cat get the physical and mental stimuli needed for a healthy lifestyle. It also helps you bond as you explore the outdoors together. Of course, nobody wants to lose their feline friend in the process. Luckily, cat harnesses, like the one found in this Rabbitgoo Cat Harness review, are available to help you and your cat go on walks safely and comfortably.
Things To Consider Before Buying A Cat Harness
You need to think about some things before you commit to the task of cat leash walking. The first being your cat's age as younger cats are easier to train. You also have to be prepared with the fact that not all cats can be trained to cat leash walking. It depends on your feline friend's personality. But this doesn't mean that you shouldn't give your cat a chance to try this activity.
A few things to keep in mind when searching for a cat harness and leash are their durability, comfort, and security. They should be able to withstand the constant use while allowing your cat to move freely and comfortably. It should also be able to let you safely walk your cat, without you fearing that your cat can dart away from you anytime.
The Rabbitgoo Cat Harness is a vest-style harness, which is one of the three main types. It looks like a vest and has more contact with your feline friend than the H-style harness. This style helps in spreading out the pressure throughout your cat's body. This type needs to be put through their heads when worn, so that is something to consider if your cat is sensitive about that. To know more about the product, continue reading below.
Rabbitgoo Cat Harness Review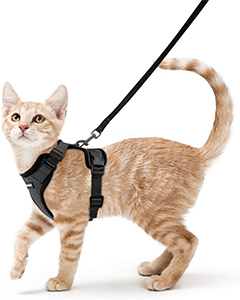 The Rabbitgoo Escape Proof Harness is made of premium and pet-safe materials so your cat can wear it all day. The body is made of soft mesh fabric to keep them cool and comfortable even while exercising. Whereas, the straps are made of durable nylon that is resistant to wear and tear.
The product also has reflective strips to increase visibility, even in dark areas. This way, your feline pet can explore at night. The harness has four adjustable buckles as well – two on the neck and two on the chest. The package also comes with a long nylon leash that can be attached to the metal D-ring at the back.
Quick Glance
What's Good
Quick-release side buckles
Nylon webbing and metal leash ring for added sturdiness
Bright reflective and adjustable straps
Comes in multiple colors
What's Bad
Only available in two sizes: extra small and small
Some users found that it is not as easy to remove from their cats
The neck hole might be too small for some cats
Features Of The Rabbitgoo Cat Harness
The Rabbitgoo Escape Proof Harness has various features that will benefit you and your feline friend. They are as follows:
Durable Metal Leash Ring
The product has a sturdy metal D-ring on the back. This is where you can attach the 150cm leash that is included in the package. The placement allows for the proper distribution of pressure across your cat's back and chest when they pull.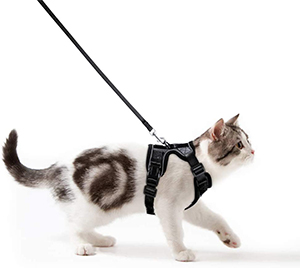 Breathability & Durability
The harness is made of air-mesh fabric that is lightweight and comfortable. This way, your cat is kept cool and can move as freely as possible while exercising. Whereas, the straps are made of strong nylon that offers adjustability and security.
Added Security For Night Trips
The harness is lined with reflective strips for increased visibility. This lets you see your cat better, even in dim areas or situations. This way, you can utilize the harness noatter the time of the day.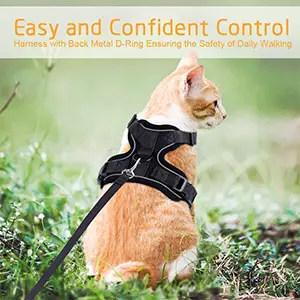 What Others Say About The Rabbitgoo Harness
Here are some product reviews from cat parents to help you determine if this is the cat harness you are looking for:
This cat momma likes how sturdy and soft the harness is!
This cat parent likes how the leash attachment is made of metal and says that it is a "great product!"

Similar Cat Houses To The Rabbitgoo Adjustable Cat Harness
There are other harnesses available in the market, and it can be overwhelming sometimes. If you want to know how this product fares over other harnesses, we have compiled a list below.
PUPTECK Adjustable Cat Harness
Unlike the vest-style design of Rabbitgoo Harness, the PUPTECK Adjustable Cat Harness is an H-style harness made of thick nylon with snap-lock buckles for easy wearing and taking off. The design allows minimal contact with your cat, but the nylon might not be suitable for all skin or fur types. This harness is available in many colors but in only one size. It also comes with a matching harness.
Lupine H-Style Pet Harness
The Lupine H-Style Pet Harness is another H-style harness that is made from woven nylon. It has two sizes and is suitable for cats that weigh up to about 20 pounds. It also has a welded D-ring at the back and a side-release buckle. You can also buy matching padded handle leads. The Lupine looks the same as the PUPTECK harness in terms of style and design. If you are looking for something like this, check this product out.
Kitty Holster Cat Harness
The Kitty Holster Cat Harness is a vest-style one made of undyed cotton lining for cats with delicate fur and skin. Unlike the Rabbitgoo harness, which has nylon, the Kitty Holster doesn't have nylon straps or plastic clips that might cause uncomfortable pressure points. This lightweight harness comes in four sizes and multiple colors as well. However, the design might be more restricting as it covers almost half of your pet's back and chest. Check this product out for more info.
Our Final Thoughts
Walking your pet is not just for dogs. It is also a great way to provide physical and mental challenges to your cat so that they lead a healthy and active lifestyle. A cat harness, like the one in this Rabbitgoo Cat Harness review, allows you to go on walks with your feline friend safely. We especially like its lightweight design as it provides optimal comfort even during exercise.
Click here to get current pricing on Amazon for The Rabbitgoo Cat Harness >>