Taking your cat on walks or hikes might not be as common as taking canine pets outside. Not only that, but not all cats will like being on a leash at first. However, it is definitely something to consider. Exploring the outdoors is beneficial to your feline friend's quality of life. This is because it provides much needed mental and physical stimuli. It is, therefore, important that you find the right cat harness. A harness like the one found in this Lupine H-Style Pet Harness review will help make the experience more secure and comfortable for both you and your pet.
Things To Consider Before Buying A Cat Harness
Once you've decided to take your cat outdoors, the first thing to do is look for the right harness. A collar is no good for your cat, as it can cause choking. Your cat has a delicate throat and neck, which can be dangerous when they pull while wearing a collar. Good thing there are many types of harnesses available. Some of the options to choose from include vest-style, jacket-style, and H-style.
Choosing a harness will depend on your cat's age, preference, and body shape. For instance, if you have a kitten, buy one specially made for them to get their tiny body used to it. Another thing to consider is the material the harness is made of. Most harnesses are made of nylon and cotton. These are lightweight and durable materials designed to help with your cat's comfort while exercising. Avoid harnesses made of leather as this can be heavy and hot for your cat.
The best harness for your feline friend will not only keep them comfortable. It will also keep them safe. This way, you get to enjoy exploring the outside with your cat and share this bonding experience with optimal security and comfort on hand.
Lupine H-Style Pet Harness Review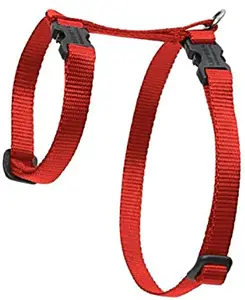 Lupine products are made in Conway, New Hampshire. The company provides a wide range of products designed for cats and dogs. The Lupine H-Style Harness is designed to have an adjustable collar that is stitched to an adjustable girth. Although it was made for cats, it can also be used for puppies or small dogs that weigh up to 20 pounds.
The Lupine H-Style Pet Harness is made of woven nylon. It has a welded leash attachment at the back and pinch-and-release buckles at the sides. This way, you can be sure that the matching lead is secure, with the pressure evenly distributed across your pet's back. It also allows easy wearing and removing.
Quick Glance
What's Good
Available in multiple colors
Guaranteed even when chewed
Has bar-tack stitching and metal D-ring for added durability
Neck and chest loops have side-release buckles, so it is easy to put on and off
Made in the USA
Machine washable
What's Bad
Comes in only two girth sizes and might not fit bigger cats
A few users found that the patterned ones are stiffer than solid-colored harnesses
Some reports state that the product shrinks especially if the cat constantly scratches and licks it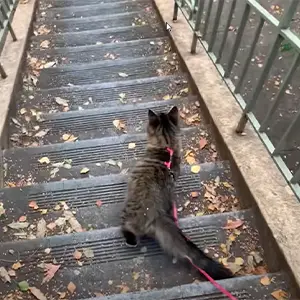 Lupine Pet Harness Features
Some of the features of the Lupine cat harness includes the following:
Adjustable Straps
The harness consists of one small neck loop and a large chest loop. They are connected by a short strap that forms the H-style harness. There are adjustable slides on both loops that allow you to customize the fit to your cat. However, the strap that connects both loops is not adjustable and might be too short or too long, depending on your cat's size and shape.
Sizes & Color Options
This product is available in several colors. These include black, hot pink, green, blue, and purple, to name a few. You can also purchase a padded lead of the same color so that they match. However, the harness only comes in two girth size ranges. The first one is adjustable at 9 to 14 inches, while the other size is at 12 to 20 inches. Therefore, this harness might not be suitable for large or muscular pets.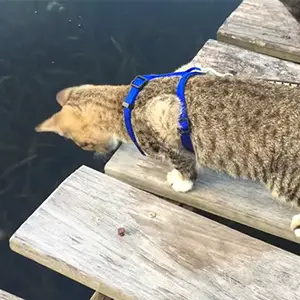 Added Security & Durability
The product features strong bar-tack stitching. It also has a D-ring at the back that is made of welded metal. Both of these add to the security and durability of this harness. This way, your pet doesn't escape from the harness easily.
Material & Easy To Wear
The harness is made of woven nylon. It is a lightweight material that offers mobility and comfort. However, there are some cases that the harness can cause chafing on your pet's fur and skin when put on too tight. The snap-release buckles also make the harness easy to wear and remove from your cat.
What Others Say About The Lupine H-Style Cat Harness
It is always good to learn how other cat parents found the product – if it worked and if their feline friend liked it. So here are a few experiences some users have had with the Lupine Pet Harness:
Ana says this is a great restraining tool to use for when she and her cat travel together.

This cat parent thinks that this harness fits their cat securely that even their granddaughter can hold the leash!
Alternate Escape-Proof Cat Harnesses
If you want to know how this product fares from other harnesses, look no further! We have compiled a short list for you to help you compare products.
Kitty Holster Cat Harness
The Kitty Holster Harness is a jacket-style harness. It differs from the Lupine H-Style in many aspects. For instance, this product is made of lightweight and undyed cotton lining. It is worn over the head of your cat as it does not have any straps or plastic clips for easy wearing. The harness is also available in four sizes, namely, extra small, small/medium, medium/large, and extra-large. It also comes in various colors so that your cat is fashionable and comfortable at the same time. However, this product is more expensive as it is double the price of the Lupine cat harness.
Petsafe Come With Me Kitty Harness
The Petsafe Come With Me Kitty Harness is a nylon harness that is available in multiple colors. It also comes in three sizes and is made for all life stages of your cat. The harness has a sternum slide and double adjustment points on the girth strap for a snug fit to your cat. Unlike the Lupine harness, the package includes a four-foot bungee leash that can stretch up to six feet. This is also slightly more expensive than the Lupine pet harness.
Rabbitgoo Pet Harness
The Rabbitgoo Pet Harness is a vest-style harness made of a combination of soft mesh and nylon straps. The air-mesh allows breathability as well as comfort. Whereas, the nylon straps are equipped with snap buckles for easy wearing. They are also adjustable for a secure and snug fit for your pet. It has a reflective lining to help keep your cat visible even in dark areas. Like the Lupine harness, the Rabbitgoo harness also comes in two sizes: extra small and small.
Our Final Thoughts
Taking your feline friend for a walk outside is a good chance to bond with your cat. Not only that, but it will also be hugely beneficial to your pet's overall well-being. A harness like the one found in our Lupine H-Style Pet Harness review will make walking your cat more secure and a lot easier. It is designed to provide comfort and security to your cat so that they safely stay by your side on all outdoor adventures you have.
Click here to get current pricing on Amazon for the Lupine H-Style Pet Harness >>