Many cat parents do not realize how much of a wonderful experience it is to walk their cat. They assume that their feline friends won't like it. But the thing is, some cats love walking! They love it almost as much as dogs. So whether you're just taking your cat for a short walk in your backyard or a long hike, a cat harness comes in handy. However, it is important that you choose a pet harness that is escape-proof, like the one in this PetSafe Come With Me Kitty review. A cat harness gives you the peace of mind to let your cat explore with you safely.
Things To Consider Before Buying A Cat Harness
A cat that just lounges around indoors all day might not be getting the much needed physical and mental stimuli to keep them healthy. Taking your cat for a walk might be just what the remedy you are looking for. However, don't rush out with your cat just yet. You first need to buy a cat harness and leash to make sure that your kitty doesn't shoot out of your grasp when you open the door.
Size: One of the first things to consider is the size of your pet. Measure the girth of your cat's chest, and don't just rely on how much your cat weighs. Otherwise, you might end up buying one that's too small or too big.
Comfort: Other things to consider are the breathability, adjustability, comfort, and durability of the harness.
Cat Harness Type: You should also look into what type of harness you want. Some of them are vest-style harness, step-in harness, and H-style harness.
PetSafe Come With Me Kitty Harness: The PetSafe Come With Me Kitty is an H-strap harness. It has a basic design that wraps around the front of your cat's body and behind the front legs. This is usually the go-to style if you want a more lightweight harness that allows more movement.
Petsafe Come With Me Kitty Harness Review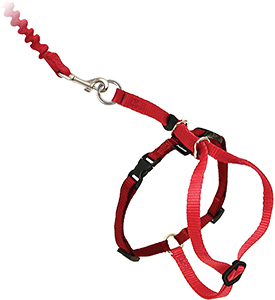 PetSafe has been a US manufacturer on pet lifestyle products since 1991. It is the brand creator of the Come With Me Kitty Harness, which is made of durable and lightweight nylon material. The product is designed to be comfortable and breathable, so your cat can explore the outdoors freely and comfortably. The harness applies gentle pressure on your pet's shoulders instead of the throat or neck. This way, there is no risk of choking, and you can walk your cat safely.
The harness is designed to fit cats of all life stages. The harness is equipped with a sternum slide that allows a customized fit. It has two plastic snaps to secure the harness to your cat as well. The harness also comes in three sizes, namely, small, medium, and large. The smallest suits cats with a chest girth of 9-11 inches, while the largest fits those with a 13-18 inches chest girth.
Quick Glance
What's Good
Comes with a four-foot bungee leash
Limited lifetime warranty against defects
Made in the USA
Available in three sizes and six colors
What's Bad
May not be as escape-proof as others
Bungee leash might be a little short for tall people
Some users find that it is most suitable to use in low-risk situations only
Petsafe Come With Me Kitty Harness Features And Highlights
Check Amazon's Price
The PetSafe has several features to help make the outdoor experience more enjoyable and safer for you and your cat. Here are a few of them:
Leash Included
The package comes with a four-foot bungee leash that can stretch up to six feet. This way, there is a little leeway for your cat when they pull while walking. It keeps your cat from getting tugged when they suddenly dart away from you.
Durability & Adjustability
The harness is made of 3/8-inch nylon for durability and ease of movement. The harness is also double-stitched throughout. It also comes with an adjustable sternum slide so that you can custom fit it per your cat's body type. The girth strap also has dual adjustment points for a snug and safe fit.
Sizing And Colors
The harness comes in three sizes, namely small, medium, and large. It also comes in different colors, such as red, green, lilac, and black. This way, it can match the color aesthetic you are going for as well.
Two Metal D-Rings
The shoulder straps have two D-rings which tighten the harness slightly when pressure is applied. This will help prevent your cat from slipping out of the harness. The double D-ring is also helpful when controlling your pet. It is made of metal as well for added durability.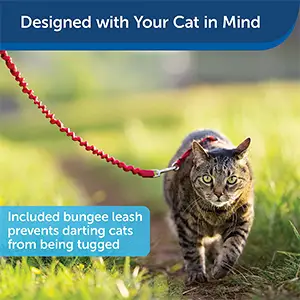 What do Other Users Think of the Petsafe Come With Me Kitty Harness?
If you want to know what other cat parents think about, look no further. We have compiled a few of them below to help you:
Chris says that all their six cats love the PetSafe Harness!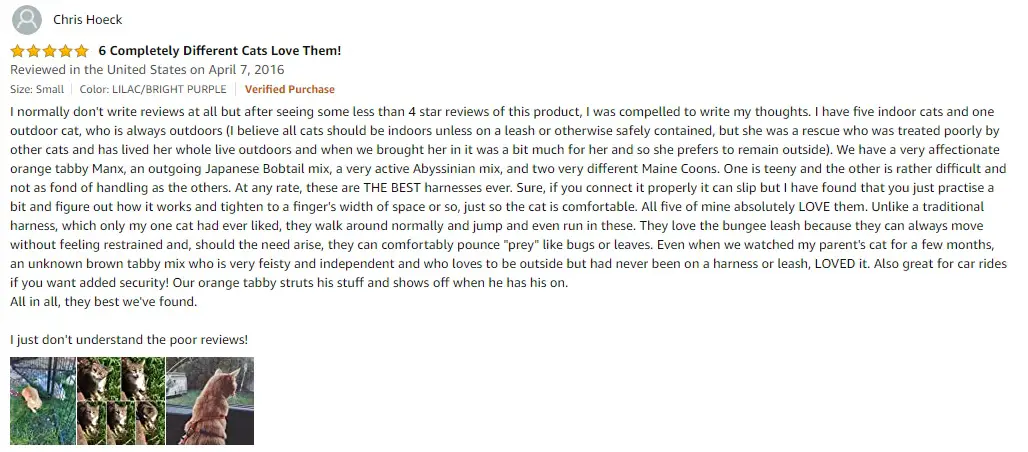 The PetSafe works great for this cat parent's petite cat!

Alternatives to the Petsafe Kitty Harness
If you are curious about how this product compares to other harnesses in terms of overall performance, look no further as we have compiled a short list of alternative harnesses for you. This way, you can see for yourself how it fares side-by-side with others of its kind.
Rabbitgoo Cat Harness
The Rabbitgoo Cat Harness is made of air-mesh fabric, which is a lightweight and soft material. It also has nylon straps and reinforced stitching for durability. Unlike the Come With Me Kitty Harness, this product has four adjustable buckles. It also has reflective straps for better night visibility and a single metal leash attachment at the back. Although it comes in multiple colors, it is only available in two sizes: extra small and small. This harness is designed for kittens to small adult cats only.
PUPTECK Adjustable Cat Harness
This H-style harness is made of thick nylon material for durability. The PUPTECK Adjustable Cat Harness also has snap-lock buckles for easy wearing or taking off. The product also has a single metal D-ring at the back where you can attach the leash. The PUPTECK harness comes in one size only and is designed to be adjustable to fit kittens and adult cats. This is unlike the PetSafe Harness, which is available in four sizes.
Lupine H-Style Pet Harness
The Lupine H-Style Pet Harness is another H-style harness made of woven nylons. It is also equipped with a side-release buckle, bar-tack stitching, and a welded D-ring. This is also machine washable and comes in multiple colors. However, this harness only has two girth sizes that can fit cats up to 20 lbs. Although this is slightly cheaper than the PetSafe harness, the package does not come with a leash.
Our Final Thoughts
I enjoyed writing this Petsafe Come With Me Kitty Harness review and I hope you can get some value from it. Taking your cat for a walk is a good exercise and bonding experience for you both. It also allows your cat to look at the world outside of your home. You might want to invest in a good harness like the Petsafe Come With Me Kitty Harness so that your cat remains safe when you go for a walk. It is designed with mobility, comfort, and safety in mind so that your feline friend can enjoy the outdoors as much as possible. Click here and find out more about the product if you think this might be what you are looking for.
Click here to get current pricing on Amazon for The Petsafe Come With Me Kitty Harness Review >>