Only very few pet owners are committed enough to bring their dogs with them wherever they go. I am proud to be one of those people. I bring my pooch to the park at least once a week and even travel with it to my parents' home every weekend. I consider my furry friend as part of the family, which is why I do not leave him behind. Having said that, I do not blame those pet owners who do not take their dogs with them when traveling; after all, it can be a bit overwhelming. The truth is that I used to hate doing it, too. The one thing that prompted me to give it a try was when I came across the Noz2Noz Sof-Krate 3-Door Soft-Sided Dog Crate after looking at several dog crates for travel. My dog's veterinarian talked about it a lot, so I had to give it a try. This is why I decided to write this Noz2Noz Sof-Krate 3-Door Soft-Sided Dog Crate Review.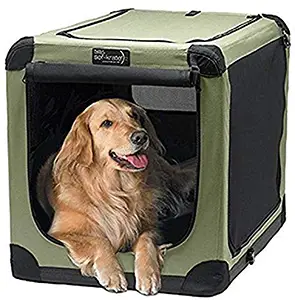 How To Choose A Dog Crate
A dog crate is a valuable instrument to have if you own a dog and you go out a lot. As much as you want to leave your pet behind, there are times when it is impossible to do so. The crate serves as your dog's safe confinement when you need to drive your car and travel beyond state lines. It is also what you need the most if you plan to do some air travel with the animal. Perhaps you already know that airline companies do not allow dogs onboard without a pre-approved crate or carrier.
Choosing a carrier is not as forthright as you may think. You will realize this once you go to a pet store and see the bevy of productions. Not all dog carriers are suited for travel, while some varieties favor comfort over durability. Your choice depends on a few factors, including:
Size
Size is the chief factor to consider when you buy a dog crate for the first time. Be reminded that purchasing the wrong size does not entitle you to a replacement. In other words, you first must measure your dog, i.e. height, weight, and length to guarantee that you are spending your money on the right product. The crate should have sufficient space for the animal to turn around, stretch out, and curl up without issues. If you decide to go for a soft-side dog crate, be sure to add at least three inches to your pet's shoulder height. A crate made from hard material must ideally have four inches of allowance.
Use
Aside from the size of the pet carrier or crate, you should also consider the intended use. If you must travel with your pooch more often than most people, then choose a lightweight and portable model. Find one with a design for easy carrying. If you plan to fly with your dog, get something that comes with airline-approved dimensions and features. If you have a destructive dog with a propensity to bite, chew, or scratch on anything, then you are better off with a dog crate made from hard plastic. If comfort is your focus, soft-sided varieties are the best option.
Style
Dog travel crates come in a handful of forms and styles, but I do not pay attention to those that are equipped with useless features. When you buy a crate or carrier for your dog for the first time, you should narrow down your list of choices to a soft-sided carrier, hard-sided crate, and a wearable/portable type. The soft-sided type is the best option when you are transporting a small breed of dog, plus you get to carry it with ease. A hard-sided model emphasizes rugged construction and durability, which means it is best used for a destructive dog. Meanwhile, a wearable type works like a baby carrier where you can carry your small pooch for short trips like a stroll in the park or visit to the veterinarian.
Noz2Noz Sof-Krate 3-Door Soft-Sided Dog Crate Review
Do not leave Fido alone at home ever again. Even if you think it is difficult and overwhelming to bring a dog to an extended or long trip, the Noz2Noz Soft-Krater Indoor/Outdoor Crate will convince you that its portable and lightweight design will make you reconsider. It folds down in seconds, and you can bet it is sturdy enough to keep your dog safe on the entire trip.
Quick Glance
What's Good
Lightweight and portable design
Easy setup mechanism
Water-resistant base
Removable and washable cover
What's Bad
Not ideal for an inherently destructive pooch
May not pass most airline travel standards
Soft-sides may wear out over time
Noz2Noz Soft-Krater Dog Carrier Features and Highlights
I chose to buy the Noz2Noz soft-krater indoor/outdoor dog crate because it comes with the best set of features that I thought would address my needs for a dog crate. I am ecstatic to share with you the highlights of this product.
Quick Setup
One thing that made me purchase the Noz2Noz soft-sided dog crate is its ingenious design. The push-button tabs and reinforced couplers are conveniently mounted in the steel frame tubes. This means that you can quickly get the unit up or collapse it in a minute or so. Setting up this dog crate is a breeze, thanks to the unique yet effective design. You can even store it flat, suggesting that there is no need for ample space for storage purposes.
Lightweight Design
Since this is a soft-side dog crate, you do not have hard plastic material that will add to the burden of carrying it. This one has a lightweight design that makes it comfortable and appropriate to carry in places and situations where you plan to bring your dog with you.
Safe Retreat
The product is built with the dog in mind. Some pet crates and carriers out there are only meant to help the owner have an easy time handling their dogs when traveling. The Noz2Noz Soft-Krate dog crate begs to differ because it ensures the animal's well-being while inside. I hate to call it a type of restraint; it is more of a safe retreat for my dog whenever we find ourselves stuck somewhere during extended trips.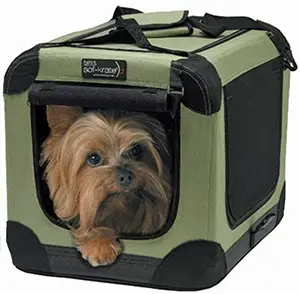 Effortless Cleaning and Maintenance
This dog crate has gone through high standards of quality control procedures for it to be fit for travel. One of its distinctive qualities is its water-resistant base that allows for convenient cleaning and maintenance. You can use a stain and odor remover to get rid of waste and simply allow it to dry. Furthermore, the cover is made from washable material, giving you the liberty to remove and clean it as needed.
Well-Ventilated
The crate comes equipped with three large windows and reinforced mesh covering. This ensures that your dog will be comfortable and calm even during long trips since it will get enough air and visibility. I found this feature very helpful because my dog doesn't like being in confined and tight spaces. The first crate I bought was made of hard plastic with little ventilation. My pooch did not like it, so I had to ditch that model. Now I know how crucial ventilation is in choosing a dog travel crate.
Steel Frame for Stability
The Noz2Noz soft-sided dog travel crate can accommodate a dog that weighs up to 70lbs. I did not believe it at first, but when I realized that a steel frame reinforces the mesh fabric material, I immediately changed my perspective. I think the manufacturer had to include the steel frame to guarantee that the crate is sturdy enough and can provide the needed support for the added weight.
What Others Say About The Noz2Noz Sof-Krate 3-Door Collapsible Dog Crate
I tried to be a responsible consumer by reading user reviews from fellow dog owners who decided to go with the Noz2Noz Soft-Krater travel carrier. These are the highlights:
Sylvia S. may have been apprehensive at first, but eventually decided to go for it. Seeing her dog getting comfy with it says a lot about the product.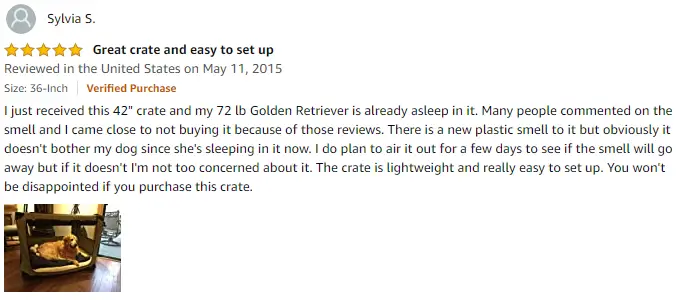 Keith loves this crate so much for his small dogs. It is not every day that you see a product that possesses "durable" and "soft" qualities at the same time.

I agree with CLC's advice to avoid this dog travel crate if your dog loves to bite or chew on something when it is uncomfortable or stressed.

Alternatives To The Noz2Noz Sof-Krate Pet Carrier
The Noz2Noz soft-sided dog crate may have piqued my interest, but not all pet owners feel the same about it. If you are one of those people who want to test the waters first before making a purchase, then here are the three competitors that I can think of:
Aspen Pet Porter Heavy-Duty Pet Carrier
This dog crate is what I consider as the complete opposite of the Noz2Noz carrier. It is made from hard plastic, bulky, and on the heavier side. You choose this crate if you want to ensure that you get your dog admitted for air travel since it meets most airline standards. To know more about the Aspen Pet Porter, go to this link.
2PET Foldable Dog Crate
This pet carrier has a bevy of similar features to the Noz2Noz dog crate, most notably the indoor/outdoor design. It is also made from soft material and comes with sufficient ventilation. You can learn more about the 2PET Foldable carrier for dogs here.
Petmate Sky Kennel
The strongest suit of this crate for dogs is its security features, making it an ideal travel instrument. It is equipped with a four-way vault door that prevents the likelihood of sliding and shifting. Like the Aspen pet carrier, this is made from hard plastic. Check out more details on the Petmate Sky Kennel here.
Our Final Thoughts
Leaving your dog at home for several days causes unnecessary anxiety to the animal. These pets need companionship like no other animals. So, when you need to travel for extended periods, you no longer are compelled to leave your pooch behind if you have the Noz2Noz soft-sided dog travel crate. The product solved my problems, and I believe it can help you, too.
Click here to check current pricing on Amazon for the Noz2Noz Sof-Krate Dog Carrier >>