My cat loves the outdoors so much, but she has also been in a lot of trouble because of that. Our backyard is really not the safest place for our little friends. But as much as we would love to keep them indoors, they get bored too and sometimes cause lots of trouble because of that. So, I surfed the internet in the hopes of finding a solution to this problem, and I might have found it – the Outback Jack Outdoor Cat Enclosure.
Things to Consider Before Buying an Outdoor Cat Enclosure
As the name implies, outdoor cat enclosures are enclosures made for cats so they can roam around outdoors freely but safely. This gives them some sort of boundaries with regards to where they can roam around. Added to that, it keeps them safe from predators.
It's a great product for cat owners to ensure that your cat is safe, even if you need to keep your eyes off her for a second. Also, it doesn't limit them as cat enclosures usually have a large activity space.
However, we all know you can't just pick the very first outdoor cat enclosure you see on the market. There are a few things that you still have to consider:
Your Space
The first thing you should consider is how much room you have for your cat enclosure. We always want the best for our cats, and if you're like me, I would love to have a big outdoor enclosure set-up for them right out of my backyard.
But, what if you only live in an apartment and want to take your cat outside for some daily exercise? You can't set up a big enclosure in a common park, right? However, you do have the option to go for foldable pop-up tents or playpens. The best thing about this is that you can set these cat enclosures indoors, too.
Portability
The whole idea of having an outdoor cat enclosure is to make sure your cat is safe while she's outdoors. It should also be perfect in case you need to bring her for outdoor travel. So, if you're quite the adventure, consider portability.
Many manufacturers have thought about this and offered adventurers cat enclosures that are lightweight and portable. These usually come with foldable pop-up systems, a hand carry bag, and ground stakes.
The Design
If you value aesthetics, then the design is also something you can consider. From elegant cat cages to simple cat tents, there are lots of designs to choose from. But, you should also consider your cat's comfortability or if it would suit your lifestyle.
Materials
In every product I buy, I always look at the quality of the materials used. For me, the better the quality, the better the product is, overall. It's also what makes my purchase more worth it as it tends to last longer.
If you're looking at cat tents or playpens, try to look at the mesh's breathability – if it would allow excellent air circulation. If you're going for the metal cages or wooden enclosures, you would want something with a weatherproof and rust-proof design.
Set-Up Process
Next, ask yourself how much time you'd like to spend assembling your cat's outdoor enclosure.
If you say not so much, then definitely go for those that come with a pop-up system so you won't have to spend a lot of time. The only thing with the pop-up ones is that they are usually ground level only and don't really give lots of room.
However, if you wish to have something like multi-tiered permanent enclosures, then you would have to expect that you would need to do some assembly.
The Number of Cats You Have
Next, think about how many cats you have. This way, you will be able to choose a cat enclosure that will be able to accommodate them all. It's always important to give your cats plenty of room, so they don't feel confined.
If you have only one cat, try to consider whether you're planning to adopt more soon. If so, then you should probably choose a large cat enclosure, so you don't have to buy one in the future.
Accessories
Some cat enclosures already come with accessories such as a swing, platforms, bed, etc. These are common in multi-tiered cat enclosures, and I think it's great so you don't have to worry about what other toys to add inside that your cat would enjoy.
Budget
Lastly, you should look at how much money you are willing to spend on the item so you can narrow down your choices.
If you have a small budget, don't expect that you can get bigger cat enclosures made of wood or metal that are permanent. Instead, you might need to go with foldable enclosures made of fabric.
If you don't have a budget set but still want to save, I recommend looking at the features you like above and finding the top three brands you think can offer. Then, compare the pros and cons and find the option that would give you your money's worth.
Outback Jack Outdoor Enclosure Review
The Outback Jack Outdoor Enclosure is one of the best outdoor cat tents on the market. It comes in two parts – a cat tent and a cat tunnel – both of which you can use together or separately. It also features a large space, excellent air circulation, lightweight, and portable design.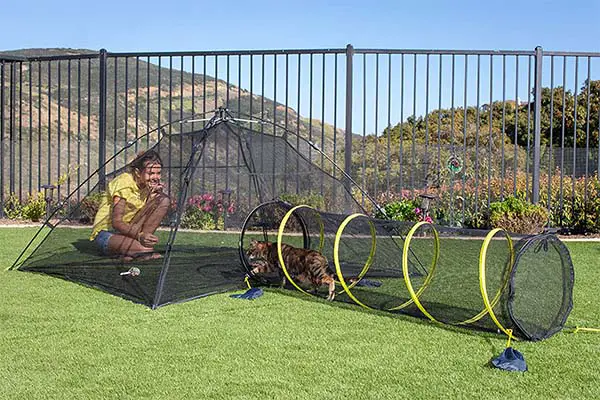 Quick Glance
What's Good
Includes a cat tent and a cat tunnel
Mesh material for excellent circulation
Has over 30 square feet of play area
Lightweight, portable design, easy to set-up
What's Bad
There are a few complaints that zippers are not working properly.
The tunnel can only be attached to the tent on one side.
Features and Benefits of the Outback Jack Outdoor Cat Enclosure
Design and Materials
The Outback Jack Outdoor Cat Enclosure features a unique design of a cat tent and cat tunnel combination. You have the option to join these two together or use them separately, but you should note that combining them means a bigger space that your cat can roam around in.
The whole item is made with mesh material; therefore, you can expect excellent air circulation inside. It also means that your cat will have all-around access to the sun and the view around him. As for you, it would be easy to see your cat even if you're a distance away.
The only disadvantage most customers see is that the tunnel can only be connected to the tent on one side. Therefore, if you'd like to create a bit more space for your cat by adding another tent, it's no longer possible.
Activity Space
The Outback Jack Outdoor Cat Enclosure ensures that your cat or cats have plenty of space to run around. The cat tunnel's product dimensions are 62 inches in length and 17 inches in width, while the cat tent offers about 30 square feet of the activity area.
Combined, your cat will have over 30 square feet of activity space. This is large enough to fit multiple cats with extra room for cat toys, a litter box, or even a bed. You can tell that the manufacturers ensured that your cat would enjoy spending his time here.
Ease of Assembly
The Outback Jack outdoor Cat Enclosure comes with an easy set-up process. It might take a couple of minutes of your time, but it ensures you won't need any tools.
The tent comes with a pull-string system while the cat tunnel unfolds on its own. It won't even take you a minute to have each of these stand-up. To combine the two, you would need to remove the zippered entrance from the tent and the tunnel. Make sure that you keep the circular pieces in a safe place.
After you've removed the covers, simply attach the tunnel to the cat tent. Most users complain that this can be a bit tricky, but once you get the hang of it, it would be no problem. You should also note that the tunnel can only be attached to the tent on one side, so if connecting is not working, turn the tunnel around and try it again.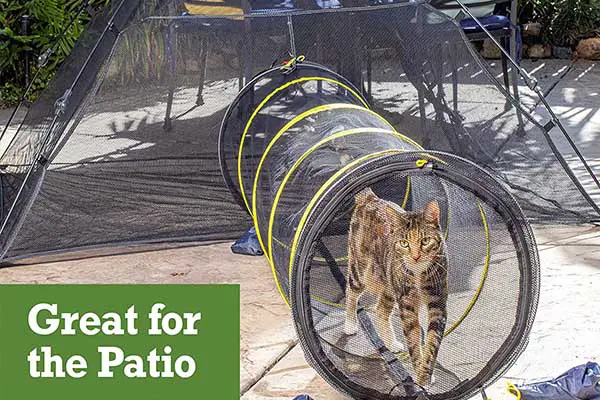 Portability
Another advantage that the Outback Jack Outdoor Cat Enclosure offers is its portable design. Both the cat tent and cat tunnel are lightweight, which only weighs a total of 6.0 pounds. This makes both very easy to carry wherever adventures you take with your cat.
You'll be happy to know that the product also comes with a carry bag, so it's easy to carry. And since this is exactly made for outdoors, it comes with pegs to protect it against strong winds.
Social Proof
The Outback Jack Outdoor Cat Enclosure is an excellent product with lots of advantages. But, it's also best to take a look at what other customers say:
This cat owner is very satisfied with his purchase and emphasized the easy assembly process. She placed the tunnel's opening on the window, so her cats will have easy access to the backyard – really smart!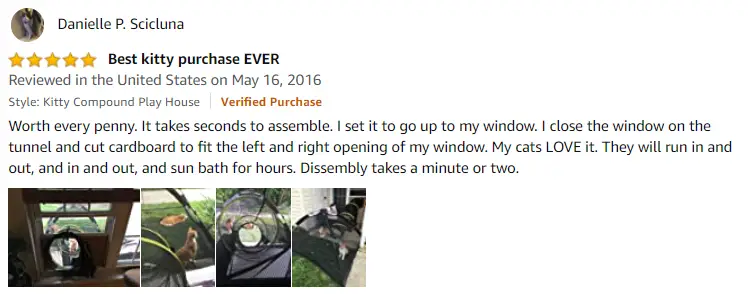 This cat owner is so happy with the product that she bought two tunnels instead of one. One tunnel for the cat tent and another for the cat door she also purchased so her cats can go out without worrying her.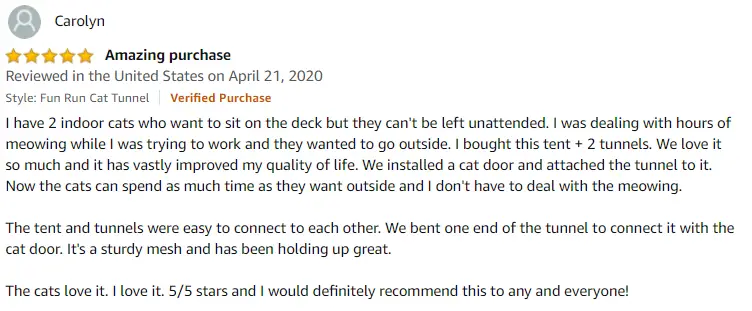 This cat owner is also happy with the product but only has a few problems regarding the design flaws.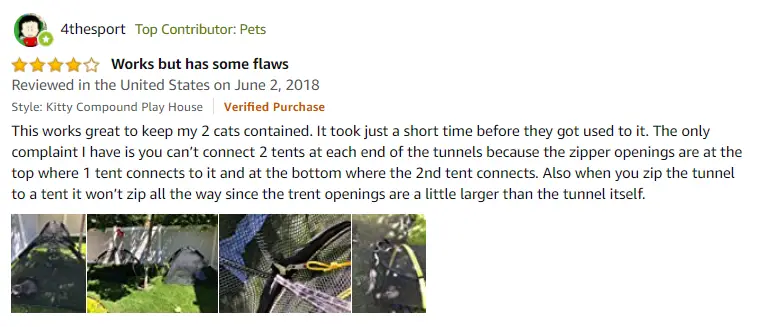 Alternatives To The Outback Jack Outdoor Cat Enclosure
I'm aware that no product would fit all cats. So, if you think outback is not for you, here are some great alternatives you can check out.
Cat Tent: Hi Suyi Cat Tent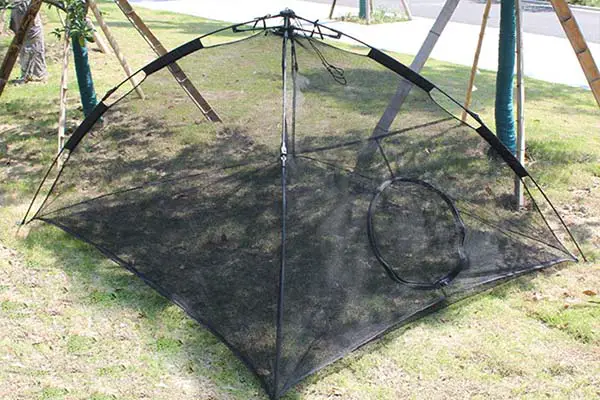 First on our list is the Hi Suyi Cat Tent. This is also a cat tent that offers over 32 square feet of activity space inside. It's really large to fit multiple cats and a few more accessories inside. Unlike the outback, this doesn't come with a tunnel, but it's also made of high-quality mesh for excellent air circulation and 360-degree access to the sun.
The cat tent comes with a pull-string system for easy set-up. It's also made for those who travel a lot because of its portable design. It comes with a carry-on bag, too, and four ground pegs to hold the tent against strong winds.
Zampa Pet Playpen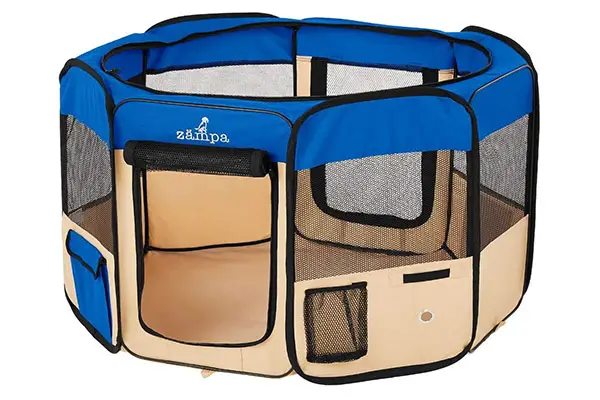 Next on our list is the Zampa Pet Playpen. This one is an octagon-shaped playpen that comes in four sizes so that you can choose the most suitable size for your cat (or cats). This also comes with a foldable design and pops up to set-up.
I love the lightweight and portable-design to make it easier for you to take it on your outdoor adventures. It also comes with four metal spikes to prevent it from being toppled over by strong winds.
PawHut Wooden Outdoor Catio Cage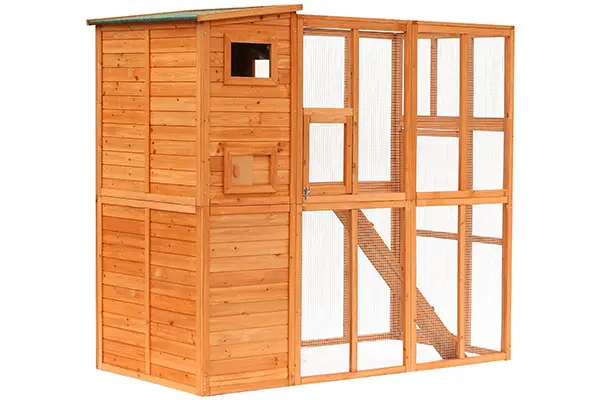 Last on our list is the PawHut Wooden Outdoor Catio Cage. This is suitable for those who are looking for something stylish. It is made of wood and non-toxic wires, which promises safety and durability against any weather conditions.
The cage is multi-tiered, allowing you to put lots of accessories inside for your cat. You should bear in mind that this is not a portable enclosure but would be great for those looking for a permanent outdoor haven for their feline friends.
Final Thoughts On The Outback Jack Outdoor Cat Enclosure
Overall, the Outback Jack Outdoor Enclosure is an excellent choice for an outdoor cat enclosure. It promises to keep your cat happy, safe, and comfortable with its wide activity space and excellent air circulation. The materials' quality tells you that your purchase is worth it, as this will surely last long.