Exploring the world with your pet is something many people enjoy. Dogs are typically seen as the pet who loves the outdoors. However, your cats love taking a walk outside too! An adjustable cat harness, like the one in this PUPTECK Adjustable Cat Harness review, is the most important tool to have to make sure that your cat is safe and secure when they go on a walk with you. And the PUPTECK adjustable cat harness might just be the one you are looking for.
Things To Consider Before Buying A Cat Harness
Cats might not look like the outdoor type of pet, but that doesn't mean they won't enjoy it. It wouldn't hurt to give it a try and take your cat for a walk outside. To do this safely and securely, you would need a harness. Harnesses are a better choice than collars. This is because cats have a delicate throat and neck area. They could choke when you use collars on them.
A harness is one of the safest ways you and your cat enjoy taking a walk around your neighborhood. But before you go out and buy one, there are a few things you should think about. There are different types of harnesses available in the market, so you need to determine which one you think would work best for your cat.
Another thing to look into is the material the harness is made of. They are usually made of cotton or nylon. Avoid harnesses made of leather as they can be uncomfortable and bulky. Other things to look out for include a harness's durability, adjustability, security, and easy to clean and use.
PUPTECK Adjustable Cat Harness Review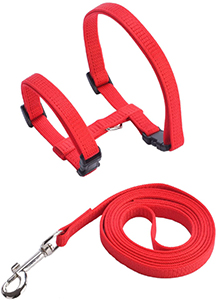 The PUPTECK cat harness is made of high-quality nylon material. It is a standard lead designed to fit around your cat's neck and back so that pressure is evenly distributed. This way, your cat is kept comfortable and safe when walking, hiking, or during other outdoor recreational activities while on a leash.
The packaging also includes instructions on how you can get your feline friend used with wearing the harness. Once your cat is comfortable with the harness, you can try wearing it to your cat. Putting on this H-style harness on your cat is an easy task. All you need to do is open the buckle and put the short rope around the neck and the long rope around the chest. Snap the buckle close and then connect the leash to the D-ring on the back.
Quick Glance
What's Good
Adjustable to fit both kitten and adult cats
Made of thicker than most nylon
Easy to wear and adjust
Come in multiple colors like blue, black, and red
What's Bad
The mid-section strap isn't adjustable
Some users report that it puts too much pressure on the neck
It can rub on your cat when putting on too tight
Core Features Of This Adjustable Cat Harness
The PUPTECK cat harness comes with many features that you and your kitten can enjoy. They are as follows:
One Size Fits Most
This product only comes in one size that will fit any cat under 12 pounds. There have also been some reviews wherein the leash fits a 14-lbs cat. The neck strap is adjustable from 7 to 10 inches. Whereas, the chest strap can be adjusted from 10 to 17 inches. The lead included in the package is 47.2 inches.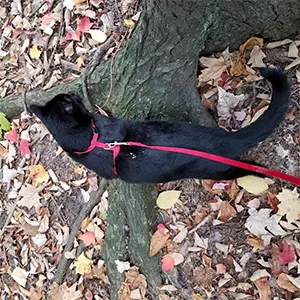 Durable Material
Most nylon harnesses are at 0.71 cm thick. The PUPTECK harness, on the other hand, is at 1.85cm, making it thicker than most of its kind. This durable material also makes this harness resistant to wear and tear.
Added Security
The neck and chest straps have plastic snap-lock buckles for easy wearing and removal. The leash attachment at the back is also made of metal for added durability.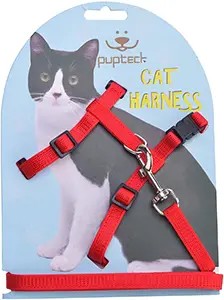 What Others Say About The PUPTECK Adjustable Cat Harness
If you want to know how the product did for other cat parents, look no further! We have compiled a few user reviews to help you.
This cat parent likes how the harness adjusts to a wide range of cat sizes!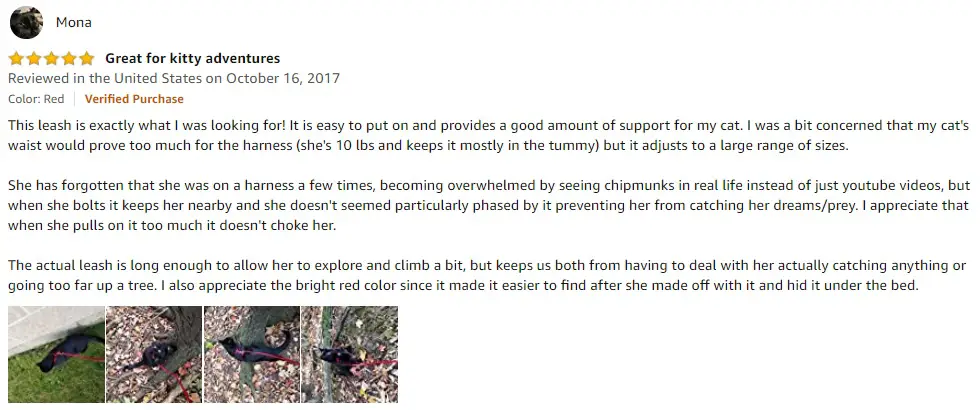 This user thinks that the PUPTECK harness is durable and easy to put on!

Similar Cat Harnesses To The PUPTECK Pet Harness
It is only natural that you want to know how this product fares amongst others of its kind. We have listed three below to help you get started.
Lupine H-Style Pet Harness
There are many similarities between the Lupine H-Style Pet Harness and the PUPTECK cat harness, especially when it comes to look and design. They both have metal D-rings, made of woven nylon, and has side pinch-and-release buckles. A distinguishable difference is that the Lupine harness comes in two sizes and can fit cats up to 20 lbs. The PUPTECK harness might also be a little more expensive, but its thicker nylon material makes it worthwhile.
Kitty Holster Cat Harness
The Kitty Holster Cat Harness is a vest-style type of harness. It is made of undyed cotton that is lightweight and comfortable. It has no thin straps, plastic clips, and nylon as the harness wears like a jacket on your cat. This might make it harder to wear on your cat, unlike the PUPTECK cat harness, which has easy snap buckles to help you. On the bright side, this cat harness comes in four sizes and nine colors.
Petsafe Come With Me Kitty Harness
The Petsafe Come With Me Kitty Harness is another H-style harness designed for all of your cat's life stages. It is available in three sizes and comes with a four-foot bungee leash. It has adjustable straps that allow you to customize the fit depending on your cat's body type. The harness also has two D-rings for added security. However, this is more expensive than the PUPTECK cat harness as it is almost double the price.
Our Final Thoughts
The cat harness is an essential tool to own when you want to take your cat outside. It provides the security that your cat won't suddenly dart away and get lost. We hope that you found this  PUPTECK Adjustable Cat Harness review helpful. It is easy to put on and has a good range of adjustments so that it will fit most cats. The instructions on the packaging on how to help you cat acclimate to it is also a plus. This is an excellent tool to bring for when you and your cat explore outside.
Click here to get current pricing on Amazon for The PUPTECK Adjustable Cat Harness >>