A dog generally is a better travel companion compared to other pets. You can take them out to play at the dog park, go on a hike, or out to the beach. They can jump in and out of the car with their own power. But there is a drawback. You probably won't be washing your dog after every trip. This means you are letting all the mud and dirt stuck on your dog's fur into your car. Not to mention the fact that your dog sheds, and you are likely to find dog hair all over your vehicle. Luckily, these issues can be remedied by using a car dog seat hammock, a.k.a. dog car hammock.
SUPSOO Dog Car Seat Cover
Doggie World Dog Car Seat Cover
BarksBar Original Pet Seat Cover
Click here to jump to all of the product reviews.
Reasons To Purchase A Dog Car Seat Hammock
It is no secret that dogs love frolicking into puddles, mud, and dirt. They can end up being caked in dirt and mud in no time, and this could easily transfer to anywhere your dog goes. If you transport your dog often, then you might find your car's interior getting dirty as often as well. When you find that this happens to you a lot, then it is a good idea to buy a car seat cover.
If your dog is a heavy shedder, then a car seat cover should also be a must. It will help you manage fur shedding in the car. But every dog owner who uses a car to get their dog to places should buy a car seat cover as it will help your dog be more comfortable during the ride.
A dog car seat cover helps provide extra insurance to your car against tears and scratches from dog claws. It can also make clean-up a lot easier when your dog has an unexpected bathroom accident in your vehicle. You also don't have to worry about the smell lingering in your car's upholstery. Just remove the car seat cover and put it in the washing machine, and you'll be well on your way again.
Essential Features To Consider
There are a few things to think of when you are looking for the right dog seat hammock for your vehicle. First off, the style of the car seat cover you will want to choose depends on the style of the car you have. There are car seat covers made specifically for bucket seats, bench seats, and even for trucks. Make sure that you know which one will best suit your car make and model. Otherwise, you might end up with a dog seat cover that doesn't fit.
Another thing to look into is the material used for the dog seat hammock. Most dog seat hammocks are waterproof, but it wouldn't hurt to double-check. The hammock should also be comfortable. A hard one might make the ride uncomfortable for your dog. Whereas, if it is made of plastic, it will only promote moisture build-up. A good dog seat hammock should also be absorbent and non-slip.
You also might want to consider the breed of the dog you have. A larger dog might require a bigger seat cover. For example, a hammock that can be converted to a cargo seat cover might be a better choice. The number of dogs you have will also impact the style of the dog seat cover you choose as well as the demeanor of your dog during car rides.
The frequency of use is also something you might want to consider. If you only take your dog on occasional trips to the vet or the dog park, then a style that is easy to remove and reinstall might be best suited for your car. Whereas, if you and your furry best friend are always in the car with you, you might want an extra secure one. This way, you won't have to keep readjusting the car seat hammock every time you and your dog go off on an adventure together.
Other factors to consider include the color of the dog seat hammock and the straps. Most covers usually come in dark colors, but there are also colorful ones. Choose one that matches your car's interior. The straps also need to be very strong and can withstand constant pulling. It should also be easy to adjust so you can fit it easily to your car's upholstery.
Check Out These Dog Seat Hammocks
Here is a list of five of the best dog car seat hammocks you might want to consider if you wish for your dog and vehicle to coexist peacefully.
SUPSOO Dog Car Seat Cover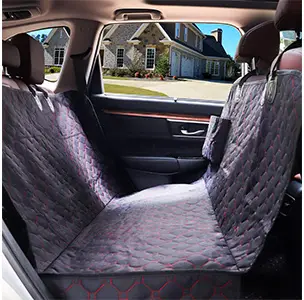 The SUPSOO dog car seat cover fits most backseats of standard cars like SUVs and trucks. It protects your vehicle from hair, scratches, and mud while keeping your pet comfortable. This car seat is made with soft PP cotton, 600D Oxford cloth, polyester, EVA non-slip backing, and slip-proof PVC. These materials make for a wearproof, scratchproof, waterproof, and slip-proof dog car seat cover.
This 54" x 58" car seat cover comes with a breathable mesh window to keep your dog cool during the drive. This mesh window also helps with an anxious dog as it lets them see you through it. The convertible hammock is also equipped with non-slip anchors to prevent the cover from shifting and coming off your car's upholstery.
Quick Glance
What's Good
Anti-slip seat anchors
Has a mesh visual and breath window for proper airflow and to help with anxious dogs
Machine-washable
Adjustable straps and Velcro openings for seatbelts
Side flaps for full coverage
Convertible as a seat cover, cargo liner, and hammock
One-year warranty
What's Bad
Spot cleaning may be needed to remove hair
Straps and clips tend to disintegrate if the product is left under the heat for too long
Comes in only one size and color (black with blue lining)
Doggie World Dog Car Seat Cover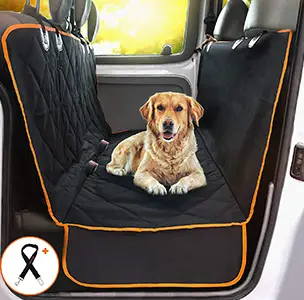 This dog hammock is easy to install, use, and clean. It comes with multiple adjustable straps that can be wrapped on the headrests. The Doggie World Dog Seat Cover can also be converted from a hammock to a standard seat cover. This makes it easier for your family and pets. It is designed with a non-slip system to prevent your dog from slipping over during bumps and turns. This dog seat cover is machine washable, so you won't have a hard time cleaning it.
It is made of durable and water-resistant material to provide comfort and security for your pet. It is measured at 54 inches in width x 58 inches in length. The cover is designed to fit all standard USA cars, SUVs, and trucks. It also comes with a drawstring bag for easy storage.
Quick Glance
What's Good
Comes in two sizes: standard and extra-large
Quilted for durability and padded for comfort
Machine-washable
Comes with a free dog seatbelt and storage bag
Convertible from hammock to seat cover
Non-slip design
What's Bad
Only comes in one color (black)
Headrest clips and buckles are not as strong
Some users report heavy chemical smell from the fabric
Material isn't as durable as there were complaints of ripping after several uses
BarksBar Original Pet Seat Cover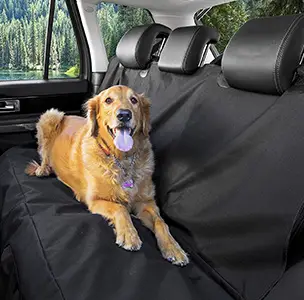 This budget-friendly seat cover is a convertible between a hammock and a standard bench cover. It is made of waterproof polyester that offers comfort and durability. It is easy to install as you only need to snap the reinforced buckle straps on the headrest then adjust it to fit your car's upholstery. It is also machine-washable. Just make sure to set it on a delicate or gentle cycle and that it is air-dried.
The BarksBar Original Pet Seat Cover is made with color-fast material that is free from dyes and heavy metals. This 54" x 58" hammock convertible comes equipped with seat anchors, seven-inched side flaps, and seatbelt openings with Velcro closure. It also has two pockets so you can store personal items like water bottles, leashes, and toys.
Quick Glance
What's Good
Machine-washable on gentle cycle
Comes with Velcro fastening and seat anchors for a more secure fit
Available is standard and extra-large sizes
More affordable price point
Materials are dye- and heavy metal-free
What's Bad
Only comes in color black
Materials aren't as durable as some reports the clip breaking and the seam tearing
The straps tend to fray over time
Hair is difficult to remove from the product
URPOWER Dog Seat Cover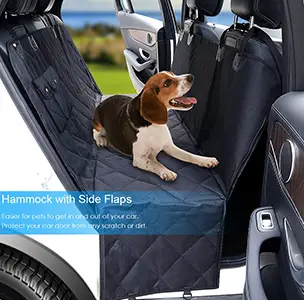 URPOWER Dog Seat Cover is made of heavy-duty oxford fabric and PP cotton mat. It is designed to make any car ride comfortable for all dog sizes. It also comes with side flaps to protect even your car door from scratches and hairs. The non-slip design prevents your pet from sliding around during the drive. It is also equipped with slip-proof PVC bottom and seat anchors so that the cover does not slip around every time you apply the brake.
This wearproof and waterproof car seat cover is measured at 54" width by 58" length to ensure complete protection of your entire back seat. It comes with quick-release clips for easy installation. The car seat cover is cleaned by hand washing or with a vacuum and damp cloth.
Quick Glance
What's Good
Side flaps for extra coverage and protection
Velcro-closing seatbelt covers
Equipped with a non-slip backing net, straps, and seat anchors to keep the cover in place
Made of three-layered, heavy-duty material
Convertible between a hammock and standard seat cover
What's Bad
Not machine washable
Some units emit a strong chemical smell that wears off after several washes
May not be suited for large and heavy dogs
A few reviews suggest that it is not waterproof as advertised
iBuddy Dog Car Seat Covers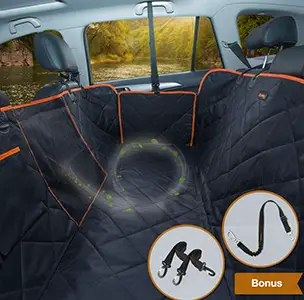 The iBuddy Dog Car Seat Cover is made of waterproof oxford fabric that is quilted and padded with PP cotton, and a rubberized bottom. It is designed to keep hair and dirt away from your car interior. The anti-slide bottom makes sure that the cover does not move around at every bump or turn. It is easy to install as it comes with quick-release buckles. It also comes in three colors (black, blue, and camouflage) as well as several sizes to fit most designs and cars.
The seat cover has a breathable mesh window that allows air to flow into the back. It further helps by reducing your pet's anxiety throughout the drive as the window lets your dog see you through it. The iBuddy is also equipped with zippered side flaps, Velcro seatbelt openings, seat anchors, and pockets for storage.
Quick Glance
What's Good
Comes in multiple sizes and color
Machine-washable on gentle cycle
One-year warranty with 30 days free replacement or refund
Waterproof and wearproof
Has a visual mesh window to help reduce your dog's anxiety
Convertible side flaps
What's Bad
Some reports of the plastic clips breaking after several uses
The black rubber bottom tends to flake off and may stain light-colored upholstery if it gets too hot
Some units emit a strong chemical odor and have to be washed several times get rid of the smell
A few complaints that the waterproofing does not work
And The Best Dog Seat Hammock Is…
Now that you have read about some of the best dog seat hammocks for your pet, it is time to know which one stands out on this list. It is clear that durability is one of the things high up the priority list of most pet owners. But we understand that every dog, car, and pet owner have varying needs and that these should be kept in mind when selecting the best-suited dog seat hammock.
The clear winner on this roundup is the SUPSOO Dog Car Seat Cover. It is an easy-to-install dog car seat hammock that can be converted into a cargo liner and seat cover with no trouble at all. It also comes with a breathable window mesh to help put your anxious dog at ease, unlike some of the products on the list. This product is made from a material that makes it waterproof, wearproof, and non-slip. Not only that, but you can just toss it inside the machine to clean it. It is also compatible with different vehicles like trucks and SUVs.
Check Amazon's Price