If you are worried about your furry friend making a mess in the car, then a dog car seat cover must just be what you need. They take care of all the possible messes your dog can make in your car. The iBuddy Dog Car Seat Covers is one of the products that can help you protect your car.
What To Consider Before Buying A Dog Seat Hammock
Are you ready to make a purchase? Well, make sure that you have considered these things before checking out of your shopping cart.
Full Coverage
When purchasing a dog seat cover, you want your whole seat to be covered and protected. One thing that you have to do is to make sure that the measurements of the car seat cover fit your backseat. You also have to include the measurements of the side flaps into consideration for you to get your car door fully covered and avoid the scratches.
Once you have the measurements of your backseat and making sure that everything fits, you are now ready to purchase your own dog car seat cover!
Waterproofing
This is probably one of the most important things that you have to consider. A waterproof cover helps you out a lot especially on days where you have outdoor adventures with your furry friend. It protects your back seat from getting wet, muddy, and dirty from your dog's paws. Having one of these can save you a lot of money from car cleaning services.
Trust me, coming from a guy who has dogs that gets sick in the car, this will save you from all that mess.
iBuddy Dog Car Seat Cover Review
Another companion you may want on your trip would be the iBuddy Dog Car Seat Cover. It is a waterproof, anti-scratch, and machine washable car seat cover for dogs. It is equipped with side flaps that can protect your car seats from your dog's nails when mounting them in the car.
It has excellent size and can fit most cars. It is non-slip so you can rest easy and know that it will not cause any accidents. The makers of the iBuddy dog seat cover guarantee that they are easy to install with easy to snap on and off buckles.
Quick Glance
What's Good
Waterproof and Wearproof
Mesh window for air circulation
Machine washable on gentle or delicate cycle
Convertible side flaps
Come in multiple sizes and colors
What's Bad
Complaints on zippers that are not strong enough
Some reports on plastic clips breaking with just a few uses
Waterproofing not too good
iBuddy Dog Car Seat Covers Key Features
Waterproof and Wearproof
The iBuddy Dog Car Seat Covers has two waterproof layers. The top layer is the 600D oxford with water-resistant coating while the bottom layer is the TPU which is new waterproof material. It is constructed out of heavy-duty oxford fabric and triple-layered padding for comfortable and worry-free trips.
There are some, though, that have had liquid seep through the waterproof material of the cover. No big spills, just little droplets, and messes. If you do not have big spills or big accidents, this is still a good cover to bet on.
Full-Sized Door Protectors
Compared to other pet car seat covers, iBuddy uses trapeziform side flaps that are larger. Their product covers the entire car door and perfectly protects your door from scratches or drool. It is also easier for your dog to get in or out of the car. A versatile split zipper hammock can allow pets and kids to share a back seat, so dogs and humans can travel together.
However, there have been some reports that the zipper on this hammock is not as strong as advertised. It may be due to wear and tear. Just be careful and protect the zipper so they last longer for you.
Non-Slip Convertible Hammock
The iBuddy dog car seat cover has a non-slip surface that prevents your dog from slipping every time you need to step on the brake. It is also designed with a rubberized anti-slide bottom and seat anchors that will ensure that the cover will not move around at any time during your ride. All Safety is their top priority
Easy to Clean
The iBuddy cover is very easy to clean. It can be washed in the washer on a gentle cycle. It can also be cleaned with a vacuum, a damp cloth, and a hose to wash the dirt off. No need for washing it thoroughly every time because it is that easy to clean.
Mesh Window
A feature that not all car seat covers have is a mesh window that faces the front of the car for the air to circulate to the backseat. This will give your furry friend and the other passengers in the backseat some air to cool off after a hike, a trip to the park, or a totally different adventure altogether.
What Other Users Say About The iBuddy Seat Cover
Laura M Davsion's big pooches ride in the car with these on every day. She absolutely loves it because, for two big dogs, it lasts half the year and currently almost one year. If it is durable enough for two 70-pound dogs, what more for other medium-sized dogs?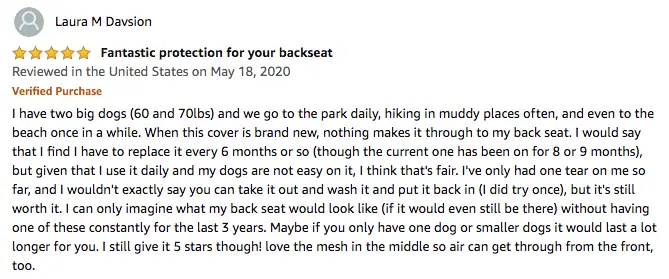 Jenni Legate thinks that this is a vast improvement from having a kennel in the car. However, she stumbled upon some minor breaking of the zipper and the straps don't tighten enough. Regardless, she loves it better than her previous kennel.

Lastly, Ian Lafferty says that this fits perfectly in his Outlander. He loves taking his dog in the great outdoors and doesn't worry about the muddy paws. After the trip, they hose it down and it's good as new.

Alternative Dog Seat Options
If The iBuddy Dog Car Seat Covers is not your cup of tea, here are other options that you might want to consider that can better provide you with your specific needs.
URPOWER Dog Seat Cover Overview
The URPOWER Dog Seat Cover helps you ride your dog anywhere. It is made of 4 layers of protective material that can protect your car seat from scratches, water spills, and many more. This dog seat cover can fit in most cars, trucks, SUVs, and other automobiles. It is perfect for pet owners with different sizes of furry friends.
This dog seat hammock also has 4 sets of adjustable plastic clips so it can securely stay on your back seat with minimal movement. It is an anti-slip and has velcro openings for the seat belts. These are only some features that make the URPOWER Dog Seat Cover the best in its category.
BarksBar Original Pet Seat Cover
The BarksBar Cover for cars is an easily transformable seat cover from a dog hammock to a bench-style cover in just a flash. It is made with waterproof polyester fabric for the comfort and safety of your furry friend. It also includes velcro openings for the seatbelts seat anchors to avoid the hammock from moving around.
It can protect your back seat from spills, scratches, dirt, and hair. It provides you with 2 pockets for storing your treats or additional items you may need in the car for your dog. It is designed with color-fast material to prevent color bleeding on your car seat. It can also withstand extreme temperatures.
Doggie World Dog Car Seat Cover
Having a dog seat cover like the one from Doggie World can surely keep your car's upholstery safe and free from scratches, water damage, and dirt. The Doggie World Car Seat Cover is made with the toughest of material that can protect your car from any damage.
It is equipped with strong and secure belts that can safely anchor the car seat even on bumpy roads. Plus, with additional anchors, you will feel safe going on the roughest roads. It is easy to install and easy to clean. It also fits most American cars and SUVs. Another good thing is that the Dog seat cover from Doggie World comes with a free doggie seat belt to keep your dog safe and secure in the car.
Our Final Thoughts...
The iBuddy Dog Car Seat Covers is a great product for everyone who needs to protect their back seat. The flexibility, waterproofing, and ease of cleaning are what sells this product to most users. If you are looking for other options, read our article on the Best Hammock Dog Seats here.
Amazon Best Rated Products - Last Updated on 2023-12-06. DISCLAIMER: Some or all of the product links on this page are affiliate links. The operator of this website received a small commission if you purchase products through these links, HOWEVER, there is no added cost to you. These commissions help to fund the operation of this FurryFriendsGear.com