Does your dog enjoy car rides like mine does? Taking a trip with your furry friend is really something special. However, getting them to stay cool, calm, and collected inside the vehicle can sometimes be the hardest thing about taking these trips. And when they are not all of these things, they tend to either get sick in the car, drool all over the seat, or start scratching the seats due to anxiousness, The URPOWER Dog Seat Cover is a dog hammock that can possibly save your car from all that damage.
URPOWER Dog Seat Cover Review
The URPOWER Dog Seat Cover helps you ride your dog anywhere. It is made of 4 layers of protective material that can protect your car seat from scratches, water spills, and many more. This dog seat cover can fit in most cars, trucks, SUVs, and other automobiles. It is perfect for pet owners with different sizes of furry friends.
This dog seat hammock also has 4 sets of adjustable plastic clips so it can securely stay on your back seat with minimal movement. It is antislip and has velcro openings for the seat belts. These are only some features that make the URPOWER Dog Seat Cover the best in its category.
Quick Glance
What's Good
Made with very durable material
Will fit most cars and trucks
Waterproof and anti-scratch
Non-slip bottom to avoid movement during sudden breaks
What's Bad
Too small for the back of a truck
Will not do well with non-adjustable headrests
Too big for some sedans and compact cars
URPOWER Hammock Key Features
Side Flaps
The side flaps can allow your furry friend to get in and out of the car easier. It can also save your car seat from being damaged while you move your dog in and out of the car. It made with the same durable, waterproof material that covers the whole car seat cover. So, there will be no scratches, and dirt on your car seat, if that is what you are worried about.
Waterproof Material
The car seat cover is made of four layers of protective material to keep your car seat and your dog safe. There is a PVC non-slip soft rubber backing layer, a waterproof TPU material, high-quality PP cotton, and a 600D oxford fabric to cover the whole thing up.
These materials come together to create a space where your dog can feel comfortable and safe in the back seat while protecting your delicate car seats. They can be cleaned with a vacuum, a damp cloth, or you can even handwash the whole cover to keep it fresh and clean smelling.
Safety and Security
The safety and security of your dog is the most important feature of this car seat hammock. That is why URPOWER installed four safety features to make sure that happens. The car seat cover has a slip-proof backing to prevent the car seat from moving around and cause injury to your furry friend. It also has seat anchors to keep the cover in place. Snap buckles that attach to your car's headrests are made with strong plastic to securely fasten the cover. Lastly, the Anti-rust hooks will not let you down and keep the car seat cover up where it's supposed to be.
Double Purpose
The car seat can also double as a classic bench style cover by zipping down the side flaps and folding the extra sides. This is most useful when you have more than one companion and your dog on the trip. This allows for the other companions to sit comfortably in the cart while the car seat cover still protects your car from being damaged.
What Other Users Say About The URPOWER Seat Cover
While I was searching for the best Dog Car Covers, I stumbled across some reviews about the URPOWER Dog Seat Cover:
Marissa Lyssy says that this dog seat hammock is 100% worth it. The cover fits perfectly in her 2019 Jeep. She says that it is made of high-quality material and that the straps anchor properly keeping the cover secure. She just wished there was a zipper in front to pet the dog in the back seat.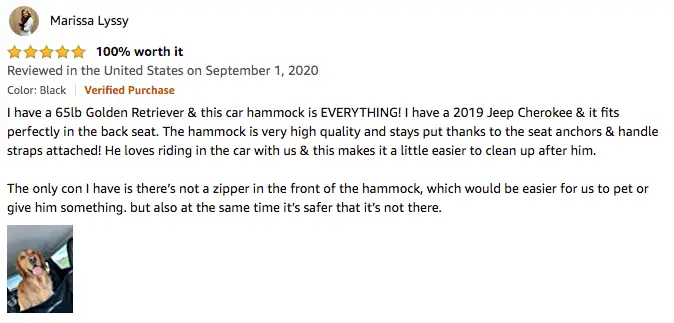 Lauren on the other hand, bought this cover to protect her leather seats from the nails of Mr. & Mrs. Cujo. She is glad that it works and said that this is one of her favorites that she has used.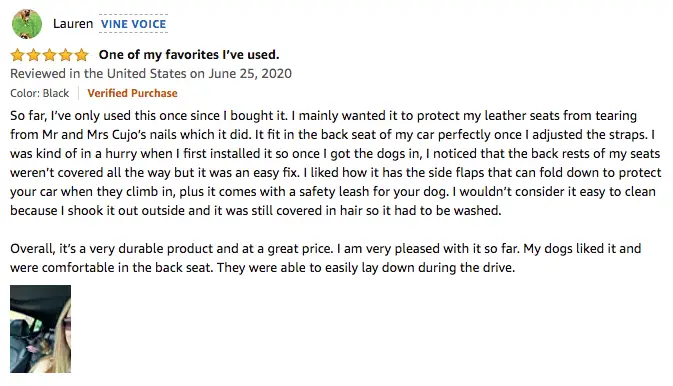 Laura thinks that this is a pretty good product for the price. She, however, has two things in mind. First is that when you don't have adjustable headrests, the straps that anchor the cover to the seat can sometimes slip off. Second, her big dog can easily climb across the cover and go into the passenger seat.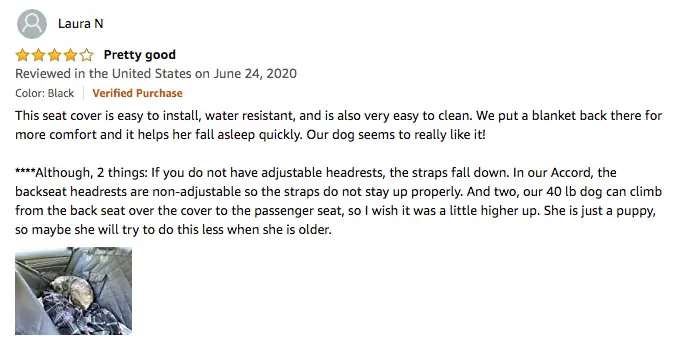 Things to consider before buying a Dog Seat Hammock
Before you go out and get yourself a dog seat hammock, let's talk about what you should look for in a dog seat hammock or a dog seat cover.
Waterproof
The first thing you want is for your dog seat hammock to be waterproof. A lot of things can happen inside the vehicle on the way to a hike, or a road trip with your furry friend, They can drool all over the seats and leave you trying to dry it up, or leaving it until it dries and it will give your car a nasty smell when left to dry until you have it cleaned again.
By having a car seat hammock that is waterproof you prevent your seat from getting wet with their drool, or water when you try to give them a bowl of water in the car. You can even imagine if your dog gets car sick and get sick all over your car seat. What a mess that will create. A dog seat hammock will save you in these situations.
Ease of installation
You also want your car seat hammock to be the easiest for you to install. When you're going on a trip, you want to be quick and easy to try to leave the house. When you have a hammock that will take you forever to set up, it takes a little bit of fun out of the whole trip. You already get stressed even before the trip has begun.
By having a car seat hammock that you can just install quick and easy saves you from all that stress and get to your destination quicker. Your happiness is just as important as your furry friends'.
Alternative Dog Seat Options
If The URPOWER Dog Seat Cover is not your cup of tea, here are other options that you might want to consider that can better provide you with your specific needs.
BarksBar Original Pet Seat Cover
The BarksBar Pet Seat Cover is an easily transformable seat cover from a dog hammock to a bench style cover in just a flash. It is made with waterproof polyester fabric for the comfort and safety of your furry friend. It also includes velcro openings for the seatbelts seat anchors to avoid the hammock from moving around.
It can protect your back seat from spills, scratches, dirt and hair. It provides you with 2 pockets for storing your treats or additional items you may need in the car for your dog. It is designed with color-fast material to prevent color bleeding on your car seat. It can also withstand extreme temperatures.
iBuddy Dog Car Seat Covers
Another companion you may want on your trip would be the iBuddy Dog Car Seat Cover. It is a waterproof, anti-scratch, and machine washable car seat cover for dogs. It is equipped with side flaps that can protect your car seats from your dog's nails when mounting them in the car.
It has excellent size and can fit most cars. It is non-slip so you can rest easy and know that it will not cause any accidents. The makers of the iBuddy dog seat cover guarantee that they are easy to install with easy to snap on and off buckles.
Doggie World Dog Car Seat Cover
Having a dog seat cover like the one from Doggie World can surely keep your car's upholstery safe and free from scratches, water damage, and dirt. The Doggie World Dog Car Seat Cover is made with the toughest of material that can protect your car from any damage.
It is equipped with strong and secure belts that can safely anchor the car seat even on bumpy roads. Plus, with additional anchors, you will feel safe going on the roughest roads. It is easy to install and easy to clean. It also fits most American cars and SUVs. Another good thing is that the Dog seat cover from Doggie World comes with a free doggie seat belt to keep your dog safe and secure in the car.
Our Final Thoughts...
Overall, the URPOWER Dog Seat Cover is one of the best ones out there. It is very easy to use with very durable material. It can save you some money trying to have your car cleaned after a messy day with your furry friend. It is waterproof, anti-scratch, and anti-slip so you know that your dog and your car seat is safe. Feel free to read our complete review of 5 great hammock dog seat covers here.
Amazon Best Rated Products - Last Updated on 2023-11-29. DISCLAIMER: Some or all of the product links on this page are affiliate links. The operator of this website received a small commission if you purchase products through these links, HOWEVER, there is no added cost to you. These commissions help to fund the operation of this FurryFriendsGear.com