Our furry friends love going on trips. They'd give anything just to go with you to the beach, to the park, or even just stay in the car with you wherever you go. A problem that many faces are the amount of hair and scratch the back seat accumulates over the many times you bring your dog along with you. The Doggie World Dog Car Seat Cover will help you with that problem.
Doggie World Dog Car Seat Cover Review
Having a dog seat cover like the one from Doggie World can surely keep your car's upholstery safe and free from scratches, water damage, and dirt. The Doggie World Dog Car Seat Cover is made with the toughest of material that can protect your car from any damage.
It is equipped with strong and secure belts that can safely anchor the car seat even on bumpy roads. Plus, with additional anchors, you will feel safe going on the roughest roads. It is easy to install and easy to clean. It also fits most American cars and SUVs. Another good thing is that the Dog seat cover from Doggie World comes with a free doggie seat belt to keep your dog safe and secure in the car.
Quick Glance
What's Good
Non-Slip Design
Hammock and Bench-Style Cover Features
Free Doggie Seatbelt and Storage Bag For Every Purchase
Machine-Washable
Quilted And Padded For Comfort
What's Bad
Buckles are not as strong
Material is not as durable as there are complaints from other users
Only comes in Black
Doggie World Dog Car Seat Cover Key Features
Comfort
The Doggie World Dog Car Seat Cover is made with the highest of durable and waterproof material. It is quilted and is filled with the softest stuffing. It will provide your furry friend the most comfortable ride of his life. However, there have been some reports that the stitching is easily worn and can give in sooner than you expected.
Easy To Clean and Install
It will only take you a couple of minutes to completely install the Doggie World Dog Car Seat Cover. It is equipped with multiple straps that you wrap around the headrests. The cover will firmly set in place with adjustable straps and anchors.
You can directly place the cover in the washer to clean it. There is no need for extreme cleaning to get it good as new. However, the straps are prone to fraying easily, so watch out for that.
Waterproof and Non Slip
The Doggie World Cover is also waterproof that can save your car seat from water, drool, and mud. It is made with the highest quality material to protect your back seat. Having a waterproof car seat cover can save you from costly car washes.
It is also equipped with a non-slip system that prevents the cover from sliding around during bumpy rides. With the help of the anchors, it will give you and your furry friend a smooth and carefree ride in the car.
Free Storage Bag and Doggie Seat Belt
For every purchase of the Doggie World Dog Car Seat Cover, you get a free Doggie Seat Belt to protect your dog from any injury that can happen. It also comes with a Free Storage Bag that can assist you in carrying other items you may need during your trip.
What Other Users Say About The Doggie World Seat Cover
While compiling the list for the best car seat covers for dogs, I stumbled upon some reviews for the Doggie World Cover that I thought I'd share with you:
Chris Lawhon thinks that this is a really nice cover and says that it is made with very durable material. However, he also thinks that there aren't enough clips and anchors to keep it from sliding around on his leather seats.

Jordan McMillan had a problem with the buckles which he thought was not sturdy at all. 
W. Young, on the other hand, is impressed with the dog seat cover. After trying out different brands, he finally found one that fits his needs so perfectly.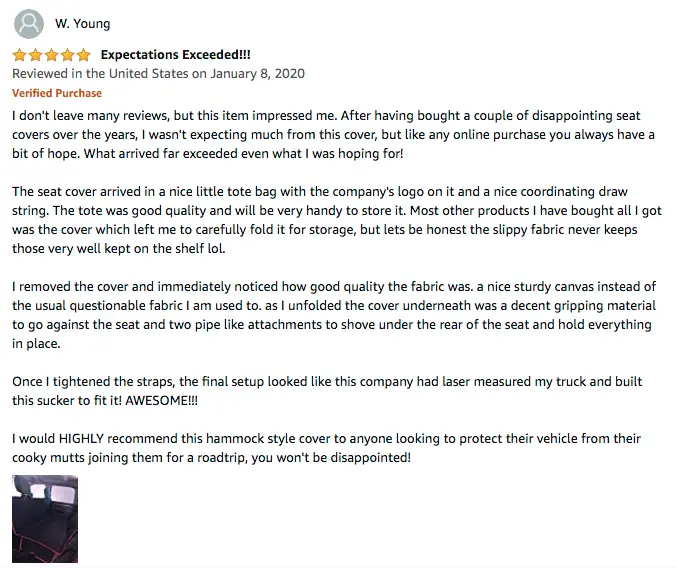 Things to consider before buying a Dog Seat Hammock
Before you go out and get yourself a dog seat cover, you might want to consider a few things first. Purchasing the right one for you is difficult, and we're here to help.
Frequency of Use
You want to consider how often you take your dog into your car. If most days, you have a furry friend in your back seat, you might want a car seat cover that is sturdy enough to withstand everyday use. You also want something that would be easy to clean without taking it out. A damp cloth or a vacuum should do for everyday clean up until you need to do a major clean up.
If however, you only take your pup for quick rides and those rides are not to often, you might want to get one that is easy and quick to install and remove. You do not want the fuss of complicated assembly that's going to take you more time than you need.
Flexibility
It's not every day that your dog is the only passenger in the back seat. You may need to give your children a ride with your pup or maybe give a couple of friends a ride. Car seat covers that are convertible are your best bet.
The latest add-on to dog seat covers is flexibility. For some covers, a simple folding of some flaps is enough to transform your hammock into a bench-style cover where other humans can sit in your back seat. This is especially great for those who take in furry friends and human friends alike in their back seat.
Alternative Dog Seat Options
If The Doggie World Dog Car Seat Cover is not your cup of tea, here are other options that you might want to consider that can better provide you with your specific needs.
BarksBar Original Pet Seat Cover
This hammock-styled dog seat cover made by BarksBar can be easily transformed from a dog hammock into a bench-style cover. This manufacturer designed the cover using waterproof polyester fabric. This material is color-fast, which prevents color bleeding on your car seat. Many pet owners have found that this is very comfortable for their dogs as well as for humans that sit on it.
This cover is designed to be used with velcro and seatbelt seat anchors. This helps keep the cover in place.
We found that it is an awesome seat cover to protect from spills, scratches, dirt, and hair. Additionally, there are 2 pockets for storing doggie treats and other things.
iBuddy Dog Car Seat Covers
Another companion you may want on your trip would be the iBuddy Dog Car Seat Cover. It is a waterproof, anti-scratch, and machine washable car seat cover for dogs. It is equipped with side flaps that can protect your car seats from your dog's nails when mounting them in the car.
It has an excellent size and can fit most cars. It is non-slip so you can rest easy and know that it will not cause any accidents. The makers of the iBuddy dog seat cover guarantee that they are easy to install with easy to snap on and off buckles.
SUPSOO Dog Car Seat Cover
The SUPSOO Dog Car Seat Cover is a dog seat that can protect your car from scratches, water, and scratches while on your trip with your furry friend. It is made with three layers of very durable material that is waterproof, anti-scratch, and anti-slip.
It is equipped with numerous straps that anchor on to your car's headrests to keep the cover secure and safe to use. It also includes pocket storage that can be useful to store some treats, dog food, and other items that you may need for your furry friend. Most of all, it is easy to clean and easy to bring anywhere.
Our Final Thoughts...
Overall, the Doggie World Dog Car Seat Cover made the cut to the best hammock-styled dog seat covers (click the link to read the full article). It has comfortable padding and is made with durable and waterproof material. It may not have the strongest clips but works great anyway. Having a convertible car seat cover is going to really make your day.
Amazon Best Rated Products - Last Updated on 2023-12-06. DISCLAIMER: Some or all of the product links on this page are affiliate links. The operator of this website received a small commission if you purchase products through these links, HOWEVER, there is no added cost to you. These commissions help to fund the operation of this FurryFriendsGear.com