Dog sweaters and vests come in different designs, shapes, and sizes – but they all serve one purpose: to keep your four-legged buddy safe and warm in the coldest of winters. I bought a couple of these sweaters for my dog, so there's a replacement within reach when I need to wash the other. And, I wanted to share my Kuoser Cozy waterproof windproof dog coat review here with you.
In this article, you can find:
My comprehensive review of the Kouser Dog Vest
Tips and Advice on What To Consider When Buying a Dog Sweater/Dog Vest
Alternatives Sweaters To Think About
While some dogs are built for the winter, i.e., Huskies and Malamutes, others aren't as lucky. For one, I can't imagine my small pup going outside for a walk without any clothing or protection on.
Let's get right to it, shall we?
Kuoser Medium Cozy Waterproof Windproof Reversible British Style Plaid Dog Vest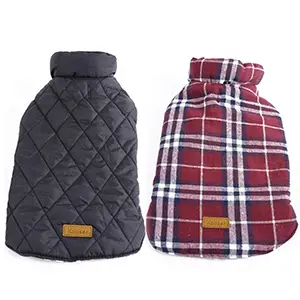 The Kuoser Cozy Waterproof and Windproof dog sweater comes with a host of features that'll keep your beloved pup protected from the frigid temperatures in the winter. The manufacturer pitches that its product can also be used indoors, thanks to the soft and warm feeling brought by the cotton and polyester material. Is it the small dog sweater you've been looking for all along?
What's Good
Made from high-quality material
Distinctive design
V-shaped rear for male dogs
What's Bad
Sizing is limited to small and medium-sized dogs
Not as thick as other sweaters
Inaccurate sizing
Dog Sweater Highlights
Cotton and Polyester Combo
The Kuoser small dog sweater is made from combined polyester fiber and cotton to come up with a product that's comfortable and long-lasting at the same time. Polyester serves as the filler, while the outer cotton material ensures maximum comfort for the dog. The sweater doesn't easily give in to frequent washes, too.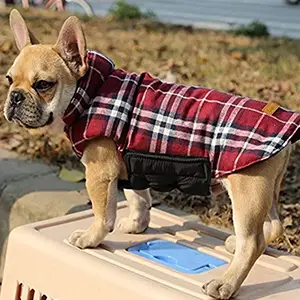 Water Resistant
This sweater's outer layer has water-resistant properties to prevent the dog from getting soaked in water or moisture when it's outside playing or addressing the call of nature. Any liquid material slides off the surface instead of absorbing, thereby keeping the dog warm and dry inside.
Unique Design
The exquisite stitching and attention to the design details are what makes this small dog sweater stand out from the competition. It comes with a vintage look that perfectly complements any mood. I chose this sweater because I knew right away that my dog would look great in it. Well, I was right from the get-go.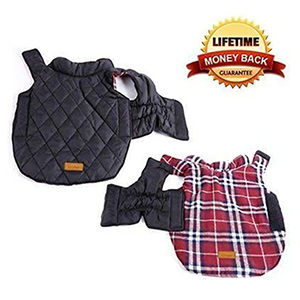 Comfortable and Lightweight
Kuoser's take on a small dog sweater checks all the boxes for your Poodle, Chihuahua, Beagle, and other similarly sized breeds. Its lightweight property makes it doubly comfortable for the pup as it doesn't have to carry that much of a burden. Even with the lightweight material, it's remarkable to know that this sweater can take on strong winds.
Easy to Wear
This waterproof and windproof dog coat isn't just comfortable; it's also convenient to put on and take off. I once had a massive burden of having to let my dog get in and out of his first sweater, so I got rid of it. When we tried the Kuoser Cozy dog sweater on for the first time, the ingenious hook and loop closure design made everything stress-free.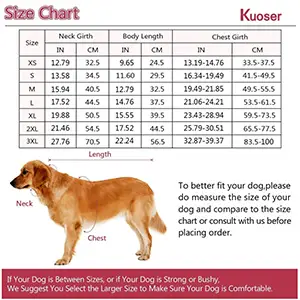 What Others Think About The Kouser Dog Coat
Now let's read some of the comments from actual owners of the Kuoser Cozy Waterproof Dog Sweater:
Pat is one happy customer, and by the looks of it, the sweater fits the dog perfectly.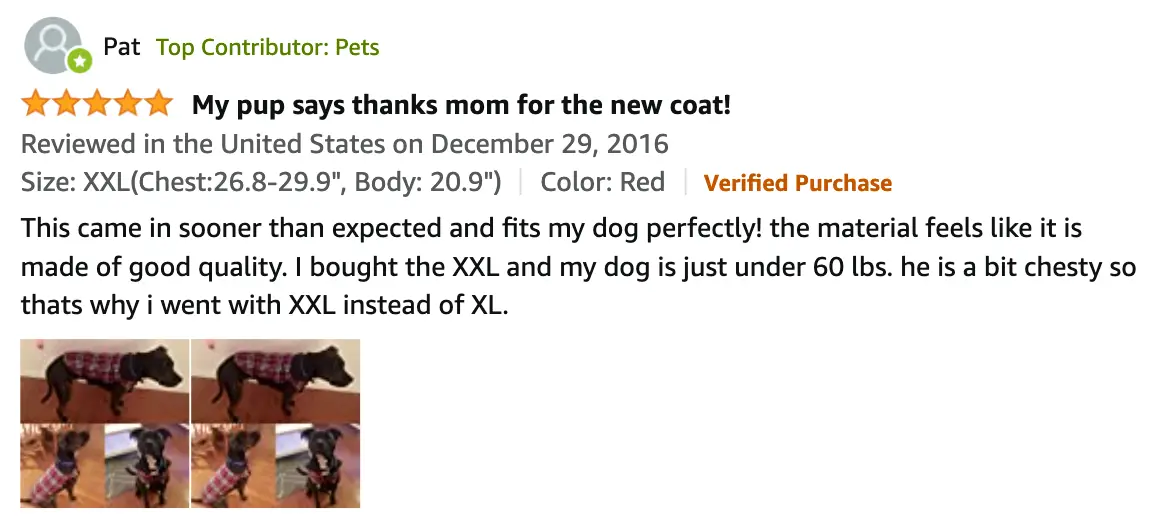 Nick Franklin shows us that this product is intended for small and medium-sized dogs. His female boxer looks funny (and awkward) wearing it.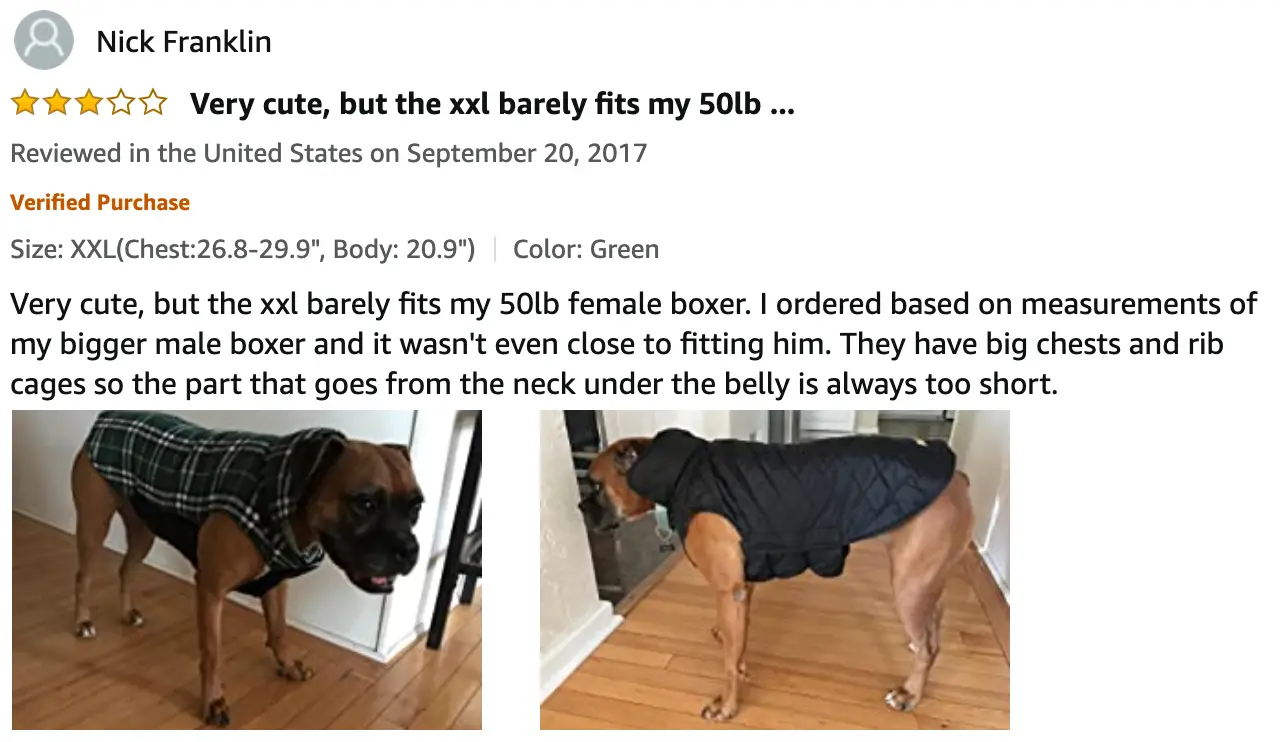 Greg took this photo with perfect timing. It also highlights the classic design of this fashionable dog coat.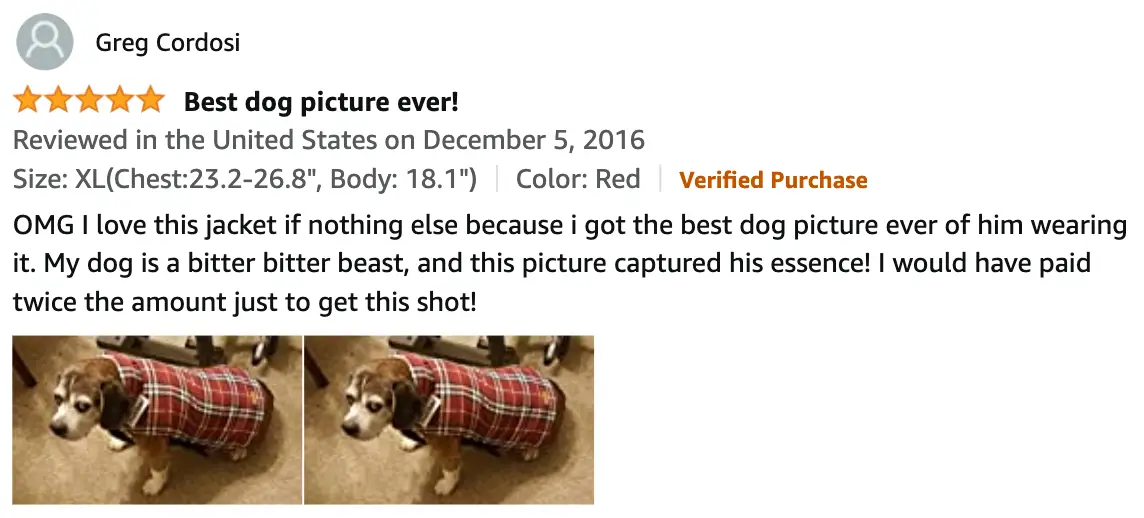 What to Consider in The Purchase of Small Dog Sweaters?
There's an ongoing debate on the practicality of dog clothing. Some people think of it as nothing but for vanity's sake. But when the winter approaches, dog owners get to tell the skeptics, "we told you so." Indeed, dog sweaters make your pup look fashionable, but they're invaluable when it comes to safety in times when temperatures reach below zero.
Quality
When you're buying a dog sweater for the first time, be sure that the focal point of your search is the quality of the product. The reason is that you want the sweater to keep your pup comfortable and warm. Some dog coats are made from substandard fabric material and are too thin that they can't serve the purpose.
Dog Breed
You also must consider your dog's breed and the thickness of its coat before you buy a sweater. Like I mentioned earlier, some dogs are built for winter, and they have thick enough coats to protect themselves from the snow and freezing temperature. Hence, if you have an Alaskan Malamute or Siberian Husky, then you won't have a use for a dog sweater. On the other hand, small dogs and those with thin coats need help to keep themselves comfortable in the winter.
Measure Your Dog
Before you start shopping for a dog sweater, see to it that you take exact measurements of your pup. The goal is to get something with a snug fit, and the only way to do that is by taking the dog's measurements as accurately as possible.
The ideal sweater is snug against the skin, but not overly tight. Measure the dog's neck, precisely the distance from the waist to the neck, as well as around the broadest part of the chest. Lengthwise, measure from the neck to the waist and be sure that the hind legs are free of any clothing.
Click here to view our step by step guide on how to measure your small dog for a sweater.
Alternatives To The Kuoser Cozy Waterproof Windproof Dog Coat
If you aren't convinced of the Kuoser dog coat's features, perhaps a bit of comparison shopping will help you decide. Please check out our comprehensive review of the best dog sweaters for small dogs or check out these three alternatives:
Fashion Focus On Knitwear Dog Sweater
This dog sweater is designed for small dogs, keeping them warm and fashionable at the same time. The material from which it's made from promotes convenient washing and drying. Like the Kuoser Cozy waterproof dog sweater, it has an easy in and out design. Learn about the Fashion Focus On dog sweater here.
Mihachi Classic Cable Dog Sweater
Like the Kuoser dog coat, this one emphasizes fashion. It looks trendy on your dog, but don't mistake it for something that's nothing more than aesthetics. The Mihachi dog sweater is made from high-quality terylene – a soft yet warm fabric material that offers maximum protection against the winter. See more of this product by clicking here.
BINGPET Turtleneck Dog Sweater
As the name suggests, this coat is highlighted by the turtleneck design that traps body heat. Coupled with premium quality acrylic yarn, this dog sweater is comparable to the Kuoser dog coat in terms of comfort and warmth. You can check the product out by visiting this link.
Kuoser Cozy Waterproof Windproof Dog Coat Final Thoughts
Whatever your choice of a dog sweater, the reality is that your small pup needs one for it to be safe during the winter. Not all dogs are built to withstand frigid temperatures, so it makes sense to invest in a sweater as it offers a practical function. The Kuoser Cozy Waterproof dog coat may be the one you're looking for with its collection of realistic features.