Dogs don't like anything that they're not comfortable with, and one of those things is when you put something around their neck. If you recall the first time you placed a collar on your pup, it probably took some time to get used to it. Now imagine putting a bulkier and heavier version like a dog cone or e-collar. In this Suitical Recovery Suit Review we are going to look at a nice alternative to dog cones or e-collars that will keep your dogs happy and comfortable
The "cone of shame" is what veterinarians prescribe for post-surgery care; that time when you need to prevent your pup from licking or biting its wound. The problem with a cone is that it's way too inconvenient for the dog since it restricts its movement and sight. Thank goodness, there's a practical alternative called the "dog onesie" or "dog recovery suit." The onesie offers more comfortable protection for the wound, but don't think that all varieties you find online will help your dog during the recovery period. You at least must know how to choose the right one.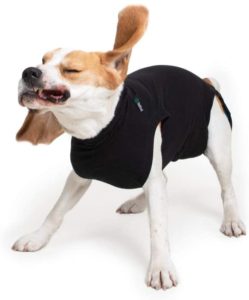 Suitical Dog Recovery Suit
The one thing that piqued my interest in the Suitical recovery suit is its snug fit – as if the design is focused on retaining the dog's natural shape. The breathable cotton and Lycra fabric combination offer maximum comfort and freedom of movement. The manufacturer claims that it doesn't compromise durability even with a focus on creating a product that will help a dog recover from its wounds in the most comfortable way possible.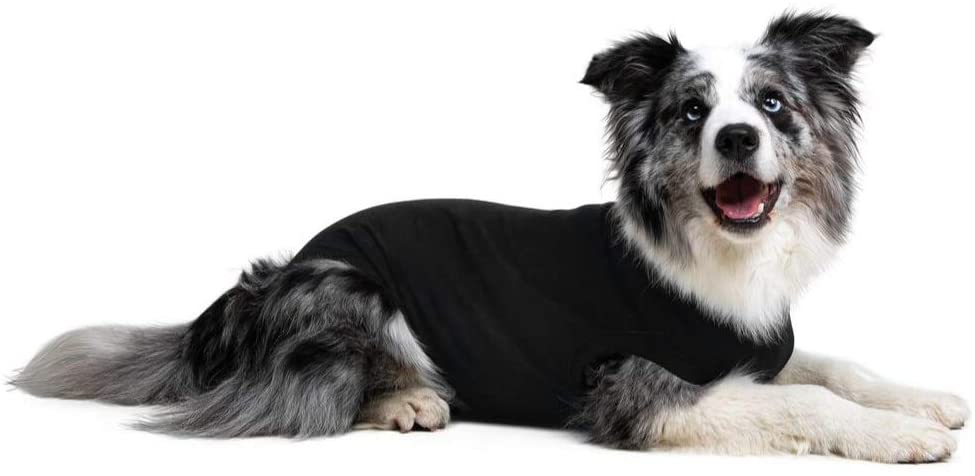 Quick Glance
What's Good
Made from high-quality soft cotton material
Stretchable fabric doesn't restrict movement
Comes with snaps on the rear
What's Bad
Hair magnet fabric material
The stretchy fabric can get soaked in pee
May not last if worn by an overly aggressive chewer
How Do You Benefit from the Suitical Dog Onesie?
Maximum Convenience
Opting for a dog recovery suit like this one from Suitical makes a lot of sense in the comfort perspective. You no longer force your puppy to wear that dreaded "cone of shame," which is notorious for restricting movement. With this dog onesie, the pup not only moves freely, but it can also eat and drink with no annoyance.
Patented Design
The product comes with an exclusive and patented design meant to provide a seamless transition for a pup that has never worn anything like it before. The reason why a cone or e-collar doesn't sit well with dogs is that it doesn't promote comfort at all. This one is the complete opposite since it is a perfectly snug fit and light enough not to cause any "weight" issues. It comes with a rear fastening design to conveniently secure it in place.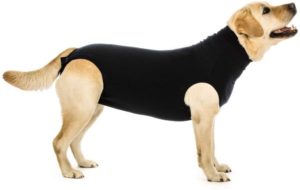 Four-Way Stretch Fabric with Inner Panel
The Suitical dog recovery suit is made with four-way stretch fabric and reinforced by an inner panel. The fabric type offers versatility, while the inner panel is meant for the insertion of a pad when your dog is in heat or experiencing incontinence.
Protective Collar
The product has an attached protective collar situated at the front and hind legs, as well as around the neck. The purpose is to guarantee that the suit doesn't rub or cut the legs and tail of the dog when it continually moves.
Hold-up System
The hold-up system is another reason why I consider the Suitical recovery suit as one of the most versatile options out there. What you can do with it is roll the shirt up inside and secure it using a snap. But be sure to close the shirt when you come home to retain the maximum protection of the wound.
Adjustable Snaps
With the adjustable snaps and nifty closure design, it's almost impossible for your pup to get out of the recovery suit. The closure is situated on the back, which means the dog has no way of getting access to it. Meanwhile, the purpose of the adjustable snaps is to loosen the shirt when you need to, or maybe make it more secure when your dog is stubbornly trying to get out of it.
Suitical Recovery Suit Review Of Other People
As with all accessories and stuff I buy for my dog, I always exert the extra effort and time to read reviews. User feedback is the most accurate depiction of how a product performs in the real world. For the Suitical recovery suit/dog onesie, the response is apparently on the positive side.
Jessica was quite surprised when her dog liked wearing it, considering that it wasn't a big fan of previous shirts and neck shields it was forced to wear.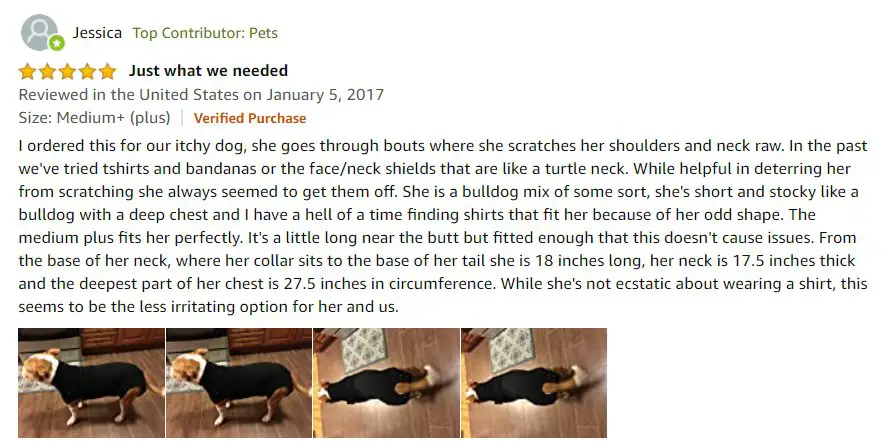 Brittany K. loves the fact that it covers both the belly and chest since her dog had hotspots on both parts.

Meg's first experiment with a dog recovery suit didn't go well. The switch to the Suitical recovery suit made all the difference.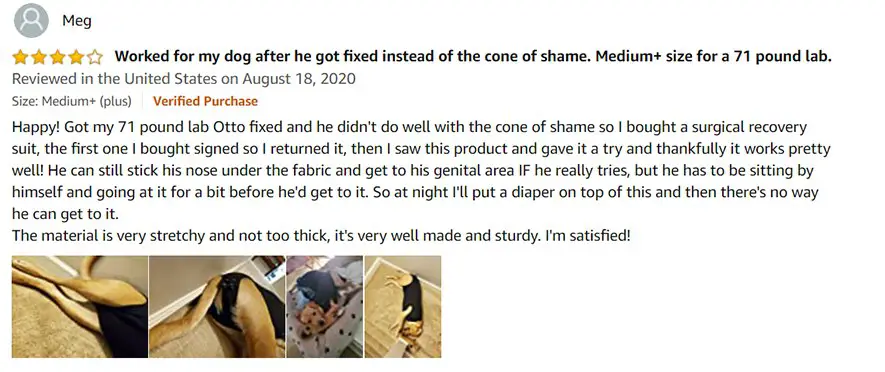 A Look at Similar Products
The Suitical Dog Recovery Suit is just one of the handful of feasible dog e-collar alternatives. You might as well check out these products for the sake of comparison:
MAXX Dog Recovery Suit
This is a recovery suit/onesie that not only provides a comfortable daily clothing option to your pooch, but also effectively covers and protects a wound, hotspot, or any skin condition. The manufacturer says that it doubles as a pet warmer, thanks to its snug fit and complete coverage, including the chest, abdomen, back, and shoulders. Like the Suitical onesie, veterinarians highly recommend this as an alternative to the e-collar or dog cone. See what makes the MAXX version of a recovery suit stand out by going to this link.
After Surgery Wear by Vet Med Wear
This product is primarily designed to protect a dog's abdominal wound. Unlike the traditional "cone of shame," it doesn't hinder the pet's mobility while keeping the wound away from the licking and scratching. It shares the same concept with the Suitical dog onesie in a way that allows convenient movement, which means it doesn't stress the dog out. So, if you're interested in learning what more can this onesie offer, click here.
FOREYY Onesie
Arguably one of the most recognized names in pet accessories and clothing, FOREYY ups the ante with its extra soft cotton padding on the belly portion of its premium dog recovery suit. It's a worthy rival of the Suitical dog onesie mainly because of its design that allows for maximum air circulation. Get to know more about the FOREYY onesie by visiting this link.
Suitical Recovery Suit Review Final Say
We always look out for what is best when it comes to our dogs. I have several pups at home, and the responsibility of post-surgery care is no cakewalk, especially in dealing with the wounds. No matter how disciplined your dog is, it'll always carry with it the instinct of scratching or licking the wound. So, my discovery of the Suitical Recovery Suit undoubtedly gave me a huge lift.
Click here to get current pricing on Amazon for the Suitical Dog Recovery Suit>>
What to Look for in a Dog Recovery Suit
While e-collars are designed to restrict a dog's access to the post-surgery wound, the recovery suit works better, like in this suitical recovery suit review, since it provides superior protection. As it covers the wound, the onesie gives both the dog and its owner the peace of mind during the recovery process. So, aside from preventing the pet from licking or scratching its wound, the onesie also helps in keeping the animal comfortable throughout. But don't buy just any generic or low-quality product.
The best dog recovery suit is made from at least 90% cotton material. The reason why you should pay attention to the material is that cotton provides comfort and breathability in one. Some cheap recovery suits are made from cloth and fabric that cause itchiness, while others can even cause skin irritation.
Pick up a dog recovery suit that's machine washable, and I don't have to tell you why. Dogs find themselves in the unlikeliest places, which means that any clothing they wear will become dirty and filthy over time. The last thing you want to see is the wound getting infected because of a dirty or soiled dog onesie.
Finally, buy a dog recovery suit that fits perfectly. You can't choose one that's too tight as it won't allow the wound to get some air. On the other hand, a loose onesie means that your dog can get out of it quickly when it wants to.