All dogs must go through a rough patch in their lives, and nothing could be more painful and inconvenient than surgery. When Mat, my French Bulldog got neutered a couple of years back, the two weeks that followed were the most difficult for us. We knew we had to make a choice, and we're glad we did. But it wasn't easy. Back then, I didn't realize how uncomfortable it was for my pooch to wear those dreaded Elizabethan collars or "cone of shame." He couldn't even eat and move because of it. One of the things I regret is not finding out about Dog onesies, like in this Foreyy Onesie Review, earlier.
If I could turn back time, I should have opted for one of those comfortable and stylish alternatives to a dog cone. Arguably the most popular variety is the Dog Onesie.
FOREYY Dog Professional Recovery Suit/Foreyy Onesie Review
Our discussion of the dog onesie as a practical replacement to the dreaded cone of shame brings us to this: the FOREYY Dog Onesie. This professional post-surgery recovery suit affords comfort, reasonable price, and most importantly – effective way to protect a wound, hot spot, or surgical suture. An onesie or recovery suit – whatever you may call it, this product claims to provide a smooth recovery experience for your furry friend. By the looks of it, it's easy to assume that it'll work better than the e-collar or dog cone.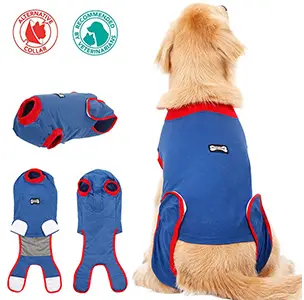 Quick Glance
What's Good
Soft cotton material brings maximum comfort
Comfortable to wear and washable
Doesn't restrict movement
Elegant and stylish
What's Bad
Size, as indicated in the advertisement, may not be accurate
The suit could get wet when the dog urinates
An overly stubborn dog can rip it off
Prominent Features of the FOREYY Onesie
Emphasis on Comfort and Safety
Although most veterinarians recommend that your dog wear an e-collar after surgery, they likely will agree that the FOREYY recovery suit is the perfect alternative. The reason is that it provides the ideal combination of comfort and safety – both of which aren't found in the cone of shame. There's no denying the effectiveness of the e-collar, but you can't help but be sad when you see your dog wearing it. The advantage of the dog onesie from FOREYY is that it increases your dog's mobility while protecting the wound at the same time.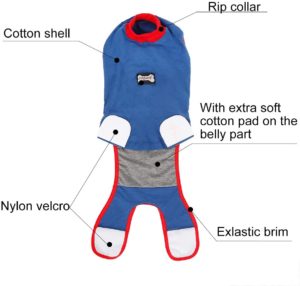 Maximum Protection
Talking about protection, this dog recovery shirt is made from specially woven fabrics that afford not only comfort but also maximum protection. The fabric material deters the dog from licking the wound, plus the design is meant to cover the crotch, wound, and the inflamed skin from other pets. It is particularly useful if you have more than one dog at home.
Easy Fit
The breathable and light fabric material is reinforced with an extra soft cotton pad on the belly portion, thereby allowing for an ideal fit for your dog. There's also an integrated hook and loop design that makes it convenient to adjust based on your dog's size and body shape.
Improved Air Circulation
They say that dog onesies don't help in speeding up the recovery process since the wound is covered. Well, not this one. The FOREYY Onesie is designed with a constant airflow circulation system that protects the wound while also allowing air to come in. Breathability is crucial since the air that enters through the fabric contributes to quicker healing and recovery.
Professionally Designed Recovery Suit
Dogs unknowingly lick and scratch on their wounds, and it is part of their instinctive behavior. It's up to the owner to figure out a way to prevent the pet from doing it as it may cause an infection or delay the healing process. Although the e-collar or cone of shame is quite effective in preventing the dog from licking the wound, it just doesn't work out for most pups because it is too uncomfortable. The FOREYY dog onesie is different because it is professionally designed to emulate dog clothing. In other words, it protects the wound and promotes the natural movement of the pet. The design will make the dog feel as if it isn't wearing anything.
What Others Say About The FOREYY Onesie
Before I decided to buy the FOREYY Onesie, I went through hours of reading testimonials and watching videos. I didn't want to waste my time on a dog recovery suit that my dog probably won't like. If there's one person in the world who knows what this pooch likes and dislikes, that's me. I admit I was a bit surprised that most reviews on this product were on the positive side. Maybe the only issue (though a minor downside) is the difficulty in finding the right size. Here's are some Foreyy Onesie Reviews of other people: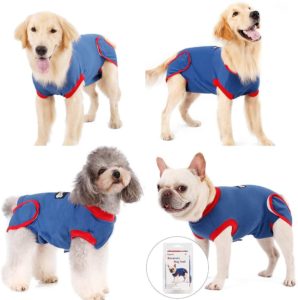 Morgan would have given this a 5/5-star rating if not for the snug fit. He probably would have wanted some allowance for his dog to enjoy some breathing room.
Sarah H. can't help but admire the design of the product, although her dog started chewing on the fabric because the size that she bought was too big.

@mLehua found the best replacement for the cone of shame. It seems like the dog onesie is here to stay even after the recovery period.
Alternatives To The FOREYY Onesie
Surgi Snuggly Washable Disposable Dog Diapers Keeper
This dog onesie is an all-in-one recovery suit that protects your dog's abdominal wound. It is also ideal for wearing after neutering or spaying. Like the FOREYY onesie, this one is designed with comfort as the primary consideration. The glaring difference between this product and that of the FOREYY recovery suit is that it is disposable. If you think that the Surgi Snuggly is the better option, then read more about it here.
Suitical Recovery Suit for Dogs
This product aims at protecting not just post-surgery wounds, but also skin conditions and incontinence in dogs. It's a recovery suit that is like the FOREYY Onesie in a handful of ways. It is lightweight and made from breathable fabric. The manufacturer markets it as useful enough to provide maximum protection, more like a second skin. The dog can go about its usual activities and routine with the Suitical recovery suit on. To find out more about this product, please click here.
MAXX Dog Recovery Suit
This dog onesie/recovery suit brings the same function to all other onesies in a way that it covers the wound so that the dog can't access it. Works on any sore or skin issue, including burns, rashes, and post-surgery wounds. It comes with a snug fit and reinforced by a zipper so that the dog can't easily remove it. It is made from 96% cotton material, which means it is comfortable and soft to wear. Learn more about the MAXX dog onesie by visiting this link.
Our Final Thoughts On The Foreyy Onesie Review
I've dealt with dogs that had to go through weeks of recovery after spaying, neutering, and surgery. It was only recently when I came across the FOREYY Dog Onesie. While my dogs and I did have a fair share of the cone of shame experience, we're happy that there is something much better to help in protecting the wounds after surgery. I couldn't imagine using a dog cone ever again.
Click here to get current pricing on Amazon for the FOREYY Onesie>>
Why Choose a Dog Onesie and How to Buy One?
It's hard to blame pet owners who decide to cancel or delay a much-needed surgery. The reason is that there's a constant risk of the animal hurting itself while recovering. The post-surgery wound must always be kept clean, but the dog has this habit of licking, biting, or scratching it. It is why vets insist on forcing the animal to wear the cone of shame. The problem is that dog owners know all too well that their four-legged buddy doesn't like wearing the e-collar.
I recommend the pet onesie and would prefer it over an Elizabethan collar any time of the day. It is by far the most critical aid in post-surgery care. The dog onesie covers the wound so that the dog can't lick or bite it. While the cone of shame restricts access, the onesie does the same without the utter inconvenience. It is also affordable and comfortable to wear.
When buying a dog onesie for the first time, be sure to choose something that's specifically designed for post-surgery care. Some onesies are exclusively for comfort and style, but those created for post-surgery recovery come with unique features and design.
The best dog onesie is the one that's made from soft fabric or cotton material. Since the material contacts the wound, you want it to be smooth and soft enough not to irritate. Also, cotton makes perfect sense since it is a breathable material. Although it works by covering the wound, cotton dog onesies still allow it to breathe and get air inside.
Furthermore, the best dog onesie must be made from washable material. You don't want to be purchasing another one simply because the old onesie is dirty and soggy. A washable onesie makes sense as you need to clean it to avoid infection from foreign material.