A dog onesie or recovery suit promises comfort and freedom of movement, which is why it's a much-preferred option compared to an e-collar or dog cone. If your pup recently had to go through surgery and has some fresh wounds, it's your job as its owner to ensure a stress-free post-surgery recovery period. In this Surgi Snuggly Review we are going to explore the advantages and features of a dog's onesie.
The first time I used the dreaded "cone of shame" on my dog after neutering, the only thing it did was scare the animal. I could barely watch my pup struggling with the cone on its neck. I knew I had to find an alternative in the form of the dog onesie.
Surgi Snuggly Washable Dog Onesie
Of the several dog onesies I bought for my dog in the past three years, I'm partial to this Surgi Snuggly creation. It is marketed as a washable dog diapers keeper, but when you look closer, it works as a nifty clothing option and a post-surgery recovery suit at the same time. It is available in different sizes so that you can buy one for your pup or an adult canine. Like all other onesies for pets, this product works by covering and protecting the wound so that the dog doesn't lick, bite, or scratch it. This Surgi Snuggly Review will look at the Surgi Snuggly's features and benefits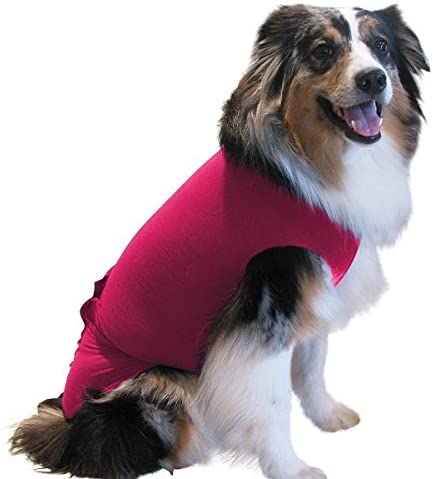 Quick Glance
What's Good
A comfortable alternative to the dog cone or e-collar
Made from soft cottony material
The design allows for easy in and out when wearing
What's Bad
May not be as useful as an e-collar for an overly aggressive dog
Pricier than other dog onesies
The size indicated in the advertisement may not be accurate
What You Can Expect from the Surgi~Snuggly Washable Dog Recovery Clothing/Onesie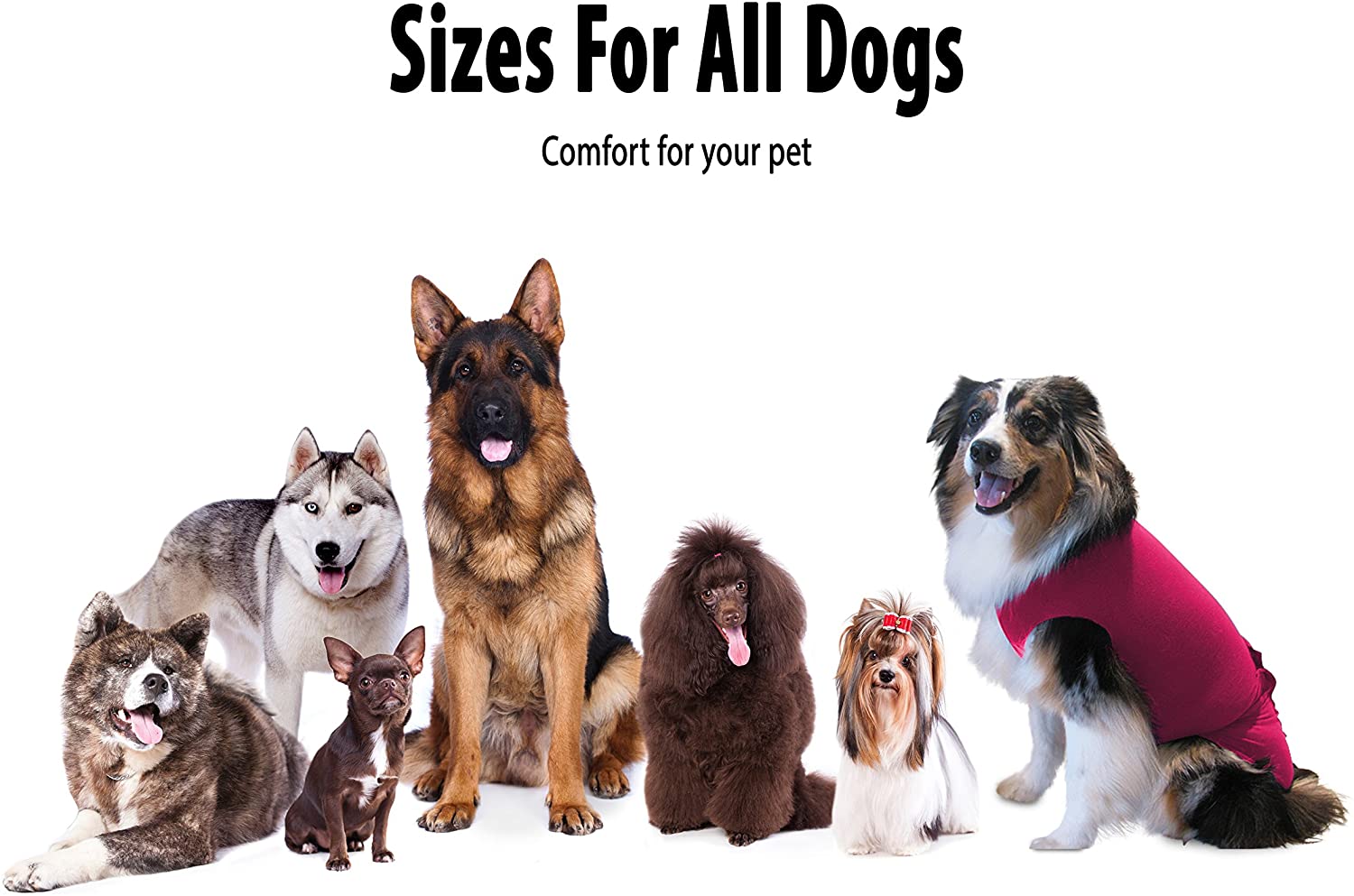 Soft Compression + Inescapable Design
What makes this dog onesie/diaper keeper stand out from the rest is its soft compression design that wraps the pup and provides a hold that is almost impossible to escape from. Not a lot of people realize that gentle compression in any dog clothing contributes to getting rid of anxiety and stress. When your pet goes through surgery, you expect it to be bothered with the wound. The last thing you want is to force it to wear a dog cone. Fortunately, this onesie offers an excellent alternative.
Breathable Fabric
The reason why you choose a dog recovery suit like the Surgi Snuggly instead of the classic Elizabethan collar is that your dog hates the latter so much. But the problem with some cheaply made onesies is that pets don't feel comfortable in them. Good thing the new Surgi Snuggly onesie is made from breathable fabric, making it remarkably comfortable to wear. Even a dog that quickly gets irritated won't complain.
Prevents Odor and Buildup of Germs
Aside from the breathable fabric material, this product also has antimicrobial properties, which essentially makes it an ideal cover and protection for a post-surgery wound. The fabric ensures that the wound is clean all the time. It also prevents the buildup of germs even if the onesie isn't washed for several days.
Washable and Easy to Dry
Another attribute that separates this product from many other dog recovery suits out there is that you won't have a hard time cleaning it. I've used a handful of other onesies for my dogs, and if there's one characteristic that they all share, it's the inconvenience of washing them. It might be because of the material that traps dirt in, making it a burden to clean and dry. Well, you wouldn't be complaining about washing and cleaning if you choose the Surgi~Snuggly Washable Dog Onesie.
Proudly American Made
Since you only want the best for your dog in a time when it needs utmost care, then you wouldn't want to settle on a substandard or cheap recovery suit. Know that this pet onesie is proudly American made, which practically guarantees its quality. You're sure that it doesn't contain chemicals or harmful substances. The manufacturer offers a money-back guarantee in case you're not satisfied with the product.
What People Are Saying About It
The most important thing I learned about using dog recovery suits and onesies after surgery is that not everything is what it seems. You may read a ton of nice things about a product on its website but take it with a grain of salt. By far, the most reliable source of information is actual reviews from customers. Here are some of the things I learned about the Surgi Snuggly dog onesie:
Kimberly attests that it's the only dog clothing she bought that successfully prevented her Boxer from escaping the diapers. She likes the fact that her dog isn't annoyed or irritated while wearing it.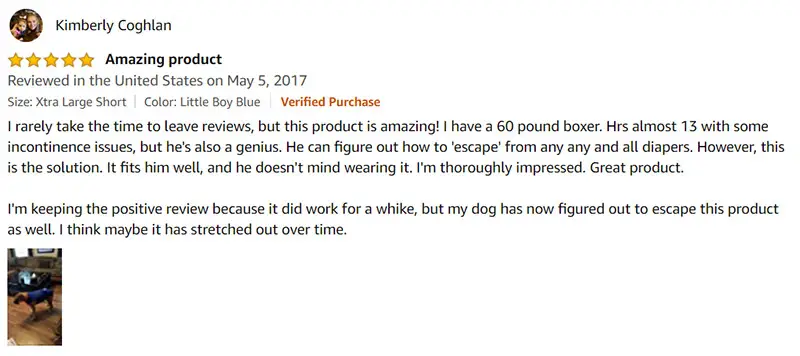 This dog diaper keeper made Djr1565's life more comfortable after his dog underwent surgery to treat colon cancer.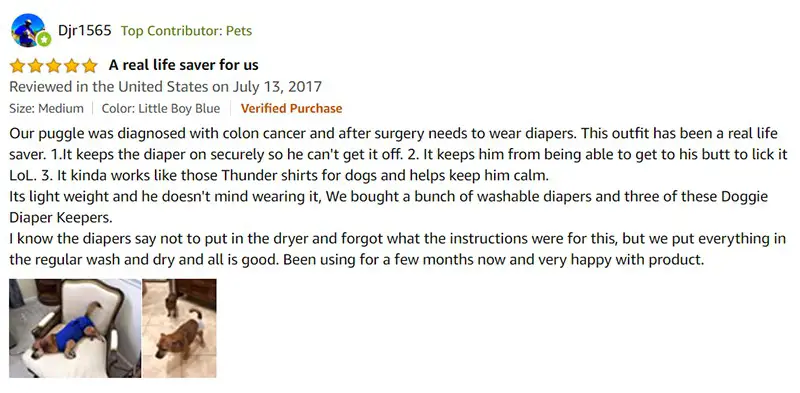 Derek Klein was on point when he said that pet onesies, including this product, may or may not fit with the dog. He likes it, but his dog escaped from it a couple of times.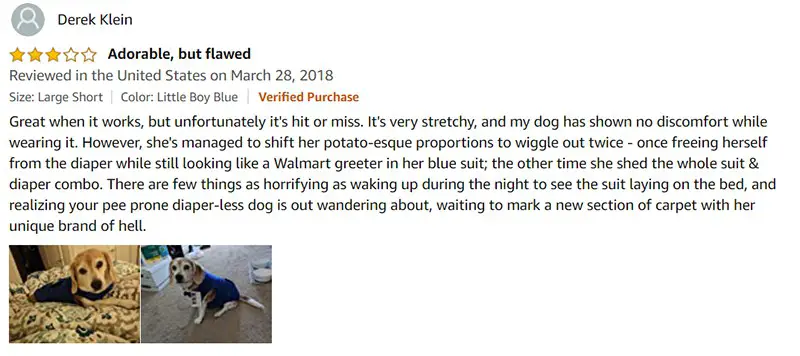 A Look at the Alternatives
The Surgi Snuggly dog onesie and diaper keeper isn't the only option available out there; you may also want to consider these for comparison sake:
Suitical Recovery Suit
This dog onesie is one of my favorites only because it features a genuine four-way stretch fabric for maximum breathability and comfort. Its advantage over the Surgi Snuggly is the presence of snaps near the tale that's intended for dog-walking. You'll learn more about this product if you click here.
MAXX Dog Recovery Suit
If you're looking for a onesie that emphasizes a warm feel for your dog while recovering after surgery, the MAXX dog recovery suit is an excellent option because of its snug fit. The manufacturer calls it an anxiety wrap that keeps the animal comfortable all the time as if it's wrapped in a blanket. Know more about this vet-recommended alternative to the dog cone by clicking here.
After Surgery Wear by Vet Med Wear
Like what the Surgi Snuggly offers, this e-collar alternative is highly recommended by veterinarians because of the nifty design. It protects abdominal wounds and provides a comfortable solution for post-surgery recovery. It comes in different sizes, too. See this dog recovery suit through this link.
Surgi Snuggly Review Wrap Up
Don't be like many dog owners who choose to add to their pet's suffering by letting them wear a cone while recovering from surgery. Your buddy deserves better, and you know that by now. Opting for a dog onesie makes sense, especially when you get some extra conveniences from the Surgi Snuggly recovery suit and diaper keeper. After all, there's nothing more important than your best friend's quick and stress-free recovery.
Click here to get current pricing on Amazon for the Surgi Snuggly Washable Dog Onesie and Diaper Keeper>>
How to Buy a Dog Onesie After Surgery
If there's one reason why most people hate the thought of taking their pups up for surgery is the potential inconvenience during recovery. You're torn between protecting the post-surgery wound and keeping the pet calm and relaxed. Initially, you think it's impossible to do both, but then you realize that you don't need a traditional e-collar.
We all know what the cone of shame does to our canine buddies. Yes, it does the job of preventing the animal from licking its wounds, but it's way too uncomfortable for them. Post-surgery care shouldn't only be about doing stuff to make the wounds heal fast; you want the experience to be as stress-free as possible for Fido. Well, that's exactly what a dog onesie provides.
Dog onesies cover and protect the wound; dogs have this instinctive response of licking the wound, which isn't a good thing. It could delay the healing process or even cause an infection. The onesie offers something unique since your dog conveniently wears it as if it's not there. But not all recovery suits are meant to provide comfort. If you're buying a dog onesie after surgery, be sure to factor in these things:
1 – Proper Fit
There's more to an ideal fit than merely being able to put it on. A onesie for recovery should fit effortlessly like a glove. Any discrepancy or imperfection could cause some level of discomfort, including pawing and nipping the fabric.
2 – Quality
Not all dog onesies are created equal – some are made from substandard and inferior quality materials. Although you can go for something cheap, don't expect it to last, plus your pup may not even be comfortable wearing it. The best type is the one made from breathable and soft fabric, i.e., cotton.
3 – Easy to Wear
Forcing your dog to wear a recovery suit may not be as straightforward as you'd expect if you haven't dressed your pooch before. Buy a dog onesie that's easy to wear so that the transition doesn't have to be as burdensome as it can get. The best type of onesie allows for a quick "in and out." You need this type since you must wash it regularly.