The way to a comfortable and successful recovery for your dog after surgery requires the use of a cone alternative, the dog onesie. Even if the veterinarian recommends the traditional e-collar or dog cone, most dog owners don't agree with it, and I'm one of them. My English Bulldog went through a lot of pain after getting neutered, and when I forced it to wear a cone, I could see in the animal's eyes that it was stressed out. When my brother told me about this Vet Med Wear dog onesie, I immediately switched to it. Well, I'm glad I did. Today in this VetMedWear Recovery Garments Review, we will look at its benefits and qualities.
What to Consider When Shopping for Onesie for Dogs
The conventional Elizabethan collar, or what most people refer to as the "cone of shame," is effective in preventing a dog from licking, biting, or making any contact with its post-surgery wound. But its effectiveness doesn't deny the fact that it is way too uncomfortable to wear. Anyone who has tried using it for their pet knows that it does not only restrict movement, it also puts the pup under a lot of stress. So, the last thing you intend to see is your dog feeling the pain from the wound and getting stressed out at the same time.
The dog onesie or recovery suit offers the perfect alternative. It is designed to mimic typical clothing for canines while providing maximum protection for the post-surgery wound. In other words, the onesie keeps the dog calm and relaxed while also allowing it to move freely. Unlike the dog cone, it doesn't restrict movement, get in the way of the pet's eyesight, or give it trouble sleeping.
When you're buying an after-surgery clothing for the first time, choose one that's made from cotton. It doesn't have to be 100% cotton, but make sure it's comfortable, soft, and won't irritate the wound. You must understand that not all dog onesies are made from premium and soft material, so be wary of those cheap ones that may not be comfortable for your pup. When the dog isn't comfortable, it'll find a way to wiggle out of it.
Another thing to factor in is the size of the dog onesie. You can't make your pet wear something that's too tight or too big. The former will suffocate the wound and won't give it the proper airflow for faster healing, while the latter may be too loose that the dog will quickly get out of it.
The best dog suit is the one that you can wash either by hand or washing machine. You must pick one that's washable since no pet owner wants to spend hundreds of dollars for a disposable recovery suit. Also, a washable dog onesie is a sign that it is made from high-quality material.
Vet Med Wear After Surgery Onesie
Vet Med Wear is no stranger to pet accessories and clothing, and the company's After Surgery Wear is marketed as a patented e-collar alternative. Its design is meant to protect the pet's abdominal wounds. However, it isn't exclusive for abdominal surgeries as it can also be useful for dogs that recently underwent neutering, spaying, and lump removal. Is this the dog recovery suit meant for your four-legged buddy? Well, this After Surgery Wear by Vet Med Wear Review will help you find out!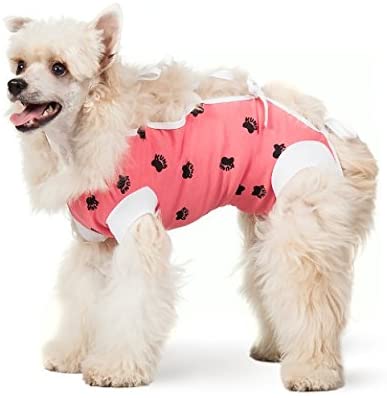 Quick Glance
What's Good
Comfortable and lightweight
Fits nicely with dogs of different sizes
Machine washable product
What's Bad
Not as durable as its counterparts
The ties develop frayed ends after a couple of washes
Design of the back-end portion needs improvement
Vet Med Wear Dog Onesie Features
Unique Design for Bathroom Needs
The one thing that separates this dog recovery suit from its competitors is its ingenious design that makes up for a more convenient bathroom experience for the dog. The product doesn't have an opening for a male dog to urinate, thereby ensuring maximum protection for the abdominal wound. On the other hand, the same product that's designed for female dogs has a cut in the back for the dog to conveniently urinate or poop without removing the suit completely.
Guarantee of Comfort
The reason why dog post-surgery recovery suits were made is to provide a comfortable alternative to the e-collar; the Vet Med Wear variety is no different. The comfort it provides for a recovering dog means that the animal won't feel stressed out. It also encourages mobility and movement while making sure that the wound is protected from the likelihood of licking and biting.
Secure and Snug Fit
The After Surgery Wear dog recovery suit comes in a secure and snug fit that prevents the pup from wiggling out of it. The fit may take some getting used to, but it is always meant to keep the wound protected, especially when the dog is uneasy. There's also a pair of strings that act as reinforcement to keep the clothing in place.
Patented Design
The patented design is highlighted by the adjustable strings, making it a perfect fit for dogs of different sizes and shapes. Furthermore, the design includes an adhesive hygienic pad placed onto the fabric to absorb the liquid discharge from the fresh surgery wound.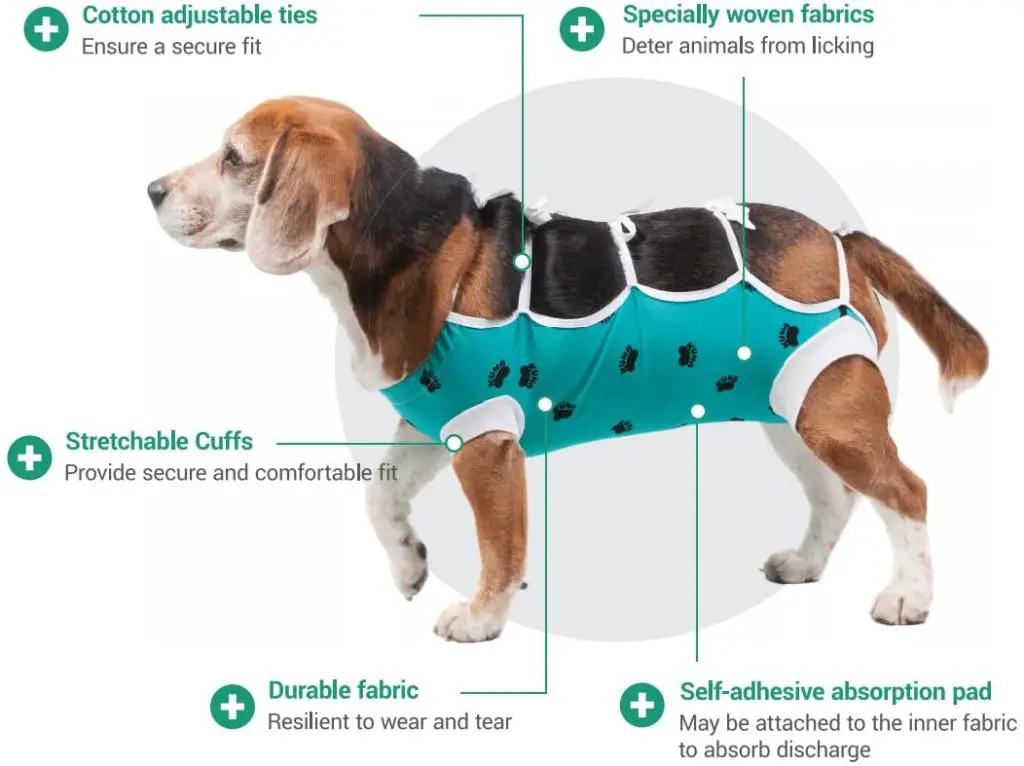 Premium Fabric Material
The best thing about specially woven fabrics is that they provide an effective deterrent from excessive licking. It's possible because it protects the wound, but the pet won't even feel that it's there. The reason is that premium fabric material is both breathable and light, which means there's an ideal circulation of air. Proper air circulation contributes to quicker healing.
Hypoallergenic Cotton
The fabric from which this product is made of is 100% cotton, which means it's hypoallergenic. The best dog onesie must have hypoallergenic properties because it's the most effective way of preventing skin irritation.
What Dog Owners Think of It
It won't take a Herculean effort to get to know a product more; what I did before I decided to buy the Vet Med Wear dog onesie was read a handful of actual customer reviews. It was then I realized that it was a gamble worth taking. Here are some highlights:
Braintired is no fan of the e-collar, he thinks it impedes the dog's recovery. His goldendoodle approves of the Vet Med Wear recovery suit.
T.J. Griffin's dog looks awesome in the recovery suit. He's appreciative of the fact that the dog doesn't have to sacrifice its routine.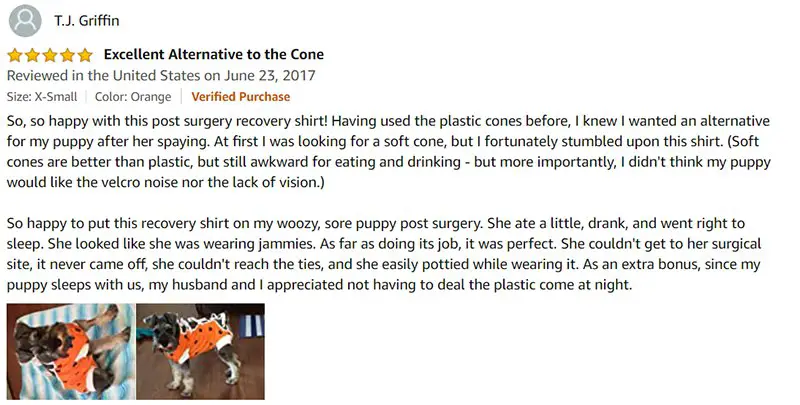 Jennifer thinks that the ties could use some improvement – a sentiment that's shared by a handful of other customers.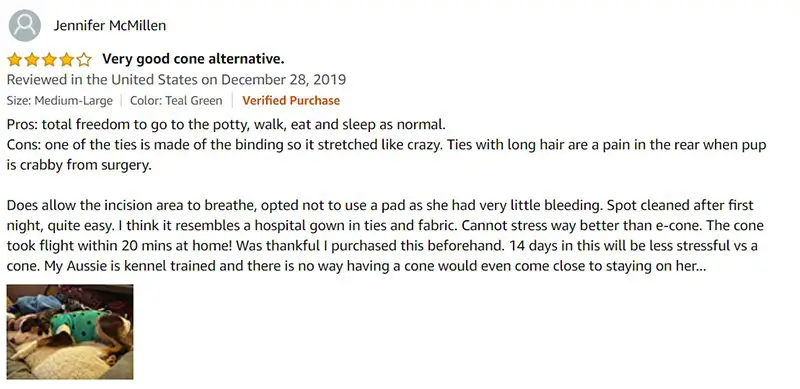 How About the Competition?
FOREYY Onesie
This dog recovery suit deserves your consideration because it works like magic as an alternative to an e-collar. Like the Vet Med Wear product, this is made from breathable and light fabric that allows for better air circulation. Additional information about the FOREYY dog onesie is available here.
Surgi~Snuggly
Although this product is marketed as a diaper keeper, it works like all other dog recovery suits. Its sales pitch is that it's inescapable once the dog wears it. Well, that is something you'll love if you have a dog who is stubborn enough to figure out a way to get out of its onesie. You'll learn more about the Surgi Snuggly onesie if you visit this link.
Suitical Recovery Suit
The Suitical recovery onesie shares most of the attributes of the product from Vet Med Wear; for instance, it protects the abdominal wound using a breathable and lightweight fabric. However, this product offers a more premium four-way stretch fabric that serves as a second skin intended for maximum protection. See the product here.
VetMedWear Recovery Garments Review Final Thoughts
No one's going to tell you that post-surgery recovery is easy. It's never a straightforward affair, especially when your dog gets easily stressed out. The reason why I prefer a dog onesie over the cone of shame is that I have an unpleasant experience with the latter. If you want to speed up your dog's recovery after surgery, go for a dog recovery suit.
Click here to get current pricing on Amazon for the After Surgery Wear by Vet Med Wear>>