Walking your cat might not seem conventional, but there has been an increase in the trend these past few years. This is because taking your feline friend outside to explore the great outdoors provides many benefits. For instance, it can help you bond with each other. However, before taking your cat out, you would need a cat harness and leash to help you with the task. In this article, we list five of the best escape proof cat harness found on the market today.
Five Best Escape Proof Cat Harnesses Reviewed
Kitty Holster Cat Harness

Petsafe Come With Me Kitty Harness

PUPTECK Adjustable Cat Harness

Below are some escape proof harnesses to keep in mind when choosing the best one for your feline friend.
Best Overall: Kitty Holster Cat Harness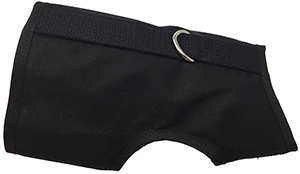 The Kitty Holster Cat Harness is available in various sizes, including extra small, small/medium, medium/large, and extra-large. It also comes in different colors and patterns like black, gray, red bandana, and tiger print. This jacket-style harness has a Velcro opening for easy wearing on your cat.
This product is made of undyed cotton lining. This lightweight material makes it comfortable and gentle on cats, especially those with delicate skin and hair. It does not have any straps, plastic clips, nylon, or other materials that might cause pressure points or skin abrasions. It is perfect for pets who need extra security as it hugs all around your cat's chest and back.
Read our detailed Kitty Holster Cat Harness Review here >>
Quick Glance
What's Good
Comes in various sizes and colors
Easy open and close with Velcro fastening
Made of ultra-lightweight, undyed cotton
Machine washable
Made in the USA
What's Bad
The collar might be too wide for some cats
The Velcro closure might not work well for cats with long hair or cats that are easily scared by the sound it makes
Runner Up: Petsafe Come With Me Kitty Harness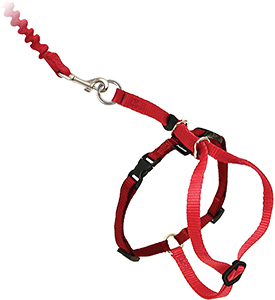 This harness is made by US manufacturer, PetSafe, which has been in the business since 1991. The product is made of durable and lightweight nylon. It comes in three sizes, namely, small, medium, and large. The smallest can fit a cat that has a chest girth of 9 to 11 inches. Whereas, the large can accommodate cats that have 13 to 18 inches chest girths.
The Come With Me Kitty Harness is made of durable nylon. The material and design were used for optimal comfort and breathability. It has a metal D-ring at the back so that gentle pressure is distributed evenly throughout your cat's shoulders when walking outdoors. This design keeps your cat from choking so you can explore the outside world safely. It also has a sternum slide so you can customize the fit according to your cat's size and shape. The two plastic snap-on buckles help with easy wearing and taking off as well.
Read our detailed Petsafe Come With Me Kitty Harness Review here >>
Quick Glance
What's Good
The package comes with a four-foot bungee leash that can extend up to six feet
Has limited lifetime warranty against defects
Made in the USA
Comes in various sizes and colors
What's Bad
Some users found that their cat quickly escapes from this harness
A few suggest that this harness is suitable for low-risk situations only because it is not as escape-proof
The leash that comes with it might come up short if you're a tall person
Best Value: PUPTECK Adjustable Cat Harness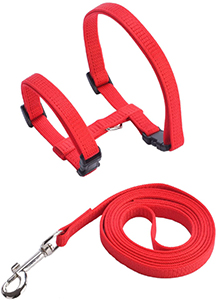 The Pupteck cat harness is made of durable nylon. The material is thicker than most other nylon harnesses, making it sturdier and more resistant to wear and tear. This H-style harness also comes in various colors like black, red, and even a multi-colored one.
The package comes with a harness and a lead that can fit cats under 12 pounds. It is available in one size only with a neck size of 7-10 inches and a chest size of 10-17 inches. Whereas, the lead has a length of 47.2 inches. The harness is also equipped with snap-lock buckles that allow for easy wearing and taking off.
Read our detailed PUPTECK Adjustable Cat Harness Review here >>
Quick Glance
What's Good
Adjustable to fit all life stages of your cat
Made of thicker than most nylon for added durability
Quick-release buckles for easy wearing and taking off
Available in various colors
What's Bad
The strap in the mid-section cannot be adjusted
The design might cause too much pressure to be placed on your cat's neck
The material can cause chafing when put on too tight
Most Comfortable: Rabbitgoo Cat Harness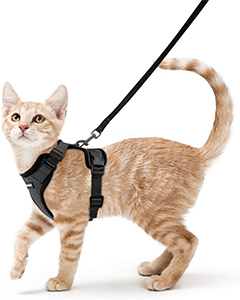 This harness is rated as the most comfortable because it is made of soft air-mesh fabric and nylon straps. Its durable and lightweight construction allows maximum comfort even while exercising. It is also lined with bright reflective straps so that you can still see your cat and keep them safe even in low light areas.
The straps also have four adjustable buckles, two on the neck-straps, and the other two on the chest straps. These snap buckles allow for easy wearing and taking off. They also let you customize the fit according to your cat's specific size and shape. However, the Rabbitgoo comes in only two sizes, namely, extra-small to small. It is available in different colors like black, pink, and yellow as well.
Read our detailed Rabbitgoo Cat Harness Review here >>
Quick Glance
What's Good
Has easy snap-on side buckles and a metal D-ring
Straps are made of nylon webbing for extra sturdiness
Lined with bright reflective straps
Available in multiple colors
Made of high-quality mesh material for breathability
What's Bad
Comes in two sizes only
A few users found that the harness isn't easy to take off
The neck hole might not fit some cats
Most Stylish: Lupine H-Style Pet Harness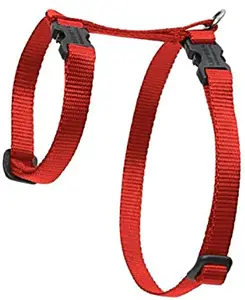 The Lupine Pet is a company based in Conway, New Hampshire that has been in business since 1990. It is the brand creator of the Lupine H-style pet harness made with woven nylon. This product features bar-tack stitching and a welded D-ring for added durability. The product is also equipped with custom-designed side-release buckles that allow easy wearing.
The harness comes in two girth size ranges. One is at 9-14 inches while the other is at 12-20 inches. It is best used by cats – or even puppies or small dogs – that weigh up to 20 pounds. It is also available in various colors, such as hot pink, purple, and green.
Read our detailed Lupine H-Style Pet Harness Review here >>
Quick Glance
What's Good
Has a lifetime guarantee
Made in the USA
Can be washed in the machine
Side-release buckles on the neck and chest straps
What's Bad
Might not be suitable for bigger cats as it only comes in two girth sizes
Patterned harnesses are said to be stiffer than the solid-colored ones
Does not include a leash but a matching padded one can be bought
Buying Advice
Things To Consider Before Buying A Cat Harness
Before you go out and buy a harness for your pet, there are some things you need to think about. One of the most important is your cat's size and shape. Not all cats are built the same. There are harnesses specifically made for kittens. They also come in different sizes to accommodate your cat's size. Other things to consider are as follows.
Different Types Of Harnesses
Cat harnesses have different kinds. Three of the main types include:
H-Style
This type is the most popular of its kind. It has the least amount of contact with your cat and does not need to be slipped over your cat's head. This feature makes it the preferred type to use on kittens. It usually has two-point buckles that are fastened on the side. This design focuses the pressure on your cat's chest and back. This way, your cat doesn't get hurt or choke.
Jacket Harness
Also called the butterfly harness, this type covers more of your cat's body. This feature helps secure your cat in the harness as it makes them less likely to wriggle out of it if they get scared while you are outside.
Vest Harness
A vest harness wears and looks like your typical vest except that they are fastened on the back. This style allows the pressure to be distributed evenly on your cat's chest. It also has more contact on your cat's body than an H-style, which is a helpful feature for when your cat makes sudden movements. However, this style usually needs to be slipped over your cat's head, and not all cats like this.
Benefits Of A Cat Harness
The most important benefit of a cat harness is that it prevents your cat from choking whenever you go for a walk. Cats have delicate throats and necks. Wearing a collar puts all the pressure on these fragile areas, and any sudden movement can cause injury. For instance, your cat can get spooked and might suddenly try to run away. With a harness on, you not only prevent them from running away and getting lost. You also keep them from choking or other worse injuries.
A cat harness helps distribute the pressure evenly across your cat's back and chest. It also assists you not just in walking your cat. It can also help even on short trips, like going to the vet. This way, your cat is secure and safe during travel, walks, and other outdoor activities.
Choosing The Best Harness For Your Cat
You have to remember that not all cats are the same. They have different personalities, sizes, skin and fur types, and shapes. All of these contribute to the decision on which harness will work best for your cat. If you are harness training a kitten, then you need to take that into account as well. There are harnesses made explicitly for kittens. This type is gentle, secure, and comfortable at the same time.
Some cats are also more outgoing than others. You would want a harness that can secure your cat better. Keep in mind that a cat can escape any harness if they try hard enough. The trick is to make it harder for them to do so. This way, you have time to stop them from escaping and getting lost.
Some cats have sensitive skin and fur. Therefore, you should take note of the material the harness is made of. It is generally recommended that you look for harnesses that are made with nylon or cotton. Avoid anything that can irritate your cat, such as leather, as this tends to be heavy and bulky. If you have a long-haired cat, you might also want to avoid harnesses with Velcro as hair can get caught in this.