As much as I'd like to argue with all my friends about the value of dog sweaters, there remains a stereotype over it. Some people think that sweaters, like all other dog clothing, are no more than aesthetics. Dog clothes indeed make your canine buddy look fancy, but sweaters offer more than looks.
I found out the hard way when I adopted a two-year-old Chihuahua from the shelter several months back. I was expecting that she could withstand the frigid temperature in the winter because she's an adult. Well, I couldn't be more wrong. I never thought dogs could suffer that much from the cold. Since then, I never let her go outside without her sweater. Fancy colors and a nice pair of little boots aside, I'm pitching for dogs with thin coats and small sizes to wear a sweater when it's cold and snowing outside.
Fashion Focus On's Knitwear Dog Sweater Review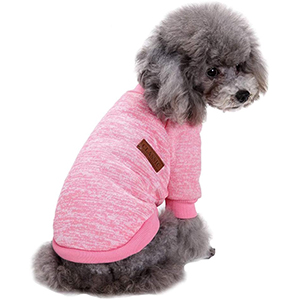 Comfortable, soft, and easy to wash – these are the anticipated attributes of the Fashion Focus on Small Dog sweater. Those three characteristics may be what you need for your small furry buddy. But we can't just decide without first understanding why it's a viable option. The manufacturer says that it is specifically designed for comfort while keeping the ability to provide warmth and insulate intact.
What's Good
Premium design and soft to the touch
Comes in different sizes
No feedback on itchiness
Extra comfortable
What's Bad
Sleeves are a bit longer than expected
Reports of inaccurate sizing
Even the smallest size may be too loose for a tiny breed
What Are The Features?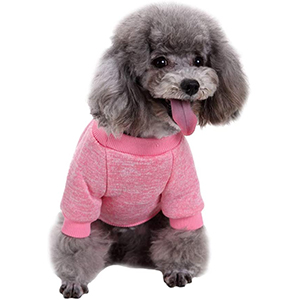 Woolen Material
This sweater is made from wool, which is expected since clothing meant to provide warmth should be useful in trapping body temperature. Wool is also durable and is quite resistant to wear and tear. While there's a negative stereotype on the inconvenience of wool when washing, the truth is that it does not require a ton of effort.
Made from Resilient Fibers
What makes tiny clothing for your equally small furry buddy interesting is that it's made from resilient fibers. Although you don't think of it that much, a resilient fiber type of sweater retains its original size and shape right after every wash. Therefore, don't expect it to have a degraded shape or quality even after multiple washes.
Easy to Dry
Although you may have read some articles about wool being unfriendly in washing and maintenance, what the skeptics don't tell you is that once you're over with the wash part, you just hang it out to dry. It won't take an entire day to dry.
Multiple Sizes
The Fashion Focus on Knitwear sweater for small dogs is offered in varying sizes, so it wouldn't be a problem finding one that ideally fits your pet. However, be reminded that this sweater is specifically designed for small dog breeds. Therefore, even if there's an "X-Large" size, don't expect it to fit on a Doberman, American Bully, Golden Retriever, or any other breed that doesn't count as "small."
Turtleneck Design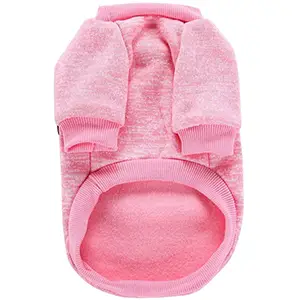 The turtleneck design isn't only for good looks. This Fashion Focus On product promotes maximum protection for the dog against the winter, and the addition of a turtleneck means that warm temperature is locked in and won't find an escape route in the chest and neck part. It traps body heat so that the dog successfully keeps itself warm as soon as she goes outside for a walk.
What Other Customers Have To Say About The Fashion Focus On Dog Sweater…
When buying any stuff for my dog, I always read as many customer reviews as possible. Most articles published about a product are advertorial in nature, which is why feedback from actual customers is the most reliable. Here's what I learned about the Fashion Focus On Knitwear Dog Sweater:
Patricia gives it 4 out of 5 stars; she thinks it's perfect, if not for the initial confusion on the size. Well, that's probably the only downside when buying clothes for your dog online.

Rae Lucas' Chihuahua sure looks comfortable with the sweater on. For anyone who has the same breed, the small size is the obvious choice.

Wendy is a fan of the sweater, and just by looking at the photo, her Chihuahua agrees.

How To Choose The Right Sweater For Your Small Dog
As I mentioned earlier, sweaters aren't exclusively for dressing up your dog. The need for it by some breeds is legitimate as it protects them from the weather elements, especially in winter. But like all other types of dog clothing, not every brand or product serves the purpose well. It's your responsibility to figure out which sweater is the best option for your small dog. Here are the things to factor in:
Material
Wool is the first thing that comes to mind when it comes to coats and sweaters. It's an accurate observation since wool offers the best warmth and additional insulation. The problem with it is that it is quite inconvenient to wash and maintain, making it a burden for the dog owner. Likewise, there are times when a sweater made from 100% causes itchiness in dogs.
The best small dog sweater that has no compromises is made from a cotton-wool combo. The cotton provides maximum comfort, while wool retains the warmth. The only drawback is that you'd expect to pay a hefty price for it. A more reasonable alternative is a small dog sweater that substitutes cotton with acrylic.
Design
You probably think that design is all about aesthetics, and you're mistaken. When looking at options for a small dog sweater, you must look at the design from a functional perspective. It means that you should carefully pick a sweater that won't interfere or cause any discomfort to your dog's movement. Most importantly, your pup should be able to relieve herself without the sweater getting in the way.
Fit
Your small canine buddy needs support when she goes outside during winter, and the sweater is more than enough. But be reminded that sweaters for dogs don't work when they're loose or too tight. A loose sweater defeats the purpose of trapping in the warm temperature and won't provide sufficient insulation. On the other hand, a sweater that's too tight will make your dog feel overly uncomfortable. So, when you're shopping for a small dog sweater for the first time, see to it that it fits.
Fashion Focus On Knitwear Dog Sweater Alternatives
Like how I always read reviews of the product I'm about to purchase, I also see to it that I do some bit of comparison shopping. So, check out our top 5 sweaters for small dogs or consider these sweaters for comparison:
Kuoser Cozy Waterproof Windproof Dog: This product is designed for small dog breeds, i.e., Poodle, Chihuahua, Beagle, and Teddy. But unlike the Fashion Focus On Knitwear, there are enough sizes for medium-sized dogs like a Golden Retriever or Schnauzer. The material construction is not as premium, but it does have water-repellent and wind-proof properties. Check out the Kuoser Cozy Waterproof dog sweater here.
Gooby – Fleece Vest: The Fleece Dog Vest from Gooby is marketed as a pullover since it offers a convenient and quick way to wear. There are no zippers or Velcro to keep it secure since the design is centered on eliminating those things. Its main difference to that of the Fashion Focus On sweater is that it is a slip-on. Learn more about this small dog sweater by visiting this link.
Zack & Zoey Basic Hoodie for Dogs: The best thing about the Zack & Zoey hoodie is that it can fit even a large-sized dog, thanks to its bevy of size variations. Unlike the Fashion Focus On Knitwear dog sweater that's made of wool, this one is made of polyester and cotton for added comfort. However, I'm not sure if it provides the same warmth and insulation, considering that there's no wool component. See if this sweater is the right one for your pup by clicking here.
Our Final Thoughts…
You realize by now that dog sweaters aren't merely for the looks. My dog is more confident and safer than ever when she goes outside to take a pee or when we're out for a walk. If you have a small-sized pooch with a thin coat, those two are enough reasons to buy her a sweater in time for the winter. The Fashion Focus On Knitwear Dog Sweater may be the right fit.