What is the best dog surgical onesie? Looking for a onesie for dogs after surgery? What the heck is a surgical onesie for dogs? One of the worst days as any pet owner is when your furry friend needs to have surgery. It is hard to see them in discomfort after the operation, but preventing them from picking at their post-op wound can be a challenge in itself.
There is always the idea of putting the awkward "cone head" or "lampshade" plastic collar around their heads, but that usually just causes more discomfort for them. And, your poor dog doesn't like the "cone of shame" any more than you do! That is where a surgical onesie comes in to save the day.
Onesie For Dogs After Surgery: Why Buy One?
Surgical onesies are designed to keep pets from chewing at their operation area while not being as obnoxious as the typical pet cone collar. The onesies also offer a more comfortable way for your pet to recover from their surgery. They are a fantastic option for both pet and owner, and can help reduce the stress of the post-op experience.
Features of Your Pet to Consider When Selecting Surgical Onesies
There are tons of options to choose from when selecting which onesie is the best fit for your particular pooch. It's important to keep in mind the location of your pet's surgery. For example, if your pet had one of their arms or legs operated on, you should select a onesie that has long sleeves. The surgical onesie won't be able to protect your pet if it does not completely cover the area that was operated on. Here are some post-op care tips from PetMD that you might find helpful.
It is important to also consider the age of your pet when selecting a onesie. A great feature in many surgical onesies are their ability to double as a dog diaper. If your pet has uncontrollable bowel movements, it definitely is a smart idea to purchase a onesie that can support your dog in case of an accident.
However, if your pet is still able to regularly go outside to pee or poop after their surgery then you should select a onesie that has an easy to remove "potty cover" so that they can freely go to the bathroom without you having to remove the entire onesie.
Important Concerns When Buying Surgical Onesies
The fit of your pet's onesie is one of the most important things to pay attention to. If the onesie for dogs after surgery is too tight on your dog, it can cause immense discomfort and even irritation to the underarms and tail area. On the other hand, if the onesie is too loose, then you risk not fully covering the operation area and your pet may have access to the sutures.
You also need to make sure that the fabric of the onesie you select is a breathable and durable material. If there isn't a good amount of ventilation in the onesie, it can cause fungus or other bacteria to fester underneath. Based on the activity level of your dog, you need to make sure that the onesie will not tear and rip if they insist on running around while in their recovery period.
Check Out The Best Surgical Onsie For Post-Op Recovery
Below is a list of 5 of the best alternatives do using a dog cone for preventing your dog from biting and licking their stitches or wounds.
FOREYY Onsie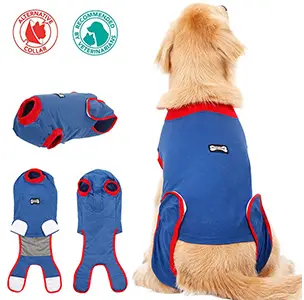 The FOREYY onesie is by far the most affordable option in the category: onesie for dogs after surgery. It is made out of a breathable cotton material, and there is even an extra layer of soft cotton on the belly section. Instead of buttons to snap to keep the onesie in place, there are two looping velcro sections in the back to make your dog's trip to the bathroom easier on both of you.
The fabric of this suit is not as flexible as others in this category, so if your dog is very active this may not be the best option for you as they can easily disconnect the velcro flaps. The cotton fabric does make this one of the more comfortable options for your pooch.
The size range for this product includes many options for dogs whose height and weight is on the lower end of the spectrum. If your dog is a smaller breed, this is a great option for you as the velcro design is easiest to adjust for bathroom breaks on smaller canines.
Quick Glance
What's Good
Velcro design: the velcro design is unique and makes it easy for owners to take their

dogs

to the bathroom, or simply put on this design
Large headhole for easy wear: the neck of this onesie is not constraining on the

dog

Extra cotton layer on the underbelly: the additional cotton pad underneath this design gives your

dog

an additional amount of comfort around its surgical region
Price point: this is the lowest priced option for surgical onesies
What's Bad
Not as many sizes for larger

dogs

: the design of this onesie makes it more practical for smaller

dogs
Surgi~Snuggly
This product is perfect for dogs of all ages, from puppies to adults, as a washable and disposable dog diaper onesie. It has a breathable and antimicrobial fabric that will keep your pet germ free and sanitary as it wears the onesie.
The Surgi-Snuggly has one of the best varieties in terms of the size and color range that it offers. You are almost guaranteed to find the perfect fit for your pooch, and the fabric is stretchy so that it won't cause irritations to your pet.
The biggest issue with this particular onesie is that the fabric is easily saturated. This is a problem if your pet needs to keep their operation area dry, since excessive licking will dampen the suture area.
The price for this surgical onesie falls in the middle area in comparison to the other products, but for the variety and ability to properly hold a dog diaper in place, it is one of the better onesies to choose for an older dog.
Quick Glance
What's Good
Lots of sizes and colors: there is a wide variety of selection for all types of

breeds

of

dog

Holds diapers into place: this design is made for

dogs

who need diapers, which is a very crucial factor for some elderly

dog

owners to consider when purchasing a onesie
Easy to put on: this onesie easily goes over your dogs head and does not require buttons or anything else to hold it in place
What's Bad
Thin fabric: the stretchable fabric of this onesie has been known to tear, or stretch out too much and not properly cover your

dog

Not as durable as others: the fabric is very thin and may not last as long as other onesies
Suitical Recovery Suit For Dogs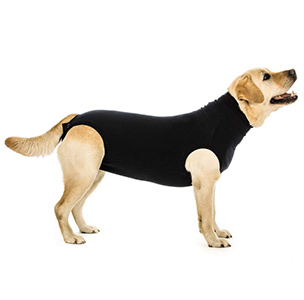 The Suitical Recovery Suit for Dogs is perfect for the basic neutering and spaying procedures. If your dog needs diapers, this is not the onesie for you as there is no protective feature to keep a diaper in place. However, it has a very efficient "potty cover" to make it easy on the owner when their pet needs to go to the bathroom.
This onesie has a unique high-neck design that is perfect for dogs that need a onesie that will protect that region, since most other onesies do not come up that high. This onesie is made out of four-way-stretch fabric. Be careful in selecting this product if your pet is highly active, as they might quickly stretch it out beyond use.
The sizing chart for this onesie is a bit confusing, so take caution when selecting your pet's size. There are plenty of options for the size and the easy to snaps near the base of the tail area makes this a great option for a wide variety of dog breeds.
Quick Glance
What's Good
Lots of sizes: this onesie comes in many sizes and has an easy to follow sizing chart
Breathable fabric: the fabric is moveable and lightweight for your dog
Easy to use design: the design of this onesie is straightforward and easily goes over your dogs head and buttons in the back
What's Bad
Inaccurate sizing chart: there are many claims that the size customers were told to buy based off of their dog were incorrect
Over stretchy fabric: the downside of the fabric of this onesie is that it is easy to stretch out and be ill-fitting for your dog
MAXX Dog Recovery Suit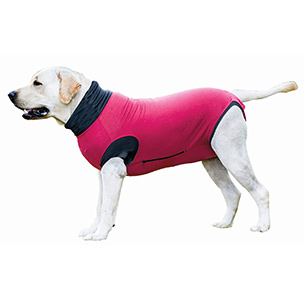 The MAXX Dog Recovery Suit is one of the best options for the price. It comes in a wide variety of sizes and colors, and its two layered material design makes it ideal for dogs who require a snug fit.
The MAXX onesie design has two fabric layers to keep your dog's sutures contained and to help lower your dog's anxiety. The turtleneck part of this onesie is hit or miss depending on your dog, as some may find it irritating that the neck fabric goes up so high.
There are buttons in the back of this onesie to make your dog's trips to the bathroom easier for the both of you, however the location of the buttons might cause your dog some uncomfort if they try to sit down.
Quick Glance
What's Good
Two layers of fabric: the dual layers of fabric add additional security to your dog and can help lower their anxiety
Lots of sizes: there is a wide variety of sizes available for this product
What's Bad
Bad location for button snaps: the snap buttons on this onesie are located on the bottom area of the onesie and therefore would be uncomfortable for your dog when they sit
Stretchy fabric may cause the onsie to stretch out: the stretch factor of this onesie makes it easy for the product to not properly cover your dog's surgical region
Turtleneck design: the extra rolled fabric around the neck of this onesie may cause your dog some slight discomfort
After Surgery Wear by Vet Med Wear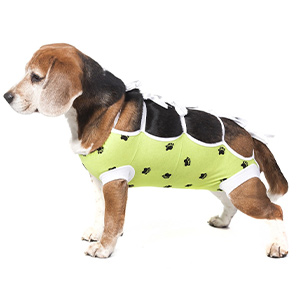 These onesies are made for protecting the underside of your dog, as there is no fabric protection for their back or any other part of your body. The design for this onesie includes woven strings that tie on their back to keep the whole onesie together, which may hinder the ability to quickly remove or put on this product.
The fabric is completely breathable and light, so you should not worry about any infections occurring with this onesie as it is 100% pure cotton. The sizing for this onesie is diverse, and there are lots of colors and patterns available to choose from.
This design includes a self-adhesive absorption pad that is located underneath to protect the operated areas and absorb any discharge from the wound.
Quick Glance
What's Good
Protective absorbent pad: if your pet has any accidents or discharge, you are protected from the mess
Breathable and light fabric for good airflow: the 100% pure cotton material will help to prevent infections or irritations
What's Bad
Impractical string design: the ties that this design uses to hold the onesie in place is time consuming for the owner to undo and tie up whenever the dog needs to take off the onesie
Difficult to keep dog still while tying onesie: if your dog is already anxious after getting their surgery, they will not stay still you tie up their onesie
And The Best Onesie For Dogs After Surgery Is…
Of the five dog onesies that we have reviewed, the clear winner for the best onesie for dogs after surgery is definitely the FOREYY brand onesie.
When it comes to the price point, this onesie beats all the other ones for being the lowest costing option. The velcro design of this onesie makes it the easiest in pet owners to take their pet to the bathroom without having to spend a lot of time on buttons or ties. This onesie doesn't hinder your dogs mobility, but it still keeps them secure and safe while they heal.
In spite of the few flaws with this onesie, the fabric of this product is soft and made of breathable cotton, so your pet will feel nice and relaxed while they recuperate and you will not have to worry about bacteria growing. The additional layer of cotton on the underbelly of this onesie makes it extra padded for dogs who have just been neutered or spayed, which is a thoughtful touch that any pet owner will appreciate.
The fabric being as thick as it is means that your dog will not have the opportunity to easily chew through it or dampen the incision area with constant licking. For all this product does at its extremely low price point, you are guaranteed to be making a safe choice by selecting this onesie, our choice for the best onesie for dogs after surgery.