Australian Terriers are clever, sturdy, and active little dogs. They feature rough, shaggy coats that come in blue-and-tan, solid red, or sandy colors. The Australian Terrier is known to be the smallest of the working terriers, but they have big personalities.
Australian Terriers are not dogs for everyone. True to their terrier background, they need someone who can give them enough time and attention so they won't get bored. They may want to try to get things done their way, so they need someone firm and consistent.
Australian Terriers are best fit in one-dog-households as they like to keep you all to themselves. So, if you happen to cope with their personality and give them undivided attention, then you surely got yourself an adorable companion.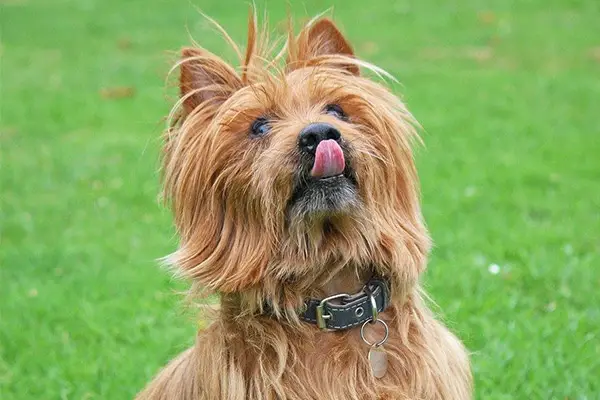 Australian Terrier Breed Statistics
| | |
| --- | --- |
| Dog Breed Group | Terrier Group |
| Breed Size | Small |
| Height | 10-11 inches |
| Weight | 15-20 pounds |
| Lifespan | 11-15 years |
Australian Terrier Breed Ratings
| | |
| --- | --- |
| Energy level | |
| Exercise needs | |
| Requires attention | |
| Playfulness | |
| Trainability | |
| Shedding | |
| Grooming | |
| Friendly with family | |
| Friendly with kids | |
| Friendly with strangers | |
| Friendly with other dogs | |
| Prey Drive | |
Australian Terrier History
Australian Terriers, as their name implies, originated from Australia around the 19th century. They are said to have descended from Rough-Coated Terriers.
European settlers in Australia live in harsh conditions, and they needed a dog that could work in all kinds of weather. They also need one that can exterminate vermin around the area.
So, British breeders started crossbreeding Rough-Coated Terriers with other British dog breeds brought to Australia. This included the Cairn, Dandie Dinmont, Norwich, Scottie, Skye, and Yorkshire Terriers. The result is a courageous, all-around exterminator that can hunt small mammals and snakes – The Australian Terrier.
Australian Terriers is the first native breed recognized in Australia. They were first introduced as the Australian Rough-Coated Terriers in the year 1869 and were renamed to Australian Terriers by 1897.
The dogs were brought to England and were recognized by England's Kennel Club in 1933. By the late 1940s, travelers from Europe brought the dogs to the US and was first shown in 1957 in the Westminster Kennel Club Dog Show.
The American Kennel Club recognized the dog breed in 1960, and it now ranks 139th as the most popular dog breed in the US today.
Until today, the dogs are known to be excellent companions because of their people-oriented personalities.
Australian Terrier Temperament
Australian Terriers are affectionate, courageous, and spirited dogs. These dogs are known to be good-natured and are the most sensible of all terrier breeds.
They are fun-loving dogs who would not do well if placed inside the kennel. They want to be part of the family and family activities. They are devoted to their owners and would tend to stick by your side wherever you go.
You must understand this dog's dynamic personality. You should have a securely fenced yard, and it's essential to provide them enough time and attention. Take them out for daily walks or play sessions to keep them entertained. A bored Australian Terrier tends to be destructive, so keep a toy nearby.
Australian Terriers are known to be good with children, particularly those who know how to behave. They can also get along well with other pets but are better if they're the only pet in the household.
These dogs can be bossy, and they have tendencies to chase smaller animals like hamsters or rats. They are also reserved with strangers, and you can expect them to be watchful when someone suspicious enters your home.
Like any other dog breeds, Australian Terriers should be socialized at an early age. This will help them get accustomed to anything new, thus, making them more well-rounded and encouraging a stable temperament.
They are fast learners, so training them may come easy. It's best to make it clear to him who is in charge, so be firm and consistent.
Australian Terrier Care Requirements
Nutrition: Australian Terriers don't have any special dietary requirements. They'll be happy as long as you give them high-quality meals daily. You should also ensure that every meal contains a balance of all the essential nutrients. Proteins should be the majority of your dog's meal, as this is what supports muscle growth. Next is fats for their coats and carbohydrates for energy. You should also make sure only to serve high-quality ingredients to your dog. Another thing you should watch out is the number of calories you feed your dog. Like any other small dog breeds, Australian Terriers are easy to overfeed, so it's best to ask your vet for guidance on how much to feed them depending on age and activity level. Take note of any allergies that your dog may have and make sure to stay away from those ingredients. When buying dog food, it's essential to choose the premium-quality ones, too, and make sure that it doesn't contain fillers and additives that can be harmful to your dog.
Grooming: Australian Terriers' small bodies are covered with medium-length coats that are very easy to maintain. These coats don't shed frequently, and it's able to repel dirt and mud, so it should do well even with weekly brushing. This will also help prevent mats and tangles from forming and create a sort of bond between you and your dog. Baths can be given occasionally, or only when your dog needs it. However, be sure to clean the ears regularly to prevent ear infection. The long hairs in front that are close to their eyes should be or plucked so they won't irritate your dog's eyes. Don't forget to trim the nails regularly. Twice a month should suffice as long as you don't let the nails grow too long so your dog won't be in pain or discomfort.
Exercise: True to their terrier background, Australian Terriers are highly energetic dogs. They need regular exercise to keep them healthy and happy. These dogs don't need high-impact activities. Daily play sessions, regardless if it's outdoors or not, should suffice. If you want to take these dogs out for a daily walk, make sure that they're on-leash. Only let them run loose if you're in a securely fenced area. These dogs have strong hunting instincts, and they won't be able to resist running after prey, which might put him to trouble.
Health: Australian Terriers are generally healthy dogs, and they live a long life. However, like any other dog breeds, they are also susceptible to several health conditions, and we dog owners need to be aware of what these are. Joint diseases are very common to the breed. This includes patellar luxation and Legg-Perthes disease. Diabetes mellitus is also common, and so are allergies. This is why it's essential to give them enough exercise and feed them the right food. To detect some diseases early, you can also have your dog take a screening test. It's also recommended to meet at least one of your dog's parents to know if there's a presence of any hereditary disease.
Lifespan: The life expectancy of Australian Terriers is 11-15 years.

Fun Facts about Australian Terriers
Australian Terriers, as their name implies, originated from Australia.
They were first bred in Tasmania around the 1820s.
They were developed by crossbreeding several terrier breeds – Cairn terrier, Skye Terrier, Dandie Dinmont Terrier, Irish Terrier, and Yorkshire Terrier.
They were originally called the Rough-Coated Terrier.
They come in several colors – tan, gold, or black.
They were recognized by the American Kennel Club in 1960.
Check Out Other Terrier Dog Breeds:
Airedale Terrier, American Hairless Terrier, American Staffordshire Terrier, Bedlington Terrier, Border Terrier, Bull Terrier, Cairn Terrier, Cesky Terrier, Dandie Dinmont Terriers, Glen of Imaal Terriers, Irish Terrier, Kerry Blue Terrier, Lakeland Terrier, Manchester Terrier, Miniature Bull Terrier, Miniature Schnauzer, Norfolk Terrier, Norwich Terrier, Parson Russell Terrier, Rat Terrier, Russell Terrier, Scottish Terrier, Sealyham Terriers, Skye Terrier, Smooth Fox Terrier, Soft Coated Wheaten Terrier, Staffordshire Bull Terrier, Welsh Terrier, West Highland White Terrier, Wire Fox Terrier